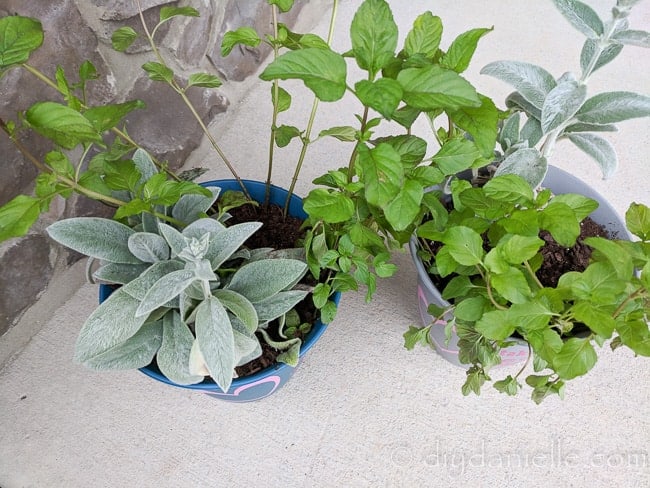 How to create a planter for a beautiful gift. Use flowers and herbs from your garden, sticks, and a planter to create this wonderful arrangement.
This post may contain affiliate links which may earn me commissions should you click through them and take certain actions. As an affiliate for Amazon, Cricut, xTool, Home Depot, and other sites, I earn from qualifying purchases. Please DIY carefully. View my full legal disclosures here.
Please read the whole post so you don't miss any important information!
One of my favorite books is Girl of the Limberlost by Gene Stratton Porter. The heroine of the book earns her way through school with her love and knowledge of nature, and she makes beautiful gifts from nature for her friends when she's unable to purchase something. I love it… so the idea of using my garden to make gifts for others is appealing. I realized this year that I have a number of prolific plants in my garden that are beautiful and would make great gifts if divided. I opted for mint and lamb's ear, two of my favorites, because they were the easiest to divide and add to my planters. I absolutely adore the finished product.
The key to this project is to (preferably) start a few weeks or a month ahead of time. I liked being able to transfer the plants and make sure they stayed alive and did well in the pot before gifting them. I pinched off any leaves that didn't look nice.
Supplies to Make a Planter Gift
Potting soil
Sticks- gather a bunch of straight, thin, sturdy sticks
Embroidery thread or some type of twine.
Planter
Cricut Air 2 (my machine), or if you really want to get fancy, get the new Cricut Maker™
Cutting mat
Weeding tool
Outdoor Vinyl from Cricut
Scrapbook paper
Pen for your Cricut machine
Gardening supplies to dig up your plants plus pretty plants that will survive in a pot.
Use the Discount Code DIYDANIELLE on cricut.com for 10% off any cutting machine or heatpress (no minimum). Excludes: materials/accessories/mystery boxes/etc. Applies to US/CA only, code expires 12/31/23.
How to Decorate the Planter with Vinyl
Your first step is to add your vinyl to the planter. I took some affordable planters from the store and added outdoor vinyl to them using my Cricut machine and transfer tape. I input a design in my computer, then the machine cuts it out of the vinyl. Once the vinyl is cut, I peel away excess vinyl (outside of the design), then use transfer tape to transfer the design onto my planter. Very simple.
Here's me, 'weeding' the design. You can see the machine made the cuts, but I need to pull away the extra stuff.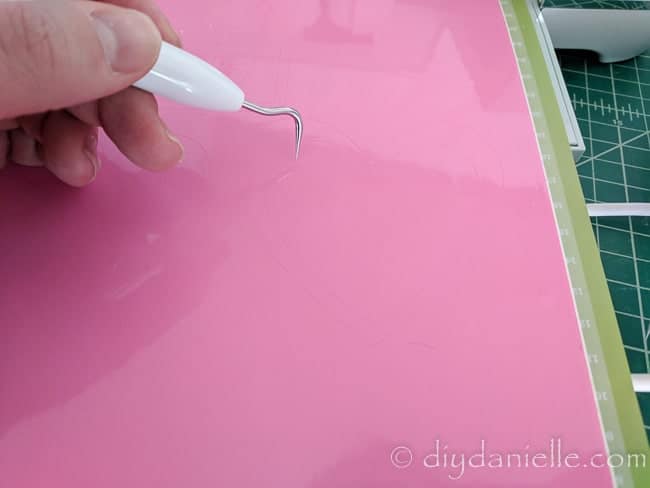 This transfer paper sticks to the design so you can move the design onto your planter. Then you peel away the transfer paper after rubbing the design on.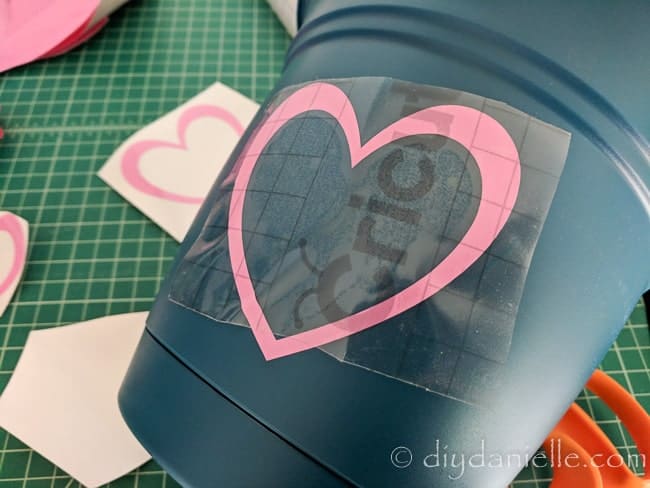 And this is the final product. I think I should have made the text smaller, but it works.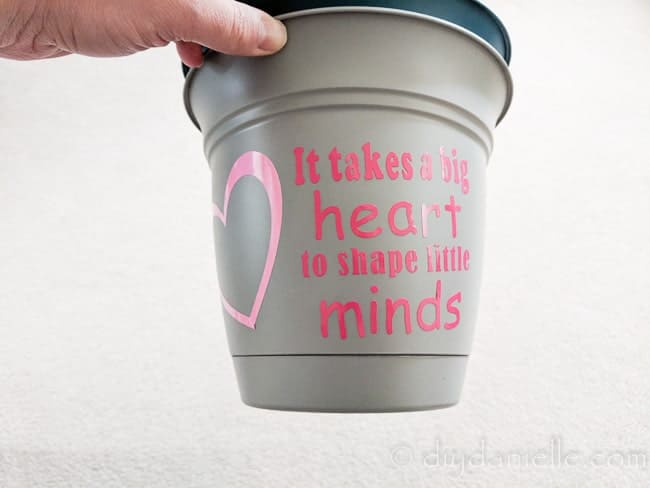 If you're not familiar with the Cricut Machine or projects you can do with it, I have more in depth tutorials on that:
What is the Cricut Air 2? | How to Make a No Soliciting Sign | How to Make Baby Nursery Signs | Archive of Cricut & Silhouette Projects
How to Separate Lamb's Ears
Lamb's Ear is such a happy flower. I love how soft it is and the purple flowers are beautiful. Bees love it too. It's also very forgiving, like mint, so it's nice for separating out into planters.
My lamb's ear plants have gone crazy and spread all over my garden. I was able to find smaller bunches of it to uproot and separate to place in the planters. I just used a small trowel to make it happen. I immediately moved them to a pot full of good potting soil. They seem to like it. I've been pinching off any leaves that don't look healthy.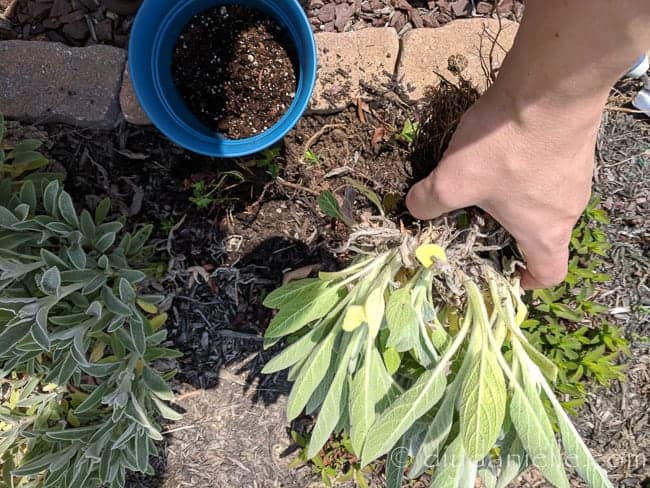 How to Separate Mint
My mint plants go really crazy and cover any spot they can find room to grow. Most people like to prevent them from taking over the garden, but I have some really soggy areas of my backyard and they're sooooo cooperative about growing in a spot most plants hate that I let them go crazy. I could drink so many mojitos. But really I just want to cover up the mud piles.
Some plants seem to send vines out and they're all connected. When I attempted to separate my St. John's Wort, I had that issue. The roots connecting all of the plants are really strong.
For mint, however, it seems like they individually seed themselves. Mint can apparently grow from cuttings so I'm not sure if these are pieces that fell off or if they're just additional plants that shot out from the other plants via runners.
You could always take cuttings and let the mint grow that way but I decided to pull the whole plant from the ground. All I did was find some mint plants that were the right size for my pots (the smaller plants), then I gently pulled them out of the soil, making sure to not break the stem. Usually they came up with the roots intact so I could simply place them in the planter and place dirt around the roots. Very, very simple.
It's so prolific that I wasn't worried about making mistakes here. It's very forgiving.
How to Plant in a Pot
First, you want to make sure there's an area at the bottom for drainage. Either you poke holes in the bottom (ideal) or you create a bit of a rocky area. I used gems at the bottom of these planters. This prevents the soil from getting soggy if there's too much water in the pot, but ideally you want to make sure not to over water plants. It can kill them as quickly as not watering them can.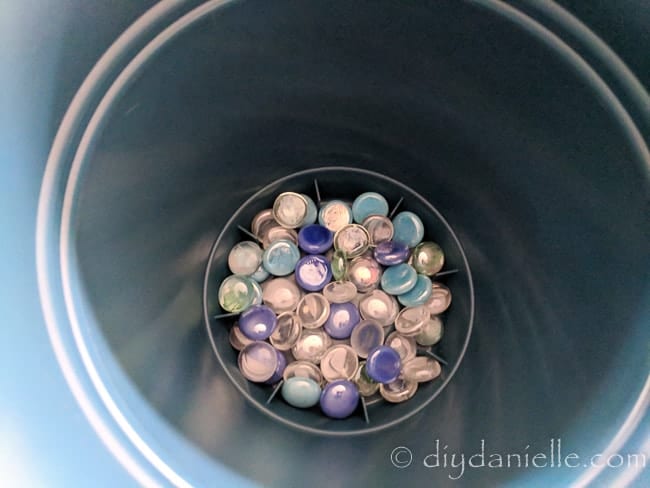 Potting soil! VERY IMPORTANT. Don't use another type of soil, unless you're mixing your own potting soil like some kind of gardening guru. I don't do that yet. I have made the mistake of using regular soil in a pot and it doesn't work well. Why? Well, potting soil is lighter than 'ground' soil so it allows for these to be more breathability (or something) to the roots of your plants. In the ground, you'd have creepy crawlies like worms helping with that process. It's never good for soil to be too compacted.
Fill your planter so it's 3/4 of the way full or thereabouts. You want to leave some space at the top because you still need to put your plants in and your trellis.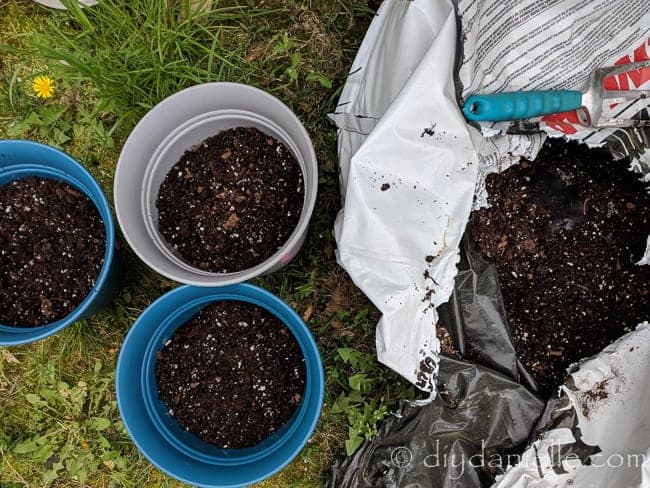 Now add your plants, carefully.
How to Create a Trellis with Sticks
My sons and I did some scavenging for some twigs. We wanted nice straight twigs and sticks that appeared to be sturdy.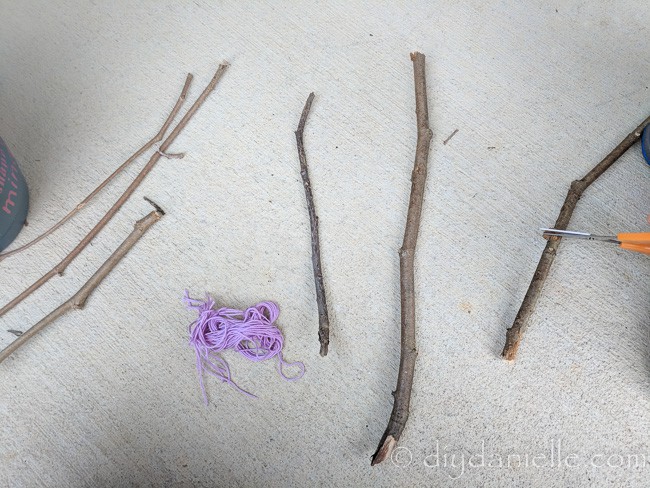 For the first planter, I made the trellis on the concrete, then moved it into the planter. For the second planter, I built the trellis in the planter and I think that was easier.
I started by placing three sturdy sticks about the same height in the planter, between my mint and lamb's ear plants.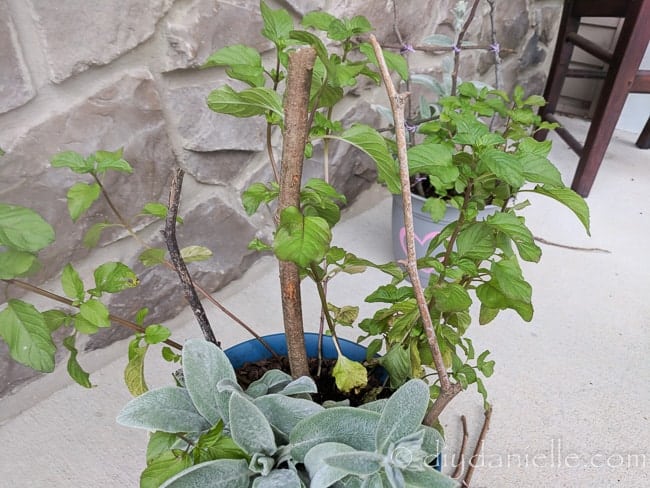 Now I wove my fourth twig around the bottom of the first three sticks.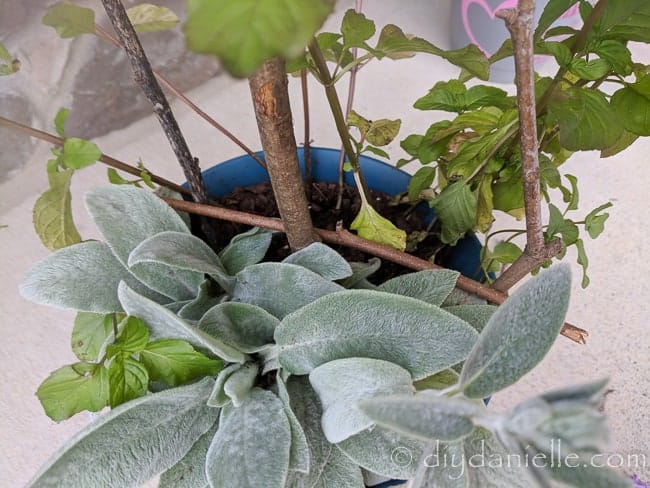 I didn't have twine so I used purple embroidery thread to tie each twig onto the trellis. You just wrap it around a few times. I tied a knot in each then cut off the excess thread. I used two more twigs above this one to finish the tiny trellis.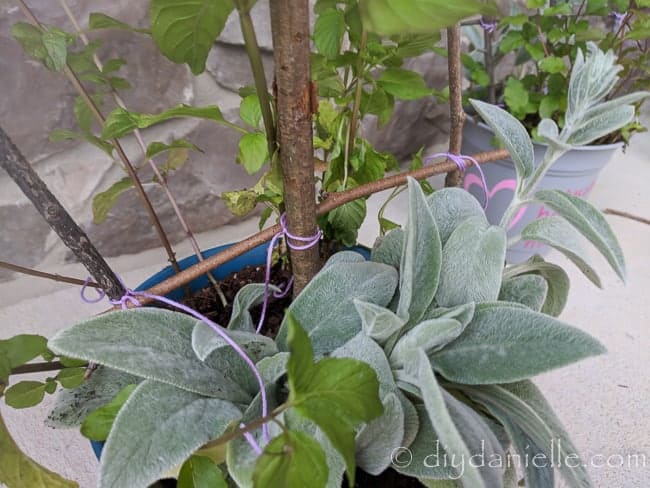 Adding Tags to Give the Planter as a Gift
The last thing I needed to do was add tags. I wanted to add a tag saying thank you, but I also wanted a tag to state what the plants were. I used my Cricut machine again for this… I had the machine write, using a pen, the words for the tag, then I had it cut the tags out too. I used embroidery thread to tie the tags and a gift card to the trellis.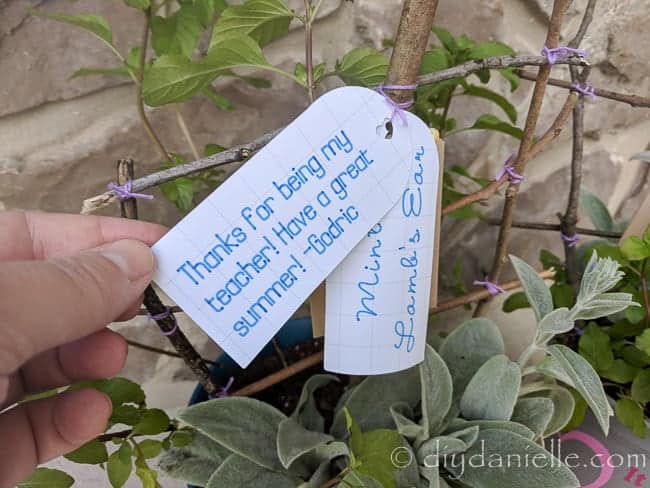 Didn't the pens do a nice job? I'm a lefty so my writing is a bit sketchy, particularly seeing I drag my hand across smearing ink usually. I love that my Cricut machine does it for me!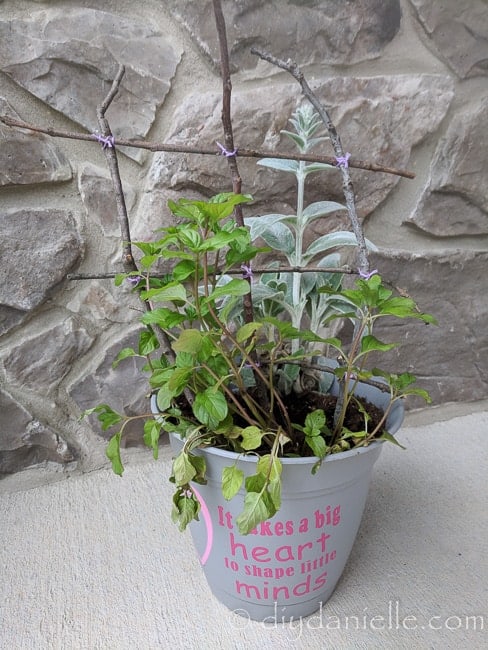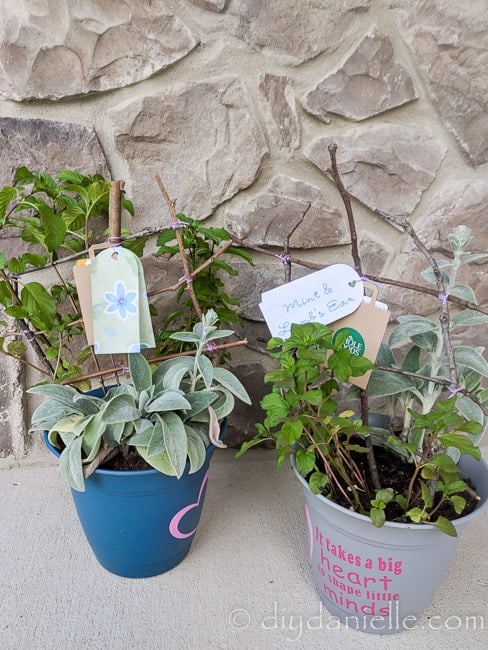 Video of the Process
What other plants do you think would work well in a planter as gifts for plant lovers?
Please pin this!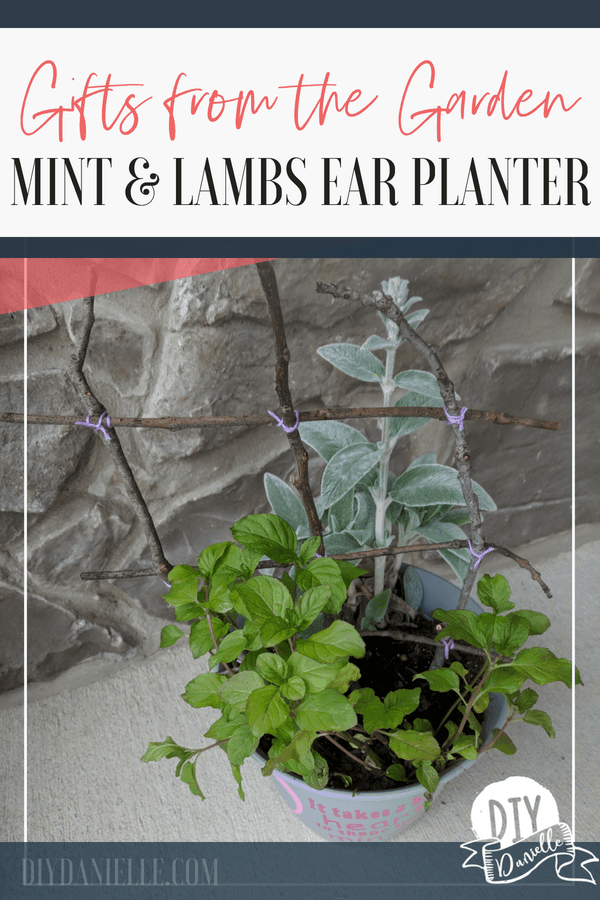 Planter Gift