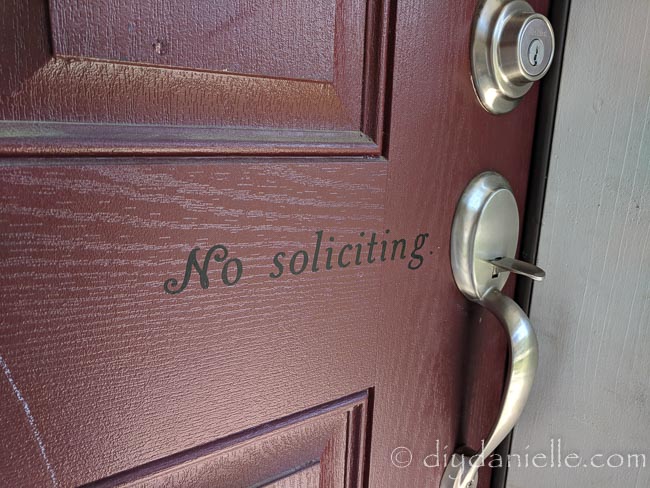 Learn how to make your own no soliciting sign for your door and mailbox. This easy Cricut project includes a ready made cut file.
HOW annoying are solicitors? My husband loathes them but doesn't like to 'people' so he doesn't do well with pushy salesmen. He nearly bought meat out of the back of a random truck one day because the guys wouldn't take no for an answer. I saw he was taking too long to say no so I came out and told them (nicely) to GTF out of here. Later he said, "Look I just wanted to buy it so he'd go away." Haha.
I can be sold on stuff, but NOTHING irritates me more than someone who doesn't take no for an answer. I'm sure I'm not the only woman with this pet peeve. I'm guessing we also gain mad skillz during our dating years that later lends well to fending off solicitors… but really, who wants to waste even a minute? I decided to make no soliciting signs in hopes that they would keep people from knocking on our door- and it has worked! GLORIOUS.
Let me explain how I made my simple signs.
Supplies for a No Soliciting Sign
Just a quick note on your vinyl selection- an outdoor vinyl will stay on far better than regular vinyl or other types. It's made to last outside. I've had paint peel off items before outdoor vinyl comes off which is ideal for anything exposed to the elements. It is, however, harder to remove than regular vinyl so you'll possibly get some peeling if you decide to remove it. I'm sure the mailbox (metal) will be fine, but you may want to use an easier to remove vinyl (indoor/631) if you are worried about the paint coming off your front door.
Do No Soliciting Signs Help?
We live in Maryland and our county has really made a push to make sure people are asking solicitors for their credentials so I imagine there are heftier fines if people harass you. We were getting a lot of solicitors until I put our sign up. A lot. We have a Nest security camera now and so now we have the pleasure of seeing people walk up to our door, see the sign, and turn around. Occasionally they knock once before they see it, but mostly it works. I'm guessing the added protection of the camera helps… nobody likes to be caught on camera. But we saw the sign helping BEFORE we got the camera too.
Recently I also added the no soliciting signs to our mailbox in hopes people would stop shoving flyers in every crevice they can find. Maybe it'll save someone the trip up our driveway too. Whatever.
While I like the cute no soliciting signs I've seen on Pinterest, so many of them were super lengthy and people were saying they didn't work. I think solicitors probably don't read them- or read them quickly enough- and probably just ignore them as decor. So I kept mine simple.
The other thing that I felt made the sign more effective was its position. It's right near the door handle and on level with the doorbell. Your eyes go to that approximate area when you're ringing the doorbell so I think it's more likely to get seen.
How to Make Your Own No Soliciting Sign
First, you need to open the free Cricut design that I used, or make your own. Make sure to resize it properly for your door and mailbox. I made three total- one for the door and one for either side of the mailbox.
Place your outdoor vinyl on your cutting mat, load it, and hit 'go' to print your vinyl.
Weed away the excess vinyl, leaving just your 'no soliciting' wording.
You can cut each line of text separately if you do more than one. I like to separate them as it makes it easier to apply them individually.
Cut your transfer tape around the same size as your text. Peel off the backing for the transfer paper and lay it over your words. Press over each letter carefully, then you can peel off the backing to your vinyl. Now you can place your vinyl (with the transfer paper) onto your door (or mailbox).
Peel off the transfer paper and you're done!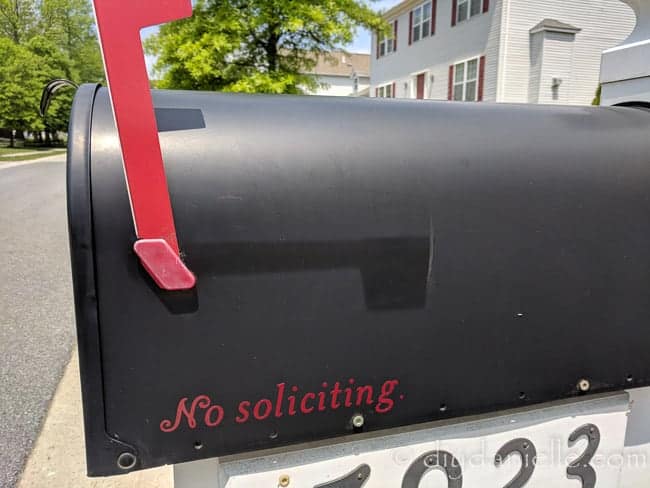 Please pin this!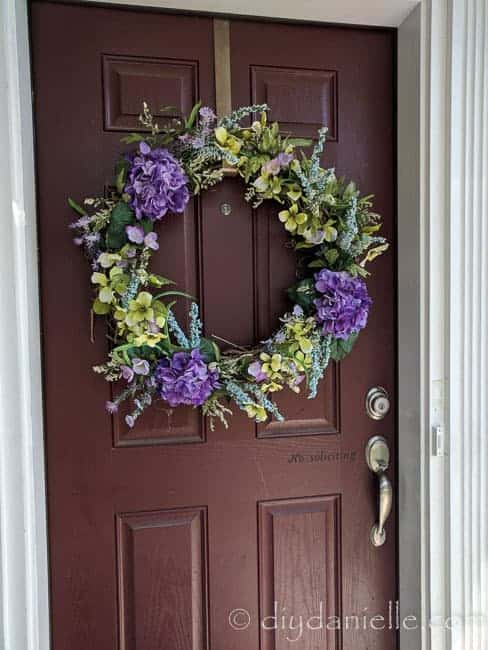 How to Make Your Own No Soliciting Sign
Use the Discount Code DIYDANIELLE on cricut.com for 10% off any cutting machine or heatpress (no minimum). Excludes: materials/accessories/mystery boxes/etc. Applies to US/CA only, code expires 12/31/23.