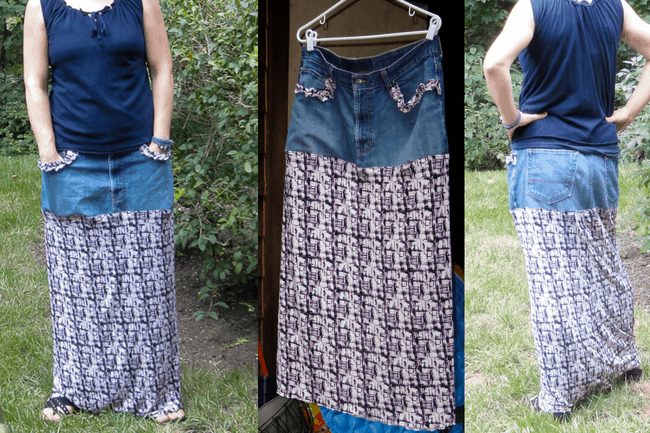 How to make a bohemian skirt with a jean waistband. Upcycle the top half of your jeans to create this fun, ankle length casual skirt!
I saw these cool skirts on Pinterest that had the top half from jeans and the bottom was a normal skirt. It was a link to some that were being sold, but not to a tutorial so I'll try to explain my process to you so you can make one too.
Ideally, you could start with your own pair of jeans so you don't need to alter the waist, but my jeans are still intact and I wanted to use the leftovers from the rest of these posts. They were Daddy B's pants so I needed to take them in a bit.
Note: This is an old post that was updated. It was originally published July 30, 2012. This post may include affiliate links. If you use these links to make a purchase, I may receive a small commission. Thank you.
Other jean projects I've done: A knee length denim skirt, a bandanna, purse, bracelet, and patchwork jean tote bag.
SUPPLIES NEEDED FOR A HALF DENIM SKIRT
Old jeans
Coordinating fabric, I used a lightweight knit. It keeps the lower half of the skirt very cool and flowy.
Need fabric? Try Online Fabric Store® Up to 70% off Fabric + Free Ship $60+. Great Selection, Low Prices or check out Fabric.com.
If you love sewing, don't forget to check out the Sew Organized phone app!

DIY Bohemian Skirt with Jean Waistband
I found a tutorial on taking in jeans on the side here and followed the instructions. I tried my pants on inside out to figure out how much to take it in and pinned. I will skip the gruesome details on that and let you read those tutorials. I wasn't particularly careful when I did mine so they're not perfect, but I got the basic idea and they fit now. The drawback to doing this to men's jeans is that they don't come out looking as nice and feminine as they could. I didn't think of that beforehand… oh well. Daddy B says it's not as flattering from the back, if you know what I mean- wink wink. Next time I definitely need to use my own jeans to make one of these!
If you check out the finish picture of the skirt, you'll note that my skirt looks a little different from the ones she sells because I kept the original zipper. I think hers looks really nice, but I liked not having to mess with the zipper or get rid of the pockets. Also, I was a little afraid my jersey might be too shear so it's nice that the jean covers all the "important parts" while the jersey covers my legs. You could definitely tweak your skirt however you want!
Now for the fun part. I believe the bottom of the skirt I saw was sewn on top of the jeans with a raw edge exposed, but I wanted a clean edge. I had some jersey fabric to use that I got from the remnants bin so I decided to use this… I like it because it doesn't fray.
I pinned the jersey to the bottom of my jeans right sides together, and sewed them together with a straight stitch. Make sure not to hit any of the fun metal pieces on the jeans. Also make sure not to sew your pockets up either. When I got about 4″ from where I started, I stopped (see the gap in the picture). I wanted to sew up the long side of the jersey fabric before finishing. It makes sense to do this beforehand, but I need to visualize quite a bit so it's easier for me when I do it this way.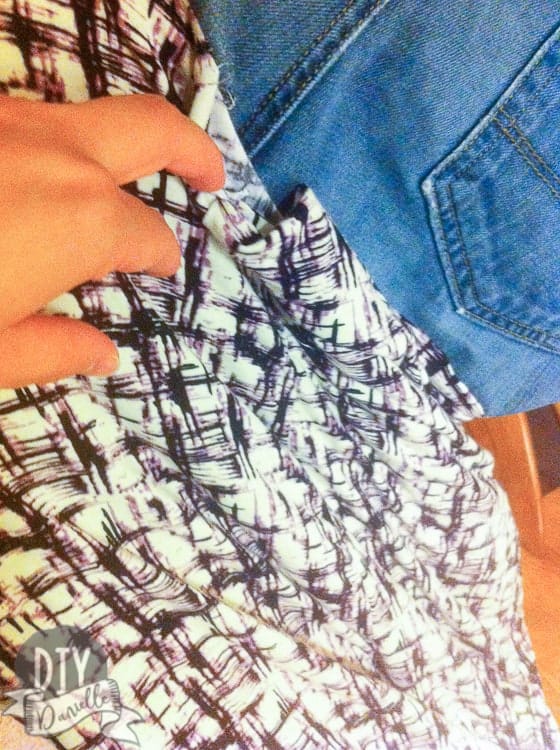 Ok so right here you just figure out how much fabric extra you have on your end once you get around the whole skirt. Face the jersey right sides together and use that amount as your "seam allowance."
Sew a straight stitch. Cut off the excess, but keep it for later. If you are using a fraying fabric, you need to finish the edge with a zigzag. Now you can finish sewing the jersey to the jean, right sides together.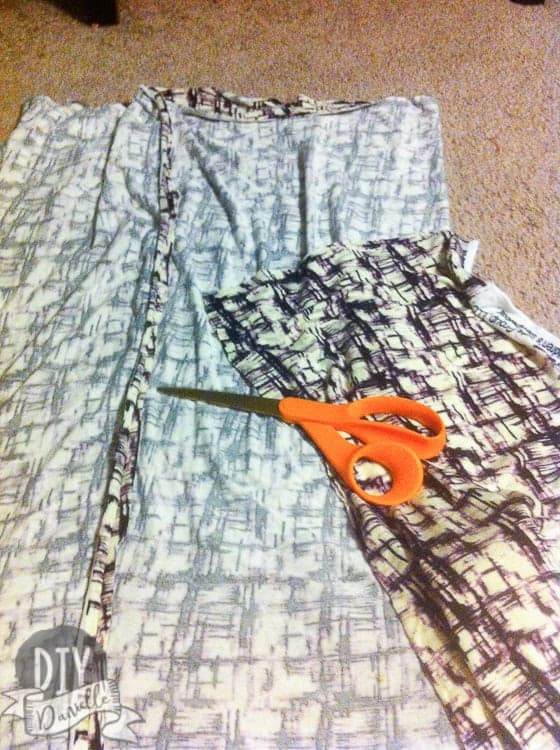 Flip right sides out and topstitch the area where the jean waist and knit fabric meets.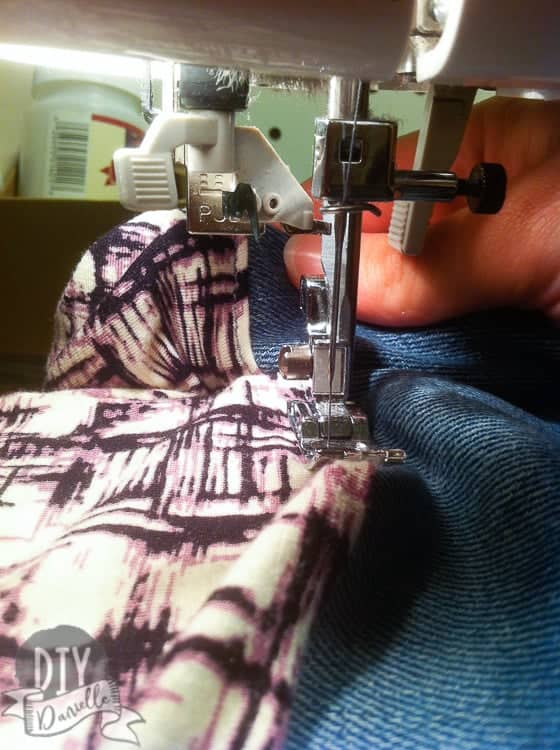 Figure out your desire length (if you didn't do this beforehand). Then you can hem your skirt to the desire length. I had my husband help me hem it (he put the pins where the length needed to end).
Then I measured how much extra fabric was past the pin and cut off that much all around my skirt. As I'm using jersey, I decided not to hem the skirt, but to make a ruffly edge, similar to what the tutorial suggested for shirts #3 and 4 on my tshirt upcycle post. You could simply hem it too.
How to Add Ruffles to Your Skirt Pockets
My skirt was complete, but I wanted to add some pretty ruffles to my pockets. I cut two pieces of the jersey fabric, and ruffled the bottom long edge of each like I did with the bottom of the skirt.
You need to start by cutting some strips of fabric for your ruffles. The strips need to be LONGER than the pocket edge length.
I folded over the top edge with the wrong sides together and then sewed a straight stitch with the tension set to 1 and the stitch length set to be pretty long. You will leave some thread hanging loose on each end of the fabric, then pull one of the pieces of thread to ruffle up the fabric. Fun huh? I love doing these. You need to be careful while pulling it so that the thread doesn't break. Just tweak until you have the ruffles like you want them.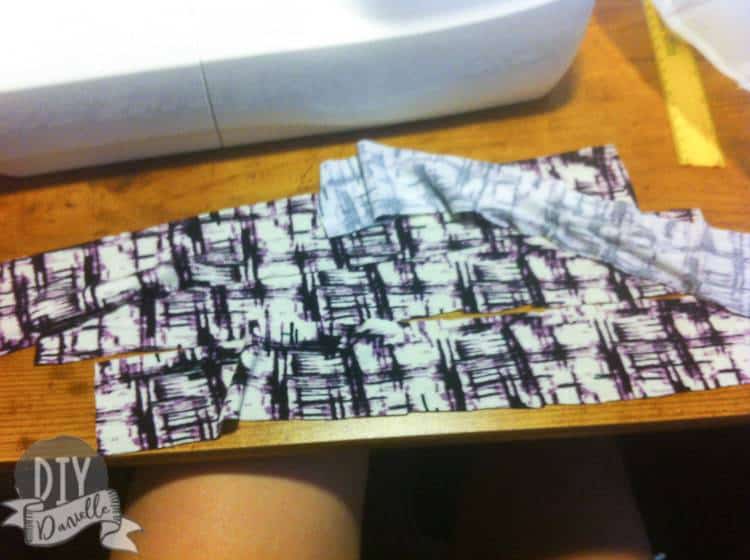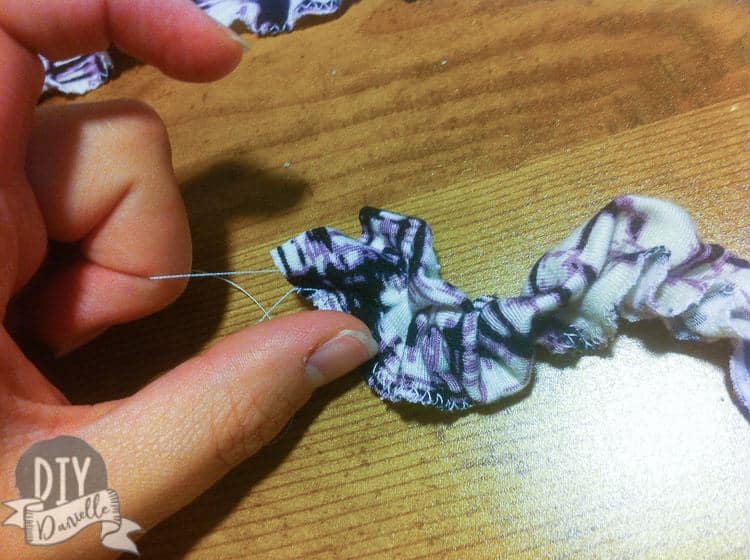 Now set the ruffle where you want to place it on the pocket. I folded over each end a little so there's no raw edge showing and sewed it down with a straight stitch on each end. Then I sewed the rest of the ruffle across the top of the pocket, making sure to sew just the top WITHOUT hitting the little metal pieces on the jeans. Important detail there- breaking needles sucks. I also made sure not to catch my pocket because I wanted them to be usable (much to my excitement at this discovery, men's jeans have awesome huge pockets!). And you're done! Very pretty skirt using upcycled materials.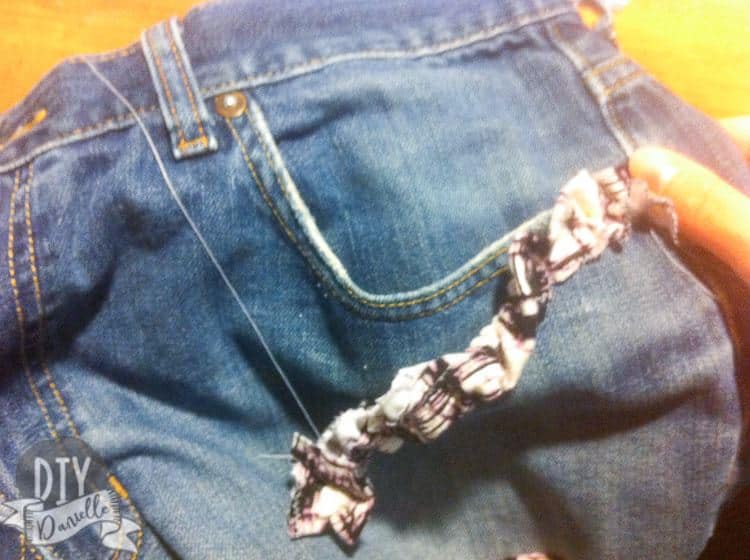 Ruffles on the pockets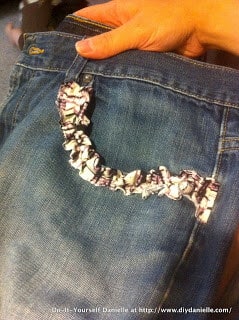 Keep in mind that your choice of materials will effect whether or not you need to finish the edges with a serger or zigzag to prevent fraying.
One perk to this skirt that I didn't anticipate was that it's SUPER comfortable. I love the solid jean waist and the big pockets, but the jersey fabric is really soft and cool against my legs. So wonderful.
Check out these other Secondhand Fashion Ideas!
Please pin this!