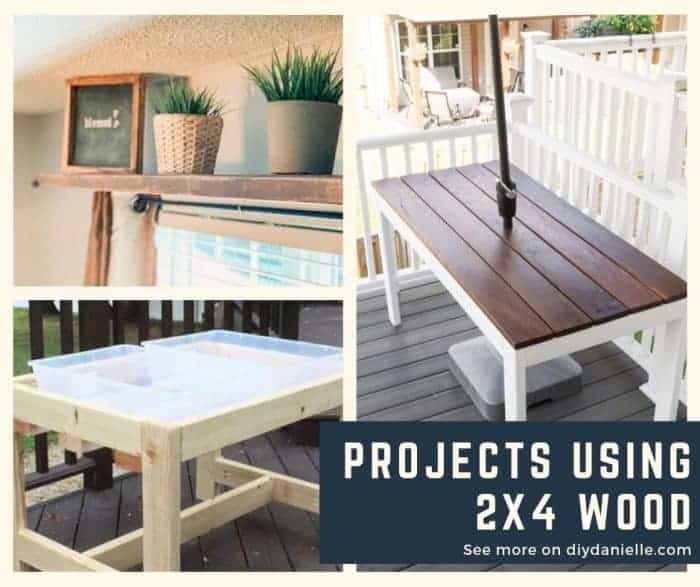 2×4 projects with tutorials for the beginner DIY'er. These are some ideas for what you can make with 2x4s, from small projects to big!
This post may contain affiliate links which may earn me commissions should you click through them and take certain actions. As an affiliate for Amazon, Cricut, xTool, Home Depot, and other sites, I earn from qualifying purchases. Please DIY carefully. View my full legal disclosures here.
Please read the whole post so you don't miss any important information!
I love 2×4 projects. They're an affordable cut of wood to buy and easy for me to haul home… I like to slide them between the kids' seats in the minivan. . I can fit 8′ 2x4s in my van easily, and I think I've squeezed in 10′ boards too (with the back door closed).
Let's talk a bit about 2x4s and then I'll show you some fun project ideas for them!
About 2×4 Lumber
A 2×4 is a cut of wood that is commonly used for woodworking projects. It's used for framing buildings like sheds or the goat house that we built. It's also used for framing homes, although 2x6s are also used sometimes.
2×4 Dimensions
Wood is never the size "advertised" by its name. When it's initially cut, it's cut to 2×4, but the wood shrinks after drying and planing. A 2×4 is around 1.5×3.5″.
There's an involved explanation of the difference between dimensional lumber and actual lumber sizes. I won't get into the full explanation here, but if you would like to learn more, here's some good information on the dimensions of different wood cuts.
The good news is that the length of the wood cut should be accurate (if you buy a 10′ 2×4, it should be 10′).
If you have any questions about the dimensions, an associate at any home improvement store will be able to help you out.
Tips for 2×4 Woodworking Projects
Save Money by Planning Ahead
When you start a 2×4 project, you can figure out all of your measurements in advance. If you do this, you can plan what size 2x4s you want to purchase, then see if there's a good combination so you are left with the least amount of scrap.
For example, if you need (4) 5′ cuts of 2×4, you want to buy (2) 10′ 2x4s instead of (4) 8′ 2x4s. If you bought those (4) 2x4s instead, you'd end up with 3′ of scrap from each 5′ piece you cut. If you have a lot of fun projects planned with scraps then that's fine! But it's smart to buy what you need so you aren't paying more than you need to for a project.
Our local lumberyard charges per foot, regardless of what size the cut of wood is.
Ripping 2x4s Into Smaller Cuts
If you need a thinner piece of wood, you can also cut your 2×4 into that size. For example, here's a tutorial on ripping a 2×4 into a 2×2. Here's some good advice on ripping 2x4s into 1x4s.
I haven't done this because I don't have the best tools for the job. I don't want to attempt it with a circular saw. Apparently it's doable, but I find that the right tool tends to help avoid accidents. Seeing I consider myself a somewhat newbie builder, I don't like to take risks when I can just run to store to get what I need.
Choosing the right lumber
When you're shopping for 2x4s, make sure to check your wood to make sure it's not warped in any way and to identify any issues with the board. For example, you might not want knots in the wood and some boards may be splintered at the ends. I find that our local lumberyard is the better source for straight lumber than the big box stores.
Large 2×4 Builds
Large 2x4 Builds
Large projects that you can build with 2x4s.
Scrap 2×4 Projects
Projects to Make with Scrap 2x4s
Here's some project ideas for those scrap 2x4s that you have leftover.
Please share and pin this post! If you make this project, share it in our Stuff Mama Makes Facebook Group. We have regular giveaways for gift cards to craft stores. You can also tag me on Instagram @doityourselfdanielle; I love seeing everything you make!