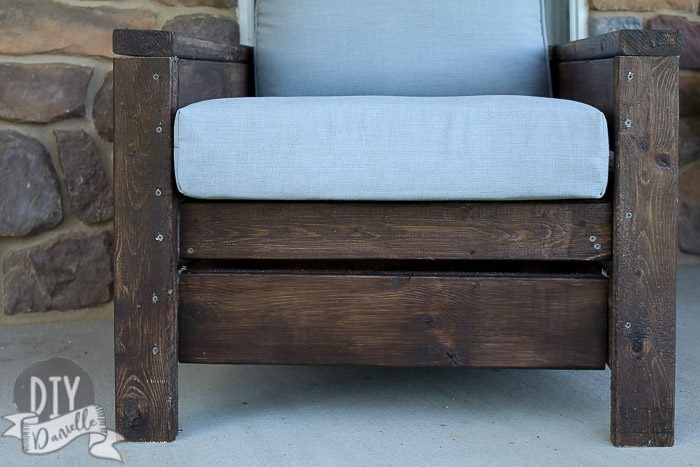 How to update a front porch with DIY wood chairs stained with Behr Premium Waterproof Stain-Semi Transparent in Cordovan Brown. These were made from the Modern Outdoor Chair plan from Ana White.
This post may contain affiliate links which may earn me commissions should you click through them and take certain actions. As an affiliate for Amazon, Cricut, xTool, Home Depot, and other sites, I earn from qualifying purchases. Please DIY carefully. View my full legal disclosures here.
Please read the whole post so you don't miss any important information!
I'm participating in a monthly challenge this year where a group of bloggers all take on a project for the monthly theme. This month's theme is "Build It Cheaper Than Buying It Furniture Challenge."
Furniture is NOT something I've really tackled before. I redo furniture, but it's not the same thing as building from scratch.
My husband is the more experienced woodworker in the family and although I scrape by, I've never built something from a woodworking plan before. This project seemed like the PERFECT time to try it!
I found this awesome Modern Outdoor Chair plan from Ana White and decided to tackle it. I made two chairs, one for either side of our front porch.
And… I stained and cut my wood this weekend, then developed a very painful rash. Monday I was diagnosed with SHINGLES (I've been cracking jokes about having the immune system of a 60 year old all week). So these aren't perfect, but I'm just happy I managed to finish them. Now I can spend the next however-long-it-takes trying to rest and feel better… although woodworking was a nice distraction.
Supplies
The full supply list and cut list is available on the Ana White site. Here's what I bought and how much it cost:
Total: $224.40 ($112.20 per chair)
I didn't need a whole gallon for this project, but we needed it for other projects, like our front door.
The seat cushions were crazy expensive. While I considered making the cushions, I thought the price of the interior cushion was high enough that it wouldn't really save me money. I may make a few pillows, however, to coordinate, seeing I have some cute outdoor fabric I'd like to use.
Did I stay on theme? Is $112 per chair a decent price? I have no idea. This probably wasn't a good month for me to sign up because I'm extremely frugal about furniture usually. And I don't really look at the expensive furniture stores at all.
How to Make Wood Porch Chairs
Ana White's site recommended painting the wood prior to cutting or building. I decided to give that a try. I was a little nervous because I have always painted after building.
I setup some shade with our Coleman Canopy so I wouldn't burn up out in the spring heat. This make staining much less miserable. It's hard because I like to work when it's cool, but it's hard to take photos in the dark. I'm a wuss about heat.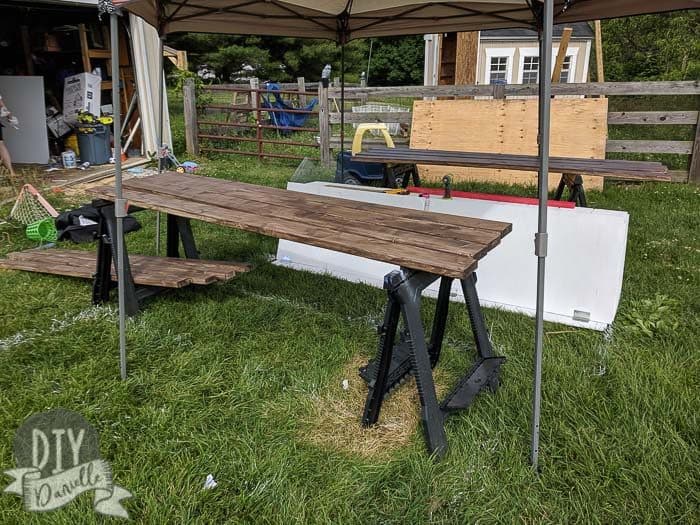 For "the good side" of the wood, I used two coats of stain. The side that wasn't likely to be showing only got one. I don't have much time so sometimes I cheat.
Once the stain dried and I finished both sides, I cut my wood to the sizes listed in the woodworking plan. I WISH I'd stained AFTER cutting… and I would have probably sanded first too. I might have gone back and fixed it, but alas… sick. I wanted to finish these and perfection wasn't my #1 goal.
I moved allllll of the wood to the front porch to build this because I was hurting and KNEW these would be too heavy to move easily once built. So I lined everything up on the porch to work.
I built all four of the arms first. I used a 1×4 scrap to help space the side slats.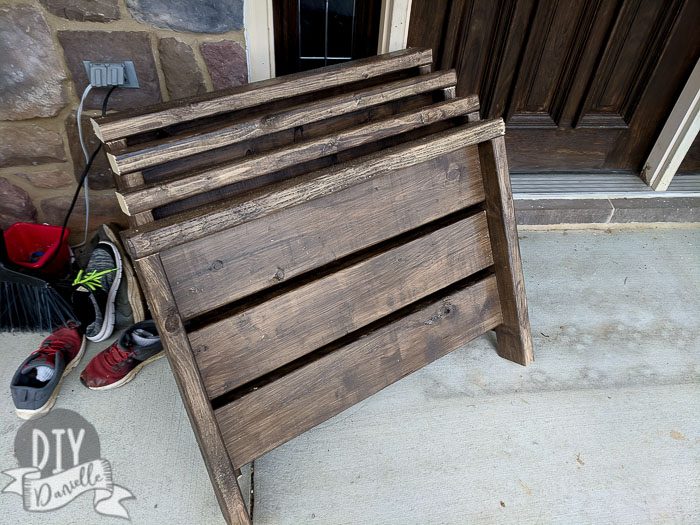 Adding the first back piece was tricky. I was hoping to snag my husband to hold things together, but he was occupied with the kiddos. The sides stood up pretty well on their own so I just held the back piece between my legs in the correct position while I screwed it on.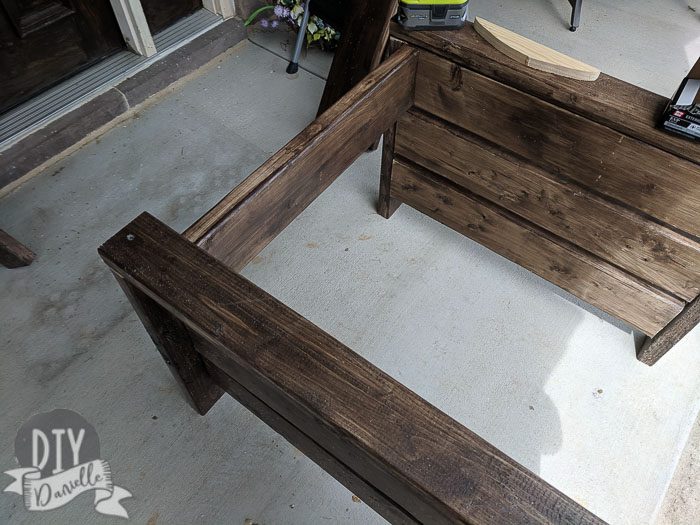 Tristan decided he needed to help at one point… he was mad because he couldn't get the screw driver into the screw and did NOT want my help at all. Phew. We had a major slow down for a bit, but Daddy took him for a tractor ride while I finished.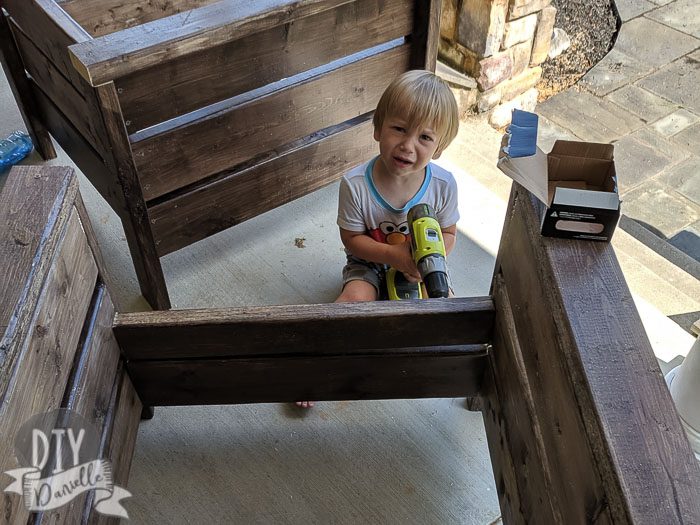 Here's a look at how the seat goes on.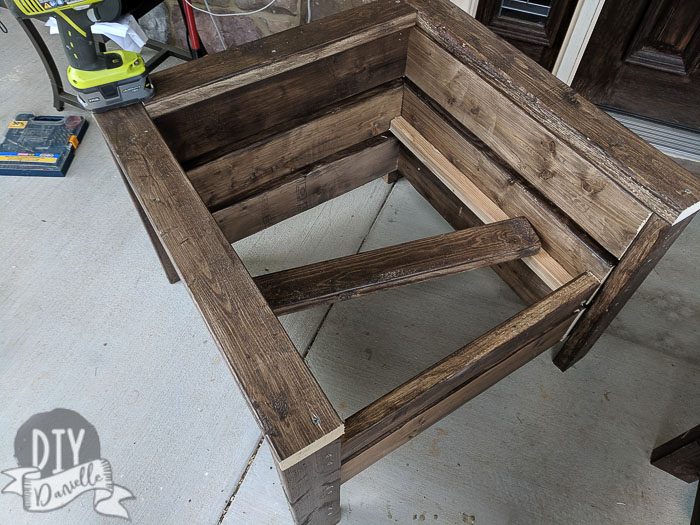 It's not very pretty without the cushion…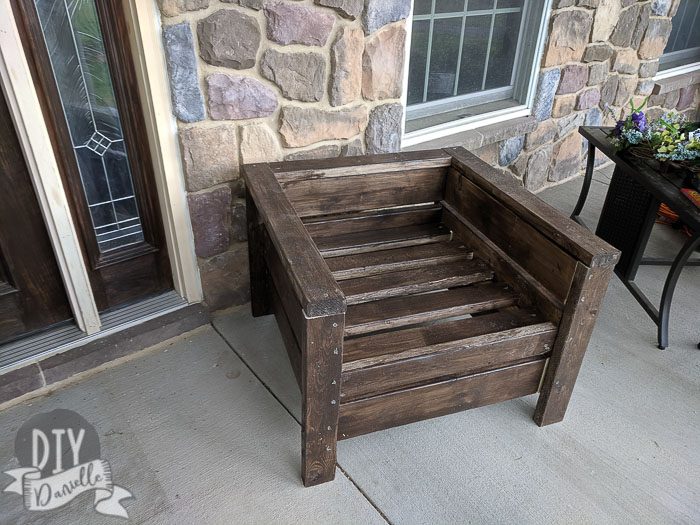 While I was staining my boards, my mother-in-law was awesome and stained my front door. I'm so pleased with the before and after for this space.
We still have a lot of work to do. Future plans: Stain the concrete porch, fix up some cracks, paint the tan framing around the door and windows white, hang planters, add more flowers to the front garden.
Check out the before and after for the door though- gorgeous right?!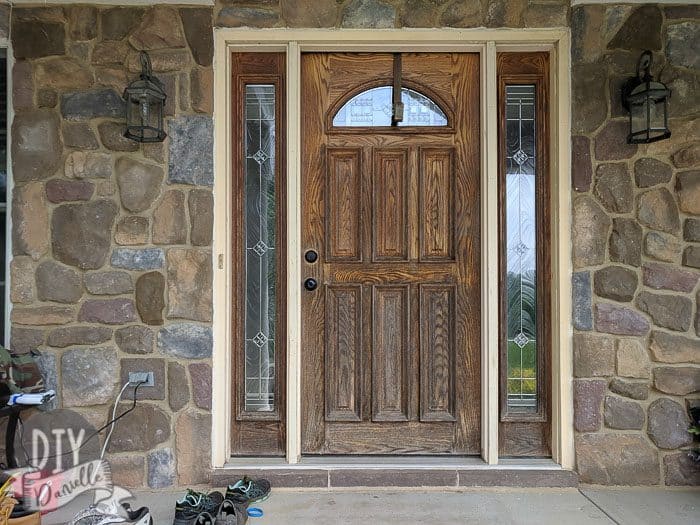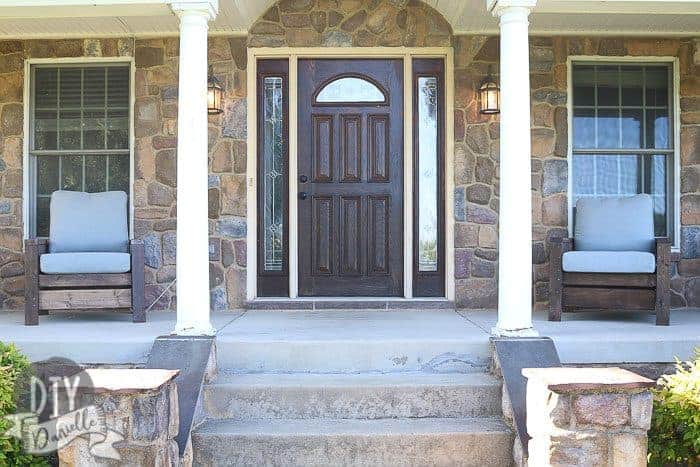 I love the idea of making a DIY outdoor table to go with my chairs!
Things I'd do different next time:
Angle the seat down in the back. I may fix this.
Stain and sand after cutting.
I wish I'd made the screw heads less obvious (although they're growing on me because they make it look a bit more rustic).
What do you think? Did I do okay for my first furniture build? Check out these 31+ Outdoor Furniture Ideas.
Love furniture? Here are some other furniture projects we've done: Distressed Lego Desk | Easy Living Room Storage Cabinets | Built In Entertainment Center | Quick and Easy Drawer Stoppers | Gaming Table | DIY Rustic Outdoor Chairs
See more Built It Cheaper Than Buying It Furniture Projects
Please share and pin this post!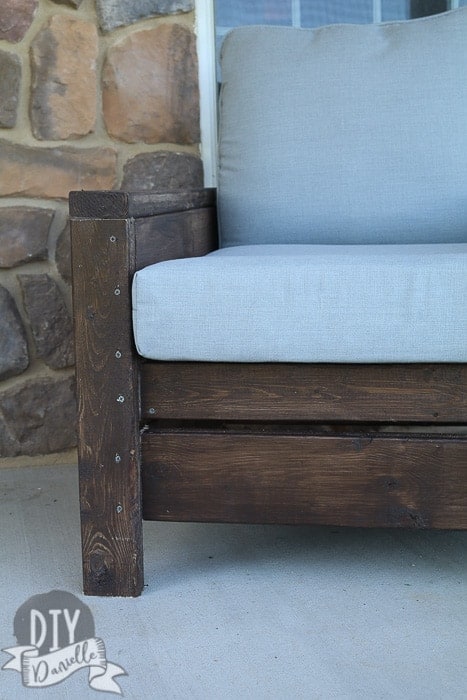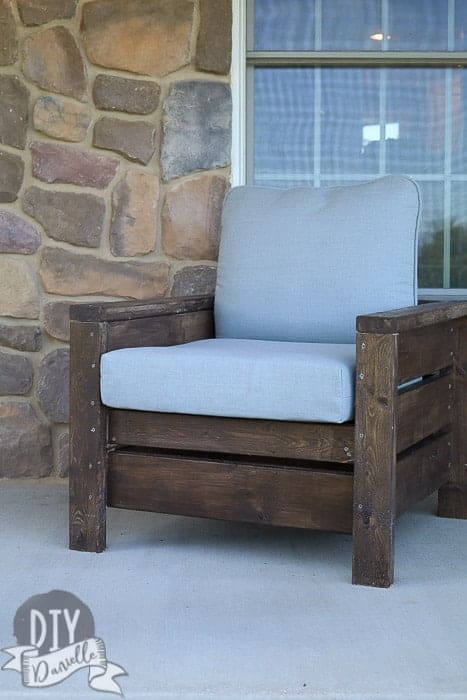 DIY Wood Patio Furniture