How to make quick and easy DIY drawer stoppers to keep your drawers from pushing into the dresser too far. These are great to add if you're repairing an old furniture piece and refinishing it- and it's a simple project!
This post may contain affiliate links. Using these links helps support my blog. Thank you!
Happy September! I wanted to take a moment to introduce my friend Kandice today who blogs at Just the Woods. She posts about furniture repair and upcycling so I know you'll love her posts.
Today she's here to guest post for me while I'm on maternity leave. She's going to explain how to fix that annoying problem where your drawers push in a little too far- it's really simple to make your own drawer stoppers to stop this! I know I learned a lot about furniture repair when I read her post so I hope you enjoy it!
Supplies Supplies listed below may include affiliate links to the products.
Wooden Shims (or paint stirrers)
Clamps
Brad Nails
Wood Glue
Tutorial for Quick and Easy DIY Drawer Stoppers
By Kandice from Just the Woods
Hi, I'm Kandice and I blog over at Just the Woods about all things painted furniture with a sprinkle of other things mixed in from simple DIY projects to room renovations and builds. I'm so excited to be guest posting over here with DIY Danielle.
Today I'm sharing a quick and easy DIY hack on how to build your own drawer stoppers.
Have you ever found that perfect piece of second-hand furniture but the drawers pushed all the way in? That is exactly what happened with this dresser. To be honest this dresser was actually far from perfect. From what I found out it was from the 1920's. The mirror had a slight haze that comes with age, it was on the original casters and there was minor chipping going on with the veneer. But aside from that, it was in pretty nice shape, with dovetail drawers and great details around that mirror. But, ugh, those drawers that push all the way back.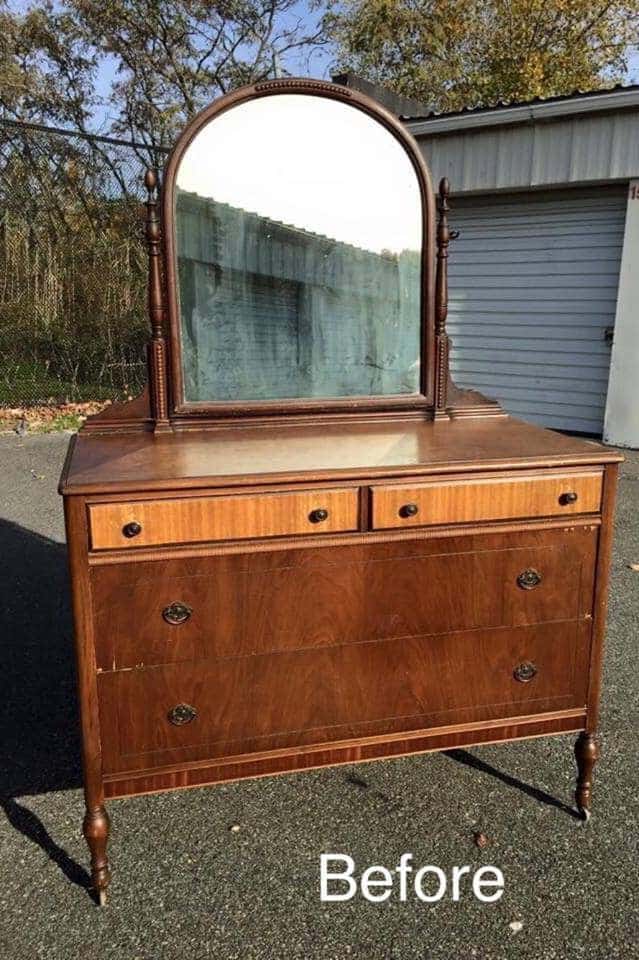 Preparing the Vintage Dresser for a Makeover
This dresser is going to be painted so it needs to be prepped and repairs need to be made. The mirror was removed from the dresser top and the chipped veneer was patched. The whole piece was then prepped in the same way that I always Prep Painted Furniture. The chipped veneer was patched up with a non-toxic product called Magic Mud. You simply glob it on, wait for it to dry, sand it smooth, and repeat as necessary.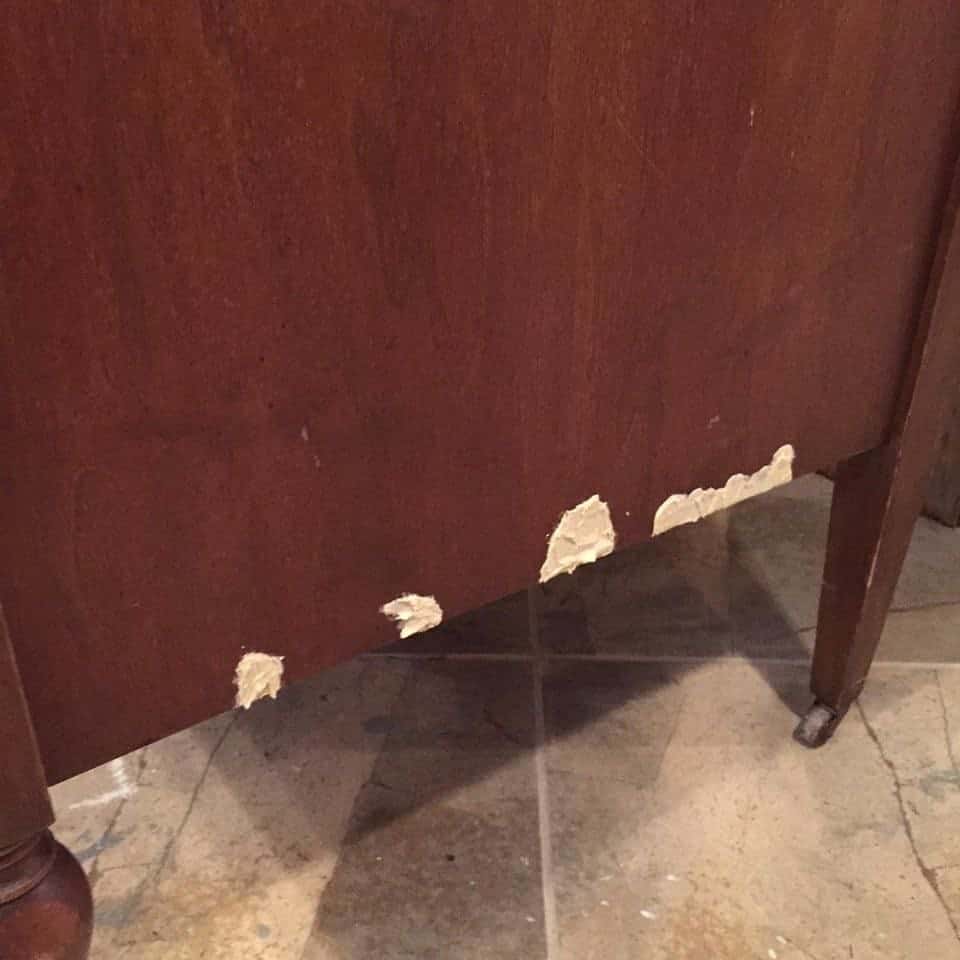 The drawers needed a bit more attention.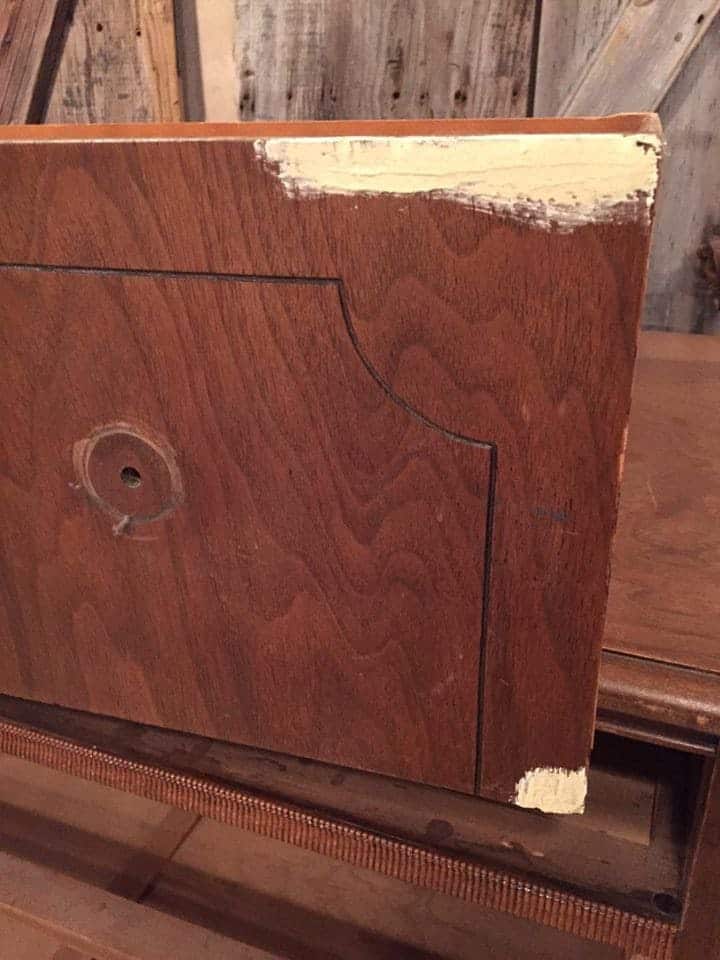 Building Your DIY Drawer Stoppers
You can see here where the old drawer stopper used to be. I've searched eBay and I could never find the same kind anywhere so being frugal it makes sense to build new ones.
To build the new drawer stoppers I grabbed a few wooden shims from my workshop. You can even use paint stirrers if you have a few on hand.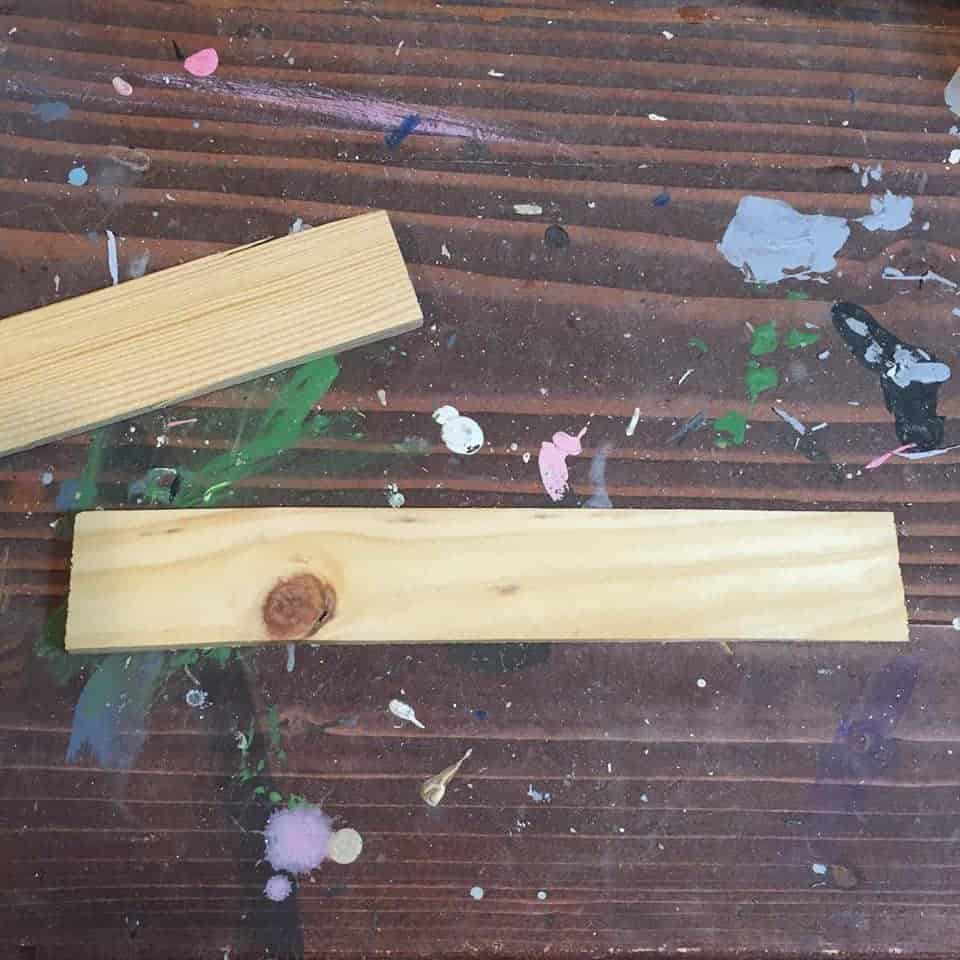 Since one shim alone is way too thin I used a couple and glued them together with wood glue.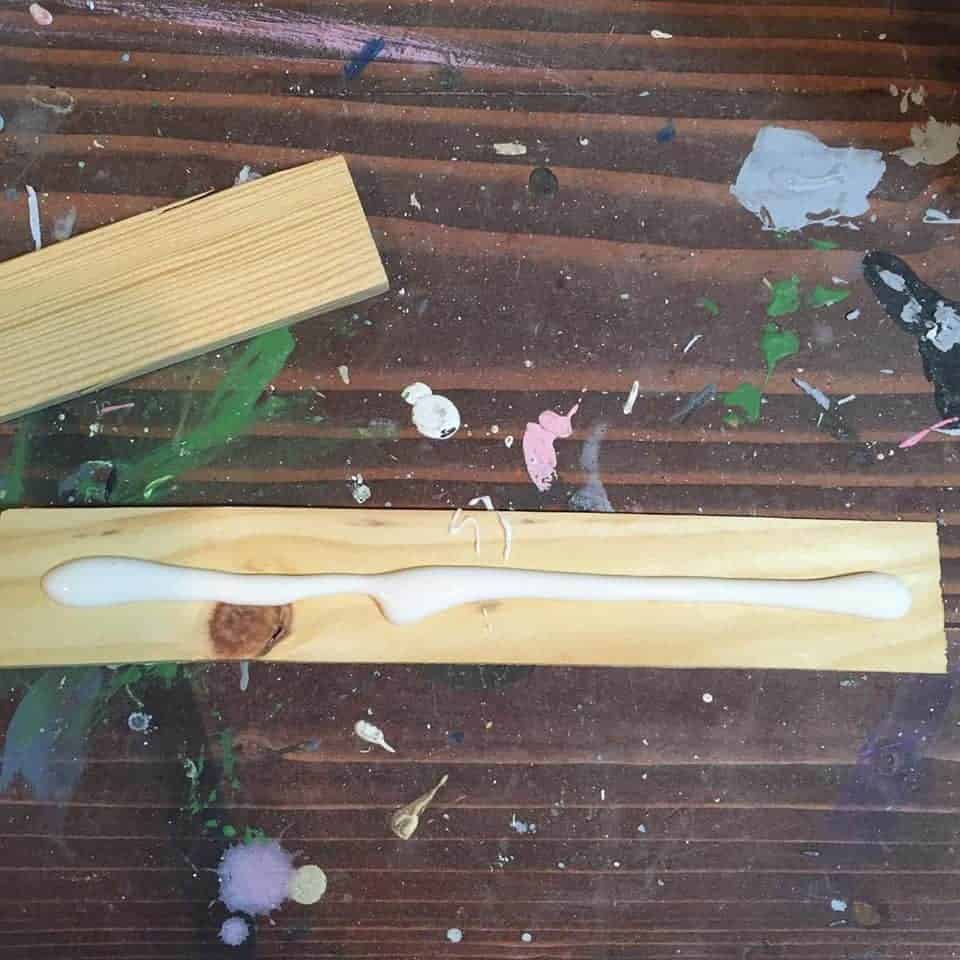 To make sure that they stay nice and tight while the glue dries grab some clamps and clamp them together.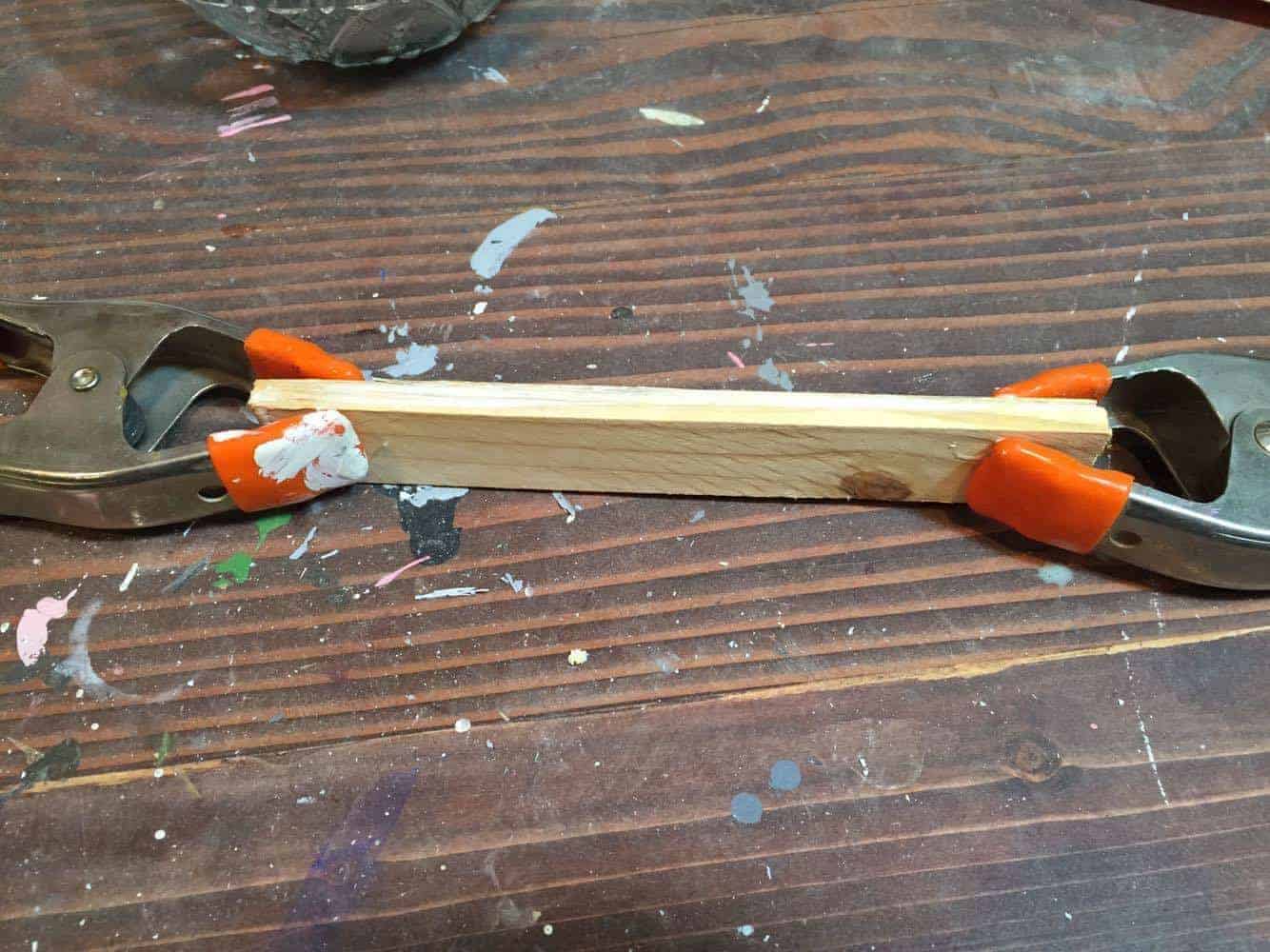 Once the wood glue has completely dried go ahead and remove the clamps. To cut the piece that you will need for your drawer stopper it's best to clamp your glued shims into a vice to keep it from moving.
With your glued shims clamped in the vice now grab a saw and cut off approximately a half of an inch piece. Be careful with that saw, please.
Next, grab a small nail, and for extra measure, I use both wood glue and the nail to affix the drawer stopper in place. Clamp the drawer stopper in place again until the wood glue has dried.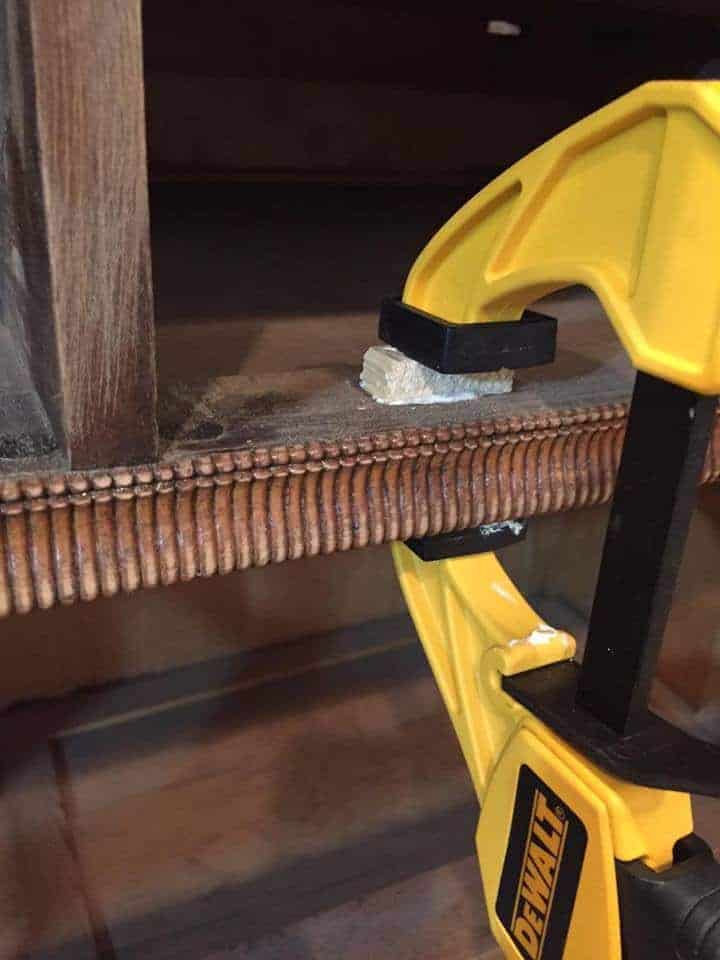 It's not fancy but it gets the job done.
The Completed Painted Dresser Makeover
This dresser was then hand painted in a pretty blue with a white wash over and wet distressed to reveal the blue underneath. The original hardware cleaned up and painted white. But the best part is that the drawers are all flush and stop where they need to thanks to these quick and easy DIY drawer stoppers.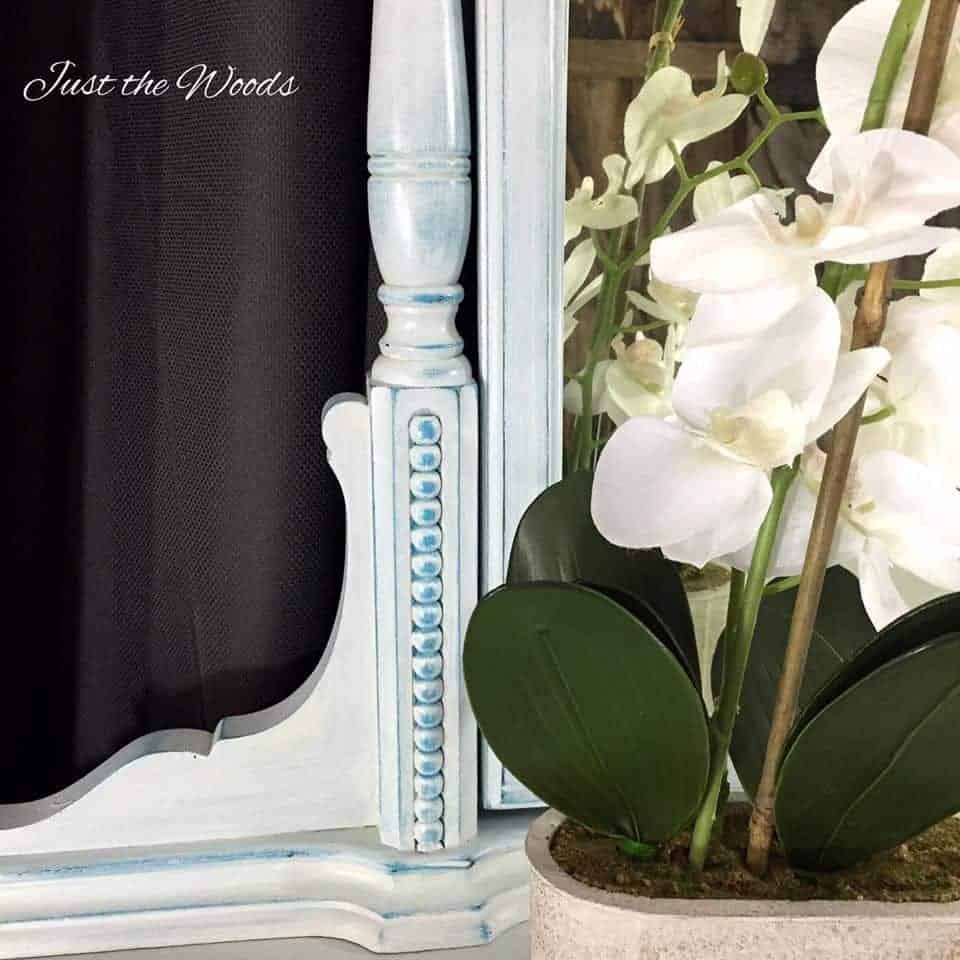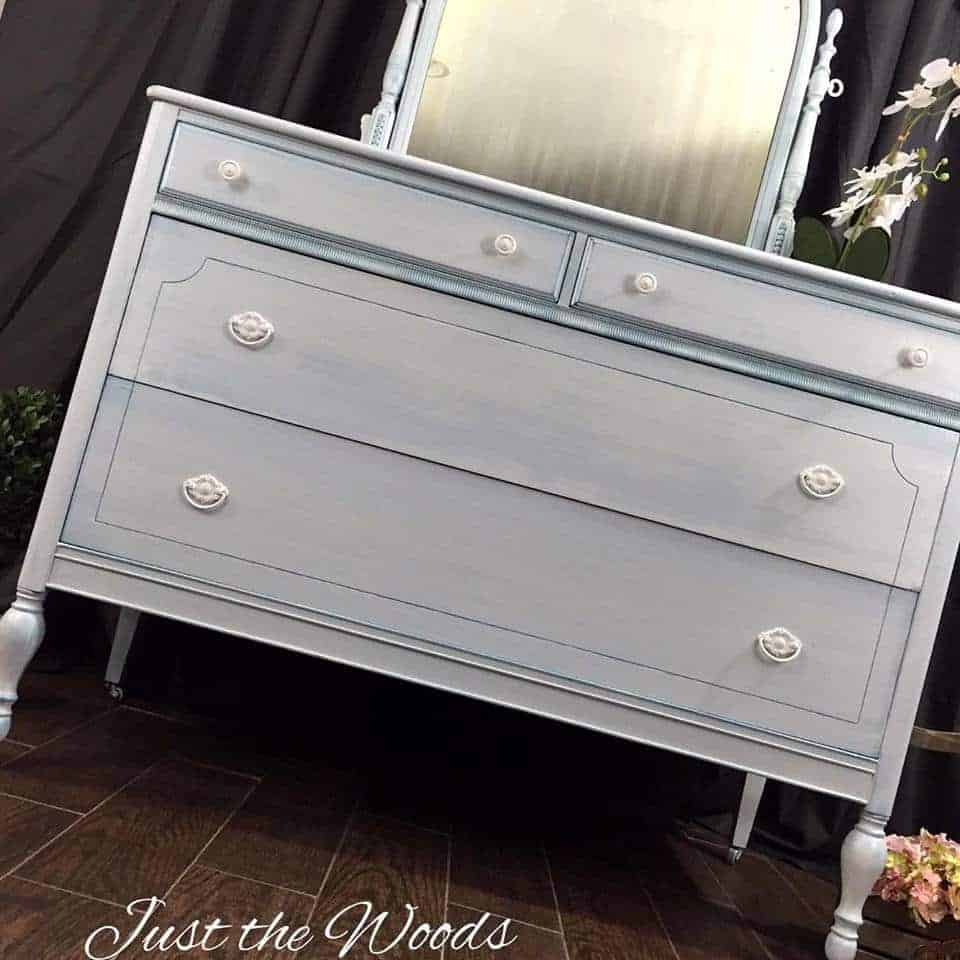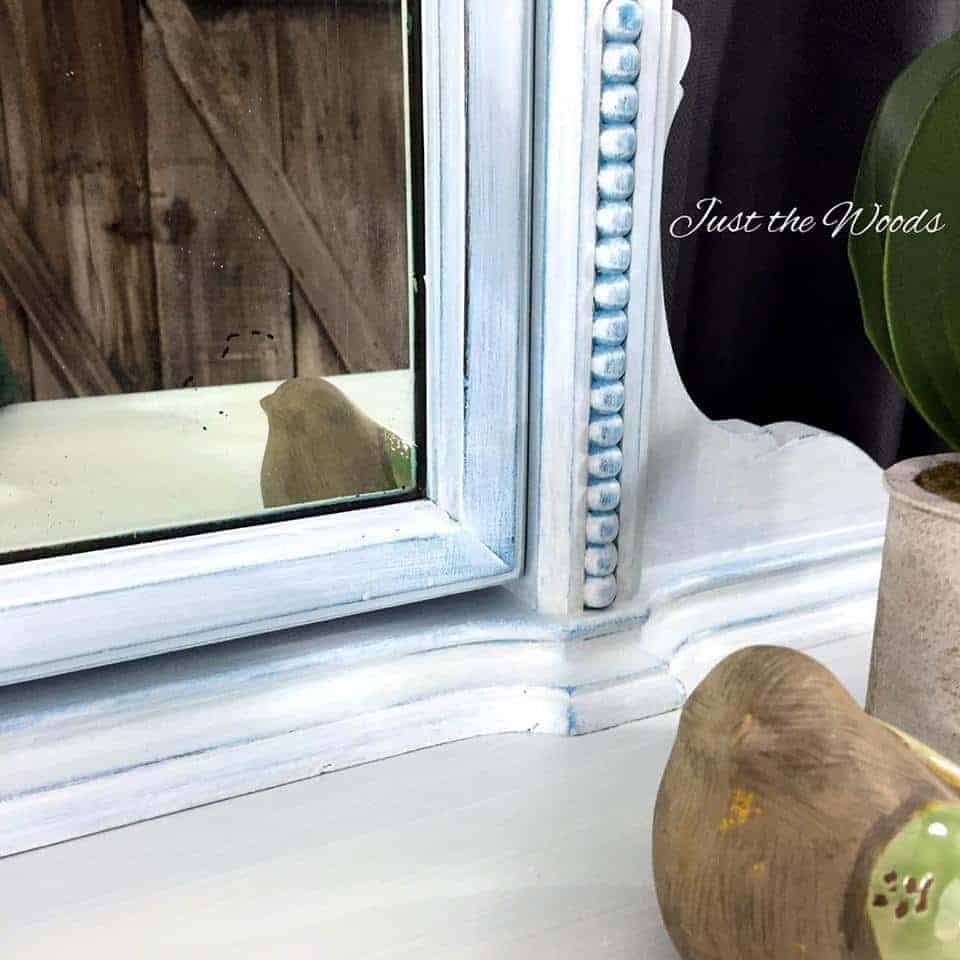 Ready to Build your own Drawer Stops?
For more furniture makeovers, tips, tricks, and DIY:
Hop on over and Follow Just the Woods on:
FACEBOOK * INSTAGRAM * PINTEREST
Subscribe to Just the Woods' mailing list
Want to update your drawers further? Here's a tutorial on How to Install an Outlet in a Nightstand Drawer. This doesn't involve any tricky electrical work.
Love it? Pin and Share it!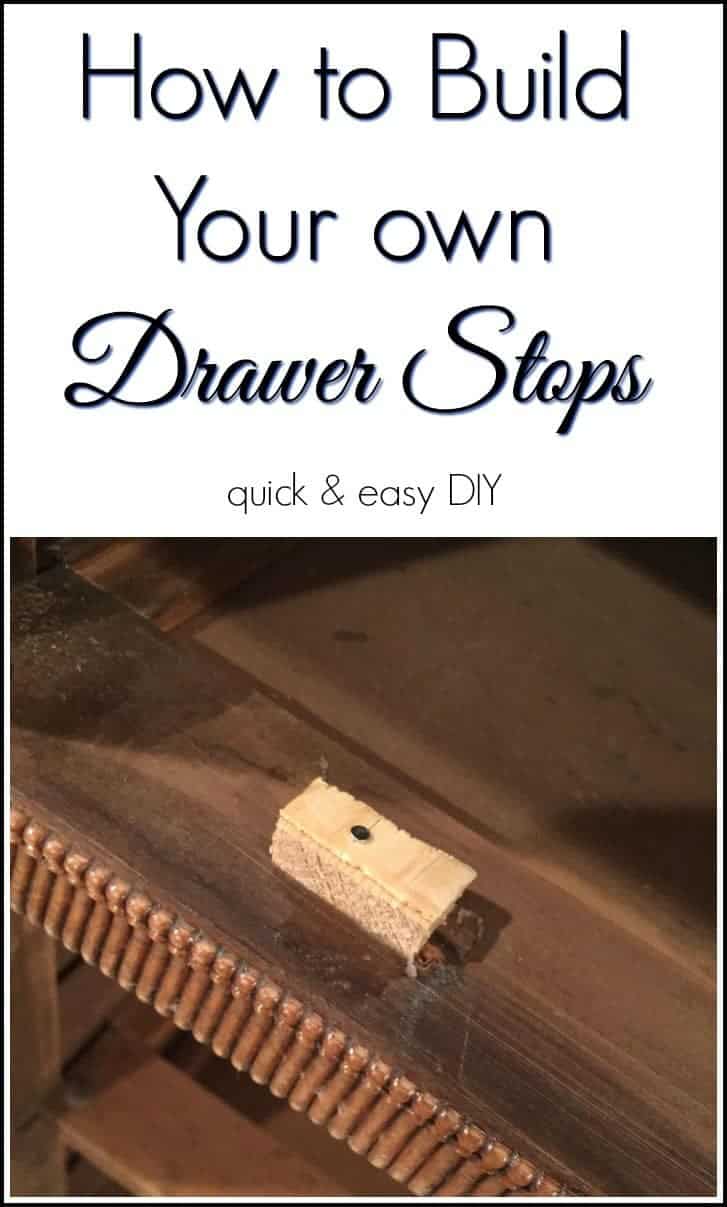 Thanks for taking the time to read this post! I really appreciate the time you've taken. Please share, like, and pin my post if you enjoyed it. Follow me on social media and subscribe to my email list to keep up to date on all of my latest projects!