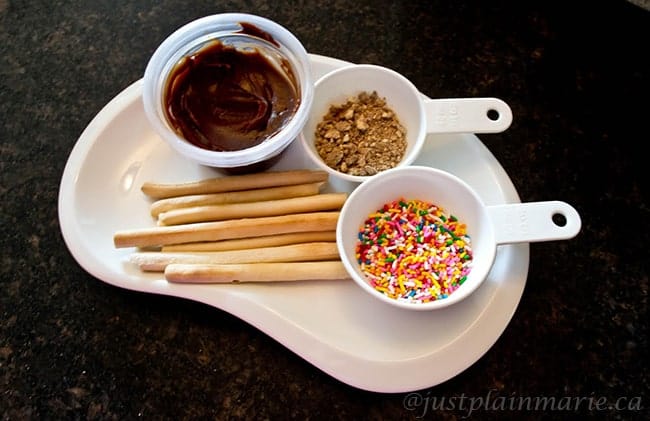 How to make diy no bake cookie sticks. These are similar to Pocky sticks.
This post may contain affiliate links. Using these links helps support my blog. Thank you!
While I'm on "maternity leave" (as much as a blogger can take), I'll have a few people guest posting on the blog to keep things interesting. Today, my friend Marie over at JustPlainMarie.ca is going to talk about how to make DIY no bake cookie sticks. These look delicious. My sons were watching over my shoulder while I was scheduling this post going, "Ooooo can we make that!?! I LIKE THAT!"
Have you ever had Pocky sticks? The first time someone gave me one, I headed to the store to find them, and then stopped short at the price.
They're imported from Japan and kind of … really expensive.
Hi! I'm Marie, and I'm usually found at Just Plain Living. My friend Danielle has been looking for people to fill in for her while she's off having her next baby. Since I'm too far away to help with the baby, I decided to try my hand at some fun DIY posts. Leave a note and let Danielle know if you like it, and I'm sure I'll be back with more delicious goodies. Hey, and maybe I should mention that I'm the author of A Cabin Full of Food, a homesteading cookbook packed with almost 1000 from-scratch recipes. (No cookie sticks, though – this is new stuff!)
Now, if you're a diehard Pocky fan, my version isn't going to change your mind. Glico has been making these delicious little snacks (cookies? Cookie sticks?) since 1922 and they've remained popular for good reason.
But maybe you're a little bit cheap, a little bit DIY and you want … oh, let's be honest, mostly you want the cool snack without the huge imported price, right?
Luckily that is very easy to do!
Ingredients
You're going to need some bread sticks – the skinnier the better. You will need a jar of chocolate spread. You could also make up a batch of dulce de leche and use that instead of the chocolate spread. How about cookie butter?
And finally you'll need the fun extras – cookie crumbs (make those yourself), coloured candy sprinkles, even crushed nuts. You could also have some melted chocolate in a color that contrasts your chocolate spread, or maybe just cinnamon sugar if you're using dulce de leche.
Instructions
This is going to be one of the easiest, most impressive snacks you've ever made, and you can definitely give this as gifts.
Step One
Break your breadsticks in half.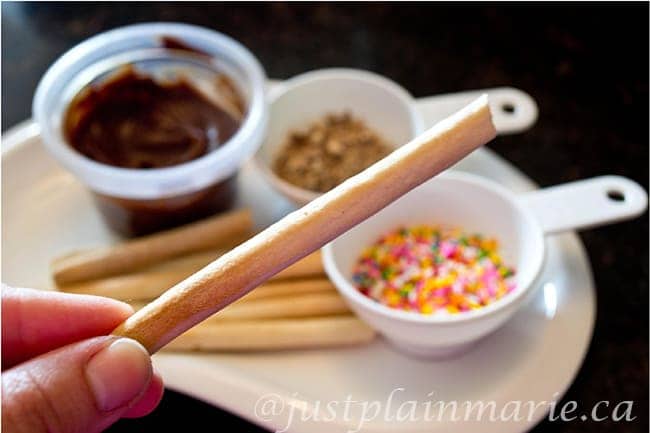 Step Two
Cover half of the broken breadstick with your delicious coating of choice.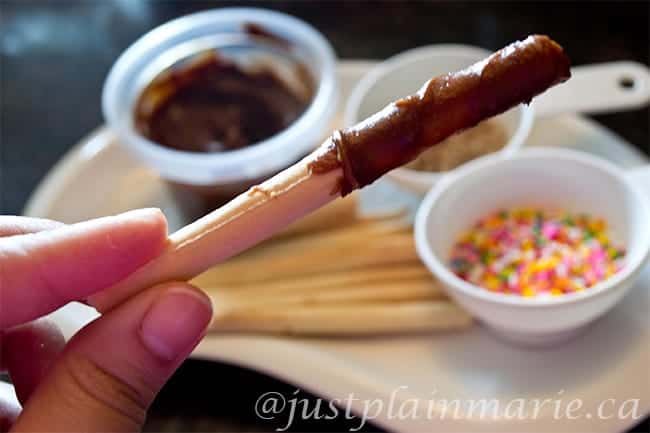 Don't eat it yet. (Should that have been step three)
Step Three
Decorate your breadsticks. Get creative and have fun. I kept it pretty simple with just chocolate sauce, cookie crumbs and sprinkles, but your imagination is the only limit here.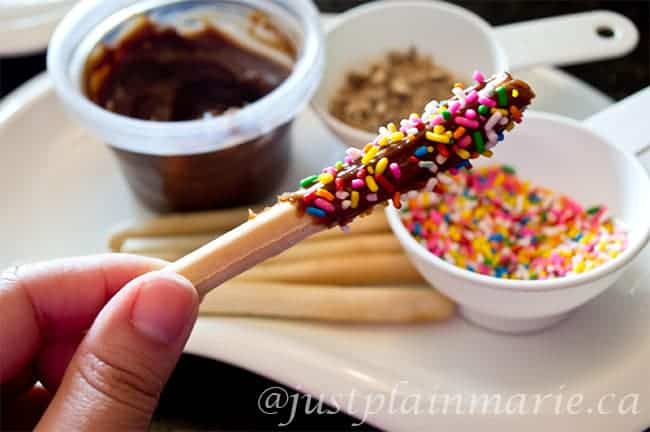 Thanks Marie for sharing this delicious recipe!
Don't forget to check out Marie's other posts on her blog, justplainmarie.ca. Marie also wrote a fabulous cookbook, A Cabin Full of Food. If you're looking for a cook from scratch type of recipe book, make sure to pick it up! I recommend the print version… I got her eBook initially, then realized I'd need the print book because there's too much content to really read through easily in an eBook.
Love it? Pin it!

Thanks for taking the time to read this post! I really appreciate the time you've taken. Please share, like, and pin my post if you enjoyed it. Follow me on social media and subscribe to my email list to keep up to date on all of my latest projects!

Disclosure of Material Connection: Some of the links in the post above are "affiliate links." This means if you click on the link and purchase the item, I will receive an affiliate commission. Regardless, I only recommend products or services I use personally and believe will add value to my readers. I am disclosing this in accordance with the Federal Trade Commission's 16 CFR, Part 255: "Guides Concerning the Use of Endorsements and Testimonials in Advertising."