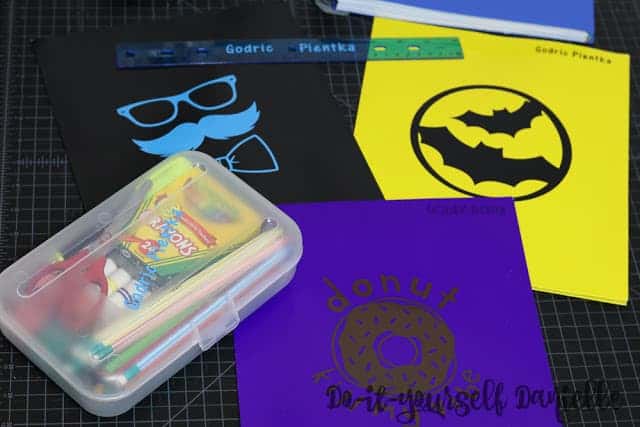 How to easily label items for the school year, as well as decorate notebooks and other school supplies. This is an easy project using a Cricut Air 2 or you can purchase Mabel's Labels, using the coupon code provided for free shipping.
This post may contain affiliate links. Using these links helps support my blog. Thank you!
I will admit it- I have been lax about labeling the kids' items for preschool. They don't really have that much to bring, most of it was in their backpacks and stayed there, and I didn't usually send things that I minded them losing. I also sort of expected them to just keep track of their stuff.
But the preschool does a summer program and the kids have needed to bring items like a beach towel and swim suit which are then hung outside to dry until pickup. And it's gotten easier for things to get lost. Not only that, but my oldest son goes to kindergarten this Fall so I want to put his name on some of his items. There's a much greater chance he'll have another kid with the same backpack or such.
So I decided to pull out my Cricut Air 2 to make some easy labels and also to decorate his school supplies. He was so excited! If I didn't have the Cricut Air 2, I'd opt for some Mabel's Labels because I have a set of those and they're really useful, but I wanted to use things I had on hand. I also offered him the option to decorate them himself using stickers (because we have soooooo many stickers around). But he wanted mommy to make them… and I'm going to take that because in a few years he'll be too cool for that!
Supplies Supplies listed below may include affiliate links to the products.
Hair straightener or iron
Piece of scrap fabric or Teflon sheet
Outdoor Vinyl: Use permanent
Alternative to using a Cricut Air 2: Mabel's Labels
Things to Label
Backpack
Pencil case
Lunchbox
Jackets
Blankets and cot sheets
School
Water bottles
Tutorial for Labeling with the Cricut Air 2
First, it depends on what you want to label. Interior or exterior vinyl works for notebooks, water bottles, and the like. HTV is used for fabric items. I went and found some fun images in the Cricut library for the fronts of my son's folders. I just resized them, cut them on permanent vinyl, then used transfer tape to relocate them to the folders. Very easy and I added his name in vinyl too.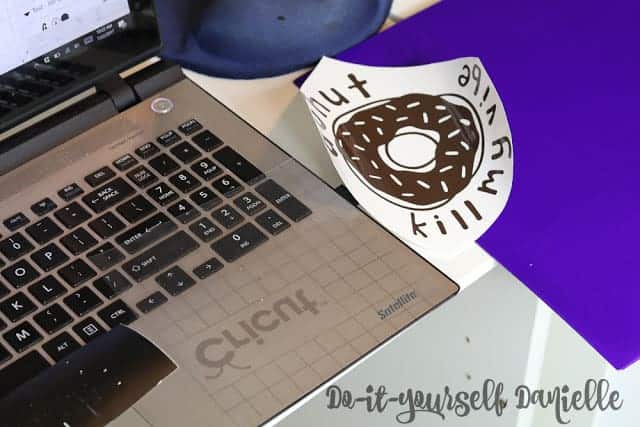 For his backpack and other fabric items, I used heat transfer vinyl (HTV) and ironed it on. Pro tip: the iron melted the interior of the straps where I ironed it. Someone mentioned that using a Teflon sheet to apply HTV to items like this would prevent the melting. Wish I'd known that beforehand, but I didn't set fire to the house and that's what is important. I was really impatient to finish it all.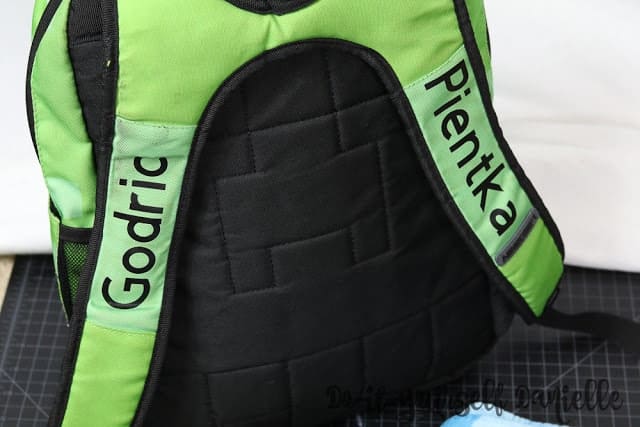 These particular items are for my sons' preschool. He needed his blanket, cot sheet, and towel labeled. I'm not sure how well the HTV will stay on the blanket and towel as I didn't have a heat press to use (which is preferable), but hopefully it will work for a bit.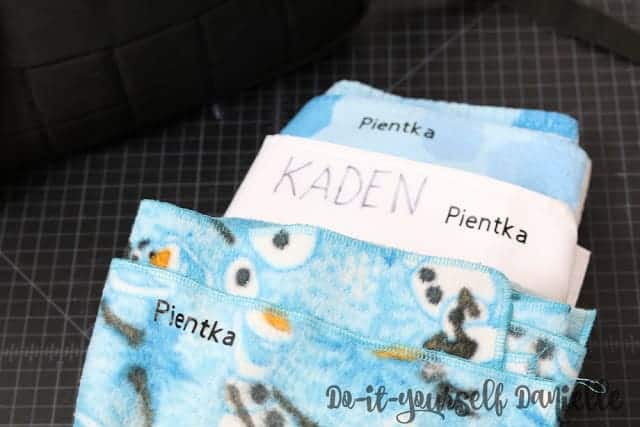 Creating a bunch of labels all at once worked well for me, particularly with adding our last name to items that might be shared among my sons. I didn't want to label something for Godric when Kaden might eventually have that item to use. Labeling with just our last name solved that problem. The nice thing about using HTV for the fabric items is that there are ways to remove HTV later on… so if you want to donate clothing or other items in good condition, nobody else has your name on their clothes.

Labeling with Mabel's Labels (plus a coupon code!)
If you don't have a Cricut Air or a Silhouette, ordering from Mabel's Labels is a great option. I'd heard a lot about the company, but didn't really understand what they offered that was so cool until I won a set of labels this Spring.
They're so cool! The labels I got are dishwasher safe and I used them to label my sons' water bottles and lunch box… and they have stayed on through a lot of wear and tear. I haven't tried the iron on labels, but I imagine they're much the same.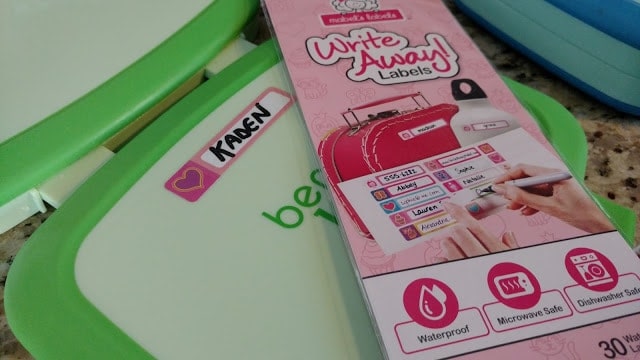 Just to explain how they work, the sticker sticks onto the item you want to label. The top of the sticker is a clear film that isn't sealed on there… you move it out of the way, use a marker to label it, then remove the backing for the film. Once you remove the backing to the film, use your finger to smooth it over the name area. It sort of seals on there so it won't erase in the dishwasher or such. It's pretty brilliant!
If you want to give them a try, click here or click the banner below to get free shipping on Mabel's Labels within the USA.
Love it? Pin it!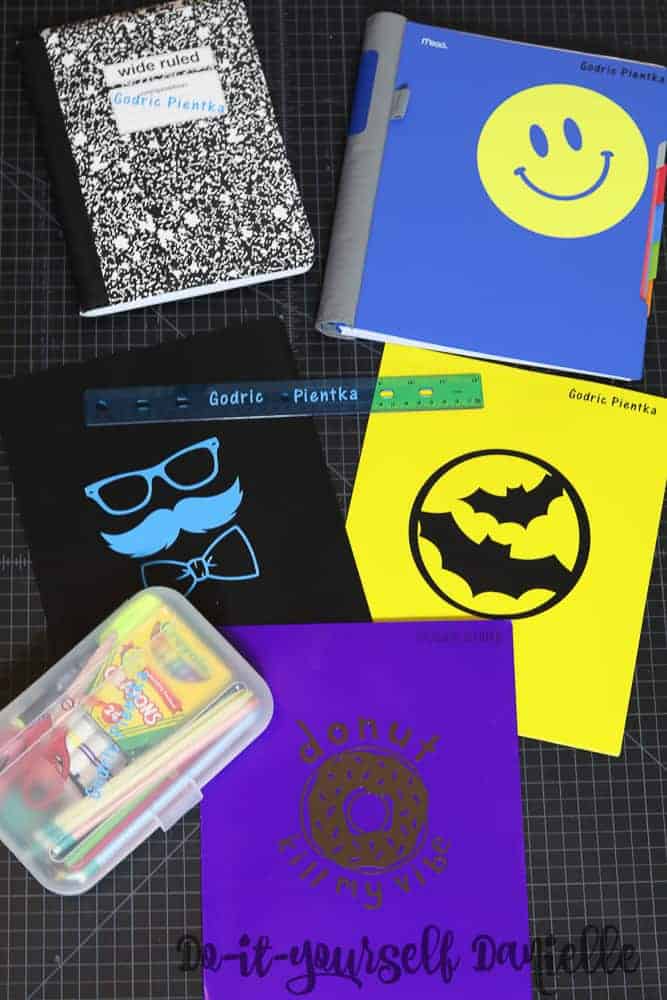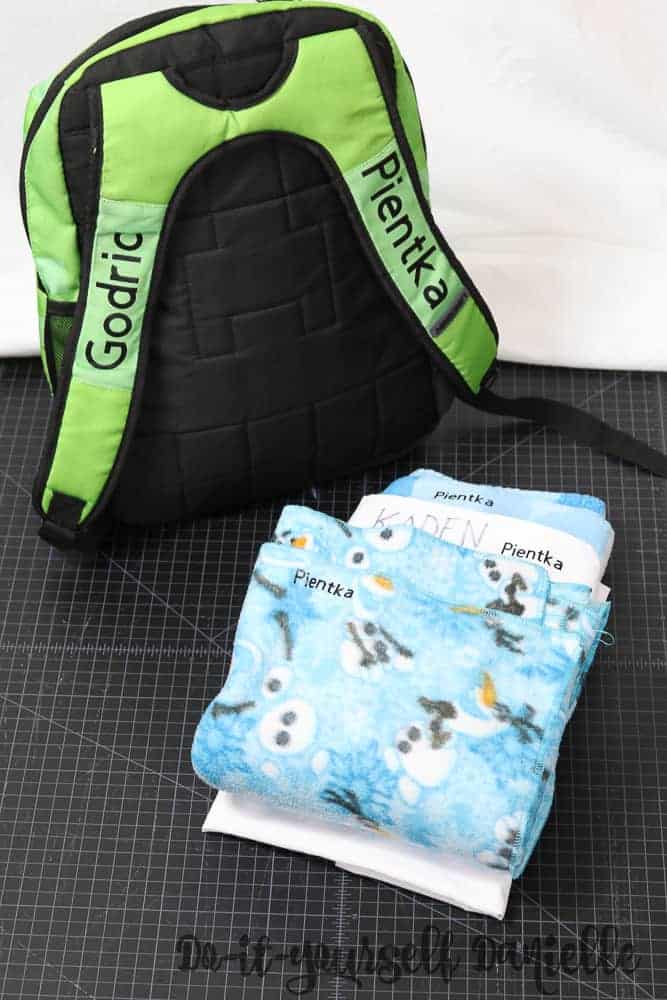 Thanks for taking the time to read this post! I really appreciate the time you've taken. Please share, like, and pin my post if you enjoyed it. Follow me on social media and subscribe to my email list to keep up to date on all of my latest projects!

Disclosure of Material Connection: Some of the links in the post above are "affiliate links." This means if you click on the link and purchase the item, I will receive an affiliate commission. Regardless, I only recommend products or services I use personally and believe will add value to my readers. I am disclosing this in accordance with the Federal Trade Commission's 16 CFR, Part 255: "Guides Concerning the Use of Endorsements and Testimonials in Advertising."
Use the Discount Code DIYDANIELLE on cricut.com for 10% off any cutting machine or heatpress (no minimum). Excludes: materials/accessories/mystery boxes/etc. Applies to US/CA only, code expires 12/31/23.