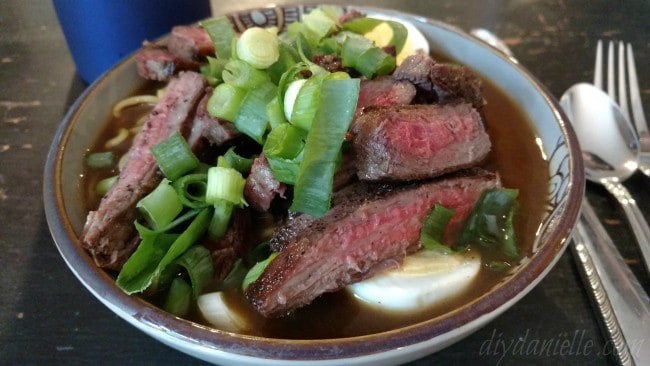 Tips for getting started with Terra's Kitchen and a coupon code for $35 off your first order.

This post may contain affiliate links. Using these links helps support my blog. Thank you!
Many of you know that I love Blue Apron and have been a subscriber for a while. My husband and I enjoy it for relaxing meals together after the kids go to bed. But the kids won't touch them and as such, we subscribed for three 2-person meals. My pregnancy has been rough and meal planning has pretty much lost all interest for me so having a meal delivery service has been really useful for making sure we have healthy meals available- but I wanted something for my kids too! I also wanted to decrease how much time we were spending prepping the meals.
We decided to give another meal service a try. I doubt we'll cancel Blue Apron completely… but we were getting their meals once or twice a month so it was feasible for us to try another service on the off weeks.
I decided to try Terra's Kitchen which offers prepped ingredients ready to cook. It's really convenient and the recipes are quicker to cook.
I do have some thoughts on one service vs. the other… and your personality is going to determine which you'll love more. I think Blue Apron is the right choice for the huge foodie, someone who wants to try many different types of vegetables, or the person who wants to learn to cook.
I think Terra's Kitchen is easier for those who need quick cook times and healthy meals, but don't care about replicating the meals for themselves later.
Benefits to Terra's Kitchen vs. Blue Apron
Reusable containers for shipping mean less cleanup and attention to ensuring the items get upcycled or recycled.
Larger variety for meal choices.
Option to get family meals and also couples meals in one box.
Option to order "side" items as well (salads, meat, etc)
Food comes prepped and ready to cook. This means less time spent in the kitchen… I'd say many Blue Apron meals were taking us about an hour or more, but the Terra's Kitchen meals are taking us 30 minutes or less.
The food isn't as fancy… my kids actually are interested in eating it.
The meals are pretty simple and easy to make. They take far less time and use fewer pots and pans.
Benefits to Blue Apron vs. Terra's Kitchen
Blue Apron offers different meals each week. Terra's Kitchen appears to have a select number of items to choose from for the month. There are a lot of choices, but if you only like a few then you may find that you don't have enough items to order for each week of the month.
Being forced to prep your meals with Blue Apron does familiarize you with cooking and food prep methods. You get faster at it and, in my honest opinion, you become a better cook as a result. There's some benefit to this if you want an "at home" option for learning cooking skills.
Blue Apron has some pretty solid educational material and recipes that they send which allows you to easily replicate the recipe on your own. Terra's Kitchen sort of has that, but not enough that it's simple to figure out for yourself (ie. the mixed veggies are all mixed together so I'm not really sure how many zucchini, onions, etc. were in the package).
The food is fancier. It's wonderful for foodies and for special date nights- again, this seems to backfire for us when we were trying to get the kids to eat it, but it was great for us.
Blue Apron introduced me to a lot of foods I didn't think I would like… or that I hadn't liked in other cooking styles. This was really good for me (to grow as a cook and a person who eats things, haha).
Getting Started with Terra's Kitchen
When you click on the link to sign up and get $35 off your first order, you'll see the option to "Get Started" on the top right. Click that and you'll be prompted to go through the process to setup your account.

Once you input all of your information, you need to choose your meals for the weeks you want to order. "Manage Deliveries," located in the top right corner, will allow you to do so. Your calendar is located on the left side of the screen, showing you which weeks you have ordered (green) or skipped (red).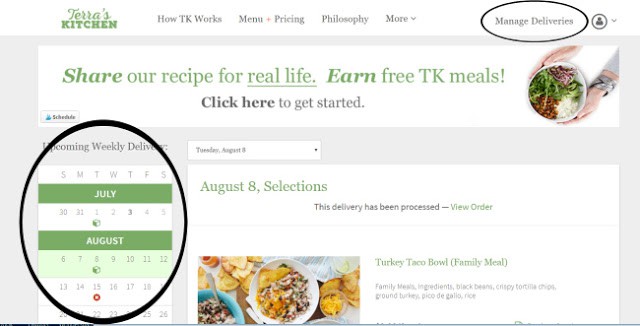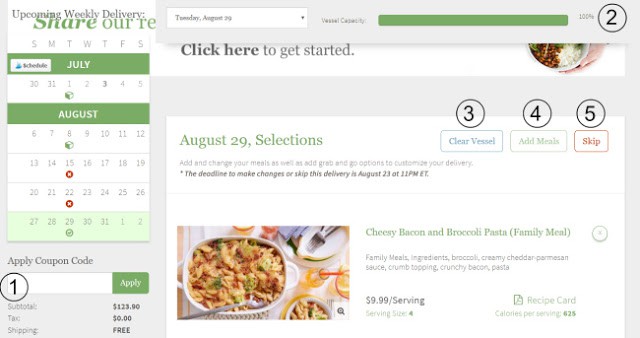 As you can see, my August 8 selections have been processed already. I can view the order, but I can't change anything, seeing they've already submitted it to be sent out.

Okay so when you go to order, you can make your selections and fill up your box. Just to explain a few areas… here's the screen with convenient numbering to help you follow along.

1. This is where you can to put the coupon code that I've included at the bottom of the post (TKNOW35). You can get $35 off your first order with it. Don't forget it!
2. This is the vessel capacity for shipping. The boxes are fairly large, but they still only fit so much. Depending on what you order, this will fill up faster or slower. We have two family meals coming in this order so those filled up the box by themselves.
3. "Clear Vessel" just means you can clear out your selections and start over.
4. "Add Meals" is for if you want to add more items into your box, assuming you still have room.
5. "Skip" is used to skip that week's meals.
As you can see on the calendar to the left, we skipped August 15 and 22 deliveries because I'm due to deliver a baby somewhere thereabouts and we will likely be in the hospital a few days. We have family helping out and they're all the types who won't experiment much with food and I don't want the food to go to waste.
The nice thing about these services is that you can skip meals pretty easily if you stay organized about it. I always set reminders on my phone so I won't get a surprise.
If you notice the "x" next to the meal, that's what you click if you want to remove it from the box. I did a lot of that with my first order because I couldn't decide what I wanted to try first.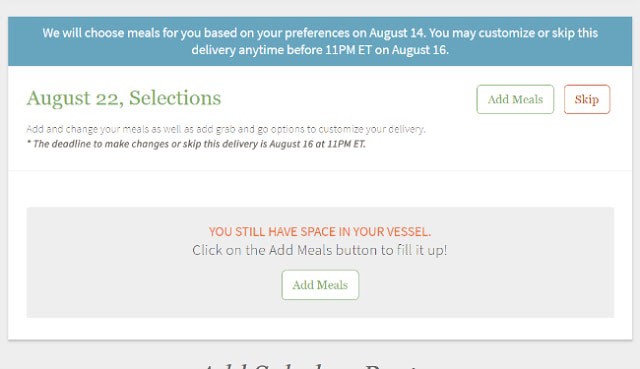 Make sure to skip weeks that you don't need service. If you forget to skip and also don't pick out the meals for a week, they will choose meals for you. Do you remember those book or movie or CD clubs from back in the day? If you were good at those, you'll probably be fine. Otherwise, make sure you're setting alarms to remind yourself.

Food Choices with Terra's Kitchen
First, you have a lot of choices. I won't be able to list them all here because there's so many and this post is leaning towards being really overkill on the photos, but I believe there's about SIXTY meals to choose from.
At the top, you'll be able to narrow it down to what types of meals you want. They have family menu (4 servings), low calorie, gluten free, paleo, vegetarian, weight loss, and dairy free meals. That's a pretty amazing feature if you struggle with diet. I think a diabetic option would be a nice addition (in case anyone from Terra's Kitchen sees this).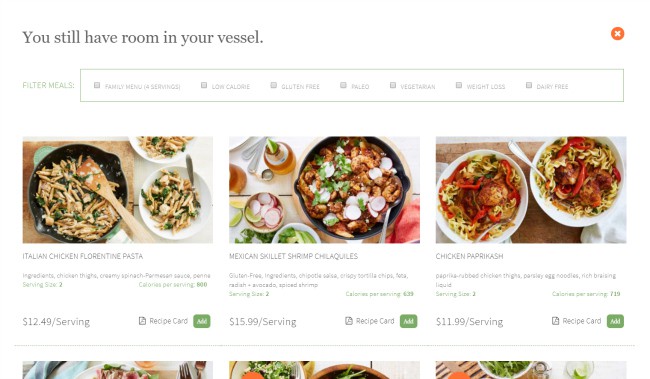 It breaks it down into cost per serving (with some as low at $9.99), the calories per serving, and you can peek at the recipe card. You just click "add" when you find meals that you want.

The neat thing about their service is that you don't exclusively need to order meals. They have other add on items as well.
You can add the following:
Sides such as broccoli, sweet potatoes, whole wheat penne.
Snacks such as berries.
Proteins like chicken, cod, and steak.
Salads and Bentos such as caprese salad, smoothies, and apple walnut chicken salad.
When you look at those sections, it will look like there's three selections but you can scroll through more by clicking on the arrows.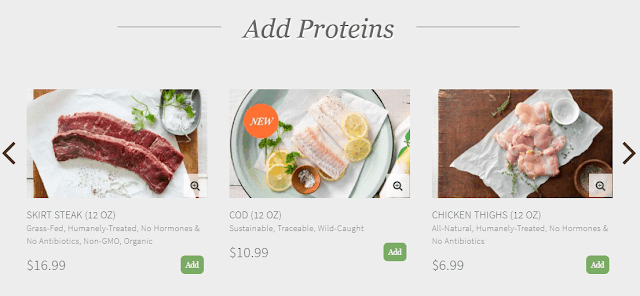 Unpacking a Terra's Kitchen Order
You'll receive a heavy box with two bands on it to seal it. Those rip off, then you can open the front. Inside, you'll find trays with food and reusable ice packs. The trays and ice packs go back with the food.
Remove ALL of your food and the instructions for your recipes, then close the box back up. Peel off the label on the top of the box and underneath is the label for the shipping company to pick the box back up the next day. If you have a hard time carrying the box, you could unbox right on your doorstep if needed- the food itself isn't heavy, but the box is a bit hefty because of the ice and such.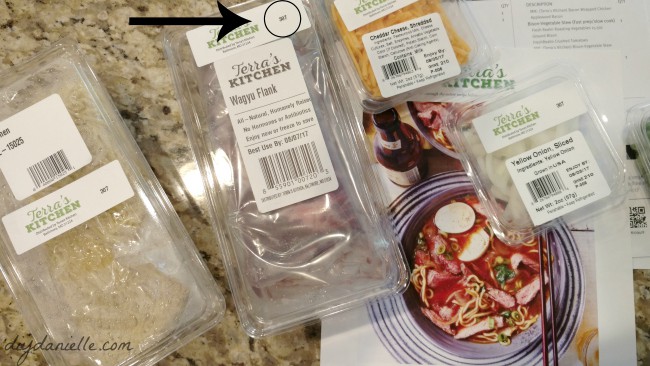 Your recipe cards will be inside the case and you can unpack all of the containers to go in your refrigerator. At the top of each box is a number that identifies which recipes it belongs to. The recipe cards have a matching number on them. This makes it really easy to sort your meals.
Cooking Experience with Terra's Kitchen
It was super easy. For the most part, everything is prepped and ready to go, but that doesn't mean you're completely ready. You'll need to prep some items yourself, just because some types of food get icky if prepped before shipping- like avocado. Some meals have more or less items like that, but generally I don't need to pull out the cutting board.
I like that they had a slow cooker recipe as an option- although I'm terrible at planning the timing on them, I love just dropping stuff in and being able to eat it in 7-8 hours. It's great for busy days. But that isn't a huge issue because the meals usually cook in 30 minutes or so which I normally have the time to do.
The serving size is pretty decent too. We had leftovers from our family meal the other night which was nice!
The box gets shipped back and the bins that each food item comes in can be recycled so I find cleanup pretty easy. We use a lot less dishes because we aren't doing as much prep. It seems like they are really focused on how to make the least amount of dishes which I really appreciate.
Will Kids Eat Terra's Kitchen Meals?
This probably depends a lot on your kids, but mine have been super picky recently… probably because pregnancy had me so sick for a while that I was barely scraping together chicken nuggets or spaghetti for them each night. So now all they want is "mac n cheese" and "hot dogs" and "chicken nuggets." Bleh. They have a number of things that they normally refuse to eat…. but they've eaten them in my Terra's Kitchen meals. I've been pleasantly surprised! And excited because I feel like I have an opportunity to expose them to a better variety of foods and nutrients in these meals than I do in the things I cook from my recipe book.
We got a turkey taco bowl recipe the other day for the whole family from Terra's Kitchen. It had pico de gallo, rice, and black beans mixed together with the other ingredients. My kids frequently refuse rice. They don't like tomatoes. And I'm not sure they've ever had beans that weren't really mixed in well. But they ATE it. They really liked the tortilla chips we made with the meal too. I was pretty excited.
As my kids are only 3 and 5 years old, they don't eat a ton so when it says "4 servings," that usually means there will be leftovers. I've shared some of the 2 or 3 serving meals with them by just adding an extra side or two from my pantry (ie. homemade bread and a separate fruit/vegetable).
I find that it's helpful to talk about the ingredients in a meal and the nutrients they have when my 3 year old starts to get the picky whine going on. "MOMMY WHAT'S THIS GREEN THING?!" I'll say, "Oh that's an herb called 'basil' and it makes food taste yummier…" If I talk long enough, sometimes he forgets that he was about to refuse to eat it unless I picked the green pieces out. Sometimes. Haha.
These meals will be great for after baby comes so we don't need to run to the store so much or meal plan. I just didn't have it in me to prep freezer meals this time.
Coupon Code for Terra's Kitchen
Interested in giving Terra's Kitchen a try? Get $35 off by clicking the link below and using the coupon code "TKNOW35."
If you think Blue Apron is more your style, make sure to check out my posts on Blue Apron:
Love it? Pin it!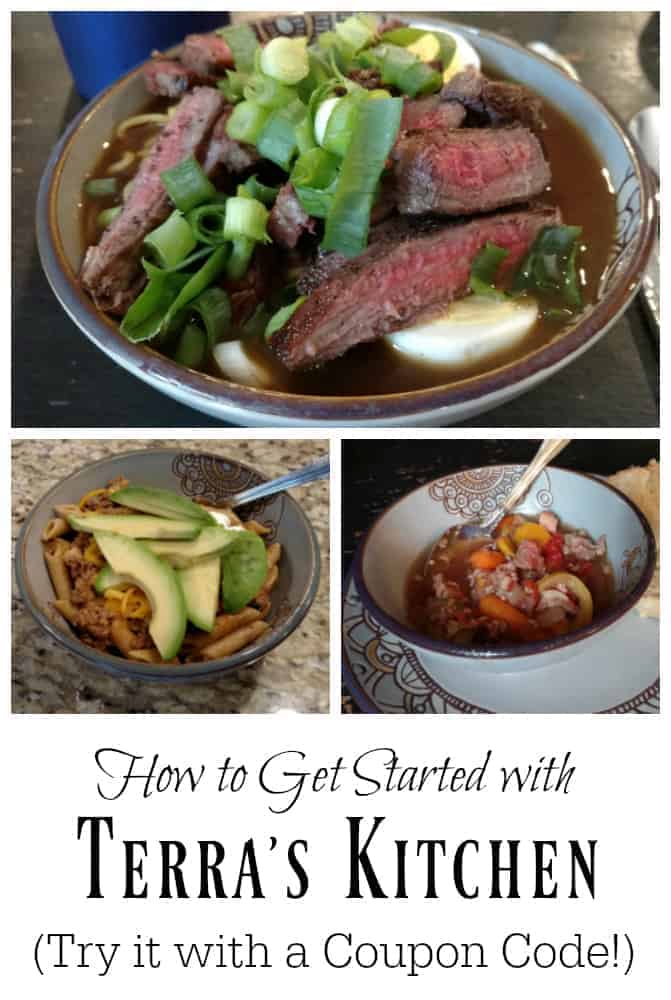 Thanks for taking the time to read this post! I really appreciate the time you've taken. Please share, like, and pin my post if you enjoyed it. Follow me on social media and subscribe to my email list to keep up to date on all of my latest projects!