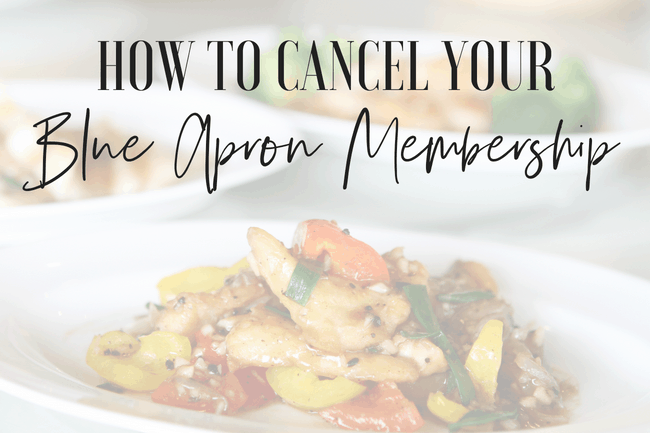 How to cancel your Blue Apron membership or skip individual meals.
This post may contain affiliate links which may earn me commissions should you click through them and take certain actions. As an affiliate for Amazon, Cricut, xTool, Home Depot, and other sites, I earn from qualifying purchases. Please DIY carefully. View my full legal disclosures here.
Please read the whole post so you don't miss any important information!
I love Blue Apron. Love it. But this pregnancy has been hard on my belly. I've been violently ill a couple of times and stayed nauseous for weeks after. This is all thanks to the stomach bugs that my kids brought home… TWICE… as well as to the glorious pregnancy heart burn. And every time those Blue Apron meals come in, I stare at them sadly and just shake my head because I just can't.
Because they're not applesauce or plain pasta so they aren't on the short list of items that don't bother my stomach.
We get Blue Apron for myself and my husband. We take turns cooking them or we help each other prep and cook them so it's not too much for just one person. It's wonderful as a date night activity and a good time for us to talk about our day. But GOSH. I can't even be in the house when my husband makes them right now. Woe is me. They look amazing too.
Needless to say, I did some inquiring about how to cancel the service. I wanted to put it on hold, but that's not an option. It is easy, however, to cancel and then restart at a later time. This is great if you are going on a long vacation or can't afford the service for a while, but may want to start again later.
If you're just frustrated by the prep work for the meals, make sure to check out Fast Blue Apron Meal Prep first.
Option #1: Manually Cancel Each Week
My first option was to manually go into my "upcoming meals" on the Blue Apron website and cancel each week one by one. I can do this for a total of six weeks. Then I need to keep checking back. If I forget, it will get sent to me automatically so I make sure to set a reminder on my phone calendar.
Here's how you can cancel week by week on Blue Apron.
Go into "Upcoming"…
Find the week you want to cancel and click "manage"…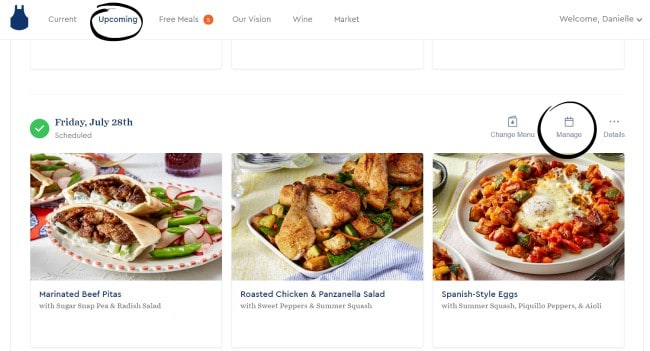 This is the screen that will popup… just click "skip this delivery."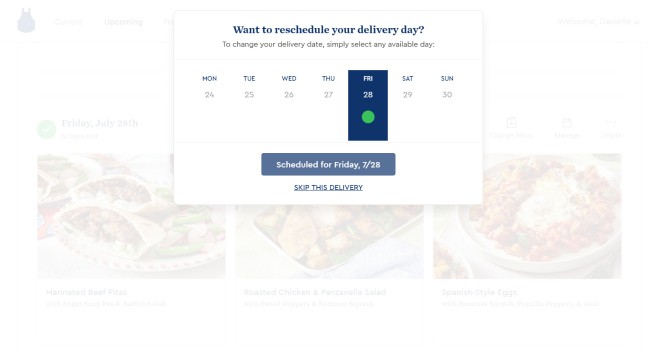 Once you've done that, you'll see a red x next to that week on your list of upcoming meals and the option to "unskip" will replace the "manage" button.
Option #2: Cancel Your Subscription
Before you cancel your subscription, make sure you don't have any upcoming meals that are about to be sent you. You'll want to manually cancel those in your menu (as stated in Option #1).
I do this just to make sure I don't end up owing for any meals if the process takes a while- but my cancellation seemed to have gone through immediately.
I am updating this as of July 2018 as it appears Blue Apron has finally made it simpler to cancel by allowing you to cancel through their website instead of contacting customer service. I recommend checking with customer service though if you think you have an issue that can be resolved. Their customer service has been pretty good.
I'm cancelling because their allergy info isn't as easily accessible as I'd like and I discovered I have an egg intolerance/allergy.
Blue Apron has still had- in my opinion- the best recipes of the food services I've tried. My main issue is that egg is hidden in a lot of recipes and if I have to read through their nutrition info carefully to find meals that won't make me sick, it's starting to become too time consuming to deal with.
Hoping they will eventually make it easier to find that info from the main screen, similar to other services. The cancellation process is simple. Click your name in the top right corner and click account settings. Then click Account Info, edit.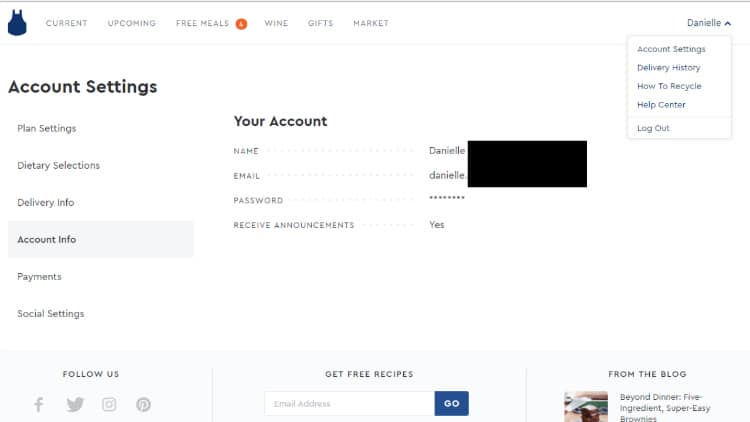 Click "manage status" at the bottom.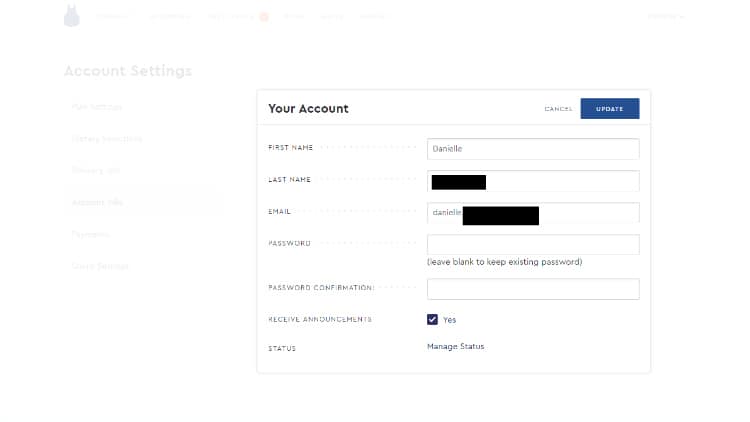 Now you click 'cancel account' at the bottom there…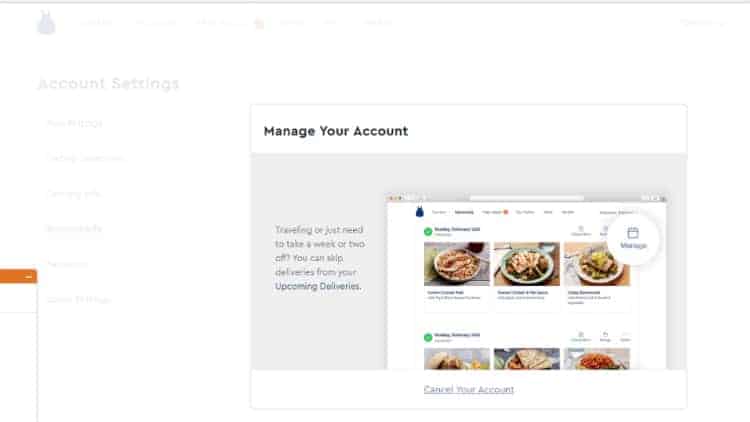 They'll ask you if you want to give a reason why you're cancelling. This is a great opportunity to give feedback on the service.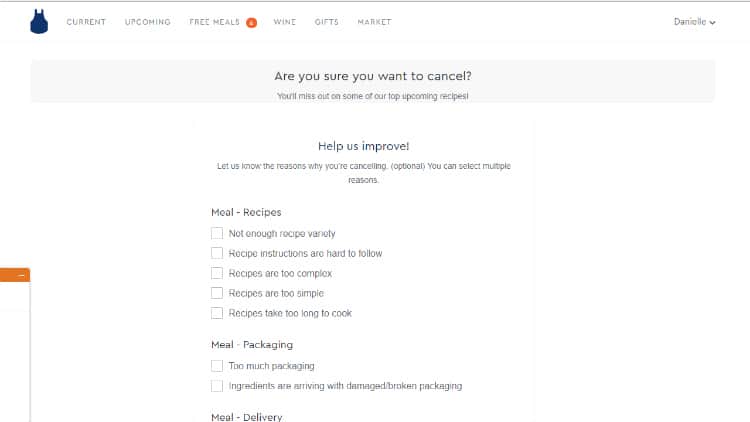 The nice thing about the way it's cancelling now is that you don't have to delete your account- you can reinstate your account at a later time.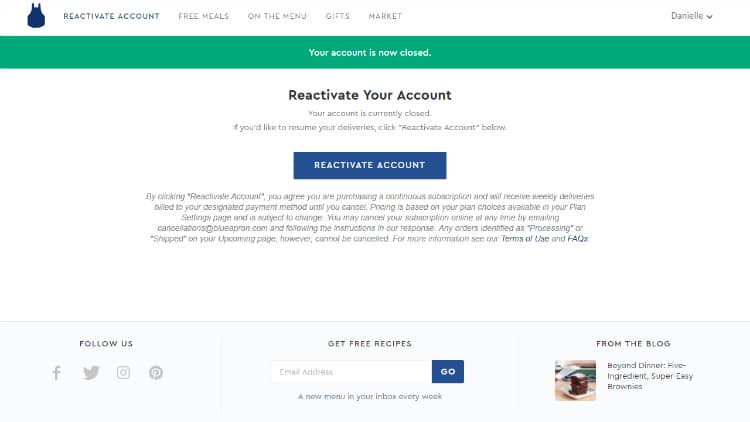 More Information on Blue Apron from DIYDanielle.com
Have you canceled Blue Apron? Was it simple or were there
snags in the process? Leave me a comment below.