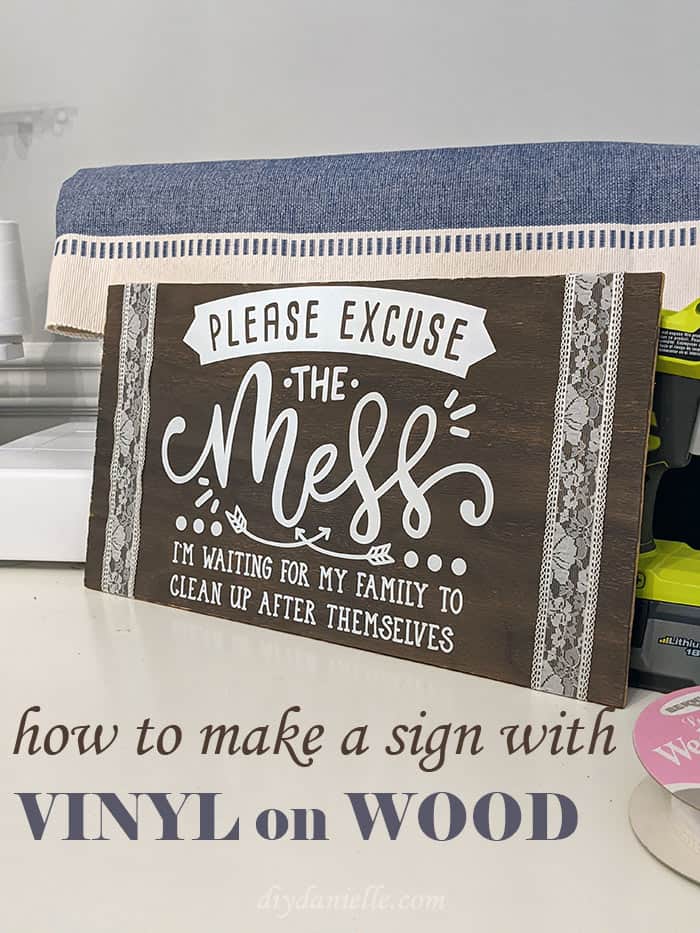 Learn how to make vinyl signs with a Cricut machine. This quick sarcastic "Please excuse the mess" wood sign is perfect for snarky moms who believe everyone should clean up after themselves.
This post contains affiliate links which may earn me commissions should you click through them and take certain actions. As an affiliate for Amazon and other sites, I earn from qualifying purchases. Please DIY carefully. View my full legal disclosures here.

Please read the whole post so you don't miss any important information!
I am super sarcastic and appreciate all things snark. When I originally saw the "Please excuse the mess, my children are making memories" signs, I nearly fell out of my chair. It's cute, but honestly I'm months into a pandemic now and so exhausted. My kids are home 24/7 and they're hella messy. I LOVE their creativity, but I swear it will break me one of these days.
Here's an example… the night before my birthday I cleaned up the house a bit, knowing I didn't want to have to clean up on the actual day. I come downstairs that morning and my sons are "making me a birthday present" in the clean office, pulling down all of the craft supplies that I'd JUST put away, and telling me I can't come into the office because there is a top secret operation underway. Spoilers- I had more cleaning up to do.
Needless to say- My sarcasm meter has hit a 10 and it will probably stay there until I have far less stress in my life. I'm sure some of y'all can appreciate this. Here's the sign for those of you who are tired of 'making memories' and just trying to survive. The exhausted mom in me sees the exhausted mom in you. Namaste.
Get the SVG here —> https://diydanielle.com/product/excuse-mess-svg/
Tips for Applying Vinyl to Wood
Use PERMANENT VINYL only. 631 or "regular" vinyl is more prone to peeling off…. signs are permanent so you should use permanent vinyl. If you're applying to wood outside, there's Oracel 751 which is rated for long term outdoor use. I used the 751 on our Goat House and Kids Garage.
If painting your wood, make sure to let the paint cure for 24-48 hours before applying vinyl.
Vinyl sticks better to untreated wood, but I don't generally use untreated wood for my projects. Sanding your wood and applying a clear coat before applying the vinyl may help. My wood for this project is treated with a natural stain.
Do not apply a sealer over the vinyl. If you insist on doing this, wait 48 hours before attempting it so the vinyl adheres properly. I've used mod podge over vinyl before with decent results.
If you're having trouble with the vinyl sticking, you can try to apply heat using a hair dryer and pressing the vinyl into the wood. This can help it sort of melt into the crevices of the wood a bit.
Alternatively, you can learn how to apply iron on vinyl to wood or use the vinyl as a stencil and use paint to stencil the design; if you choose to stencil, you want to reverse weed the design.
Please Excuse the Mess Vinyl Sign Tutorial
Steps
1
Cut your SVG on your Cricut Maker
2
Cut and prepare a piece of wood.
7
Press carefully to ensure the vinyl adheres to the wood.
8
Remove the transfer paper.
9
Add lace or other decorations to either side.
10
Add Command Strips to the back.
Make sure you use a permanent vinyl for wood or you can try using HTV on wood too. That actually works pretty well. This piece of wood was finished with a natural stain and the vinyl seemed to stick fairly
Here's some SVG files from my shop…
Please share and pin this post! If you make this project, share it in our Stuff Mama Makes Facebook Group in order to enter to win our monthly giveaway. You can also tag me on Instagram @doityourselfdanielle; I love seeing everything you make!