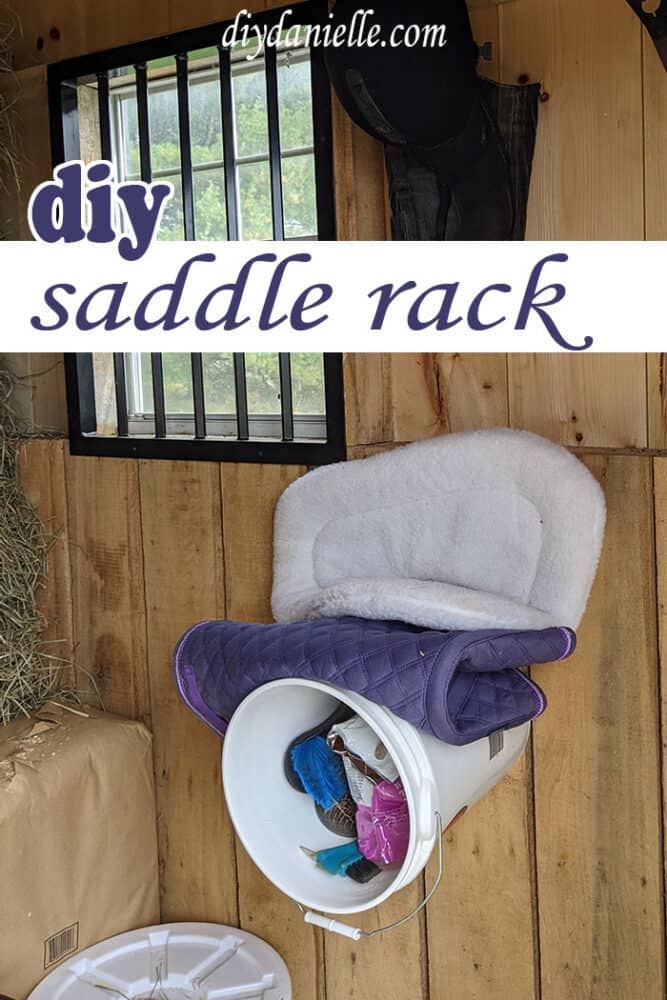 How to make a DIY horse saddle rack using a bucket. This wall mounted saddle rack is perfect and has storage space for grooming supplies!
This post contains affiliate links which may earn me commissions should you click through them and take certain actions. As an affiliate for Amazon and other sites, I earn from qualifying purchases. Please DIY carefully. View my full legal disclosures here.

Please read the whole post so you don't miss any important information!
I finally am working toward getting a horse! I'm SO EXCITED! Over the past couple of years, I've slowly been saving for fencing and a horse run in shed. This shed was delivered this month and I wanted to turn the "stall" into a functional tack room of sorts.
I'll likely only have one horse so I don't need much in the way of storage, with the exception of hay storage. But I'll need one saddle rack to keep my saddle on, and an area to store brushes. This was PERFECT and did the trick!
Not bad for a $5 solution!
Steps
More info on DIYDanielle.com
1
Measure where you want your saddle rack to be.
2
Use washers or a piece of wood inside the bucket.
3
Screw in your bucket at the height you want it. You want to hit a stud preferably.
4
Add your supplies to the bucket!
See more info about this project on DIYDanielle.com!
Please share and pin this post! If you make this project, share it in our Stuff Mama Makes Facebook Group in order to enter to win our monthly giveaway. You can also tag me on Instagram @doityourselfdanielle; I love seeing everything you make!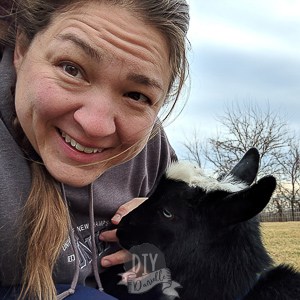 Danielle Pientka is the sewing and DIY blogger behind DIYDanielle.com. She taught herself to sew in 2011 when she wanted to make cloth diapers for her first son. She's been sewing everything from ecofriendly items to kids products to clothing since, as it has become a passion. She loves learning how to do new things and teaching others in the process. She hopes to inspire other moms to take time for themselves to find their own creative passion.
Danielle lives in Maryland with her three young sons and her husband, Brandon. In her spare time, she gardens, reads, horseback rides, and has a small homestead with goats and ducks. Visit her shop to buy patterns or her sewing eBooks. Subscribe to her newsletter to get blog updates, free patterns and other printables by clicking here.