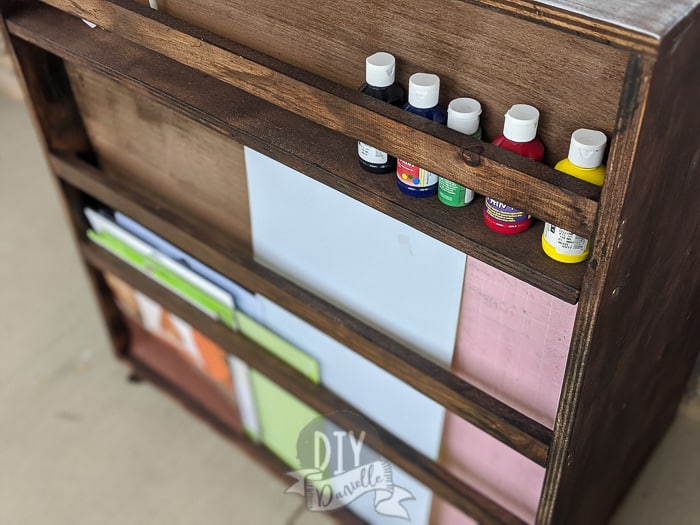 How to build a rolling craft cart that will fit your Cricut and Cricut supplies! This is easy to build with lots of storage space!
This post may contain affiliate links which may earn me commissions should you click through them and take certain actions. As an affiliate for Amazon, Cricut, xTool, Home Depot, and other sites, I earn from qualifying purchases. Please DIY carefully. View my full legal disclosures here.
Please read the whole post so you don't miss any important information!
My craft room is… ah-hem… a bit out of control. The mask making frenzy hasn't improved things, although I'm certainly low on many mask making fabrics and supplies now. But the most recent issue I've had is that my Cricut supplies are getting a bit out of hand, and I just didn't have a great way to store them.
I had a couple pieces of furniture I was using in the room, but they took up a lot of space without offering a ton of storage space. I wanted something compact and easy to move with as much storage space as I could fit for the small footprint I had between the two windows in my room. The workbench couldn't block the natural light because I like sunshine.
The best option was to develop something custom for my space. I developed this craft cart using scrap plywood leftover from our Laundry Room renovation (you HAVE to check that out!). My confidence was up after finishing that project so I whipped this up.
It is PERFECT for the space and I love being able to roll it around. The shelf has storage in the front and the back. The nice thing about the hidden storage is that I am able to store paints without my kids being able to easily access them (I have nightmares about the toddler deciding to paint things that shouldn't be painted).
The back also has storage for my Cricut mats, although I think I may need to add another bar across to keep them from slipping out.
If you don't have a Cricut machine, this would be perfect for MANY supplies. I store some of my sewing notions on the cart, cardstock, and there are folders in the bottom that hold my sewing patterns.
DIY Rolling Craft Cart
Supplies
Use the Discount Code DIYDANIELLE on cricut.com for 10% off any cutting machine or heatpress (no minimum). Excludes: materials/accessories/mystery boxes/etc. Applies to US/CA only, code expires 12/31/23.
Useful tools: a Kreg Rip Cut with a circular saw. You can also request via the Home Depot website that they cut the wood for you for home delivery.
Using Scraps for the Project
One of the challenges I had was that I didn't want to buy more wood. It costs for delivery and we can't haul the 4×8 sheets in the minivan. I also am trying to use up our supply of scrap wood which has gotten a bit out of hand. I HATE throwing stuff out that might be useful.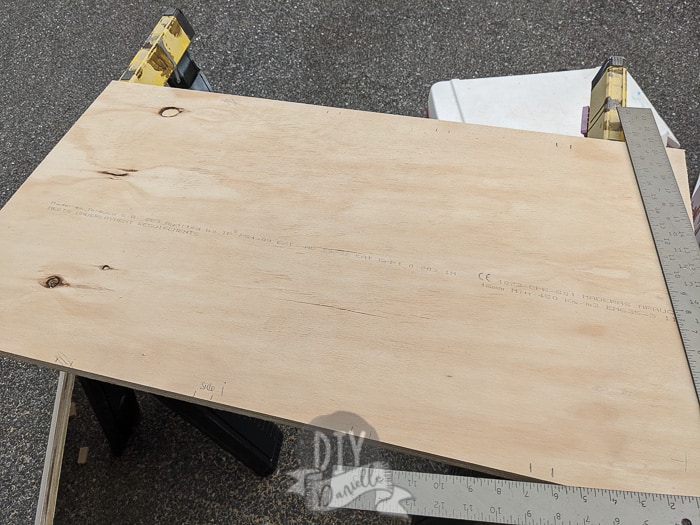 As a result, my shelves are actually two thinner cuts of plywood side by side. This meant more screws in the side to hold them in place; it was also slightly more complicated to get them in/level. It would be MUCH easier to use a full shelf.
So I'm going to explain how to build the cart PROPERLY and NOT how I actually put it together. I will probably cover a few things I messed up by getting lazy (wink).
How to Build a Rolling Storage Cart
Before you begin, I highly recommend staining or painting the wood before assembling any part of the cart. I did not do this and totally regretted it!
If you're using plywood like I did, you can leave the raw edges of the plywood raw or you can use a few different techniques to cover the edges. You can use iron on veneer edging that matches your plywood finish, or you can build the cart in a way to add 1x2s to cover the plywood edges. If you use 1x2s, you'll need to adjust your plans a bit so the edges of the shelves are even with the edges of the cart.
Step 1: Cut Your Wood
Cut all of your wood to the lengths specified in the woodworking plan. I recommend painting and/or staining your pieces before assembling. It's very difficult to get in all of the nooks and crannies otherwise.
Step 2: Make the Exterior Box for the Cart
The first thing to put together is the main box that makes up your cart.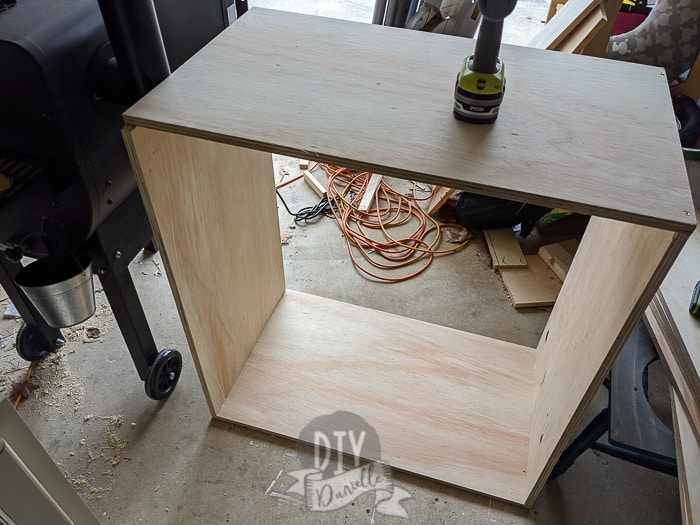 I tried out my new Kreg corner clamps for this, and they worked pretty well. Using wood glue and pocket holes is the best option for this.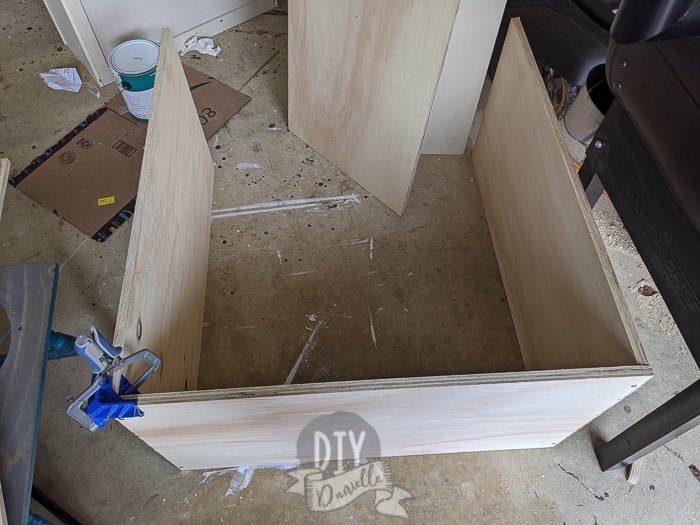 Step 3: Assemble the Shelves
When you have your shelf pieces cut to the correct width, attach the 1x2s to the front using glue and your nail gun. Do this for all of your front shelves.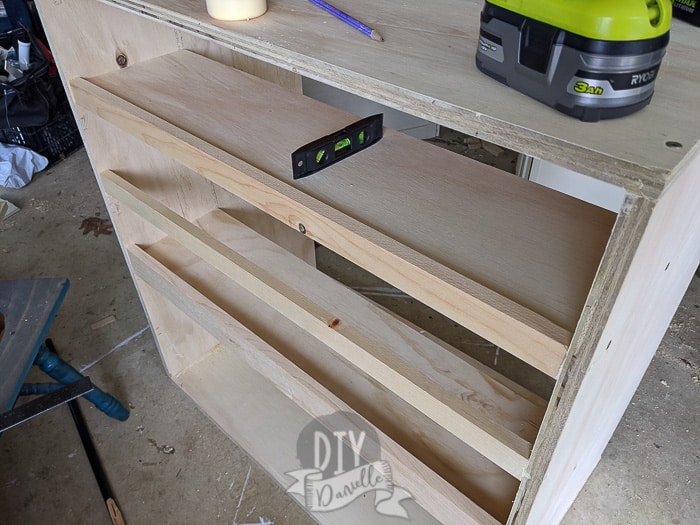 My shelves look very thin in the photo above because I used two thin scraps for each shelf.
This was purely to use up scrap plywood. I wouldn't recommend doing this.
Attach the shelves to the cart using pocket holes on the underneath of the wood. Make sure the shelves are level.
Quick note: When I assembled everything, I screwed from the outside of the cart into the shelves. I countersunk the screw heads and used wood filler, but that's a lot of extra work for no reason. Pocket holes are easy and a more attractive option.
Step 4: Attach the Back Side of the Cart
You'll want to attach a thin piece of plywood to the back of the shelves as a separator between the back and front. This is attached to the shelf backs, but I also added another scrap of plywood along the bottom shelf to give the piece more stability.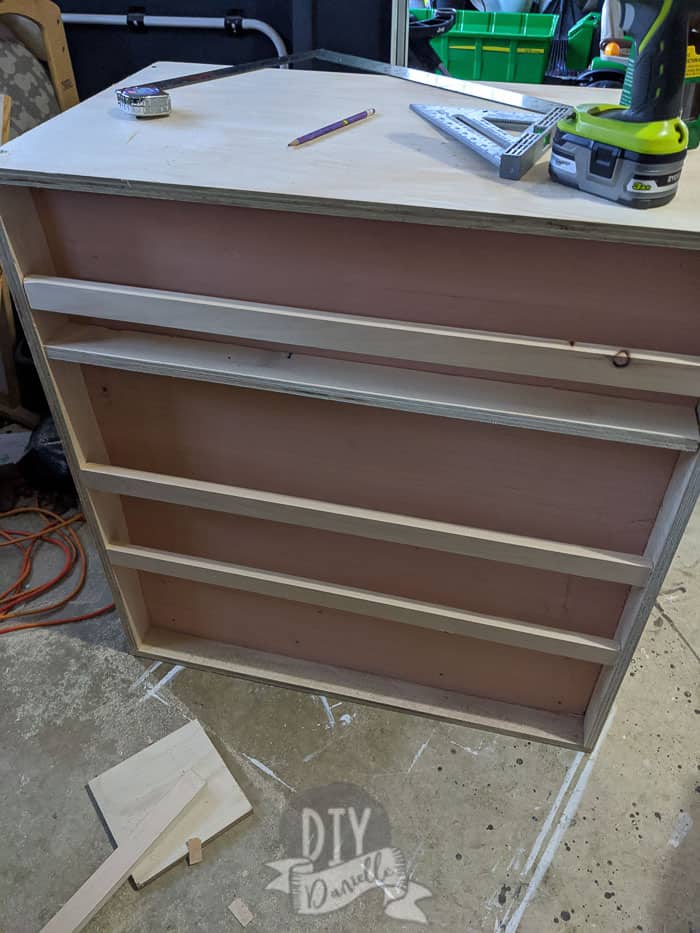 Once this is attached, you can add your thin top shelf. Add one 1×2 across the back as a support for those items.
You'll also add (3) 1x2s along the bottom "shelf". These will keep your mats from falling out. I used two, but the next shelf I make will have three.
Painting & Staining
I recommend doing all of your painting/staining in advance. This was a real pain in the behind to stain/poly after I put it together. But I am TERRIBLE at planning out projects so I like being able to adjust my original plan as I work. This originally was planned to be one sided, but then I was like 'OOO mat storage' and the back section was born.
Because the whole cart was assembled, I used the Home Right Finish Max Sprayer to stain the shelf, then I used spray on polyurethane. None of this was ideal for me.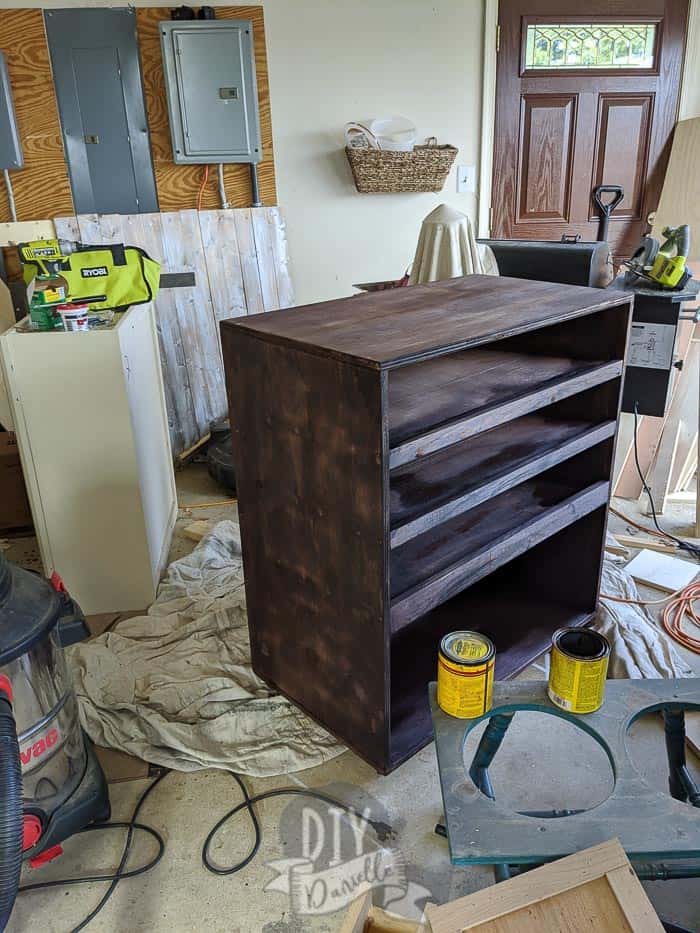 The top was distressed. I don't love it. I may repaint or redo the top at some point.
Step 6: Install Casters to Make the Shelf Mobile
You want a decent set of casters. I bought a 4 Pack 1″ Caster Wheels Swivel Plate w/Brakes off Amazon because I needed two of the wheels to lock. This allows me to lock them when the shelf is in place (so the kids can't roll it around), then unlock the wheels when I want to move the shelf around my craft room.
The casters work GREAT. I wanted to be able to move my shelf easily so I could use the top of the shelf as a photography backdrop; the casters allow me to move it into better lighting.
I'm not super keen on how I finished the top, however, so I may redo it at some point.
The casters also allow me to move the shelf into the middle of the room for cutting fabric under the photography lights. I'm putting some serious thought into making a couple more of these to replace other storage in this room.
How do you organize a craft cart?
The cart is big enough to hold the Cricut Maker and my Cricut EasyPress on top. Below, the top shelf is tall enough to hold four of the scrapbook paper storage bins.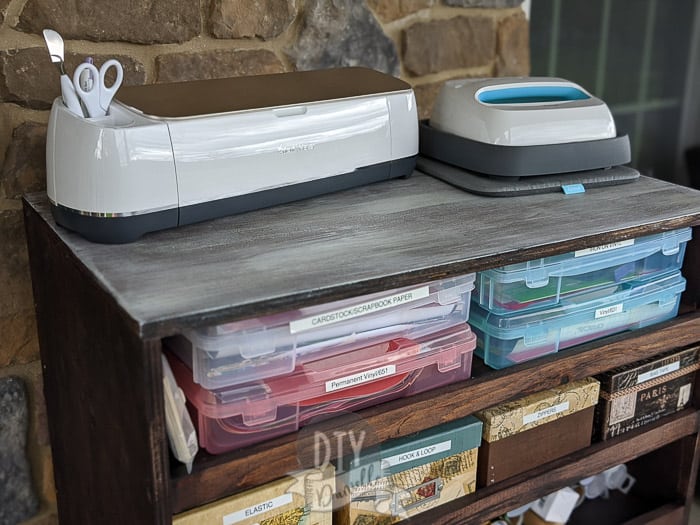 I made my middle shelf the right height to fit the little photo boxes that you can buy cheap at the craft store. These are used for organizing some of my sewing supplies.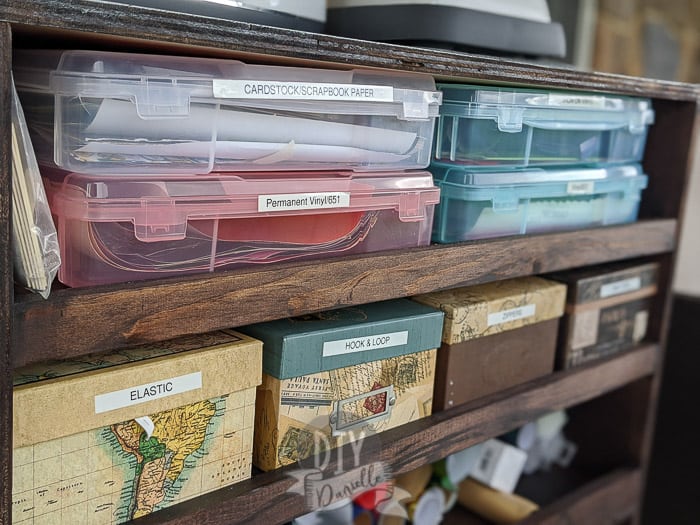 As you can see in the photo above, I have a lot of my vinyl in the scrapbook boxes.
The rest of my vinyl, the stuff that is still on a roll, is placed on the third shelf. They stack pretty nicely.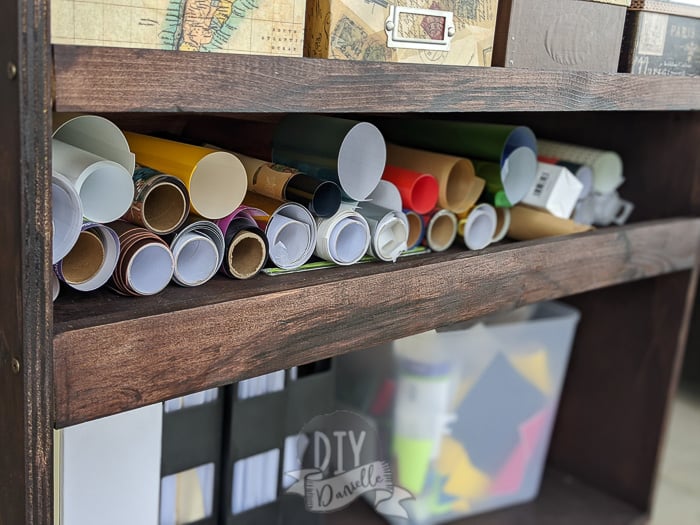 The very bottom shelf has my sewing patterns in manilla envelopes in filing containers. I also put a big cube bin down there with more vinyl scraps.
Looking for wall storage for Cricut vinyl? Check out these easy DIY Wall Storage Shelves for Cricut Vinyl.
Get the Woodworking Plans!
Are you interested in woodworking plans for this project? The full craft cart plans can be purchased in my shop.
Please share and pin this post! If you make this project, share it in our Stuff Mama Makes Facebook Group. We have regular giveaways for gift cards to craft stores. You can also tag me on Instagram @doityourselfdanielle; I love seeing everything you make!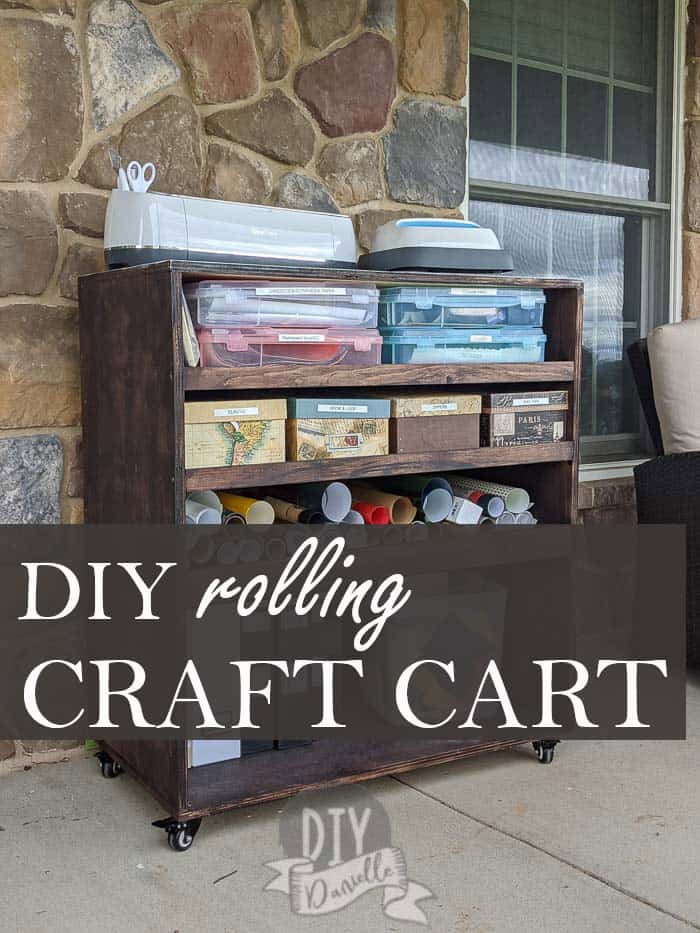 Web Story: How to Make a Storage Cart for Your Cricut Supplies