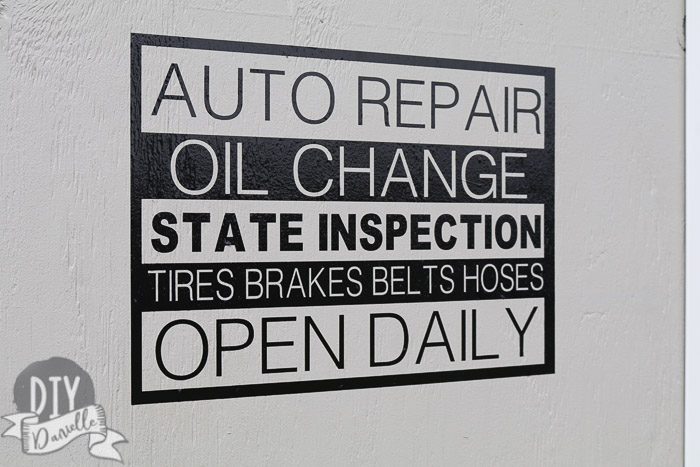 How to build and organize a storage shed for outdoor toy organization for your kids. Store those bikes, ride on cars, and sports equipment all in one place!
This post may contain affiliate links which may earn me commissions should you click through them and take certain actions. As an affiliate for Amazon, Cricut, xTool, Home Depot, and other sites, I earn from qualifying purchases. Please DIY carefully. View my full legal disclosures here.
Please read the whole post so you don't miss any important information!
A big thanks to ShelterLogic and Arrow Storage Products for providing the Ironwood Frame Kit for this post.
The outdoor toy situation was breaking me. I love outdoor toys because anything that will keep the kids playing outside in the sunshine is a win for me. I can garden or meditate in the sun while they play happily. I have a blog post about The BEST Outdoor Toys for Toddlers if you're like me and just can't get enough (or if you just want to get the best stuff).
But the reality is that the toys were a bit out of control. And I'm a stickler for appropriately storing toys so the plastic won't fade and so they won't blow away in the wind.
So today I'm partnering with ShelterLogic to show you the DIY kids garage that I created from their Ironwood shed frame kit. You can read all about our DIY shed base and the Ironwood Shed Frame Kit on my earlier posts.
So let's talk kids garages! I looked everywhere for ideas, but nobody seemed to have a designated shed for kids outdoor toys. It's probably a sign that our toy situation is out of control.
We have three kids so we have toys and bikes for every age and stage from 6 mo to 7 years. I hate to get rid of things that the baby will grow into. So instead, all of those toys and bikes were cluttering our garage and shed.
Normally, this wouldn't be an issue, but we are also trying to store a milking stand, a tractor with a bucket and bush hog, and hay for the goats. Things were cramped. I also haven't unpacked all of the things we moved from the old house- they're all in the garage. Whoops.
So we are getting the kids stuff organized with this super cool kids garage and then I can tackle organizing the rest. I tried to do this as much on a budget as I could.
Supplies
We used the Ironwood shed frame kit and exterior grade plywood, but you may want to consider your shed kit options for this project as we've had some issues with leaking.
A 10×12 Wood Shed Base or concrete base
Lattice
Organization supplies
Mulch
Compost
Cricut Air 2or the newCricut Maker™(and associated supplies)
Outdoor Vinyl: Oracel 751
Pegboard
Pallet
Subscribers can get the Cricut cut files for this project here:
Landscaping the Kids Garage
Leveling the ground got things looking muddy/dirty around the shed base so I wanted to start by landscaping around it. I threw down a little compost and some seeds for red clover. Then I added mulch.
I had a couple of small pieces of lattice in the shed leftover from our privacy planters at the old house. I spray painted them black with Rust-Oleum 2x Spray Paint. Once dry, I used screws to place them on either side of the doors. I love the black lattice against the gray!
I planted two vine plants in front. These are passion fruit plants that a local woman was selling out of her home for $5 each. I'm hoping they're the kind I wanted… I have never grown them, but I've been listening to a lot of gardening podcasts about edible gardens and this plant was mentioned. Hopefully they'll be really pretty full grown!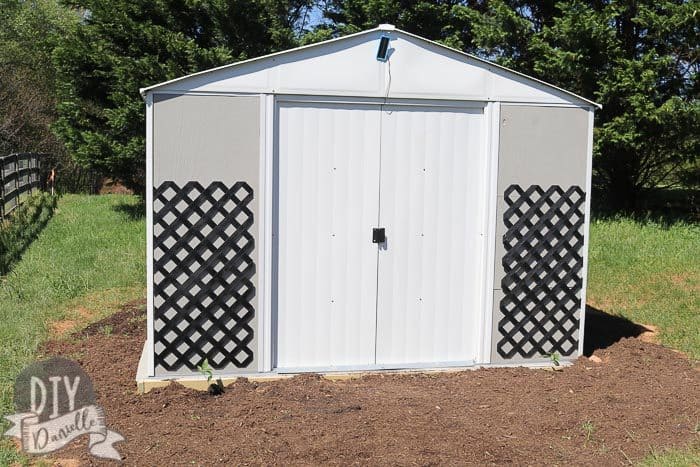 Exterior Updates for the Garage
I wanted the kids garage to fit with the landscaping and not be too gaudy, but I wanted it to be fun for them too. And honestly, I think kids LOVE "toys" that look like grownup stuff. So my intent was to make this look like a real garage or auto body shop.
Autobody Shop Signs
I whipped up the auto body shop signs with my Cricut machine, as well as the sign with their garage name. The garage name is just each of their first initials. My creativity was lacking here, haha. It didn't fit very well in the spot I chose, but I may cut down the gap there to see if it's better.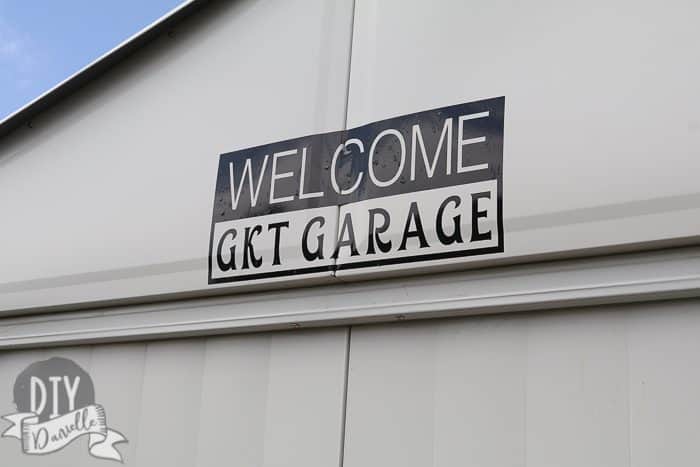 Here's the auto repair shop sign… love how this came out.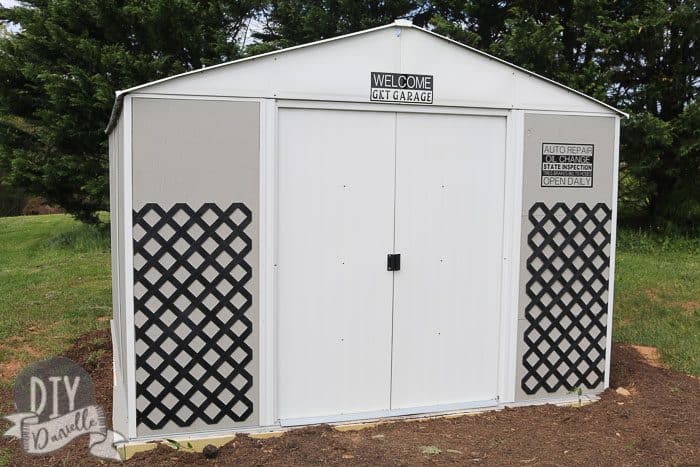 I used Oracel 751 which I found on Amazon. This stuff is meant for longer term outdoor use. I've never used it before so I'm interested in seeing how it holds up.
SIGNUP FOR THE FREE CRICUT PRINTABLE
Nerf Targets
When I mentioned that I'd include Nerf gun storage inside, my sons requested Nerf targets. It seemed like a reasonable and feasible addition so I did it. One was reverse weeded and it's not looking 'right' to me so I may have to redo that one.
What do you think? Ditch the right one? Should I have done these in black or red? So many questions… hm.
I suppose the kids will be happy with this.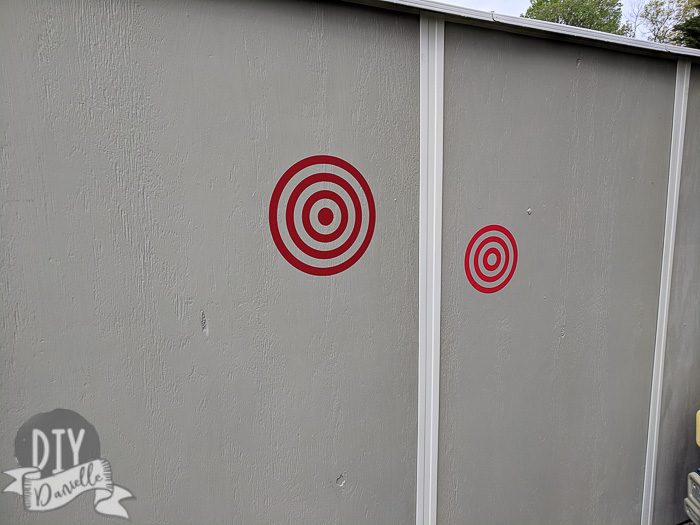 Garage Toy Organization
Now this is what you probably came for… how to ORGANIZE all of this stuff. Ugh. That's the hard part, but it's also super satisfying. I'm sure this will be a hot mess when the kids don't put things back where they belong, but I'm taking pictures to record that ONCE this was clean… I'll make them reference my blog post whenever they don't know where to put things back (wink).
I found some affordable organization stuff at the Dollar Tree. It's not fancy, but I like that the screws were short. A lot of the heavier duty organization stuff has long screws that WILL go through the sides of the Ironwood Shed walls. The walls are only 3/8″ thick so you really need to be careful. Even with short screws, I didn't screw them in completely flush with the wall.
These were great and I also got some stick on hooks and two belt hangers that screwed into the wall.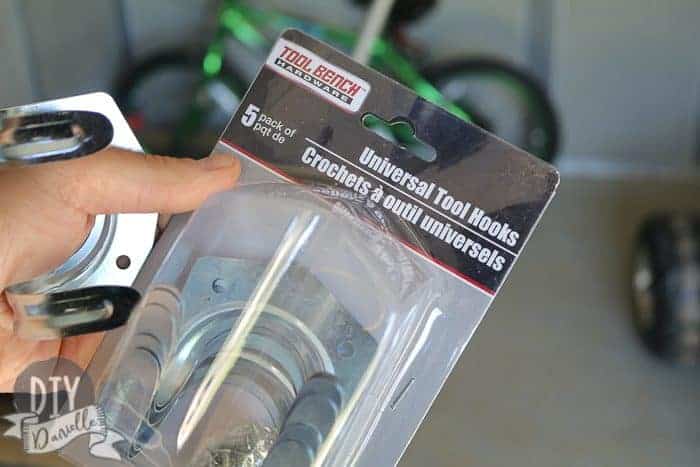 Nerf Gun Storage
I used the brackets above for some of the guns, but not all of them fit on there well.
Some fit but only if I hung them at an angle.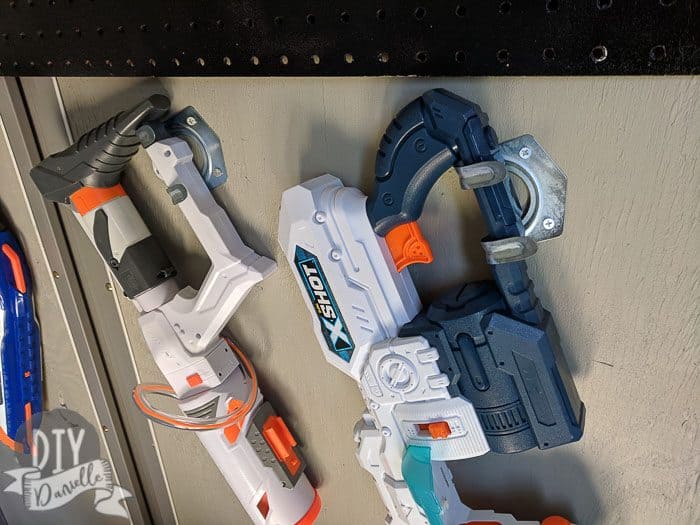 I got one to hang horizontally which is what I was originally going for…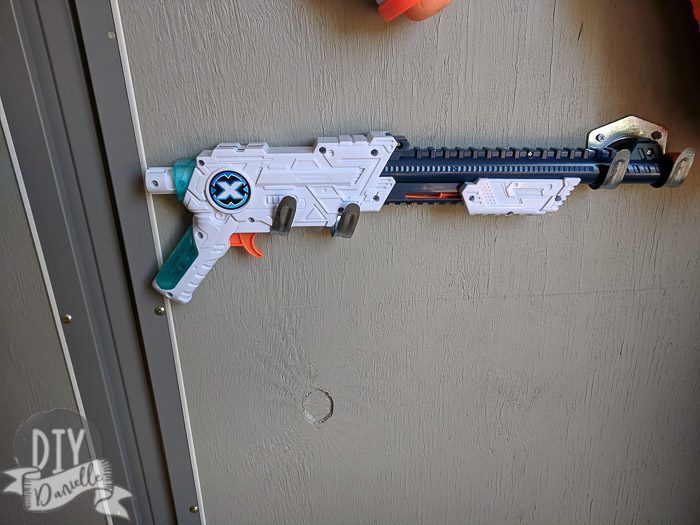 I also hung a pegboard for additional Nerf organization above the guns. I wanted the guns accessible to the toddler, but not the bullets. He LOVES to eat them for some reason (sigh).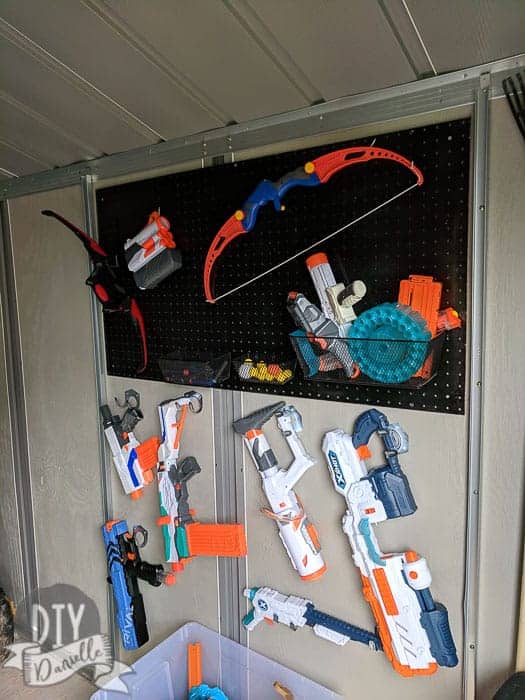 Skateboard Wall Hook
The hooks worked to hold this skateboard too which was nice…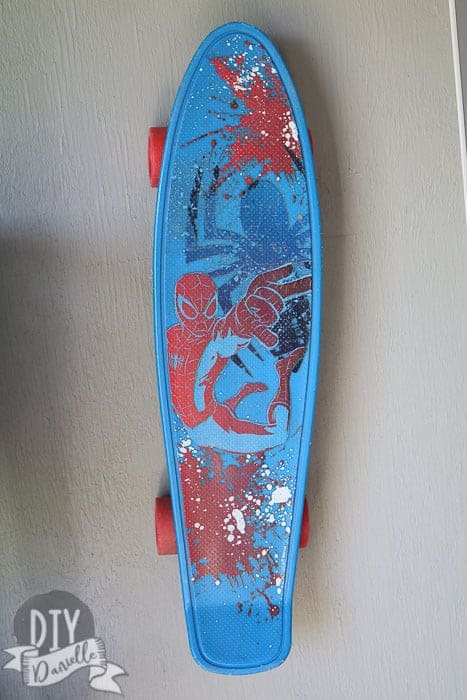 Kite Storage
I used two brackets to hold one kite and a small stick on hook to hold the other. They're not perfect and I wish I'd hung them slightly lower so the decal showed up better, but they'll do the trick! The decal was from the Dollar Tree too.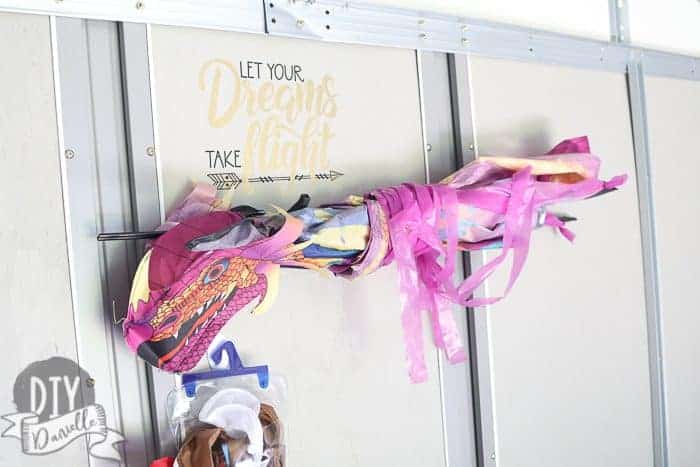 In the past, I've used kites for decoration in our playroom too. They look pretty hanging from the ceiling. But this is easier for the kids to access.
DIY Bike Rack
The bike rack was free because the Ironwood Shed Kit came on a really quality pallet. I just hauled in into the shed and used it as is. Super easy and effective.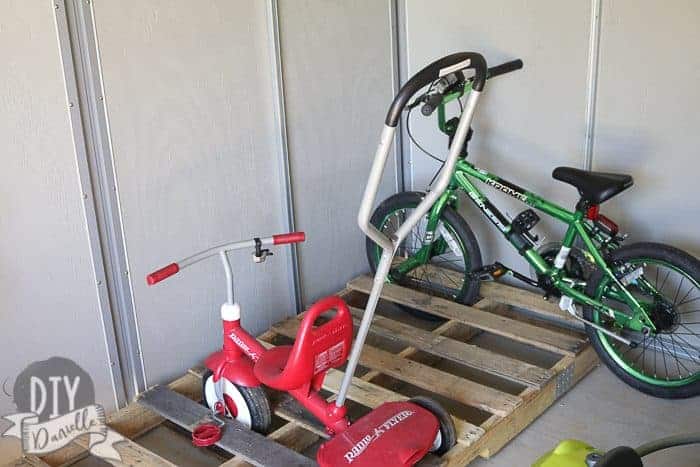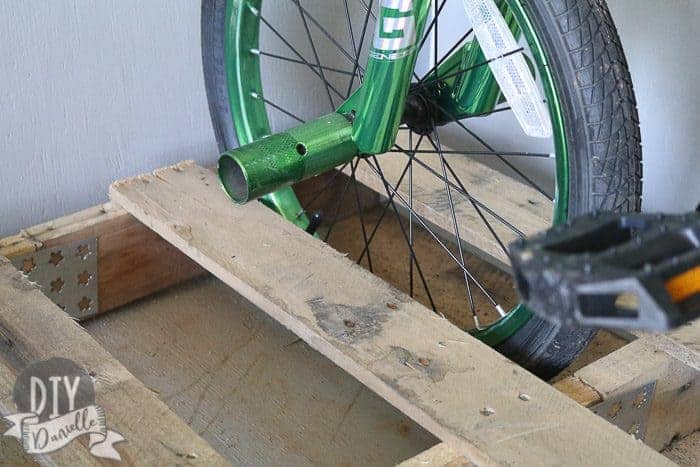 Bike Helmet Organization
If I had a dollar for every time I needed to scramble to find someone's helmet in the mess of the garage, I'd be rich. So I hung a couple of what I believe are belt organizers on the wall and hung the helmets on them. This is also a great place to hang other items as well, like their kids aprons.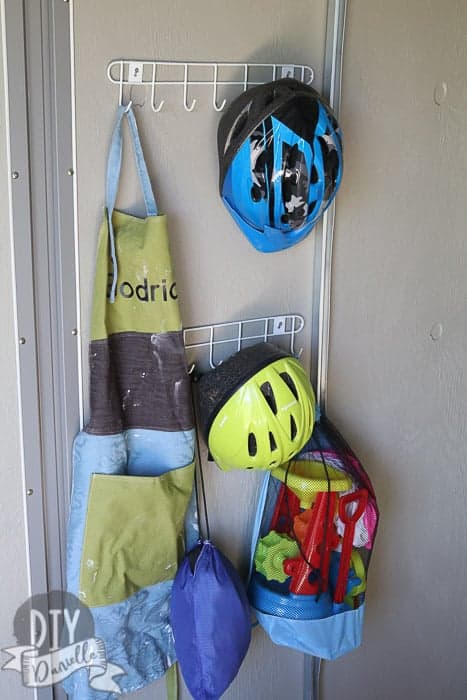 Lighting
Nothing fancy here, just a cheap solar light. I may eventually stick a couple of solar motion lights on the exterior too. Here's installation information on the solar shed light, but you could just buy it on Amazon and figure it out too. It's pretty easy. You probably will want to run the cord out the front center like I did. I am not sure if I could get it out any of the gaps elsewhere.
Video of the Kid's Garage
If you enjoyed this post, please share it with your friends and pin it! Thank you!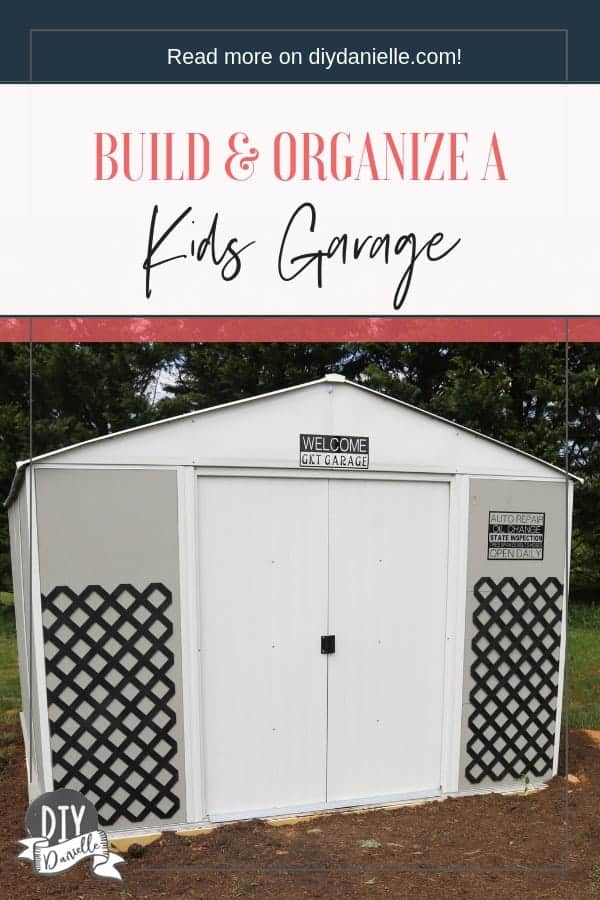 Outdoor Storage