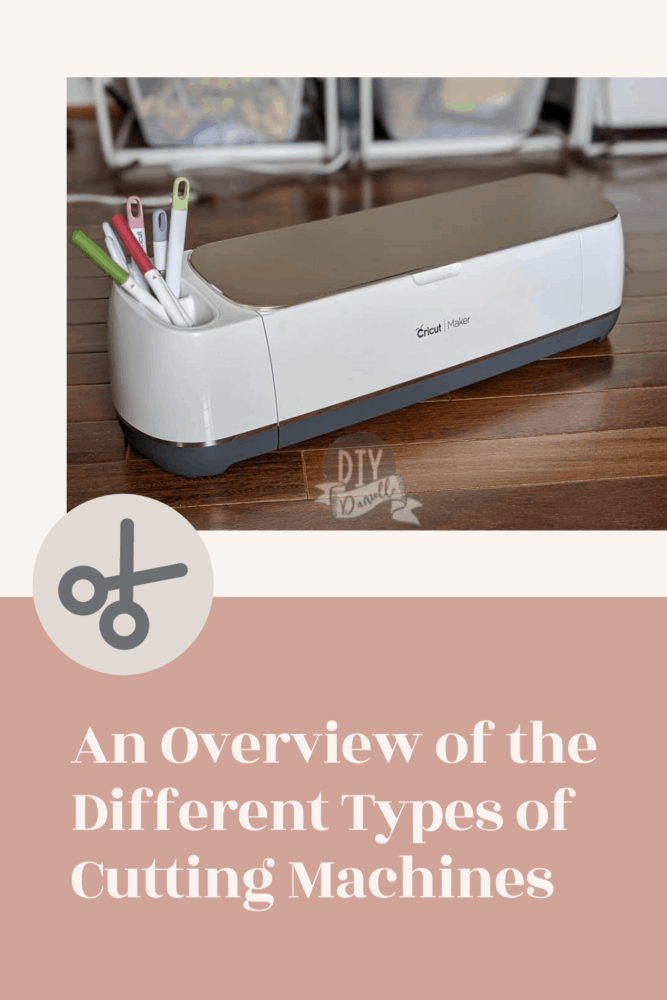 An overview of the different types of cutting machines. Here's a fantastic guide to cutting machines such as the Glowforge, Cricut, and Silhouette machines.
This post may contain affiliate links which may earn me commissions should you click through them and take certain actions. As an affiliate for Amazon, Cricut, xTool, Home Depot, and other sites, I earn from qualifying purchases. Please DIY carefully. View my full legal disclosures here.
Please read the whole post so you don't miss any important information!
Do you have a cutting project in mind but aren't sure which machine would be the best to use? There are many varieties to craft cutting machines and each has unique benefits and uses. Here is an overview of the different types of cutting machines.
What is a Craft Cutting Machine?
A craft cutting machine, also known as a die cutting machine, is utilized when you need to produce multiple copies of the same shape. The material used to create these shapes includes fabric, vinyl, cardstock and more. The best part about using a machine such as this one is that there is no need for scissors, craft blades, or flimsy stencils. You will save time and produce clean, professional designs!
What Are the Types of Cutting Machines?
Deciding which machine is best for you will largely depend on the projects you want to create. Each machine displays different features and there are many options available. Here is an outline of each type so you can choose a cutting machine that is tailored to suit your needs:
Silhouette
This model is one of the most popular electronic die cutting machines on the market. It includes a software called Design Studio. This program can be difficult to navigate at first. With time, the cutting process becomes much easier and streamlined to use. With the software program you can download designs, purchase them, or upload your own. Internet is not a requirement. Designs can be saved on a USB drive and then retrieved directly on the silhouette machine.
An additional benefit to using this machine is the print and cut feature. Using the software program, you can print an image that includes registration marks. The printed image will then need to be placed in the desired location of the material. The machine will cut out the shape using the registration marks. This is an easy way to create unique shapes for your project.
| | |
| --- | --- |
| Pros | Cons |
| Print and cut feature | Software can be difficult to navigate |
| Does not require internet | |
---
Glowforge Laser Cutter
This machine has the ability to cut and engrave a large variety of materials. The Glowforge is a form of 3D printer and can create shapes in wood, plastics, and even thin metals. The greatest benefit of this tool is its speed and precision in producing designs.
The biggest downside is the large size and expensive price tag in comparison to other machines.
This tool also uses a software to create and print the designs. The Glowforge web app allows you to view and adjust the cutting bed, upload images, then use the screen to size and place the desired shape. A perk to this machine is the ability to cut or engrave multiple images at the same time. The Glowforge program has a very user-friendly interface.
| | |
| --- | --- |
| Pros | Cons |
| Cuts a wide range of materials | Expensive |
| Very precise outline | |
| Can embroider | |
My husband saw these and I'm pretty sure he would like to buy one "for me" at some point… except that price tag is giving us sticker shock.
Our library has a Makers Space so we have the opportunity to try this machine out there, but one thing to note is that the laser cutters require you to use special glasses to avoid damaging your eyes if you look into the machine.
---
xTool M1
This is a new tool that I was recently introduced to and the company is planning to send me the xTool M1 to test out. I'll update this once I get it and share a link to my review post. It seems more affordable than the Glowforge, and it looks like it can cut vinyl too. I'm intrigued.
Similar to the Glowforge, you'll likely want appropriate eye wear and ventilation when using a laser cutter.
---
Brother ScanNCut
This machine could be a great option for someone who is not very tech savvy. It comes with additional software for uploading images and cutting shapes, but everything you need is included in the machine. You are not forced to connect it to a computer or navigate a confusing software program. If you would prefer to use a design application, the machine can be connected to your computer, but is not required.
The ScanNCut also includes a built-in scanner so that you can turn almost any image into a unique design. Brother offers a free program called CanvasWorkspace for creating and saving your designs. It can cut shapes onto several different materials, depending on the specific model.
| | |
| --- | --- |
| Pros | Cons |
| Easy to use | The cutting board may not be sticky enough |
| Includes a scanner | |
| Does not require a computer | |
---
Sizzix
This brand of machine offers a wide range of cutting methods including manual, electronic, steel-rule dies, chemically etched dies, and embossing folders. Many of the manual machines use a steel-rule die to cut out each shape. A steel-rule die functions much like a cookie cutter. The metal part is pressed into the material to create the outline. It does not cut thicker materials as the blade is not as strong as other cutting machines.
In order to manually cut a design, the chosen die must be placed in the correct position on the material and slid into the machine. Using the handle, pressure must be physically applied. The blade is pressed into the material in order to cut the shape. This can be more time consuming as each design has to be aligned before being placed in the machine. Additionally, it requires the physical maneuvering of the handle in order to add the force necessary to cut the material. A benefit of the manual machine is the cheaper price in comparison to the electronic cutting machines.
| | |
| --- | --- |
| Pros | Cons |
| Simplistic | Lack of innovation |
| Cheaper | |
| Great for those who do not want electronic | |
---
Cricut
When it comes to craft cutting machines, this is one of the most well-known brands. It comes with a rotary blade that can easily cut a diverse range of materials such as cardstock, vinyl, and fabric. This tool also comes with Cricut's sewing pattern library which offers an extensive collection of designs. The Cricut brand is an ideal option for someone who is looking for a versatile machine that can functions well with both die cutting and sewing projects.
This vinyl printer is very precise and quick. It also comes with a software program that easily transposes your design. In order to make the correct type of cut needed for each material, it utilizes several different types of blades.
Pros
Cons
Can be used for cutting fabric
Software can be slow.
Can cut some thin craft wood
Software is limiting if you
are comfortable with Adobe
suite programs.
Very versatile
Limited to 12×24 cutting mat on
Cricut Air 2 and Cricut Maker. Cricut
Joy can cut longer projects, but only
if they're less wide.
Software is made to be easy for
people who aren't tech savvy.
If you are wanting to get an idea of the kinds of designs you can create using a Cricut, check out some of the Cricut projects I have completed in the past:
I've experimented with wood on the Cricut Maker, but honestly didn't love the results. I think a machine like the Glowforge or the xTool M1 is more appropriate if you're looking to do a lot of work with wood. The best part about the Cricut Maker, if you sew, is that it accepts a special rotary blade that makes cutting fabric easy. It's perfect for small projects with tiny cuts like Quiet Books, felt boards, and Tooth Fairy Pillows.
The Cricut Maker 3 is probably the most versatile machine from Cricut as it's their newest machine. Older machines can't cut as many different materials.
Use the Discount Code DIYDANIELLE on cricut.com for 10% off any cutting machine or heatpress (no minimum). Excludes: materials/accessories/mystery boxes/etc. Applies to US/CA only, code expires 12/31/23.
---
In order to decide which craft cutting machine is best for you, consider the types of projects you would like to complete, your budget, and your willingness to work with a software program.
Many of these machines are meant for home crafting and very small businesses; there are other machines available for people with larger vinyl cutting businesses.
It might also be a good idea to see what others have created using each specific type of machine. Overall, investing in a die cutting machine will save you time and lead to more professional results for your crafting projects.
Please share and pin this post! If you make this project, share it in our Stuff Mama Makes Facebook Group. We have regular giveaways for gift cards to craft stores. You can also tag me on Instagram @doityourselfdanielle; I love seeing everything you make!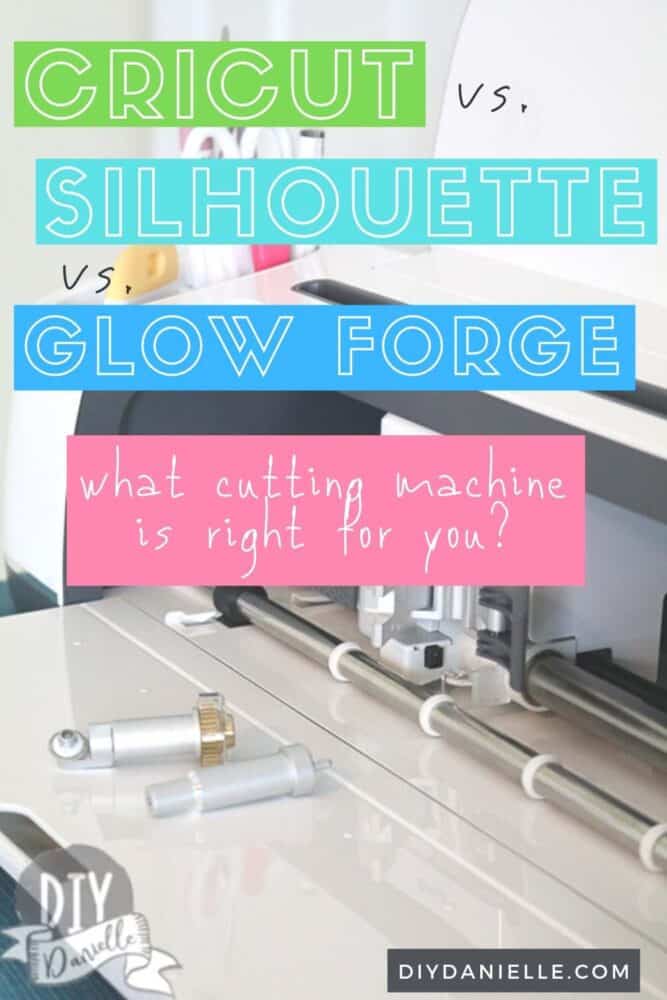 Google Web Story: Cutting Machines for Crafts