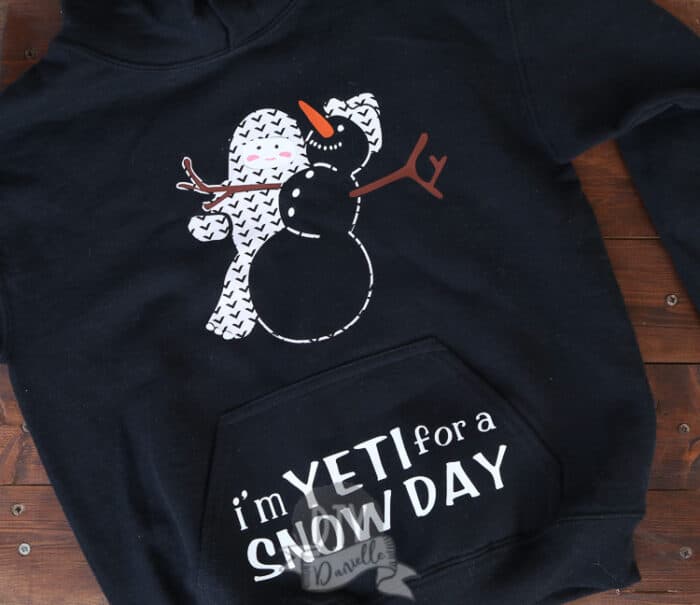 How to make an "I'm Yeti for a Snow Day" shirt for kids with the Cricut Air 2 or the Cricut Maker. This fun shirt is easy to make- get the free cut file!
We live in Maryland so we get just enough snow each year, in my opinion, to enjoy the experience… but not so much that we want to move. I'm from New Hampshire originally so fellow Marylanders may disagree. Folks around here like the warm weather.
This year has been a DUD though! Usually we get one or two GOOD snow storms, but it's February and we haven't had ONE good snow to play in. Lame. And it's not like it hasn't been cold… I've been freezing over here. It's disappointing to say the least.
So I made these shirts… because we are SO yeti for a snow day! I know the yeti thing isn't just me, but my two year old says "yeti" instead of "ready" so I think it's SUPER cute.
---
This post may contain affiliate links which may earn me commissions should you click through them and take certain actions. As an affiliate for Amazon, Cricut, xTool, Home Depot, and other sites, I earn from qualifying purchases. Please DIY carefully. View my full legal disclosures here.
Please read the whole post so you don't miss any important information!
DIY Yeti for a Snow Day Shirt
Supplies
Weeding tool
Black shirts or hoodies
Iron On Vinyl: You'll need pink, brown, black, and orange iron on.

I used two different types of patterned iron on for the Yeti. Patterned Iron -On™ Sampler, Rustic Lodge Lumberjack and Patterns Iron-On Sampler, Nature Walk Basics. You can choose which you like the best (I'll show the two side by side below)

Design: Yeti for a Snow Day
Use the Discount Code DIYDANIELLE on cricut.com for 10% off any cutting machine or heatpress (no minimum). Excludes: materials/accessories/mystery boxes/etc. Applies to US/CA only, code expires 12/31/23.
Here's a picture with the yeti in two different types of patterned iron on! Leave me a comment below and let me know which you think works the best… I can't quite decide!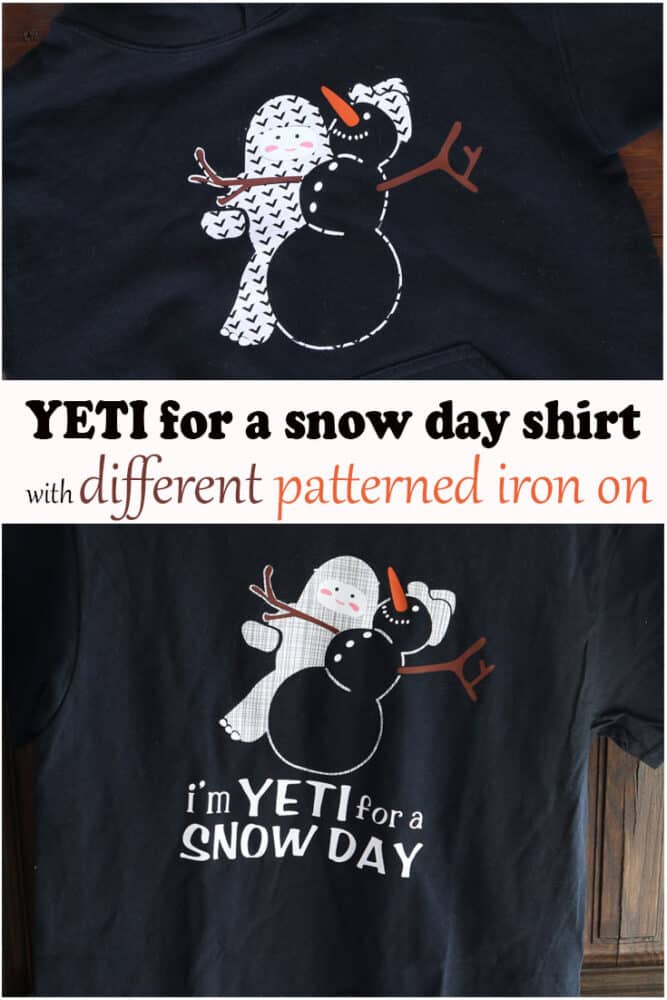 How to Layer the Iron On Vinyl
You'll need to start by cutting out your file. Delete the second set if you're only making one shirt. Sorry, it's a bit of a mess, but I separated everything out.
Don't forget to place the iron on pretty side down on the cutting mat and choose mirror for EACH SHEET. There's a lot of colors here!
The main yeti and snowman outline were cut out of the patterned iron on. The rest of the colors should match their colored iron on.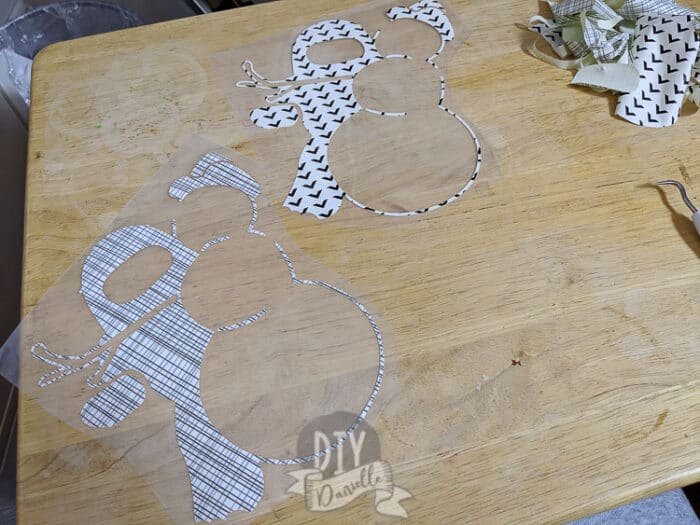 Lots of weeding and such to prepare your pieces. Don't lose any of the small bits.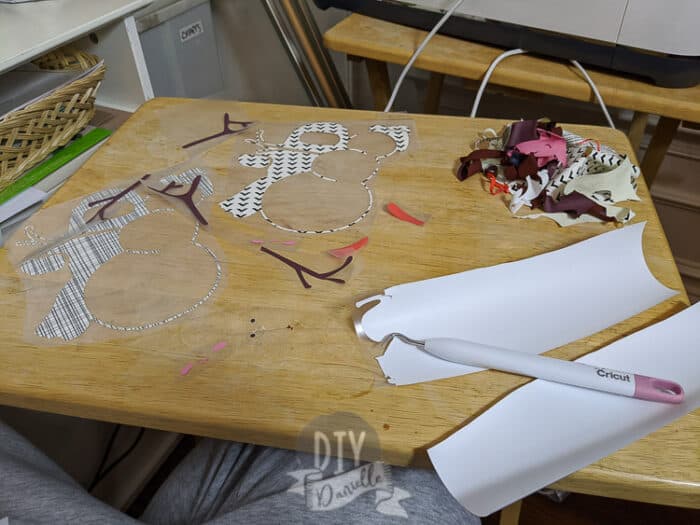 Once you weed everything and you're ready to go, preheat your shirt with your heat press for 5 seconds. Use the Cricut Heat Guide to determine the temperature for your iron on / fabric combination.
You need to decide what order to layer everything in. You can't shove them all on the shirt and press… the plastic carrier sheets from the lower layers will prevent the top layers from adhering. I hope that makes sense.
You'll need to start with the big Yeti/snowman piece. Center where you want it on the shirt. Press. Once the iron on is adhered, peel the plastic sheet off carefully.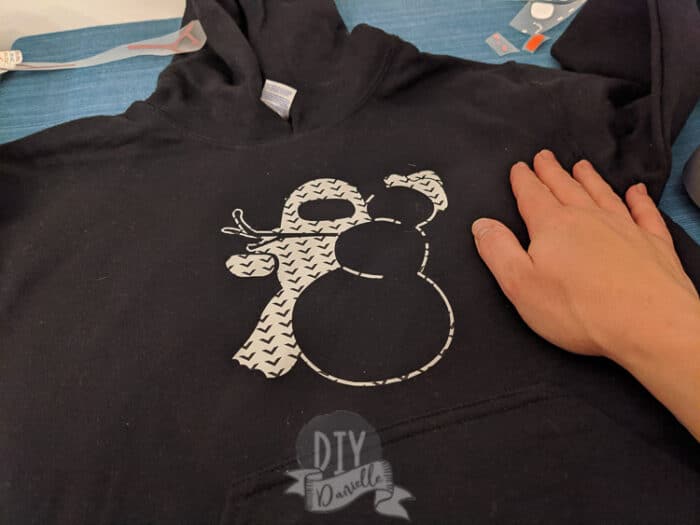 Now you can decide the next piece. Here's how I did mine… I did the white face and the other white pieces next.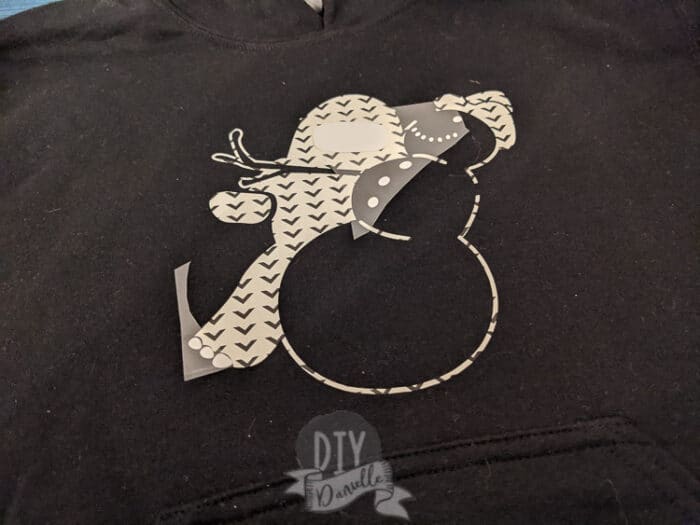 Next are the brown stick arms. Make sure they're in the blank spots and not on top of the patterned iron on at all.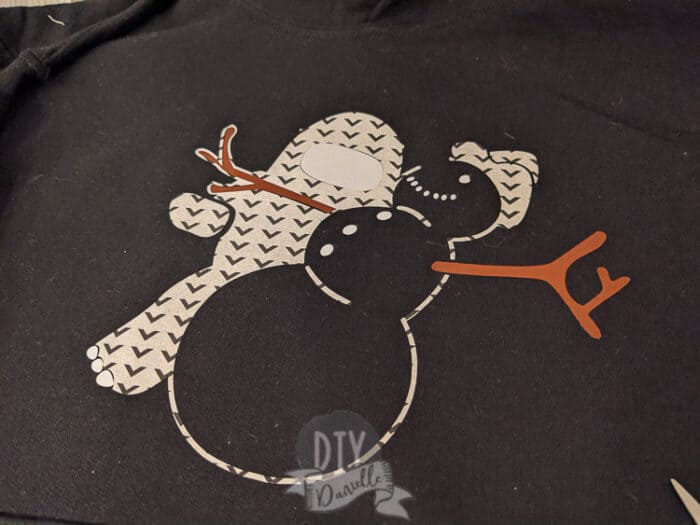 I didn't take photos of the eyes, face, and nose, but I cut the carrier sheet close to the iron on for those and placed all three at the same time. Make sure they DO NOT overlap at all.
Once you put those on, you can apply your words on the shirt wherever you please. I put the words for the hoodie on the pocket.
Remember that when layering, you can't always layer certain types of iron on on TOP of each other. The nice thing about this project is that, excepting the eyes on the white face, none of the iron on vinyl is on top of each other.
Don't forget to let me know which is your favorite iron on for the main Yeti in the comments!
It's almost Valentine's Day! Check out my DIY boys Valentine's Shirt and these DIY naughty boxers to gift to your spouse.
Please share and pin this post! If you make this project, share it in our Stuff Mama Makes Facebook Group. We have regular giveaways for gift cards to craft stores. You can also tag me on Instagram @doityourselfdanielle; I love seeing everything you make!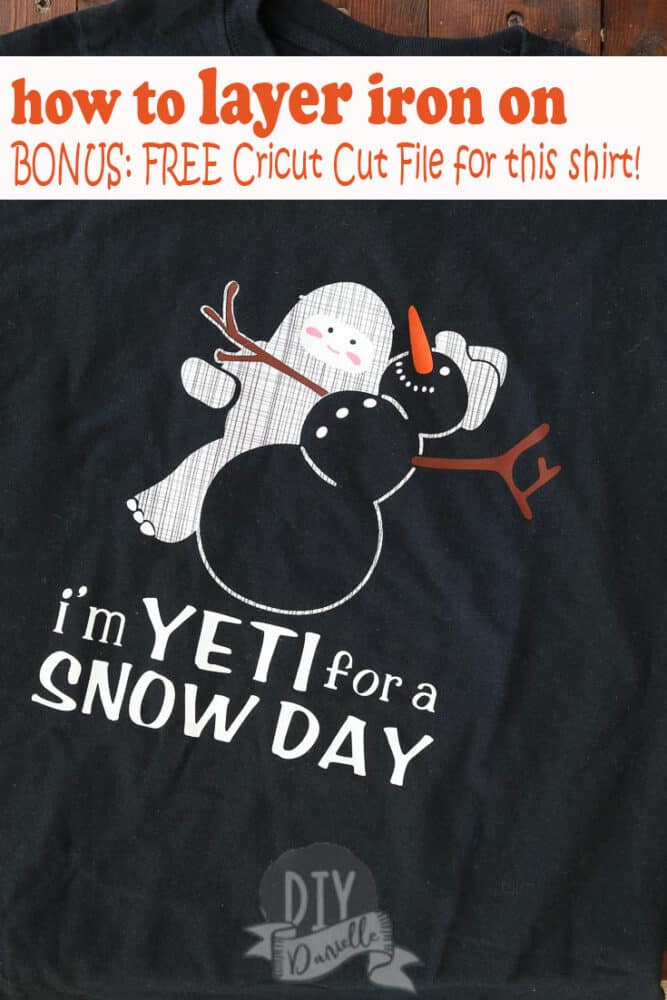 Google Web Story: I'm Yeti For a Snow Day Shirt