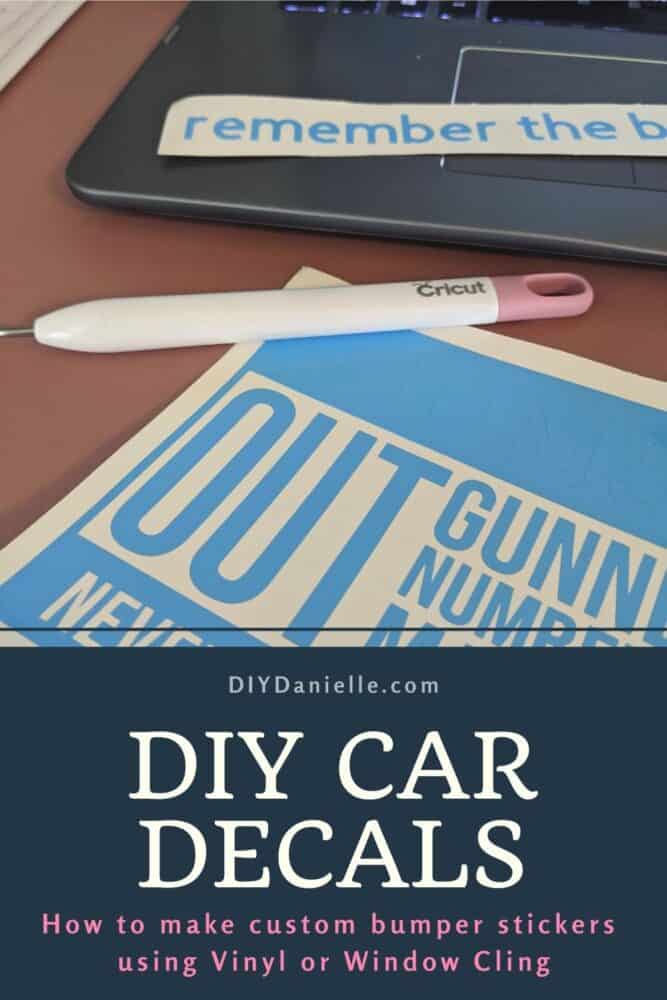 How to make a quick and easy car decal with the Cricut Maker. These easy DIY bumper stickers are fun to customize at home!
This post contains affiliate links which may earn me commissions should you click through them and take certain actions. As an affiliate for Amazon and other sites, I earn from qualifying purchases. Please DIY carefully. View my full legal disclosures here.

Please read the whole post so you don't miss any important information!
I love making custom bumper stickers for my car! I can chose the colors, the design, and the size. I'm going to talk about several ways to make car decals with your Cricut.
What Type of Vinyl Should I Use for Car Decals?
The first thing to decide is what type of vinyl you want to use for your car decals. You have a few choices.
Window cling is a material used that can 'stick' onto the window, but it does not adhere. It's easy to remove. I would be careful using window cling for a car decal because it would come off very easily. If you chose window cling vinyl, mirror the image and place the window cling on the inside of the vehicle so it won't fall off.
I used window cling to make a DIY car Bingo game for my kids.
Permanent Vinyl is likely what a lot of bumper stickers are made of and it's considered permanent. There are many types of permanent vinyl, including some that will stand up to bad weather and some can even be used on boats.
The heavy duty vinyls aren't generally what you'll find in the craft store though. Typical permanent vinyl can usually be removed with heat. Here's a tutorial I wrote on how to remove bumper stickers; Permanent vinyl is removed the same way.
Regular Vinyl is intended to be easier to remove. It is preferred for wall decals in your home because it's less likely to remove your drywall when you take it off. I find that regular vinyl is also fairly sticky so in my opinion, there are no guarantees that you'll be able to get it off without damage. To remove regular vinyl, I use heat, then peel it carefully off.
That said, regular vinyl is more likely to peel off on its own and not withstand rain or snow. You can mirror your image and place regular vinyl on the inside of your car windows if you would like it to last longer.
Car Magnet Blanks are your best option if you want to ensure that no damage is done to your vehicle. These blanks can be moved around so no fading occurs on the body of your vehicle. I suggest using permanent vinyl on a car magnet.
My car doesn't seem to have a lot of solid metal areas for these to stick to so it's good to test to see if the magnet will work on the area you want to decal before you chose this option. Car magnets may be stolen or fall off.
Buy the SVG used in this tutorial by clicking "shop now" below! The photo shows the SVG on a shirt, but it can be used on a car decal or sign as well.
OutGunned Mom SVG
Fun Hamilton-Inspired SVG for moms who are overwhelmed and outnumbered! You get (4) files with (2) designs in both SVG and PNG format.
***This is a digital file only. These designs can be printed on your home printer or cut using a Cricut or Silhouette machine. This is NOT a physical product.***
Longevity of Your Choice and Damage to Vehicles
Bumper stickers on the body of your car can cause the paint to fade and leave a permanent mark when the sticker is removed.
Should I Mirror Car Decals?
This depends on your purpose and your materials. With most vinyls that you use on the car body, you do not want to mirror the image.
If you add vinyl to the inside of your car window and want the people outside the vehicle to be able to read it, you want to mirror. If you want to be able to read it inside the car, you do not want to mirror it.
How to Make a Bumper Sticker for the Car Body
What you'll need
Permanent Cricut Vinyl
Buy
Steps
Making your own car decals (or bumper stickers).
This decal was made using permanent vinyl. The cut file is available on DIYDanielle.com/shop.
I used window cling for this decal, mirrored the image, and placed it on the car interior.
1
Start by cutting your vinyl using your SVG file on Design Space and the Cricut.
2
Weed away the excess vinyl.
3
Clean the area where you want to apply the vinyl. Dry.
4
Attach transfer tape to the front of your design (for perm/reg vinyl).
5
Remove the backing from the vinyl.
6
Place your decal. Remove the transfer tape.
7
I am adding a decal to the car body in this video.
8
You don't want to use transfer paper for the window cling so instead you place the decal by hand.
Please share and pin this post! If you make this project, share it in our Stuff Mama Makes Facebook Group in order to enter to win our monthly giveaway. You can also tag me on Instagram @doityourselfdanielle; I love seeing everything you make!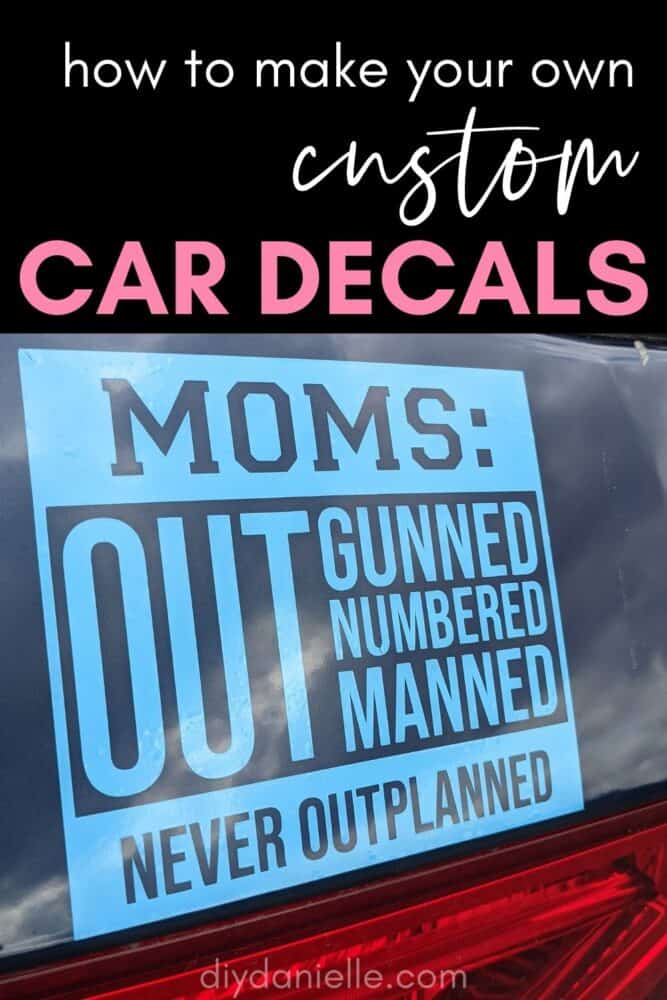 How to Make Bumper Stickers with Cricut