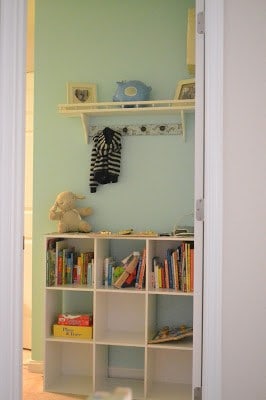 I wanted to do something small for the entry to the nursery because there's an odd little alcove as you walk into the room that is too small for most furniture and it just felt like it needed purpose. I decided that a shelf with a coat rack would be the best option. I was going to also make a bench to go underneath to put shoes under and to sit on to put shoes on, but I realized I had a better option to use; I moved the storage cubes upstairs to the entryway and they fit perfect.
Here's my inspiration which was a picture pinned on Pinterest. No tutorial on it, however, so here's what I did to replicate their efforts.
For our project, I used an old white shelf that I already had. We measured a piece of wood to go between the two brackets for the shelf and cut it down to size.
Then I used a staple gun and coordinating fabric from our nursery set (I used this particular fabric for the baby blankets) to cover the wood with fabric, making sure to pull the fabric tight.

For the ends, I just trimmed the extra fabric so there was just enough to "wrap" like the ends on a present and staple to the back.

I measured out the distance between the two ends of the board (roughly 23″) and divided by 5 to figure out how far between each knob. It was 4.6″ so I measured everything out and marked it on the back of the fabric/wood piece. Daddy B put the knobs on for me by carefully drilling holes where I marked and screwing the knobs on.

Just as a side note, these knobs were left over from the 25-pack of knobs that I got off Amazon for our kitchen cabinets (I put them on to make baby proofing easier- desperate times, desperate measures!). I think I saved quite a bit by getting them off Amazon vs. in the store (in terms of getting something I liked that wasn't too expensive).
Finally, we placed the coat hanger portion between the two brackets and screwed it on, making sure it's not lopsided.
Final Product! I've been feeling really bummed out and frustrated because this nursery wasn't coming together as well as I'd like… the wall decor always stumps me and I hate trying to figure out what and where to put everything on the walls. I am feeling a lot better, even though this is a pretty small step towards finishing it all. On the bright side, at least it's the end of the project… only the wall decor to go, then the final reveal! Yay!
Links to all of the nursery makeover posts: