DIY Landscaping ideas for the front yard. Get started learning the best ways to plant flowers or shrubs to add curb appeal to your home.
I love to look at real estate listings to get ideas for landscaping and gardening. Most of the time you get a plain front yard when you buy your home. The builder or previous owner has a few boring shrubs, a ton of mulch, and perhaps a few annuals that they planted the day before the house went on the market. It feels sterile and cookie cutter. Landscaping is a fantastic way to add your own personal touch to a home and make it yours. Here are some landscaping ideas for the front of the house, as well as some tips for getting started.
You should consider a few things when you're planning your landscaping:
How much time and money can I spend to update my property?
How much time and money can I afford for long term upkeep?
How MUCH lawn do I want vs. garden?
What purpose should my landscaping meet? Do you want to beautify the property? Have plenty of space for an neighborhood baseball game? Do you want to entertain?
This post is going to get into some considerations for planning your landscaping, but I also have a bunch of landscaping ideas at the end.
Plant Spacing
The one mistake many people make is to think that *more plants* is always more work. So what do they do? They plant a few shrubs, mulch heavily, and leave the garden as is. If you have tried this method, you probably know that it's not problem-free. Weeds grow through and the extra space is extra room for weeds. If you don't weed regularly, you'll soon find your front garden is now a lawn. Whoops.
Strategically planting a garden to leave less space between plants can discourage weed growth and require less mulching. Over time, this means less effort for the home owner. You still may need to weed and trim back plants, but you won't need to spend a thousand dollars on mulch in a season. Every year the flowers in my front garden attract hummingbirds, along with many other pollinators, and I can sit and watch them play.
Annuals vs. Perennials
Don't forget- annuals don't grow back (unless they dropped seeds). Perennials will. So if you want to plant once, then just weed and mulch as needed, plant perennials. I plant a lot of perennials, then add a few favorite annuals in between. Each year, I try to save the seeds from the annuals to plant the next Spring. Here's a video on saving seeds that I made with my son. It's really easy and you can store the dried seeds in special seed envelopes. We had a ton of marigolds this year because we *may* have let seeds fly last Fall. It's pretty incredible. I have a blog post on storing seeds if you're interested.
Long Term vs. Short Term Landscaping
Just remember that when you landscape, you're generally planning for long term… unless you're planting for your home's immediate resale. When planning landscaping for long term, you should research how large each plant will get and plant accordingly. If you have patience and want to save money, you can plant a few seedlings that will eventually get big. Wait a year or two, and they'll expand to fill your garden space. I frequently do this, but it does require patience, weeding, and mulching for a year or two.
Alternatively, if you want a full garden immediately, you can buy a lot of plants. You can plant perennials that will get big, then place annuals between them for a couple of years until the perennials are full size and hog that space.
Which Size Plants Go Where
Larger items like bushes or tall flowers should be planted in the back of your garden. As you move forward in the garden, plant shorter and shorter plants. I add strawberries or thyme to the very front of my current garden as an edible ground cover. These are easy to trim back and they tend to fill in empty garden spaces quickly.
Sun or Shade Considerations
You should also consider whether your garden receives full light or if it is in partial or full shade. This will impact what type of plants you should add. Here's a great list of plants for a shaded garden; it's much easier to find plants that love the sun.
Ideas to Save Money Landscaping
Landscaping costs money, particularly if you hire someone. Fortunately, there are plenty of ways to save money and I wish I'd known some of these tips years ago.
Here's a few ideas to cut costs:
Buy plants in the off season.
DIY the work.
Buy garden décor items used.
Find local people selling seedlings on Marketplace. They're often cheaper than nurseries.
Join a local gardening group and see if anyone has free seedlings or plants that they don't want any more. Sometimes people will offer items for free if you dig them up.
Start your plants from seed.
Make your own compost rather than buying compost or fertilizer. This not only saves money, but also reduces your environmental impact and it does AMAZING things for your garden.
I frequently give away excess "babies" from my plants to local gardening friends. Some day I'd love to sell the babies, but I'm not quite there yet. I do, however, make gifts from my garden including these cute planters for our teachers. I've dried lavender to make lavender sachets. My herbs get dried for cooking. If you're a clever gardener, you can make money off your garden!
I've also done some upcycling to add planters or décor to my garden. This old wheelbarrow turned planter was a lovely addition to the side front garden at our old house.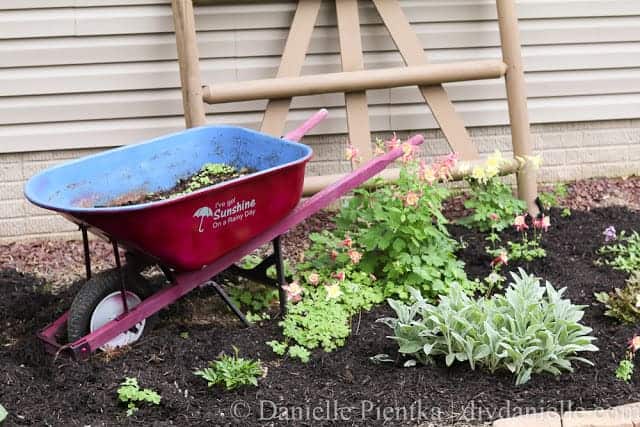 This year, I bought an old cracked horse trough to turn into a planter and water feature. For around $50, I had a really pretty raised bed. I may do more of these next year and shop around for troughs. The plants all grew really well in it and I didn't have to do much maintenance on this.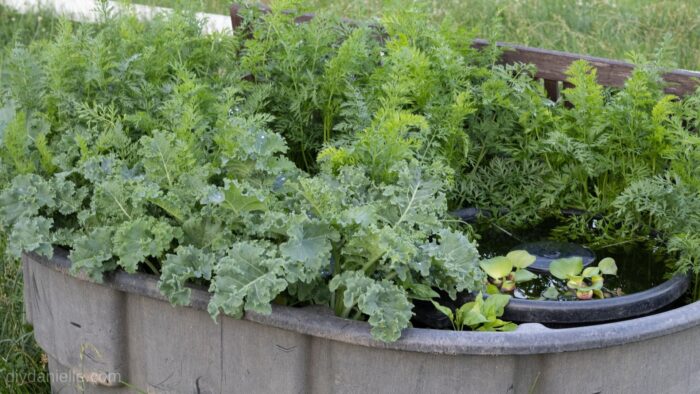 Landscaping Progress Shots from Our 1st Home
Here's a picture of our first house as landscaped by the builder: there's (4) green holly bushes in the back, (1) random holly bush in the front, then the (3) big yellow bushes. These will all get fairly large long term. My mother-in-law recommended digging up a few of the extra bushes and moving them elsewhere.
As you can see, we also dug a small flower bed around the steps and added some smaller annuals, I believe.
Over time, I did a lot more landscaping work to the home. We added a rain garden along the side of the house with a red rock path. The DIY garden arch we built framed our back fence, and gave the knockout roses a trellis to climb up. In the back of the house, we added a lovely pond and patio. Large privacy planters gave us space to grow carrots, cucumbers, and other plants next to the pond.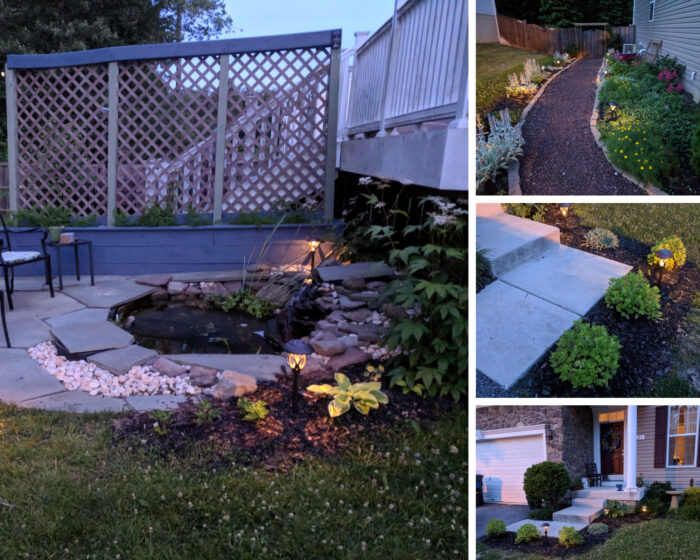 We've since moved. I've started over, creating a beautiful landscape for our new property. At the new house, I have even less spacing between flowers in our front garden. It's DENSE. This is a shot off my front porch and the video has a quick look at the hummingbirds my garden attracts.
I put a mix of edible plants and flowers so I can pick herbs, strawberries, and blueberries as I walk to my front door. It's a lot less work to weed the dense areas, although I had two larger "weed" trees (we have issues with Tree of Heaven here which is the WORST weed ever) come through that are now difficult to access without stepping on the rest of the flowers.
More Front Yard Landscaping Ideas
Adding landscaping can improve the value of your home. It's a great way to express yourself. The front yard is the FIRST thing people see when they come over or dry by. Here are some ideas to update the front of your home. Here are some more landscaping ideas for your front yard will bring joy to you, your family, and your neighbors.
Landscaping Ideas for the Front of a House
These creative landscaping ideas for the front of a house will improve your curb appeal quickly and easily. There are so many great DIY landscaping ideas to help inspire you with your front yard.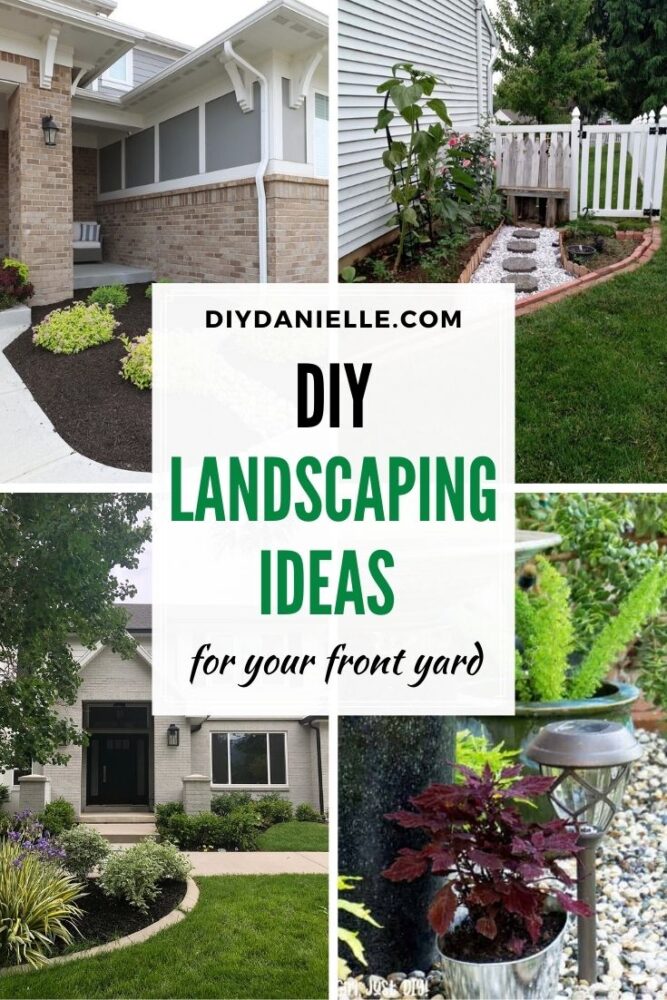 Please share and pin this post! If you make this project, share it in our Stuff Mama Makes Facebook Group. We have regular giveaways for gift cards to craft stores. You can also tag me on Instagram @doityourselfdanielle; I love seeing everything you make!