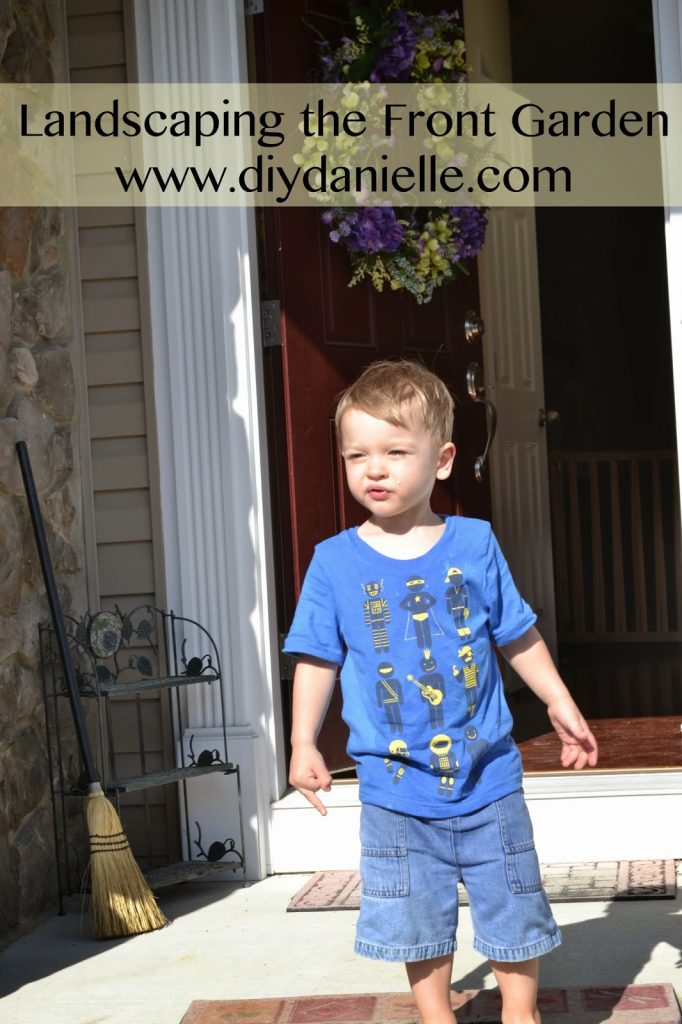 My in-laws were up recently and my mother-in-law is the expert on gardening so I decided to work on our front garden while she was up. Thank goodness I got her advice.
Here's a picture of our house pre-garden updates. The company who did our landscaping put in a lot of bushes… on the garden in front of the windows, there's four green holly bushes in the back, one random holly bush in the front, then those three big yellow bushes. And then a bunch of smaller grass-looking plants that are low to the ground. Then we have the big tall tree.
My mother-in-law recommended cutting down on the number of bushes… so we took out three of the holly bushes so there is only three across in the back. These apparently get quite large so we didn't want too many. We also took out one of the yellow bushes. Then we dug up most of the bushes we kept in the garden and relocated them to be more even. The extra bushes we took out we transplanted along the sides of the house or in front of our fence. It looks so much better.
Here's all our flowers we were about to add… these are the bushes once we removed and relocated everything how we thought looked best. Excuse the random flowers, some of them are going elsewhere.
Here's the path in front of the house that we also decided to dig up and beautify. We dug up the grass and saved it for other areas of the yard. Then we filled it all in with soil. We'll mulch over it later.
Here's my husband and father-in-law digging up a spot for the extra bushes. One at fence and the yellow one alongside the house.
Pictures After Mulching (excuse the hose, but I'm trying to keep these well watered and I know better than to think I'll take it back out again to water if I unhook it all).