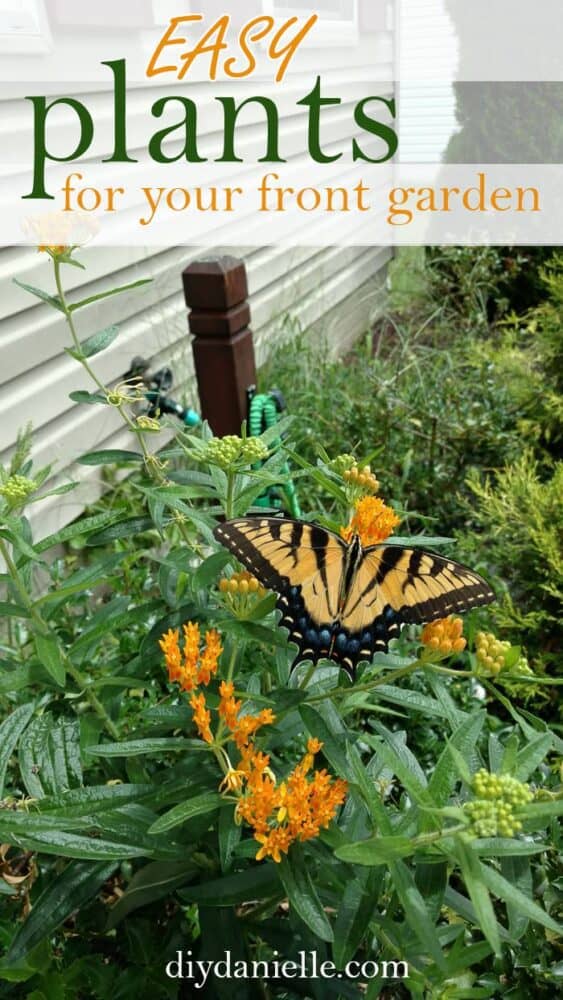 New to gardening? Here are some easy plants to grow outside to make your gardens beautiful. Many are edible additions to your landscape!
This post may contain affiliate links which may earn me commissions should you click through them and take certain actions. As an affiliate for Amazon, Cricut, xTool, Home Depot, and other sites, I earn from qualifying purchases. Please DIY carefully. View my full legal disclosures here.
Please read the whole post so you don't miss any important information!
I love having a beautiful front garden, but I tend to prioritize my vegetable garden over flowers. This year, I decided that would change. I had a GORGEOUS garden at our old house with many easy to grow plants. I've slowly been adding some of the same plants to our gardens here.
Personally, I prefer perennials for my garden. They come back every year if cared for properly so I don't need to spend more money every year on new plants.
I tried to add plants to this list that are SUPER low maintenance… Just keep in mind that any plant will die without enough water and sunlight. Some plants need more sun that others. In many yards, a front garden will have full sun. If you have a lot of shade, check out my post: Shade Plants for Your Garden.
I focus on edible plants, as well as plants that will bring pollinators to my garden such as butterflies, bees, and hummingbirds. You MUST avoid herbicides in your garden if you try to follow my methods. Herbicides will kill beneficial bugs and other critters, AND you don't want your kids snacking on toxic chemicals either.
Here are my favorite plants!
Easy Plants for Your Garden
Lamb's Ear
Perennial
Lamb's Ear will TAKE OVER your garden, but you'll love every moment. This plant will start out small with soft green leaves. They blossom with purple flowers later in the season. They're VERY pretty in bloom.
Over the first couple of years, the plant will get larger and creep outward; the plant will look like it's getting more and more full. You may also find smaller plants nearby. You can remove extra plants to move to other areas of the garden, or gift the plants to friends.
The plant is fairly forgiving so usually I just dig a trowel into the plant's roots and try to separate out some of the outside plants with their respective roots. I replant in other areas, making sure to water it well for a couple of weeks.
Lamb's Ear can be used as an organic bandage, toilet paper, sensory gardens, and it has medicinal uses.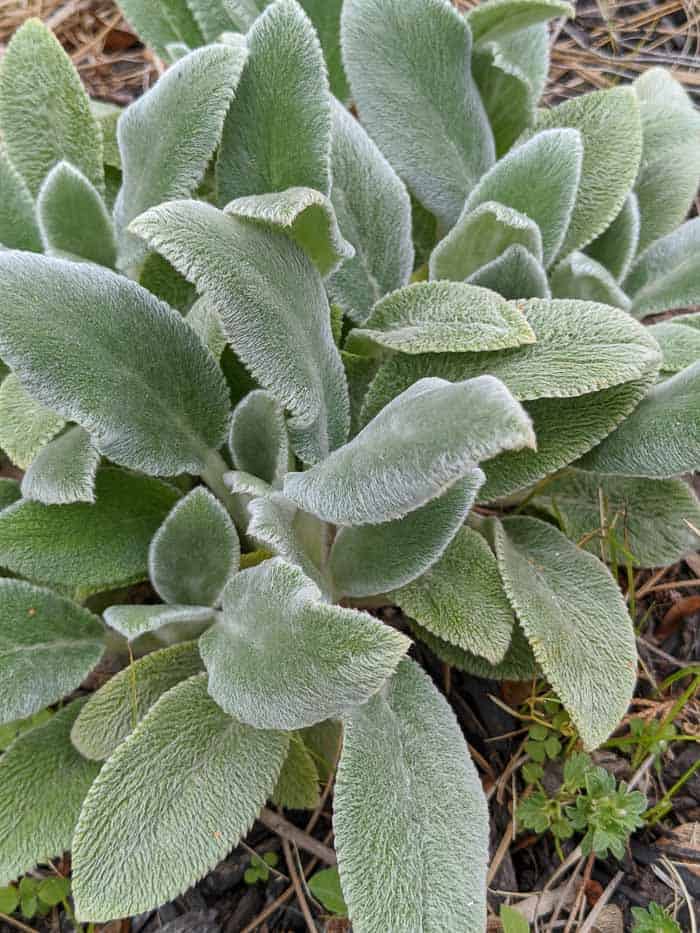 I find it to be a VERY resilient plant that I don't need to mess with much.
Here's a photo of the flower with a bumble on it!
St. John's Wort
Perennial
This is another plant that loves to take over the garden. We had quite a bit of it at our last house. I find it fussy to grow from seed and this is my second year attempting it.
If you purchase a small plant, however, it will create lots of baby plants once it's established. By our second year at the last house, the plant was starting to reproduce itself and fill in space for our garden.
St. John's Wort is a medicinal plant. It was traditionally used to treat depression and you can find the pill form of this in the herbal medicine area of your pharmacy.
Milkweed
Perennial
You're probably thinking of common milkweed when you read that title, but there are many different types of milkweed that you can plant in your garden.
The types I've bought locally for my garden got to around knee height. This is a pink flowering milkweed plant coming back from last year.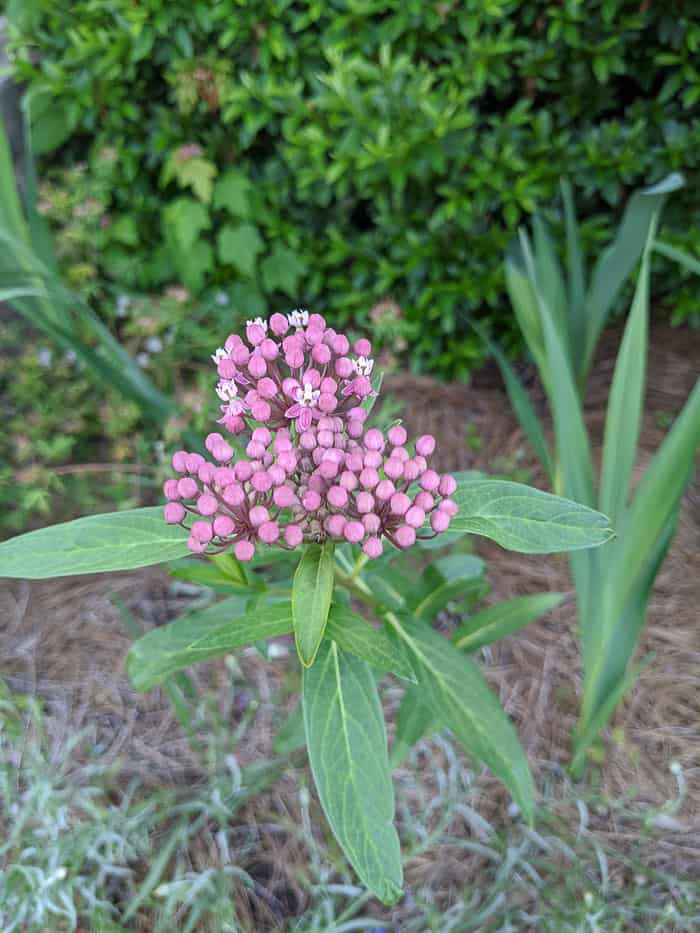 I've found them prone to aphids which is why I've released praying mantis and ladybugs some years to combat these bugs; both bugs are a natural predator of aphids. Using them is one way to avoid using insecticides.
The monarchs love these plants so you'll often find caterpillars covering the plant. This is a lot of fun for the kids. Usually I try to plant extra milkweed to attract and feed the butterflies so the kids can raise them.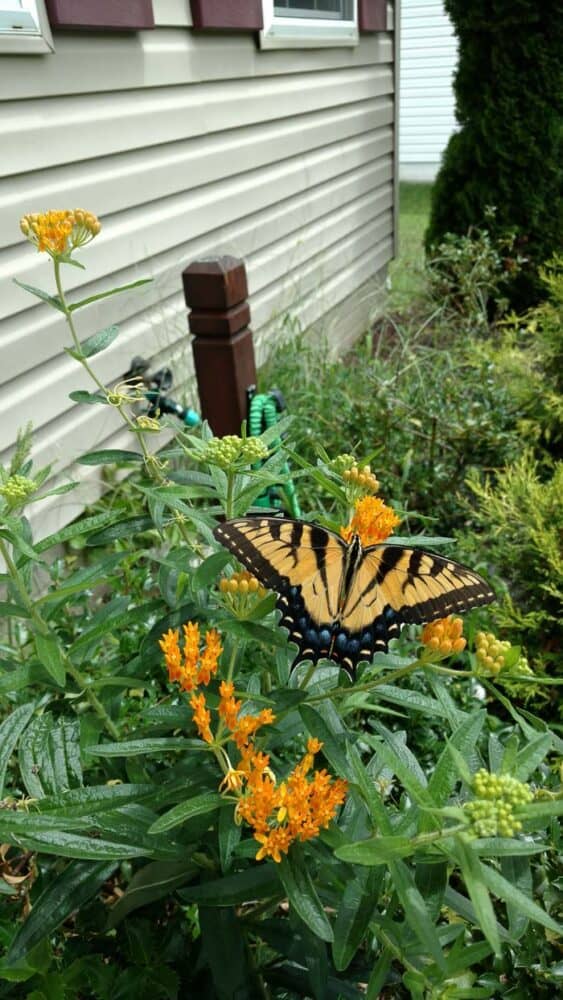 Strawberries
Perennial
These are a simple edible option for the garden. They produce pretty white flowers early in the spring. The big leaves and green fruit will ripen in late Spring (late May-early June in Maryland).
As you can see below, there's very few weeds peeking through these plants… usually I get a few wild onion plants peeking through and sometimes some clover hidden underneath. I leave the clover as it's not visible.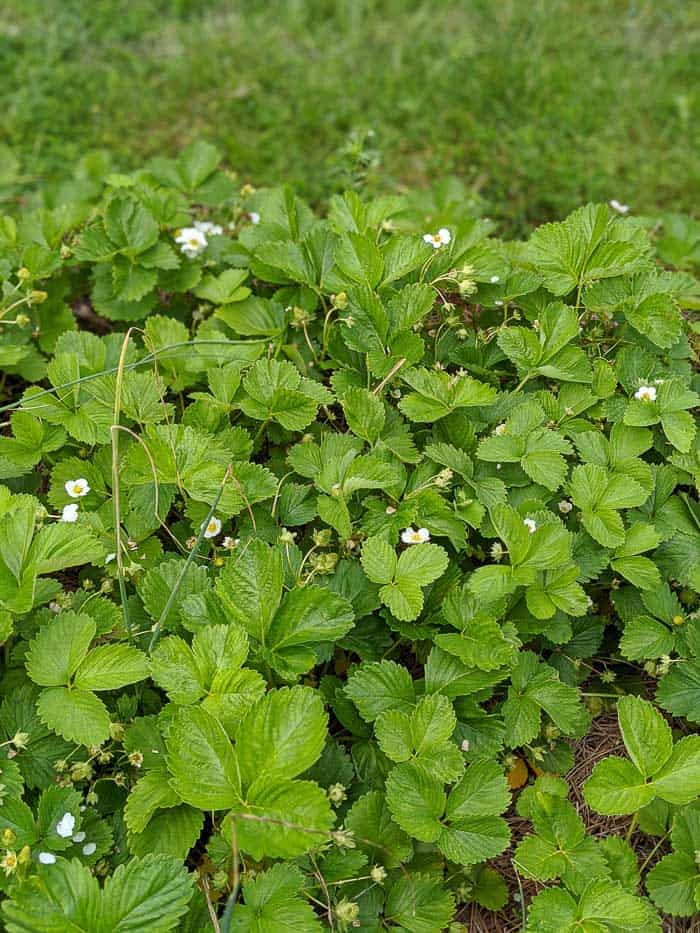 Once late spring comes, you have red fruit among a mass of green leaves. Depending on the type of strawberry plant, you may have a plant that produces large strawberries early in the season, or smaller strawberries throughout the growing season ("everbearing").
If you plant a mix of both, you will have the best of both worlds.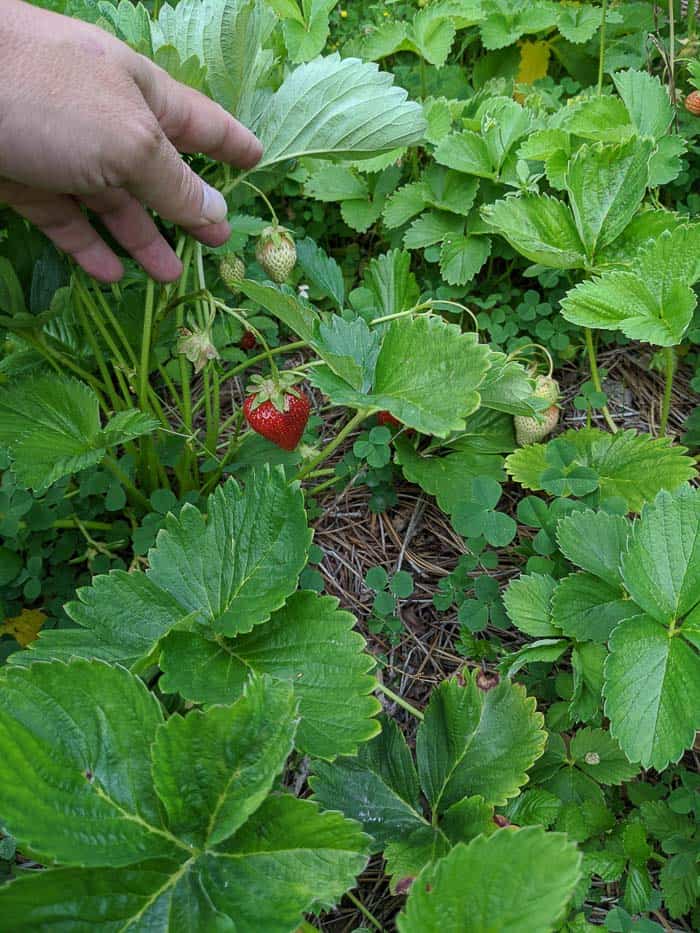 While this may not be a traditional option for a front garden bed, it's a great plant for the front of the garden. It duplicates itself, filling in the bed, leaving less room for weeds to grow.
Strawberries send out "runners" to reproduce themselves if given enough sunshine, water, and time. You can snip the runners and transplant them in other parts of your garden, making them an affordable plant to fill in gaps.
We love being able to run out to the garden to harvest strawberries for snack time or dessert.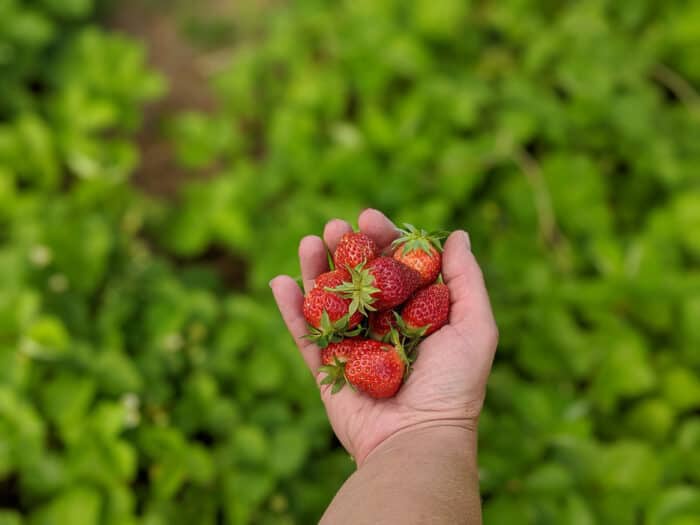 I recommend planting strawberries in the very front of your garden bed to about an arm's length deep into the bed. This allows you to pick ripe strawberries without stepping on plants as they fill in the bed quite quickly.
The traditional way to plant strawberries is in thin rows where people can walk between rows to easily access the fruit. The main problem with this type of setup is space (if you have a smaller yard and no room for a fruit garden) and weeds. You need to be willing to weed the empty rows between the plants with that type of setup.
Personally, I love having strawberries in my front garden and prefer not to grow in the traditional method.
Creeping Thyme
Perennial
Thyme is another helpful herb that's an attractive ground cover for your garden. It also smells awesome. You can plant it toward the front of your garden to cover the ground and reduce weeds. It's what they call a "living mulch," just like strawberry plants.
If it starts to take over, EAT IT. Or give some plants away. No big deal.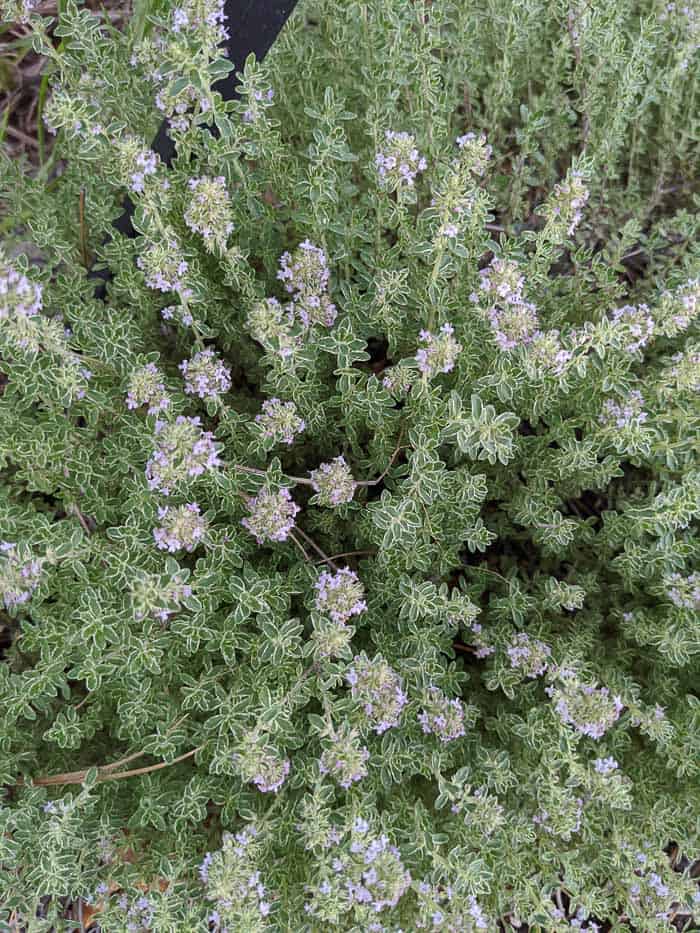 I have one creeping thyme plant that survived over the winter, and recently I planted many more. It's too soon to tell, but I think it might be nice to plant the thyme behind the strawberries. I think the thyme might rise a little higher up to fill in the space behind them.
Knockout Roses
Perennial
Here's another plant that will happily take over in the right conditions. Unlike tradition roses, knockout roses don't require a TON of maintenance.
They have beautiful flowers and thorns, which make them resistant to critters.
You will want something to hold these back from pathways. A nice trellis or archway is a great option.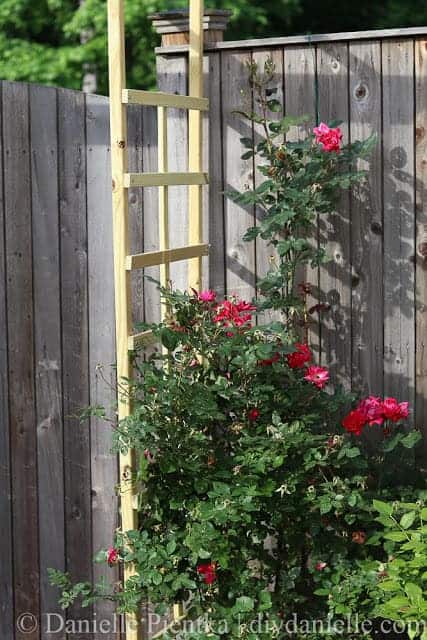 Because they grow tall and wide, you'll want to plant them toward the back of your garden. For maintenance, you'll want to trim the plant away from pathways and try to encourage them to grow up your trellis.
Astilbes
Perennial
These are lovely and produce a plant and flower that is between 2-5′ tall. Ours were pink. We purchased ours as bulbs.
Pop the bulb in the soil, make sure the soil gets watered regularly, and you'll have plants soon enough! They prefer light to moderate shade, and can't tolerate full sun.
Astilbes attract butterflies and dies back in the Fall. It will regrow in the Spring.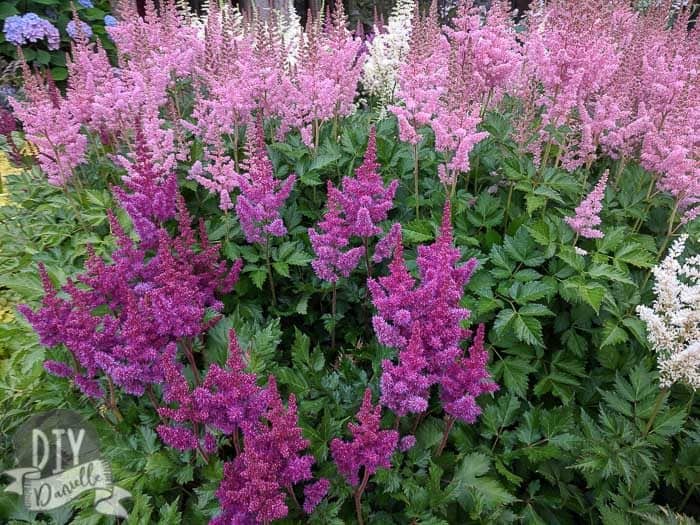 Hostas
Perennial
Hostas are a full green plants that's grown from a bulb, that produces light purple flowers. These flowers attract bees and occasionally hummingbirds.
Many types of hostas are shade tolerant. Deer, slugs, and rabbits enjoy eating them, but otherwise these plants are disease resistant.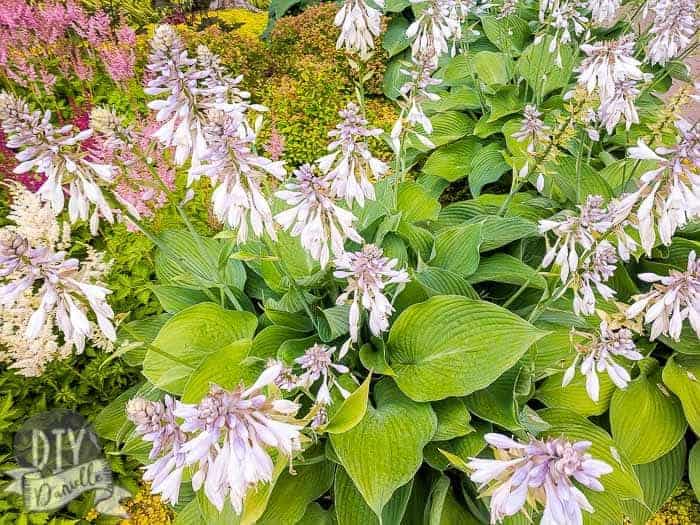 Daffodils
Perennial
Here's another bulb plant that will come back every year. Previous owners must have planted some in our grass near the front pathway as they come back every year.
These plants are deer resistant, but they can be toxic to pets.
Plant these in the Fall for late Winter/early Spring blooms.
Azaleas (Rhododendron)
Evergreen shrub
I've never planted Azaleas, but our home has a number of them growing along the garage. They're BEAUTIFUL when they bloom in the early Spring with bright pink flowers. When the flowers disappear, you're left with a lush green shrub.
These are great for the back of the garden as they're quite tall. The leaves are poisonous so don't let your pets (or humans) eat them.
Most of these plants prefer partial sun and can have issues with growth if they get full sunlight.
Here's a picture of our Azaleas early this Spring with a Praying Mantis pod attached.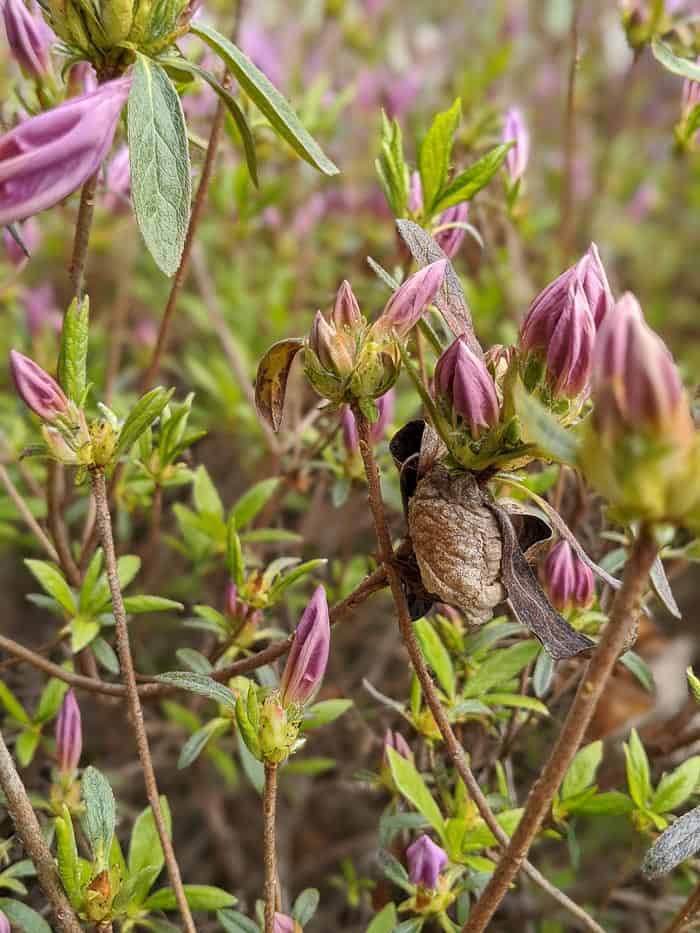 Grape Hyacinths
Perennials
We've had these at both of our homes and I LOVE them. The previous owners of this home had planted them on the 'lawn side' of the pathway. Every year they come up happily and bloom in the Spring, even though we mow over them the rest of the year.
They smell amazing, they are fairly low to the ground, and I haven't had any issues with pests on them. I love the purple blooms!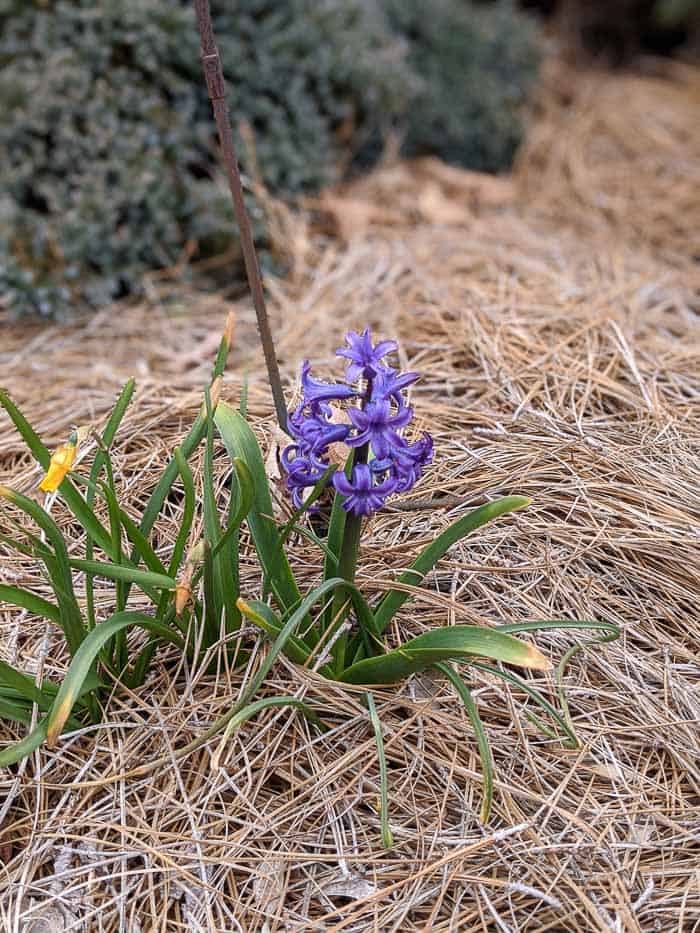 Mums (Chrysanthemum)
Perennials
Garden mums are perennials and will come back each year if planted in your garden. Florist mums will not come back so those are better for people who toss their plants each Fall.
In the Spring and Summer, these garden mums will be a smallish green plant, but they'll bloom in the Fall at the same time other plants are starting to fade.
They love full sun, but need to be watered consistently in the heat of the summer.
Nasturtium
Annuals
Nasturtium are annuals that tend to reseed themselves each year. I generally plant new nasturtium each year, however, because I haven't seen mine come back here in Zone 7A.
Personally, I have always started these from seed early in the year, then I'll transplant to my garden once the risk of frost is gone. They grow fast and love growing up fencing and trellises.
They have brilliant green leaves and vibrant flowers, and they're an edible plant!
This is one of my favorite pictures of the nasturtium in our huge privacy planters. I love how it spilled out of the front of the planter.
Love gardening? Here are 27 DIY garden ideas you can make on a small budget!
Sorry about all of the random IG photos! Usually I post some photos directly to my page, but I can't find the originals on my harddrive (sob). I'm not sure what's up, but I'm missing lots of pictures. ANYHOW if you like plant photos, I post a lot of them on Instagram.
Do you have any other favorite easy to grow flowers? Leave me a comment or tag me on Instagram @doityourselfdanielle with photos of your front garden!
Please share and pin this post! If you make this project, share it in our Stuff Mama Makes Facebook Group. We have regular giveaways for gift cards to craft stores. You can also tag me on Instagram @doityourselfdanielle; I love seeing everything you make!