How to make some swing strap covers for an old baby swing. This swing had old, scratchy rope so I decided to cover the rope up! It was easy and brightened up the swing.
We got this great old baby/toddler swing from our in-laws… remember these beasts? They were wonderful except for the yellow rope that always seemed so rough and would give splinters. My 6 month old didn't seem worried about it, but he's got eczema along one side of his face and I wanted to make sure he didn't have anything extra rubbing against it. These seemed like an easy project idea that would work as a solution.
---
This post may contain affiliate links which may earn me commissions should you click through them and take certain actions. As an affiliate for Amazon, Cricut, xTool, Home Depot, and other sites, I earn from qualifying purchases. Please DIY carefully. View my full legal disclosures here.
Please read the whole post so you don't miss any important information!
---
I cut out two pieces of fabric for each strap cover- so 8 pieces total. Four pieces were the owl print in Pul fabric and then four pieces were a soft fabric I had leftover from another project. I don't think the fabric type will make a huge difference, but you may want to use fabric that will last well in inclement weather (although these come off easy enough too if you just want to remove them in bad weather). I thought Pul and the thin soft fabric I used on the inside would dry fast. I used scraps of fabric for this project.
I made my strap covers 14″ x 2.5″. I recommend going with 14″ x 2.75″ or 14″ x 3″ because two of mine ended up being VERY hard to snap closed (if you plan to turn and top stitch instead of serging, you'll want them to possibly be even wider). The ones in the front work fine, but I guess I didn't take as much seam allowance off those. I knew it was going to be close, but I was trying to use all the same scrap piece of fabric so I cheated a bit.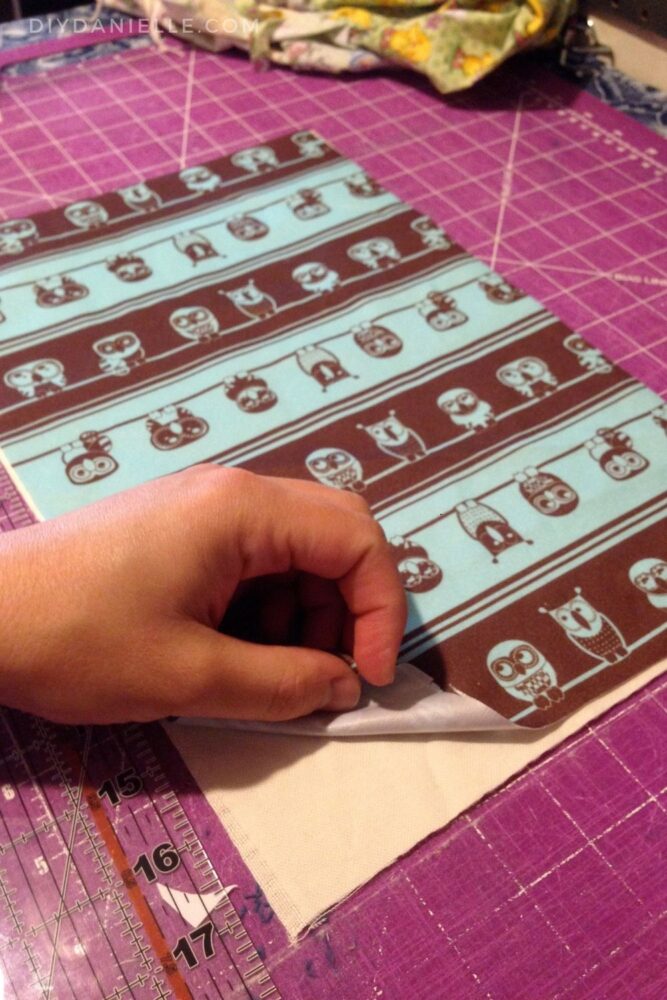 I cut my fabric pieces out and faced the owl and white fabric wrong sides together, pinned in the very middle so the pins wouldn't be in the way of the serger, then I serged around the whole thing.
You can use a sewing machine for this project if you face the pieces right sides together then turn right sides out. But I used a serger- you can read more about sergers here.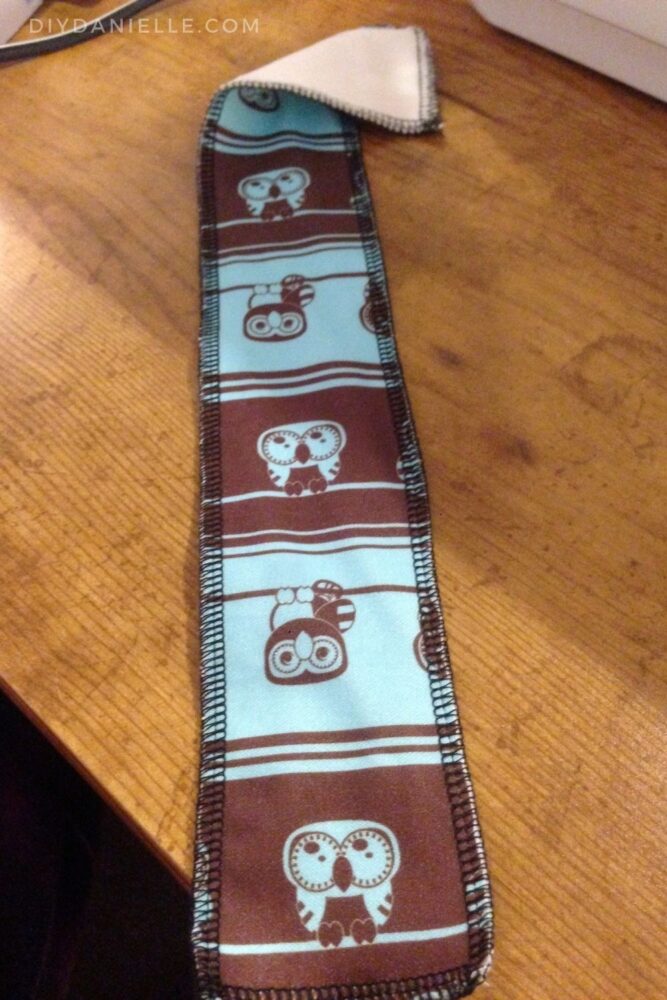 Then I added snaps (4 on each side of it); make sure you get the snaps put on correctly so you can snap them closed around the swing strap. Do this for all four straps. And then you're done. VERY easy. You could easily turn and top stitch these if you don't have a serger, just make sure to add a little extra seam allowance.
If you're new to applying snaps, I have a tutorial on how to use snaps and snap pliers.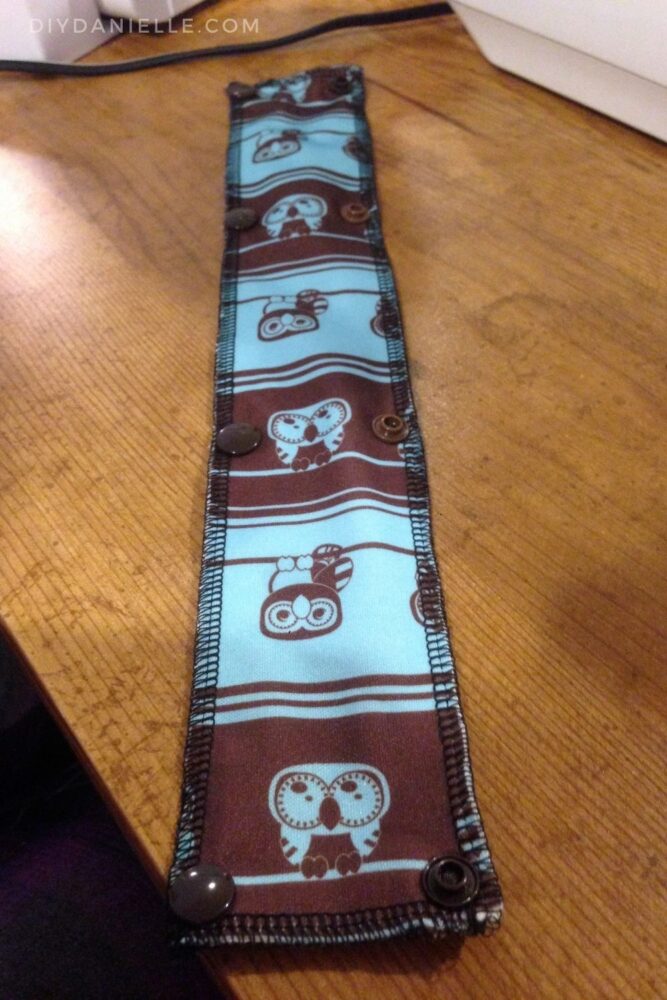 Here's a photo of it snapped together…
You may be able to use hook and loop instead of snaps, but I think it'd be difficult with such thin straps to put it on.
Here they are, finished. The front two are loose enough for me to move up and down a bit so I can get the bar up. Or I can just take them off. The back two may never go back on if they're removed- it took a LONG time to get them on because they were so tight.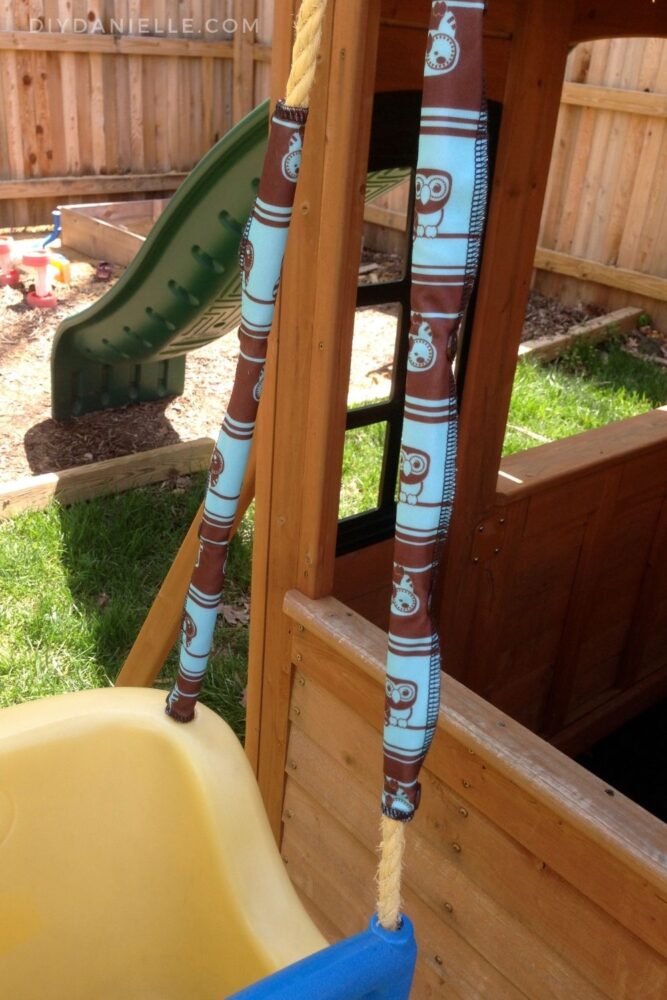 If you decide to ditch the scratchy rope altogether, here's a tutorial on how to replace the rope on your baby swing.
Please share and pin this post! If you make this project, share it in our Stuff Mama Makes Facebook Group. We have regular giveaways for gift cards to craft stores. You can also tag me on Instagram @doityourselfdanielle; I love seeing everything you make!