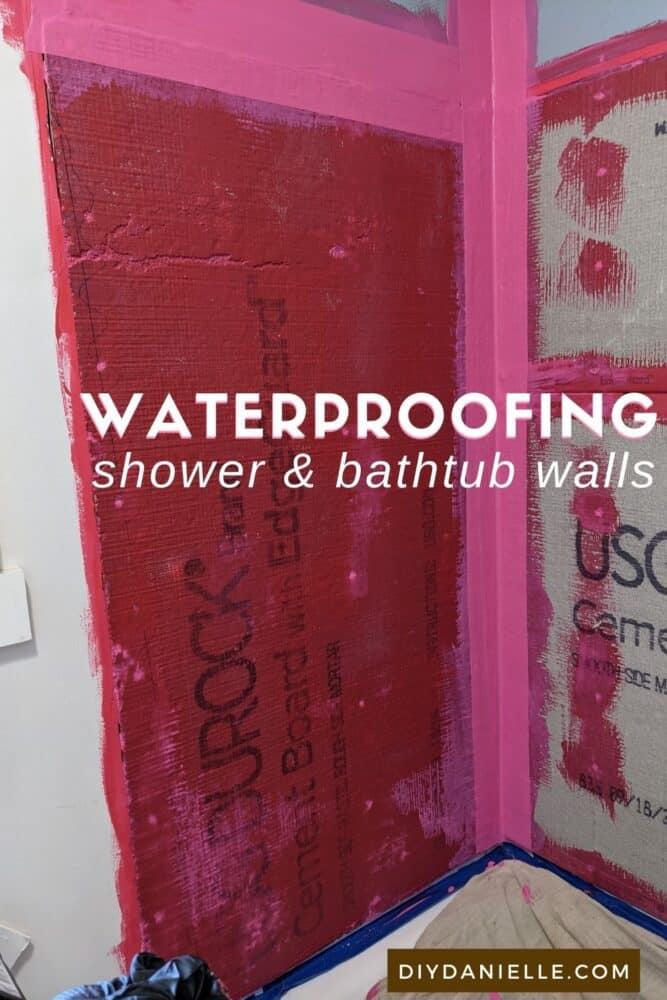 How to waterproof bathtub and shower walls with Redgard. This is one way to add waterproofing over cement backerboard.
This post contains affiliate links which may earn me commissions should you click through them and take certain actions. As an affiliate for Amazon and other sites, I earn from qualifying purchases. Please DIY carefully. View my full legal disclosures here.

Please read the whole post so you don't miss any important information!
This year we decided to update our sons' bathroom. It was outdated and we wanted a more practical space for them to use. While we often DIY projects, we hired part of the job out; a contractor installed a window in the bathroom, removed the old tub, and installed the new tub. He also added Durock Cement Board for the walls. You should never use normal drywall for wet environments.; drywall disintegrates when water hits it.
While he took care of this portion of the project, we needed to waterproof the shower walls after he was finished.
Durock is meant for use in wet environments, but it's not truly waterproof by itself. You need to add a membrane over the Durock, and add a mesh barrier on seams where the sheets of Durock meet each other or the drywall above.
This is not difficult to apply, but you need to make sure you do a good job or you may run into issues with water seeping through to insulation and long term problems with mold.
For safety, make sure to wear nitrile gloves, a respirator, and eye protection during application.
Tips for Using Redgard
This is not a substitute for reading the label on your product. Please pay attention to the labels on all products you use to avoid expensive mistakes or mistakes that are hazardous to your health.
Temperature of the Room: The temperature of the area you're waterproofing must be 40 degrees Fahrenheit or great for 72 hours following application.
Apply Product To: Redguard can be applied to concrete slabs, concrete blocks, backer boards, gypsum drywall, plywood and exterior decks.
Safety: Wear chemical resistant gloves, a respirator, and eye protection when applying this product.
Surface Prep: Make sure the surface that you're applying the Redgard to is smooth, level, clean, and that all defects are repaired.
Applying the Product: Redgard can be applied with the flat side of a trowel, a roller, or a brush. I have also seen people use a sprayer for it, but I would not suggest this due to the involved cleanup. I found a paintbrush to be the easiest way to apply the product smoothly.
Drying Time: The product cures within one to one and a half hours dependent on the conditions inside the room. Cold, heat, or humidity can impact the drying time so it could take up to 12 hours to dry. You can tell when Redgard is dry because it turns from pink to red.
How Much Redgard to Use: For use as a waterproof membrane, you need one gallon of Redgard per 55 ft² of space. I used a 1 gal container for our bathtub surround.
How Many Coats of Redgard? You need a minimum of two coats for waterproofing, and the second coat should be painted on at a right angle to the first coat. Total thickness of your Redgard should be under 125 mils
How to Waterproof Shower Walls Using Redgard
Steps
Grab some gloves and 6" mesh that goes over the gaps and seams.
1
Apply painters tape to protect your tub and fixtures.
2
Apply Redgard using a paint brush along seams.
3
Add 6" waterproofing membrane fabric along seams.
4
Apply Redgard over the tape. Let dry for 1.5-2 hrs or until it turns red.
5
Apply a second coat of Redgard. Let dry.
6
Apply your tiles or other wall coverings within 72 hours or protect the dry Redgard.
Redgard Cleanup
Use a drop cloth over your tub or shower pan before using the Redgard. This makes for easier cleanup!
Use disposable products to apply the Redgard. I'm very careful about what I wash down my drain (we're on septic) so I usually dispose of paint brushes and rollers for products like this.
Redgard should be cleaned up being it dries. It is much easier to remove from tools, hands, and your bathroom before it dries into a solid coat. I like to use a wet paper towel so I can toss the
Once dry, thicker layers of Redgard should peel off smooth surfaces such as tile or the tub. It helps if you can use something to scrape it off, but be careful not to scratch your tub or tiles.
If you're having a hard time removing it this way, try to use a hair dryer to heat it up; sometimes heat can help remove items like stickers and decals. I haven't tried it on Redgard because fortunately I didn't spill any, but it's a last ditch idea if nothing else works for you!
---
After installing the Redgard, we applied a product called Dumawall Shower Tiles. These waterproof tiles as an easy to DIY alternative to using normal tiles. Keep an eye out for my other projects and tutorials in this bathroom.
Please share and pin this post! If you make this project, share it in our Stuff Mama Makes Facebook Group in order to enter to win our monthly giveaway. You can also tag me on Instagram @doityourselfdanielle; I love seeing everything you make!