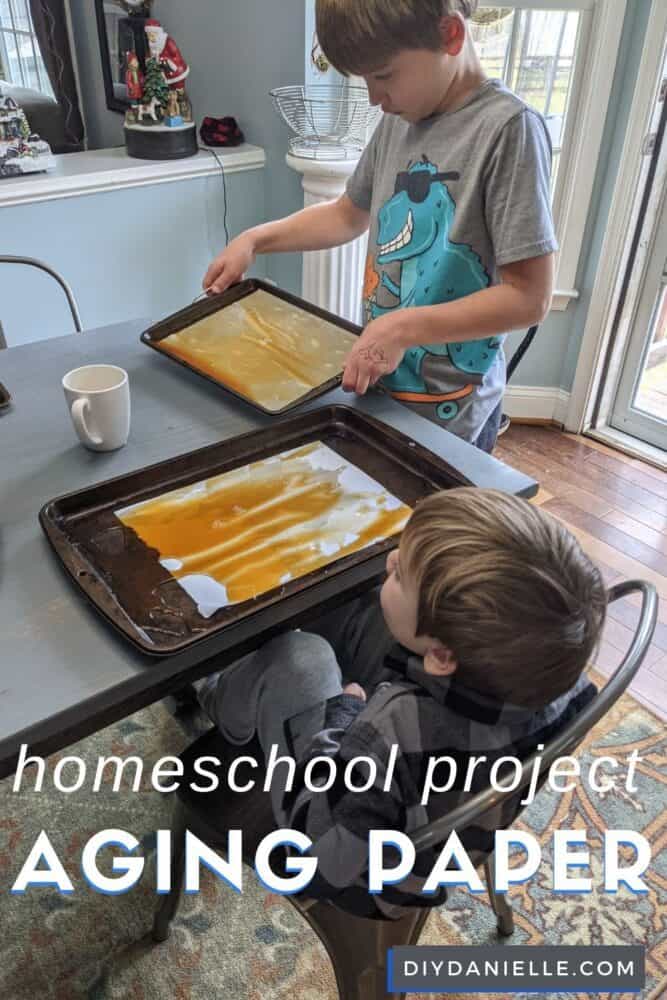 Learn how to age paper with tea and teach your children how to create old fashioned parchments. You only need tea and paper for this project!
This post contains affiliate links which may earn me commissions should you click through them and take certain actions. As an affiliate for Amazon and other sites, I earn from qualifying purchases. Please DIY carefully. View my full legal disclosures here.

Please read the whole post so you don't miss any important information!
As part of homeschooling this year, we've been reading a lot of the "You Wouldn't Want to Be/Live Without/Etc" books. They're FANTASTIC. This week's book was "You wouldn't want to live without books." We learned about the printing press, as well as the history of books, including how clay and animal skins were used to make documents.
I decided that this was a good opportunity to do some different experiments and try to imitate some of these old ways of making paper or books. My kids love writing their own books so I'm going to do the following projects with them:
Aging paper using tea
Recycling paper / making paper
How to bind a book
Using clay to make a document or write a message.
How to make a stamp from a potato
How to make a paperback book
Keep an eye out for each tutorial if you're interested in this project for homeschool! There's another book, "You wouldn't want to live without writing" that might be good to read too as part of a 2 week process.
Other homeschool activities:
Use stamps to individually stamp out a message on a piece of paper
Learn how to use a quill pen
Writing practice: Copying a (short) book like a monk in 9th century Europe
Make stamps from potatoes and use them to write something out.
Write a story together, each person adding a sentence to the story.
Practice editing for each other's short story.
Math: Calculate how much you'd charge for a book, how much a publisher would take, and how much you would pay to self publish, etc.
Visit a bookstore and have each child bring $5-10 to spend on a book
Steps
1
Heat a kettle of water until hot.
2
Make tea. I tried 2-3 bags, but also tried loose leaf tea.
3
Let tea steep and cool for 10 minutes.
4
Place paper in a shallow dish or pan. Cover with tea.
7
Carefully dab dry with towels.
8
Let fully dry for 1-2 days. Blow dry if you want results faster.
Rip, burn the edges, and draw to your heart's delight.
Here's a video showing our process…
Please share and pin this post! If you make this project, share it in our Stuff Mama Makes Facebook Group in order to enter to win our monthly giveaway. You can also tag me on Instagram @doityourselfdanielle; I love seeing everything you make!