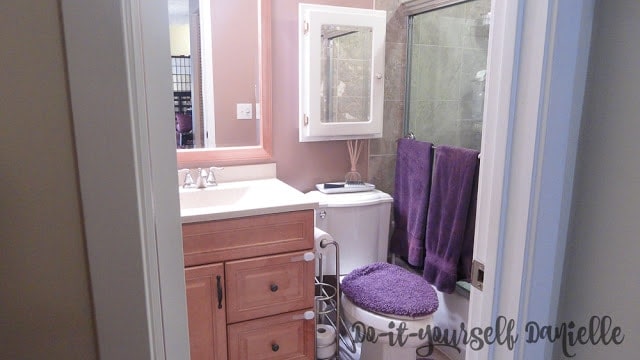 How to renovate a small, outdated master bathroom to feel more open without breaking the bank.
This post may contain affiliate links. Using these links helps support my blog. Thank you!
I wanted to share some photos of our old condo. When I was young and single, I purchased an 1100 sq ft in our area for way too much money, then spent the next few years investing more money in updates. I enjoyed it. I wouldn't necessarily recommend trying to flip homes or condos though… the market tanked after I bought. Womp womp. But it was so beautiful so I figured it would be fun to share the projects that I completed.
For most of these projects I hired a builder to complete the updates, but usually I took on smaller projects like painting myself. This helped me save money.
Before
Our condo was built in the early 1980's and hadn't been renovated at all since being built. The master bedroom was large, but the bathroom attached was super small. There wasn't much to be done about the size, but I wanted to do some updates that would make it feel more welcoming and- possibly?- more open.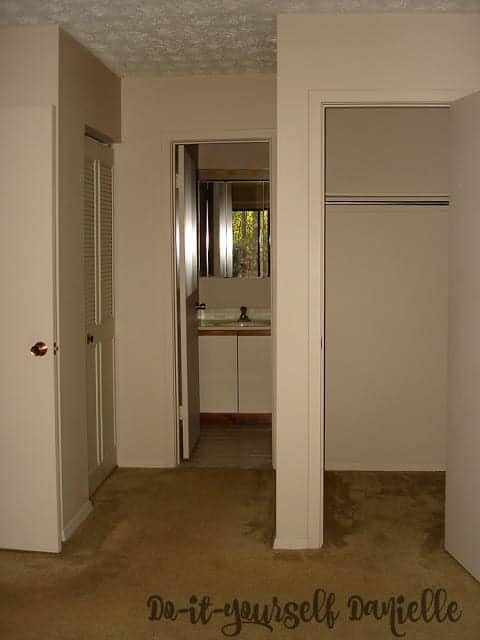 This photo looks into the master bathroom from the bedroom.
The mirror/cabinet was chipped and not in great shape.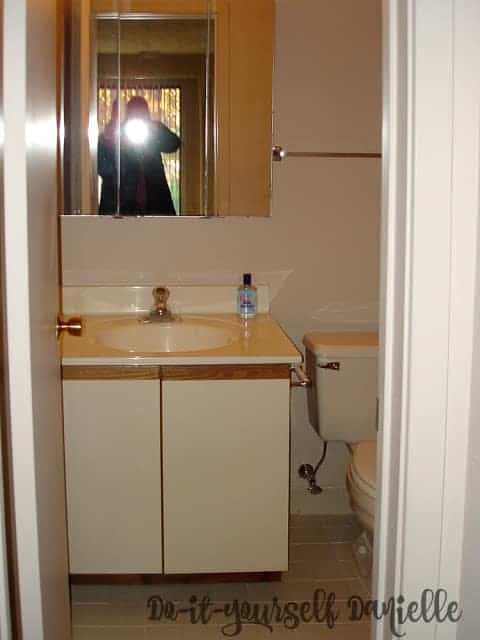 Here's a closer view of the room.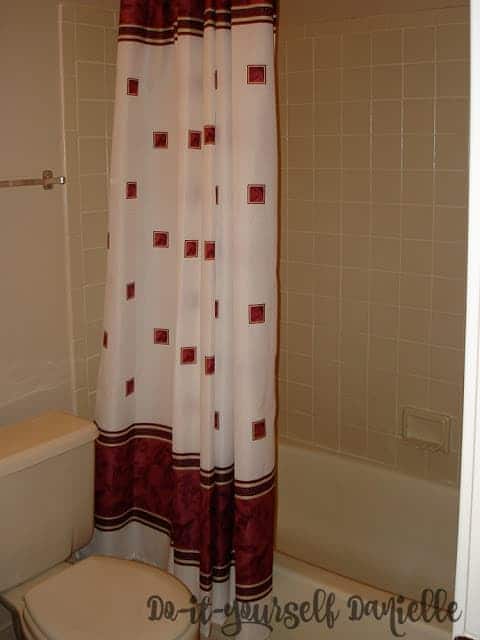 To the right was this outdated bathtub and tiling.
After
These days, we might have tackled this project ourselves. Or at least some parts of it. But there's some parts I'm glad we didn't do. For example, we had the ceilings with texture… they're horrible. But replacing the ceiling in that room was cheaper than fixing the hole from replacing the light and fan (they were different sizes. And the ceiling was so small that replacing was cheaper.
Well when the contractor opened the ceiling, he discovered an entire section of vent for the dryer MISSING. Just… not there. Like 4′ or so of vent. UGH! I really hate contractors who take short cuts… that could have been a huge fire hazard. Our builder fixed it so it was properly vented and then put the ceiling back on.
He (and a plumber we hired) replaced the sink and vanity, the mirror, the light, tiling, bathtub, and toilet. I painted. These days, we probably would have tackled the vanity, sink, and toilet replacement ourselves. We might have been able to save money by painting the bathtub too. I can't remember if there was a physical issue with the tub that was in there to begin with.
The vanity and sink were on sale. The white medicine cabinet above the toilet was something I found cheap at the thrift store.
We decided on clear doors for the bathtub because they would open the room up a bit compared to using a shower curtain.
The other things we did to make it feel brighter and more open? We used a white toilet, sink and tub. We added more and brighter lighting. I chose lighter wood for the vanity. Ideally I would have chosen a vanity with a smaller footprint or that was open below, but our condo needed all the storage space it could get. Given the things one stores in a vanity, it was ideal if that storage space was hidden.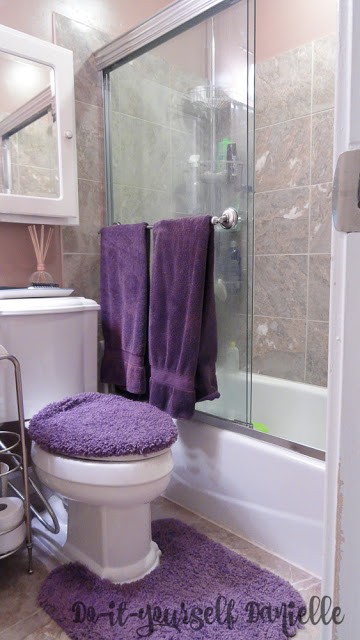 I wish I had some photos of it all without the purple accents… I was realllllly into purple at the time, if you can't tell. When we went to sell the condo, we ditched the purple and replaced with brown towels, skipping the toilet seat cover and carpet.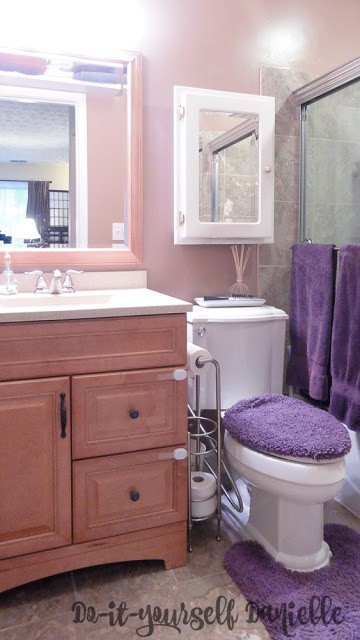 Thanks for taking the time to read this post! I really appreciate the time you've taken. Please share, like, and pin my post if you enjoyed it. Follow me on social media and subscribe to my email list to keep up to date on all of my latest projects!

Disclosure of Material Connection: Some of the links in the post above are "affiliate links." This means if you click on the link and purchase the item, I will receive an affiliate commission. Regardless, I only recommend products or services I use personally and believe will add value to my readers. I am disclosing this in accordance with the Federal Trade Commission's 16 CFR, Part 255: "Guides Concerning the Use of Endorsements and Testimonials in Advertising."