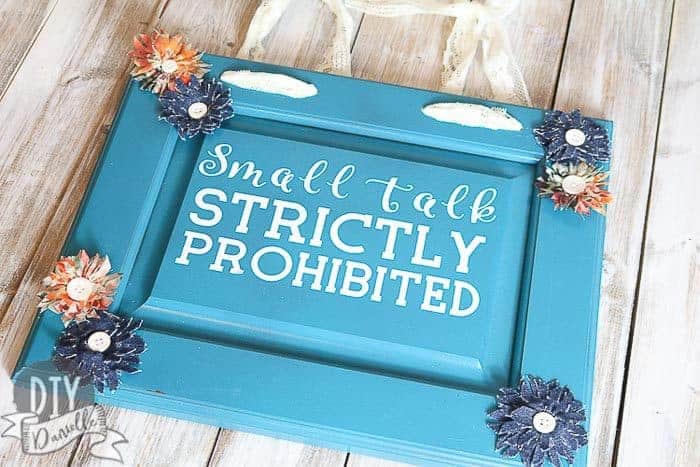 How to make an introvert door sign. This "no small talk" sign will say what you are really thinking.
This post contains affiliate links. If you make a purchase using those links, I may receive a commission from the sale.
As part of this month's "thrift store" challenge, I decided to post about the introvert sign that I created… a while ago. It's been hanging around in my sewing room, waiting for a few final touches.
This sign evolved from a set of cabinets that I bought from the Restore, a thrift store specifically for furniture and construction type products like cabinets, door knobs, lighting, etc.
We've bought used cabinets from the store quite a few times to save money, such as the cabinet we used for our DIY Arcade Machine and the cabinets I used in our closet organization system. The sign is an upcycled door from one cabinet that we purchased. And goodness, I can't even remember what I used the base for.
For the record, I love people. I just love people in small doses because I'm an introvert and peopling really, really exhausts me.
Supplies
Old cabinet door
Paint for the door
Lace/Burlap Ribbon
Cutting mat
Weeding tool
Outdoor Vinyl from Cricut
How to Make an Introvert Door Sign
I started with an old cabinet door.
First I added extra holes to each side where the hinges used to be, using a drill bit. This will give you something to thread ribbon through later to hang it. Sand the area around the holes if needed. As you can see in the photos below, I actually added my screw holes after painting. Do as I say, not as I do.
Paint with the paint of your choice. You probably will want to read these tips on applying vinyl to wood and choose your painting supplies accordingly. Personally, I painted these with Rustoleum 2x Painter's Touch spray paint, something I had laying around because I use it for painting plastic.
My vinyl didn't stick as well because I didn't read that article before making them (wink). It works, but I recommend taking the path of least resistance.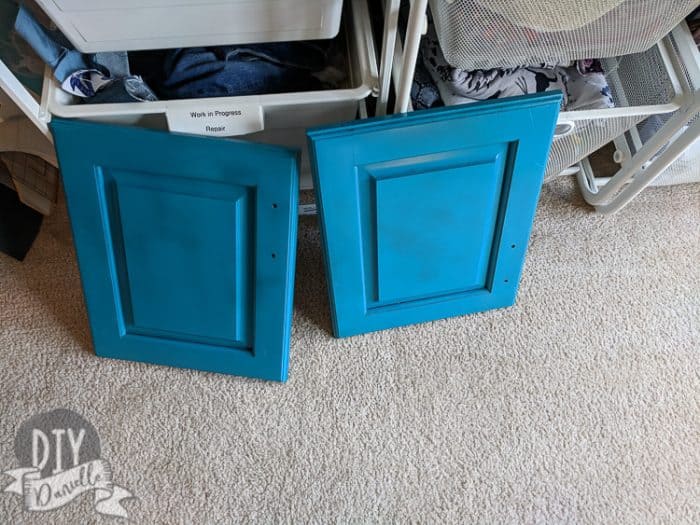 Once your paint has dried, you can now apply your vinyl using your transfer paper.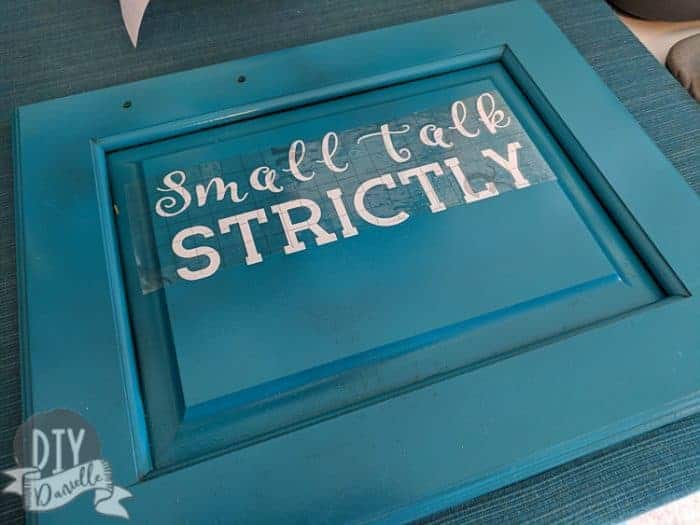 Last, thread your ribbon through and hang!
Optional Step: Adding Flowers
You can add paper flowers or make fabric flowers like I did. I bought this "pattern" for my Cricut Maker and it cut the flowers out for me. The blue ones are made from upcycled denim jeans… they're the bottoms of my son's jeans that I cut off to make shorts. The multicolor flowers are made from some cotton fabric that I got while attending the Snap Conference for craft bloggers.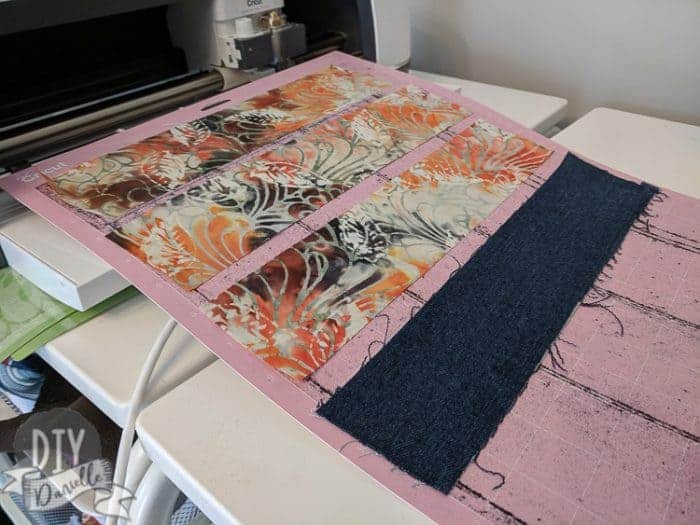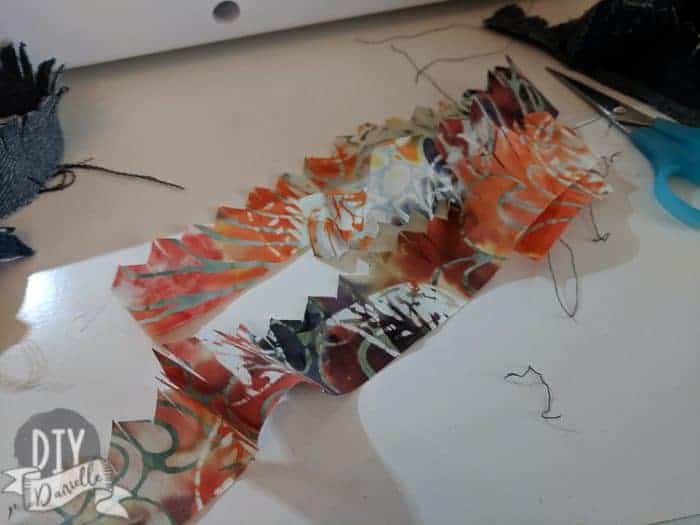 I used my serger to gather the flowers, but you could use a sewing machine too as stated in the directions for the pattern.
Once gathered, I moved the pieces around just how I wanted them then hand sewed them in the middle, finally sewing a button on.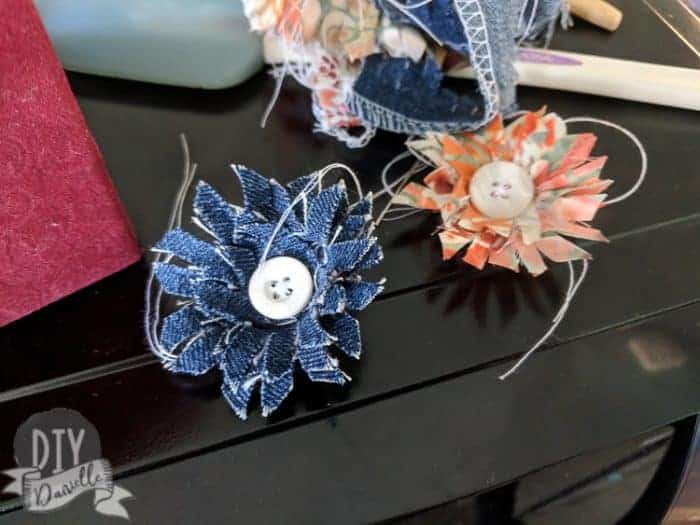 You can hot glue your flowers to your sign.
Love sign making? I also made these super cute nursery signs and two Harry Potter signs for our Halloween decor: Front Door and Garden Sign.
Please pin and share this post!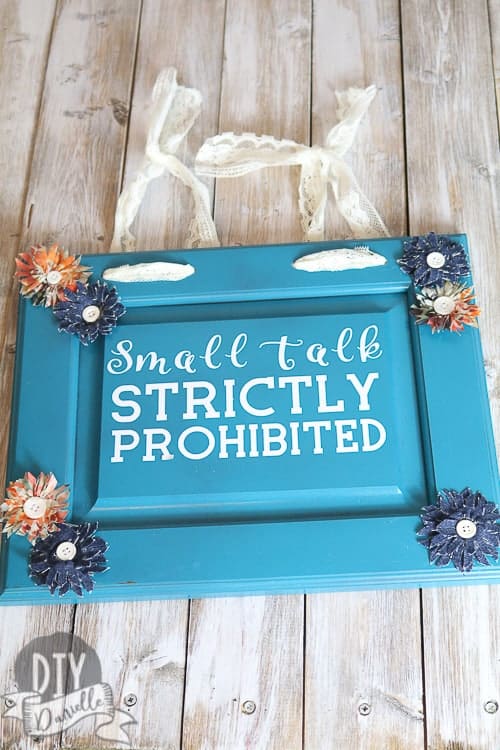 This link party is powered by Link Party Animal
1905 Farmhouse
,
Abbots at Home
,
Bitterroot DIY
,
By Brittany Goldwyn
,
Creative Ramblings
,
Cribbs Style
,
Delicious & DIY
,
DIY Beautify
,
DIY Danielle
,
Dukes and Duchesses
,
Girl, Just DIY
,
Happily Ever After, Etc
,
Health, Home & Heart
,
House by the Bay Design
,
Just Measuring Up
,
Kenya Rae
,
Little Bits of Home
,
Living Letter Home
,
My Family Thyme
,
My Kitchen My Craft
,
Pinspired to DIY
,
Red Cottage Chronicles
,
Refashionably Late
,
Renovating Mapleson Manor
,
Savvy Apron
,
Shrimp Salad Circus
,
Songbird Blog
,
Southern Revivals
,
T.Moore Home
,
The DIY Dreamer
,
The DIY Village
,
The Frugal Homemaker
,
The Handyman's Daughter
,
Two Feet First
,
Weekend Craft
,
What Meegan Makes
,
Zucchini Sisters
Introvert Door Sign