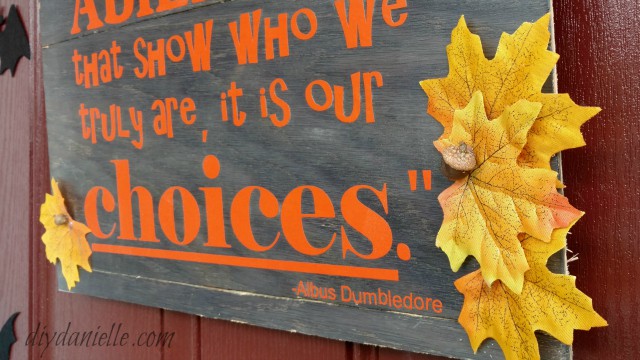 How to make a Harry Potter themed front door sign from scrap wood as an alternative to a wreath.
This post may contain affiliate links. Using these links helps support my blog. Thank you!
I needed a wreath or something for our front door that would be Harry Potter themed. I decided to make a wood sign from scrap wood (a thin plywood and some strips of MDF). It worked out really well and I decorated it with leaves and acorns.
This project is just a small part of our Halloween porch design which is Harry Potter themed this year. Make sure to keep an eye out for the other projects and the final reveal.
Supplies Supplies listed below may include affiliate links to the products.
Hot glue gun
Acorns
Scrap Wood: Mine is lightweight thin plywood for the front and MDF for the back which is probably key if you want the adhesive to do the trick.
Silhouette Cameo , Cutting Mat, Weeding Tool, and 651 Vinyl
Stain of some sort. I used Amy Howard's Vintage Wood. I like the look and smell of it.
Mod podge
A strong adhesive. I used DAP Rapid Fuse.
Use the Discount Code DIYDANIELLE on cricut.com for 10% off any cutting machine or heatpress (no minimum). Excludes: materials/accessories/mystery boxes/etc. Applies to US/CA only, code expires 12/31/23.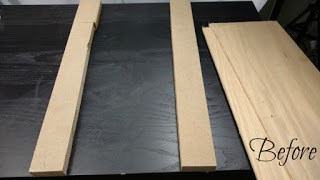 Tutorial
I started this project by making my Silhouette design and decal. Make sure to check out that link if you have a Silhouette machine and don't know how to do that.
Using several pieces of scrap wood, I cut them to the width I wanted. I cut two thin pieces of scrap mdf for the back and used a strong adhesive glue to glue the three pieces of wood to it. This held them well enough that I didn't need to worry about screwing or nailing the sign together. I did find that my final piece was slightly too long for my decal size so I just used a circular saw to cut the bottom off. I'll use that cut for another project.
I stained my wood and let that dry.
I added D ring hooks to the back on the top of the MDF cuts.
Once the stain dried, I added my decal. I used a layer of mod podge over it and let it dry.
And then I just used a glue gun to apply my leaves and acorns.
I just used a piece of string through the D rings to hang it from my normal wreath hanger.
Once I hung it, I decided to add some adhesive bats to the door as well. These aren't staying on super well so I may need to figure out how to hang these better.
Love it? Pin it!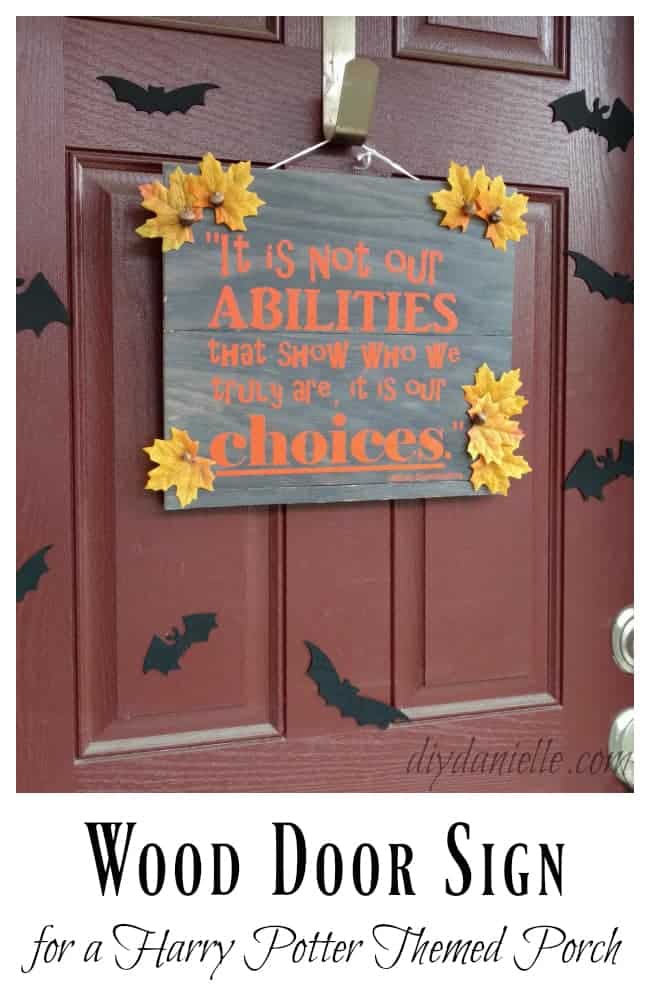 Thanks for taking the time to read this post! I really appreciate the time you've taken. Please share, like, and pin my post if you enjoyed it. Follow me on social media and subscribe to my email list to keep up to date on all of my latest projects!