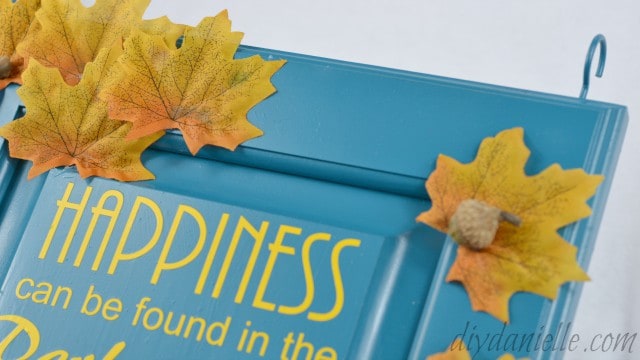 Upcycle an old cabinet door into a wood garden flag sign. This one is Harry Potter themed for our Halloween porch this year.
This post may contain affiliate links. Using these links helps support my blog. Thank you!
I was considering sewing a garden flag for our front, but I saw an idea for a wood sign and decided to give it a try. I liked the idea of using wood because we get a LOT of wind and the flags just fly right off if we aren't careful.
This worked out perfectly. I'm hoping the spray paint will protect the wood well. It's the same type of paint we used when we painted our playhouse and that has stood up fairly well.
Supplies Supplies listed below may include affiliate links to the products.
Hot glue gun
Acorns
Cabinet door
Silhouette Cameo , Cutting Mat, Weeding Tool, and 651 Vinyl
Tutorial
I started this project by making my Silhouette design and decal. Make sure to check out that link if you have a Silhouette machine and don't know how to do that.
Next I took my old cabinet door and removed all of the hardware. I spray painted the whole door a teal. I sort of regretted the teal choice, but I figure HEY it's teal! This can be like the teal pumpkin thing… or whatever. Let's pretend I wasn't just too lazy to redo this.
I also added the cup hooks to hang the sign from the flag pole thing. These just screw in- you may need to predrill the holes first.
Once the paint dried, I added my decal. This is a quote from the Harry Potter books, if you aren't familiar with them. I used a layer of mod podge over it and let it dry.
Now I just used my hot glue gun to apply the yellow leaves and the acorns. I got the acorns from a nature hunt gone wrong with my kids… whereupon my 3 year old tried to hand me a pine cone that wasn't a pine cone. Haha!
But now my kids' pockets are filled with acorns when they come home from school because they're trying to help mommy with her projects.
Adorable.
And sort of funny. #sorrysquirrels.
Quick video of the process:
Love it? Pin it!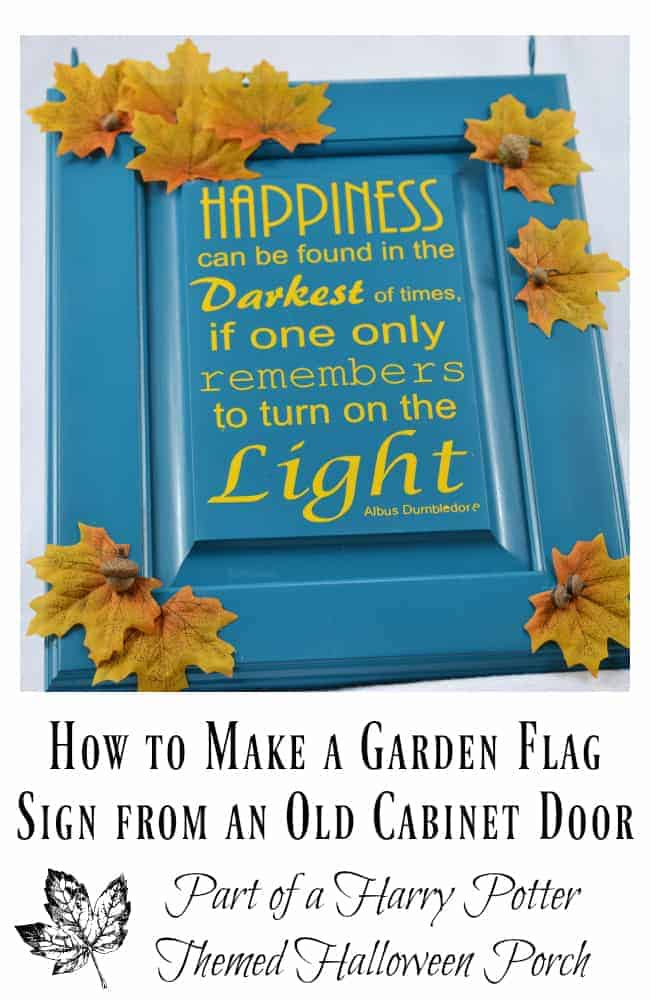 Thanks for taking the time to read this post! I really appreciate the time you've taken. Please share, like, and pin my post if you enjoyed it. Follow me on social media and subscribe to my email list to keep up to date on all of my latest projects!