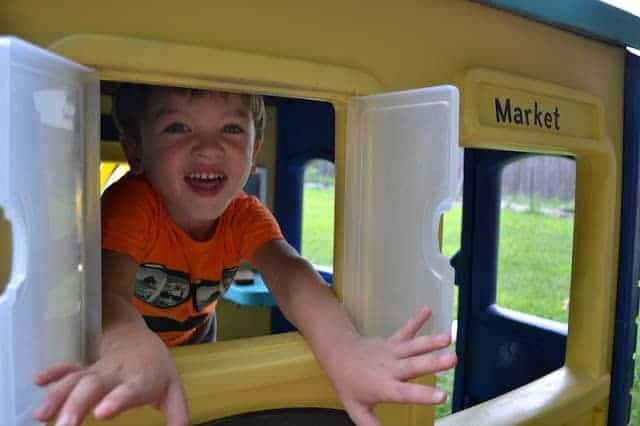 .How to paint a plastic playhouse to add character and make it unique. Such an easy DIY to keep this Little Tikes house out of the landfill!
This post may contain affiliate links which may earn me commissions should you click through them and take certain actions. As an affiliate for Amazon, Cricut, xTool, Home Depot, and other sites, I earn from qualifying purchases. Please DIY carefully. View my full legal disclosures here.
Please read the whole post so you don't miss any important information!
I was leaving my gym the other day and saw this big playhouse sitting by the dumpster. I wanted to call and ask if they were actually tossing it, but I was embarrassed to ask and running late so I didn't. The next day it was STILL THERE.
So okay, this is just fate telling me I NEEDED this playhouse, right?! I asked and the child care in the gym said they were told to get rid of it. I asked if I could take it and they said sure. SO EXCITING. This is a DIY project that I've been EAGER to attempt!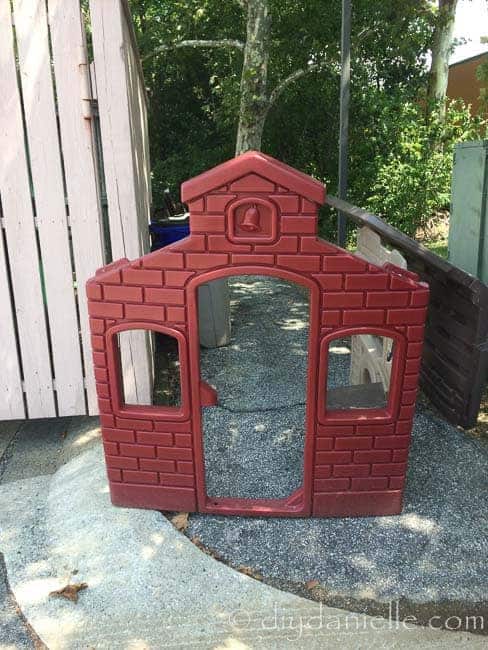 I've been wanting a playhouse for the kids, even though there's a playhouse portion of their swing set (which I upgraded with accessories last year).
These plastic playhouses are way cool and seem to have more to them than the wood ones that come with the swing set. There's something about plastic playhouses that calls out to the little girl in me, but I certainly wouldn't have dropped the $300-400 that this particular playhouse costs new.
But free? Heck yes. I'm doing the world a favor… no toys going in the landfill around this lady.
And really… it's for the good of the blog right?
How to Update a Plastic Playhouse
So I couldn't just leave it looking like it was. It was dirty, pieces were missing, and hey why not paint it too. I was able to order many of the accessories from the Little Tikes website for around $25. This project didn't cost me a ton and my sons LOVE it.
Supplies for Painting a Plastic Playhouse
Below are a list of the supplies I used or recommend (I made some adjustments or suggestions for supplies in situations where the product I used wasn't awesome). Many can be bought on Amazon and I'm including affiliate links to the products.
Rustoleum 2x Painter's Touch: Satin. I used deep blue, seaside, and warm yellow.*
UV Krylon UV Resistant Spray Paint in Clear: I used matte. I didn't love this stuff and it seems to take off some of the paint underneath a bit. Not sure how well it will work. If you can find something better, I recommend trying that instead, but this was the only thing I found that others seemed to have used. Most people don't appear to use a spray to seal the paints on their redone playhouses, but I was feeling reallllllly paranoid after all the detailed painting I did.
Lettering if desired
Replacement accessories if needed
Reusable Respirator for use while spray painting (protect your lungs y'all!)
*Order SATIN spray paint, not gloss. I was reading this blogger's post about spray painting her plastic chairs and how they looked a year later. She said the gloss faded. I saw this AFTER I'd already spray painted with gloss, of course. Darker colors are easier to paint on with less coats, but are harder to paint details on after.
Step 1: Take the playhouse apart. Wash (we power washed ours) and let dry.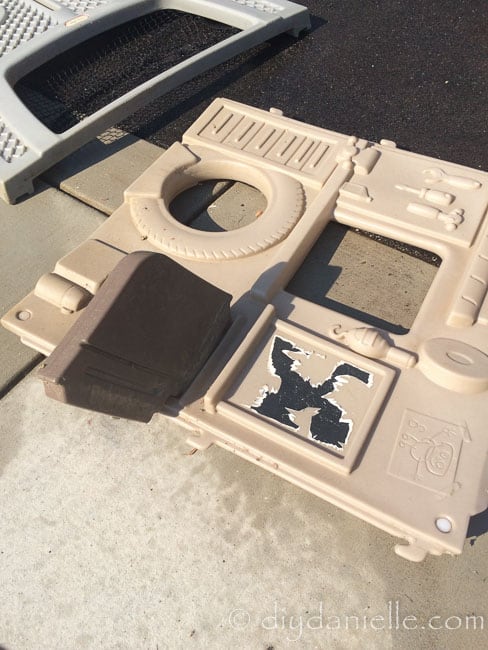 Step 2: Did you know that Little Tikes and Step2 offer replacement parts for their toys? Order any new parts that are necessary. It will take a few days for them to come in. They offer replacement decals, but I decided to paint and mod podge some lettering on instead. This may come off as well, but they're items I had on hand. If I did it again, I'd use this special outdoor vinyl and my Cricut Maker.
Step 3: Spray paint the large areas. You need special spray paint for plastic and keep in mind that darker colors offer better coverage, *but* if you want to paint the details, then it will take you much longer if you spray painted the sides darker colors.
The yellow did a terrible job covering up the tan color, although I think my yellow paint was just awful compared to other colors of the same product. Do additional layers of spray paint as necessary. I needed 2-3 cans of each color that I used. The dark blue needed the least because it was only one side and had great coverage. I didn't spray paint the inside of the ceilings to conserve paint.
I also spray painted the hoop.
Let it dry before moving on to the next step.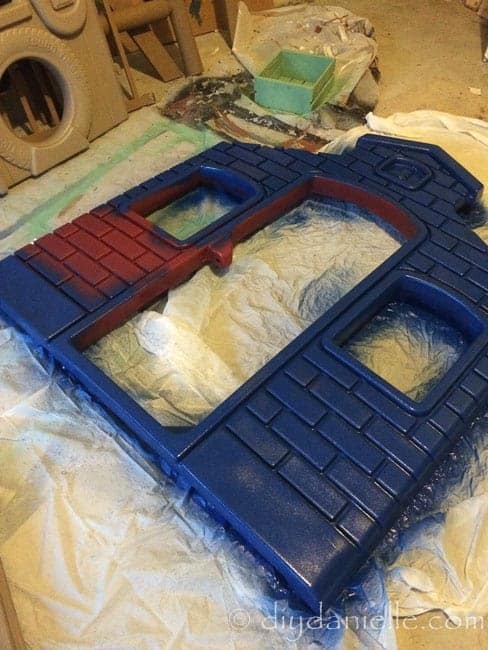 Step 4: Optional– You can use acrylic paints for the plastic to add detail to the playhouse. It's so odd, but the playhouse we found had all these really cool details, but they didn't have anything on the original product to make those things pop. I saw an Amazon reviewer had done this with her playhouse so I figured I'd give it a try.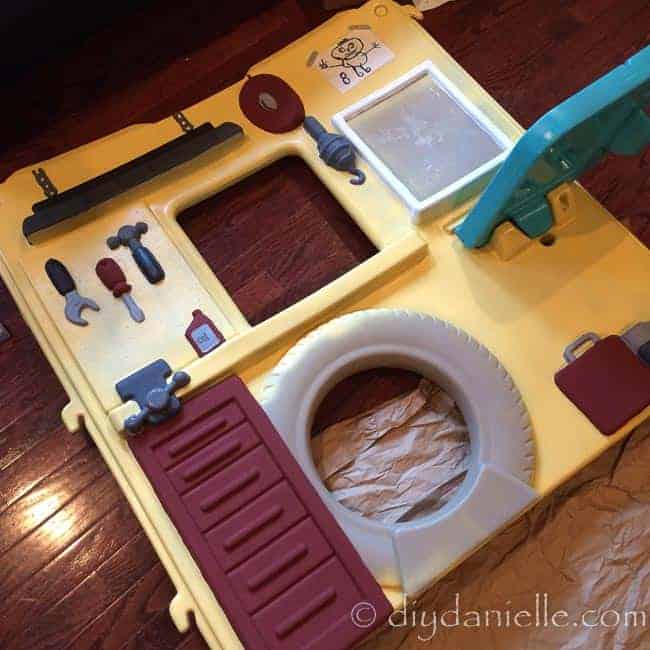 This job is not for the weak. It took me 2 episodes of Orange is the New Black, 6 episodes of The Newsroom, and 1 episode of Supernatural to finish the details I did (I wasn't really watching the shows either, just needed the story in background to keep me from dying of boredom. Haha.).
And I didn't do all of them because the dark sides were harder to paint over. This was a lot of work, but I think it was lots of fun too.
I spray painted the tire black… any larger item would do well with spray paint if you can properly cover the other areas. It would make things MUCH faster and the paint just went on easier. I wish I'd realized that before I painted the tool chest and safe by hand.
I tried magnetic paint for the board above the table… total fail. I'm gonna try that stuff on wood at some point, but I think it's fair to say it will not work on this.
Use stickers and mod podge to add lettering and other details. A Cricut Air 2 and some outdoor vinyl would work even better.
Cover with UV sealant spray paint. Pray. No seriously… I'm so worried. I hope this stuff works. I only needed 2 spray cans of this.
Replace accessory parts.
Rebuild in area you want to put your playhouse.
Additional options: My husband made a replacement half door from wood.
Final Pictures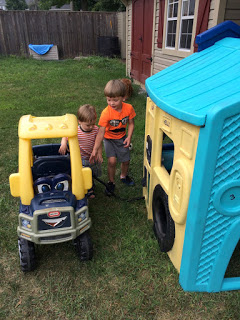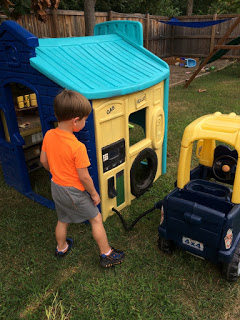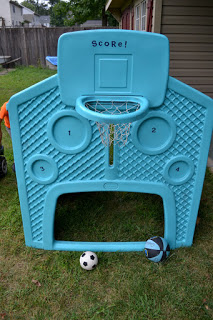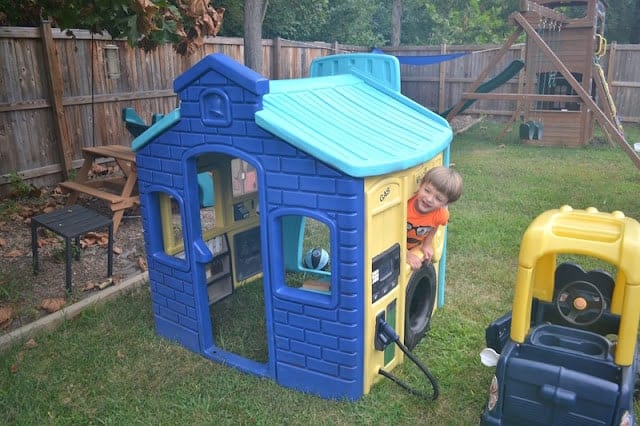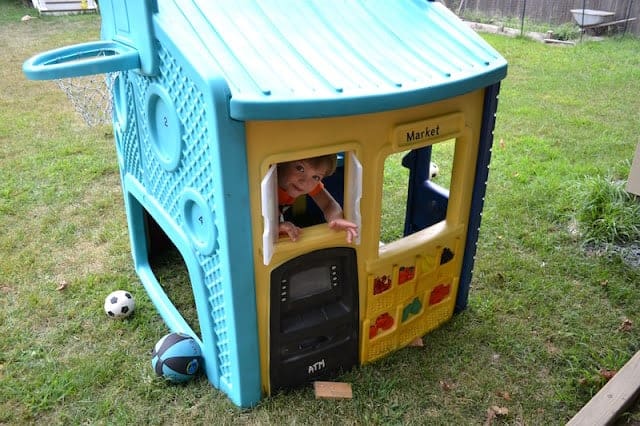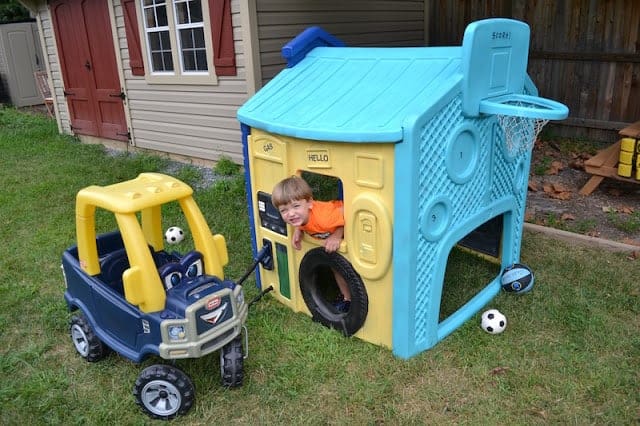 It's about 90 degrees here and my kids want to spend all their time outside in this house. Obviously, I made bad choices to take this project on during the hottest part of the summer, haha. But I'm about as patient as my 3 year old so hey. I'm still excited!
If you're on the fence about whether or not to redo a plastic playhouse or a wooden one, I'm currently (2021) updating the wood playhouse that came with our new home. I made DIY wood cleaner to clean it, then stained and painted. I'll have a new post with the final photos coming soon!
Update: I wrote another post, Painting Plastic: Does it Last?, if you want to see updated photos of this playhouse and recommendations on how to best paint plastic toys. I also have recommendations for storing the toys and types of paint.
Do your kids have a playhouse? Do they LOVE it? Do you keep it inside or outside?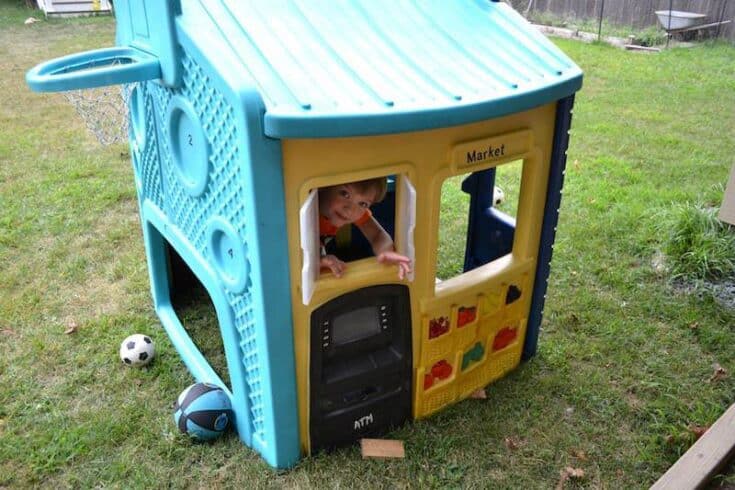 Yield:

1 Playhouse
Plastic Playhouse Makeover: How To Paint Plastic
See how easy it is to paint a plastic playhouse to add character and make it unique with this simple tutorial.
Materials
Rustoleum 2x Painter's Touch: Satin
Acrylic Paints
Mod Podge
UV Krylon UV Resistant Spray Paint in Clear
Tools
Reusable Respirator for use while spray painting
Drop cloth
Paint Brushes
Love it? Pin it!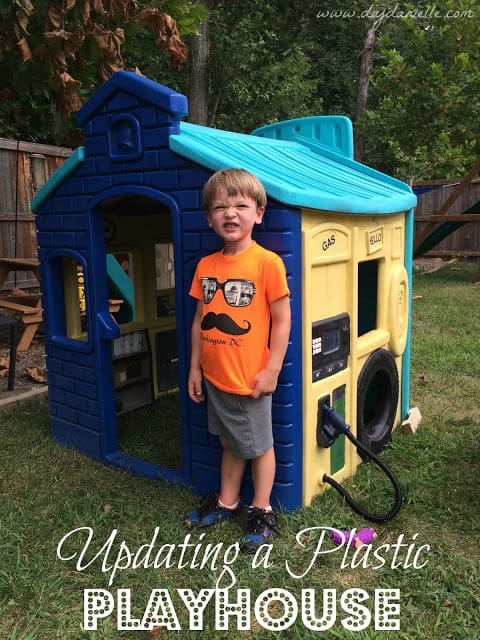 Web Story: Plastic Playhouse Update!