Forgetting your mask is the WORST. We all want to be safe so here are some clever mask storage ideas for your home and vehicle.
This post may contain affiliate links which may earn me commissions should you click through them and take certain actions. As an affiliate for Amazon, Cricut, xTool, Home Depot, and other sites, I earn from qualifying purchases. Please DIY carefully. View my full legal disclosures here.
Please read the whole post so you don't miss any important information!
I made lots of DIY cloth masks for my family, including some masks with breakaway straps for my youngest son. I've done a lot of experimenting making these so we have tons of masks.
We have setup several mask "zones" where we keep masks convenient. I like to have a few masks near the front door in case someone knocks. We keep some in the car and then others in the mudroom.
Here's some ideas for storing masks or organizing them.
Labeled Bags for School Masks
I made two of these mask bags, one for each day my son attends preschool. The school swapped out how they're handling the 'extra' masks so we didn't need to use them long term, but this would be great for kids in older grades.
If they need to swap out masks during the day, they have a spare clean mask inside. They can place the dirty mask in the bag and bring the bag home to get washed each day.
Mask Washing Station
I've found that the easiest way to deal with laundering masks is to hand wash them in our laundry room. We have a small sink where I wash with soap and hang the masks up to dry. This helps prevent the masks from shrinking in the laundry machines.
The masks hang dry quickly on this cute DIY dishcloth hanger that I made years ago…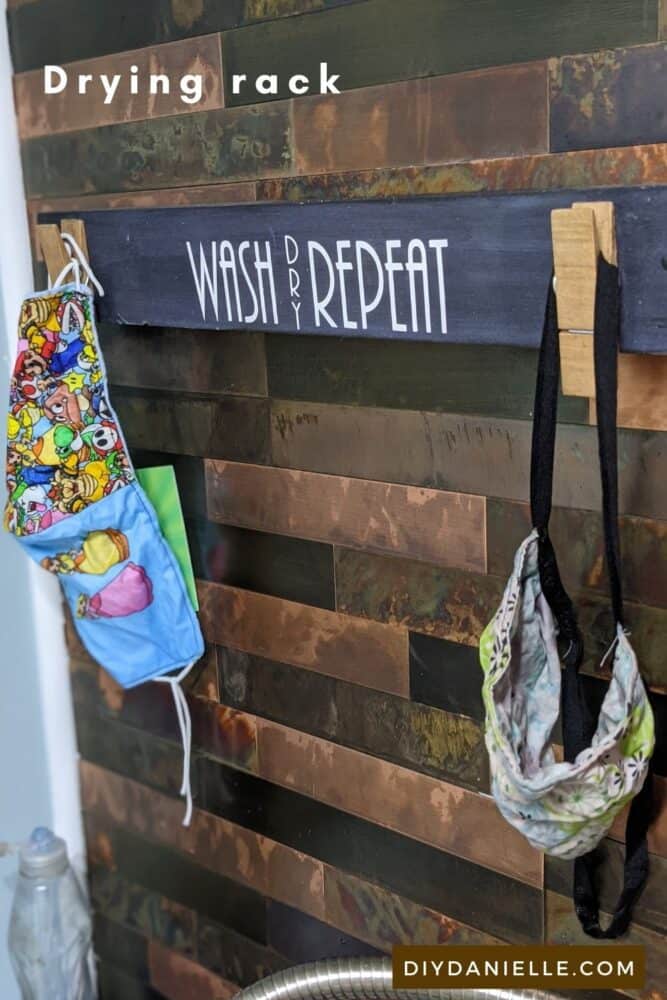 Hangers on a Metal Door
I don't have a separate blog post about this project. It's pretty simple. I picked up a couple of packs of these magnetic clips at the Dollar Tree. They "stick" to our metal mudroom door. We see those masks hanging there every day so it's hard to forget them!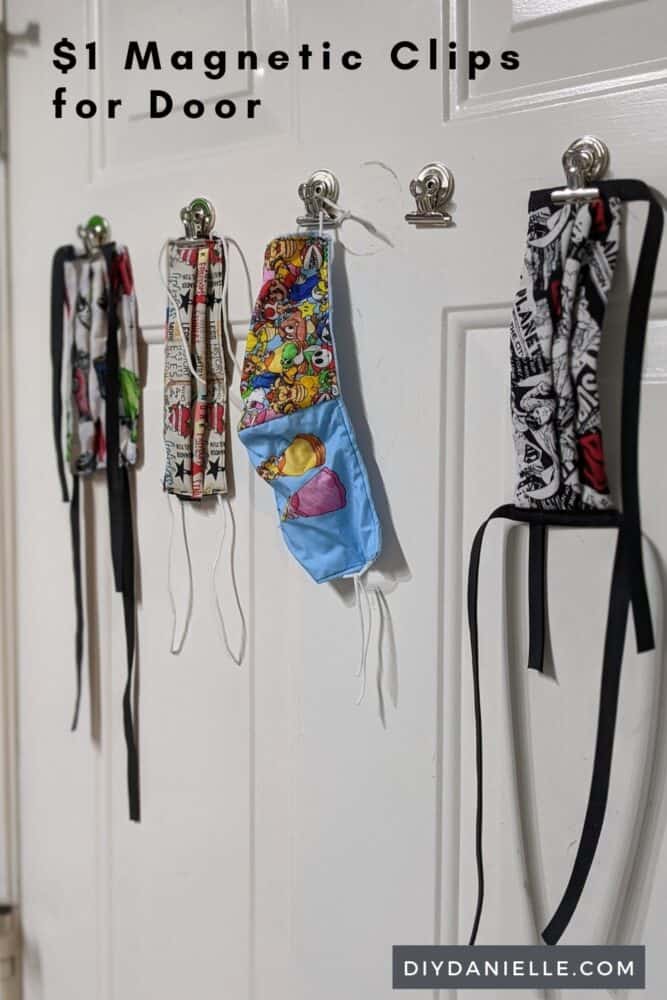 Baskets
I also keep a basket by the door to hold extra masks. It's easy to throw them in there once they're dry. This basket is holding our 'backup masks' that we don't wear as often. The ones that we wear more often are generally in the car or hanging off the exit door (see above).
The thermometer lives in the basket too so we can use or grab it quickly before we leave home. We live a ways from our preschool and my husband's job so it's nice to take our temperature BEFORE we do the long drive… just in case we need to stay home.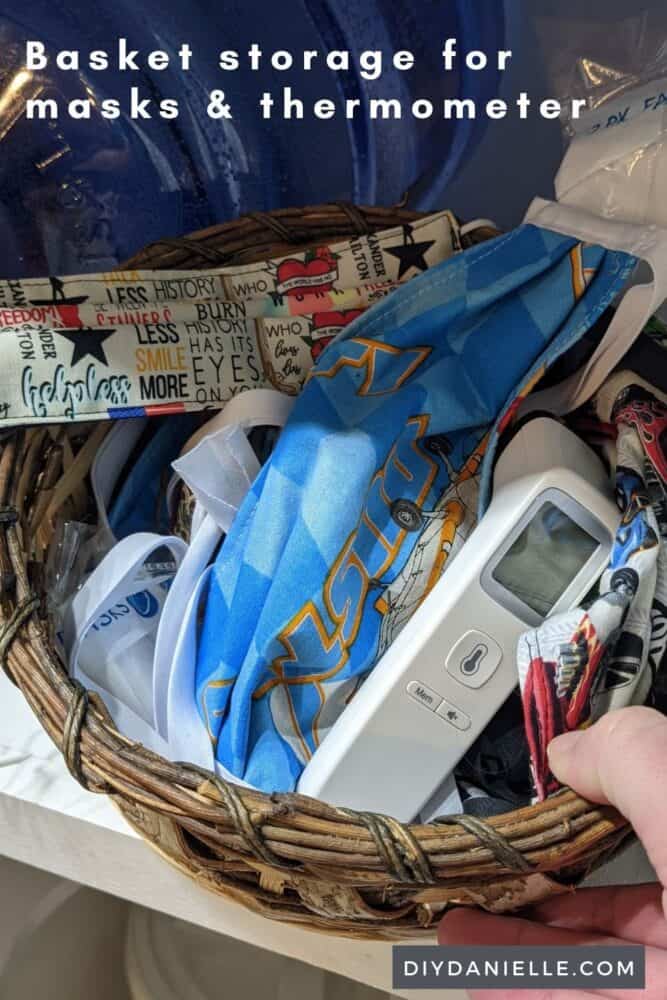 Storing Masks in the Car
It's easy to toss the masks on the console in the car, but that's not a great way to stay healthy. It's better to use a mask bag (either a big Ziploc bag or make one like I did) to keep them away from spills and germs.
We also have found that the masks that tie around the back of the head hang beautifully off the visor.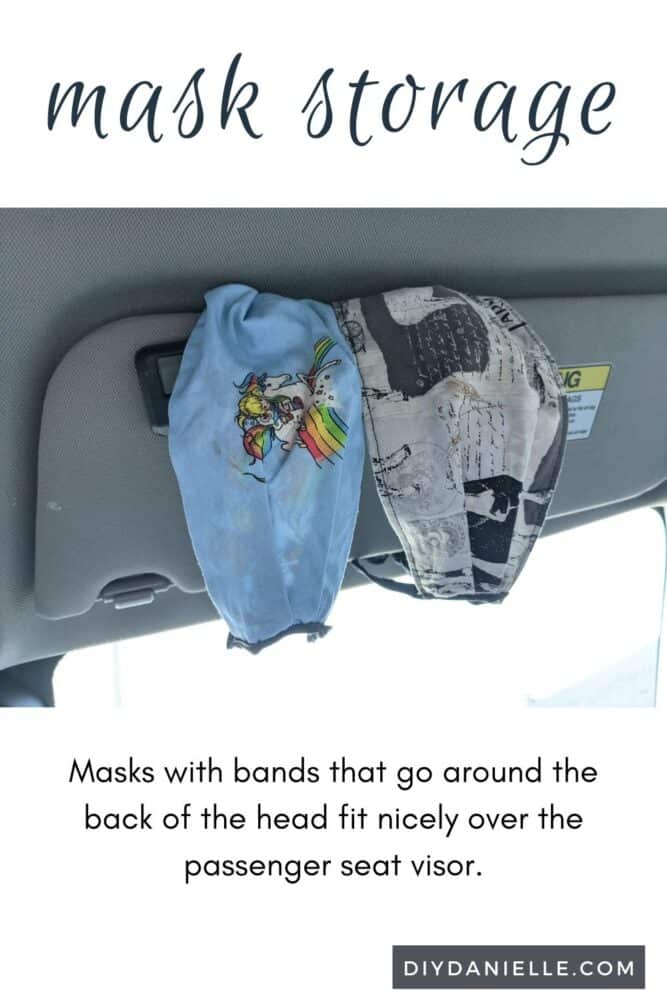 Making Masks More Comfortable
You know what my other challenge is with masks? They get uncomfortable around my ears after a while. I prefer masks that go around the back of my head and neck when I need to wear a mask for longer periods of time. But if you don't want to covert yours or make new ones, here's a way to avoid the uncomfortable ears… just add buttons to a hat! Click below to find out how.
Last but not least… if we're still living in pandemic hell next winter… you can also make this super cute Elf on the Shelf mask in minutes. We can't have Santa getting sick!
Please share and pin this post! If you make this project, share it in our Stuff Mama Makes Facebook Group. We have regular giveaways for gift cards to craft stores. You can also tag me on Instagram @doityourselfdanielle; I love seeing everything you make!