How to hang your chicken waterer and feeder in your chicken run. These 12″ planter brackets are perfect for supporting water and feed!
I've seen some photos going around Pinterest of people who used plant brackets to hang their feeders and waterers for their chickens. We've been placing them on the ground which works fine, but they tend to kick dirt into their water and feed.
Usually the waterers spill less if you have them balanced nicely from above, but we feed our chickens and ducks in the run– not the coop- and our run doesn't have a sturdy post overhead to hang feeders from.
I figured I would give these brackets a try and they look great!
---
This post may contain affiliate links which may earn me commissions should you click through them and take certain actions. As an affiliate for Amazon, Cricut, xTool, Home Depot, and other sites, I earn from qualifying purchases. Please DIY carefully. View my full legal disclosures here.
Please read the whole post so you don't miss any important information!
---
First, I picked up a 4 pack of plant brackets. These are 12″ and seem sturdy enough to hold the water and feed.
While these look nice and have held up well, I HATED the Phillips head screws that they came with. I managed to strip a couple of screws in the process of installing these so I'd definitely use a higher quality screw head next time.
If you're not familiar with screw heads, Phillips head are more prone to stripping than a square or star head screw. I prefer the GRX or Spax screws, but make sure you get the right size and exterior grade screws.
When hanging these, make sure you're attaching them to a sturdy wood post. Place your feeder on the hook and see how high you need them to be; you want the full weight of the feeder/waterer supported by the brackets. The feeder/waterer should NOT be sitting on the ground.
Just keep in mind when choosing a height that your chickens can reach a bit higher than you might expect, and if you plan to add more ground cover to your chicken run, you need to account for that extra dirt/sand/etc. I use woodchips in my chicken run so I usually add more twice a year to freshen things up. The wood chips compost down, but it's still a pretty thick layer of wood chips.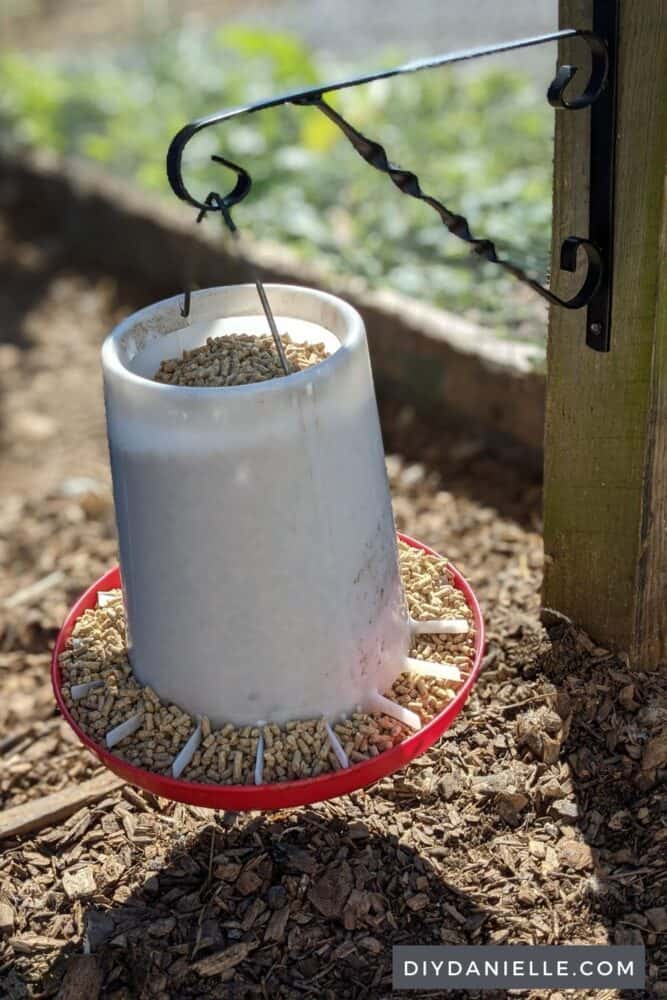 This year I discovered that my feeders touch the ground with all of the extra chips I added so I'll need to remove the brackets to raise them again. Not a big deal, but something to consider when you decide on a height.
As there isn't a lot to really discuss here… well… here's some photos. You probably can figure out how to screw it in!
I placed some feeders under the feed buckets to catch anything that spilled, but the chickens generally clean it up themselves.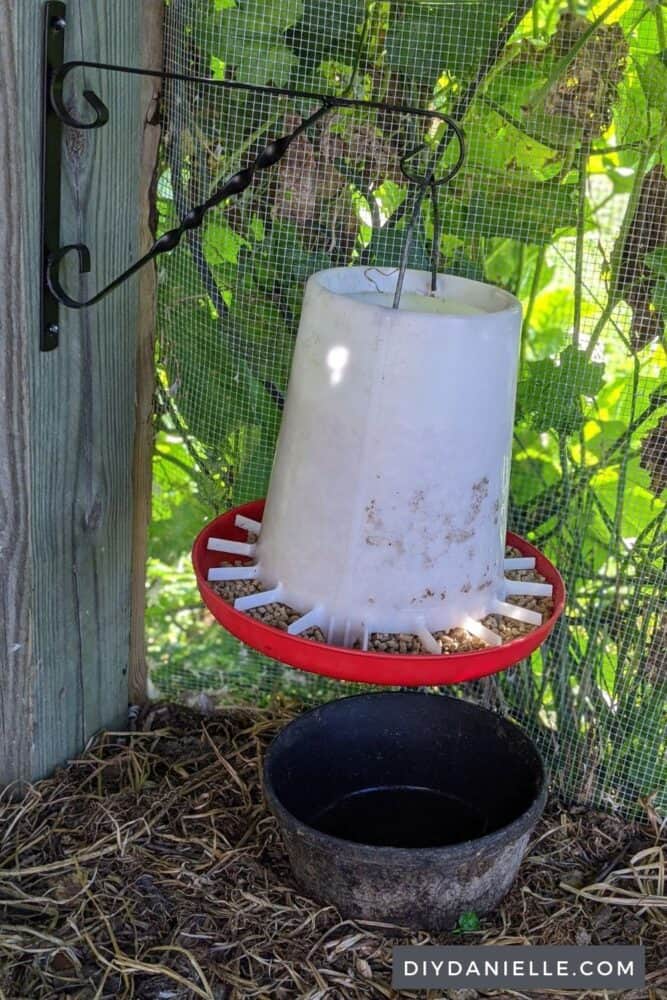 I've been pleasantly surprised that the brackets were able to support this heavier waterer, although they may bend long term.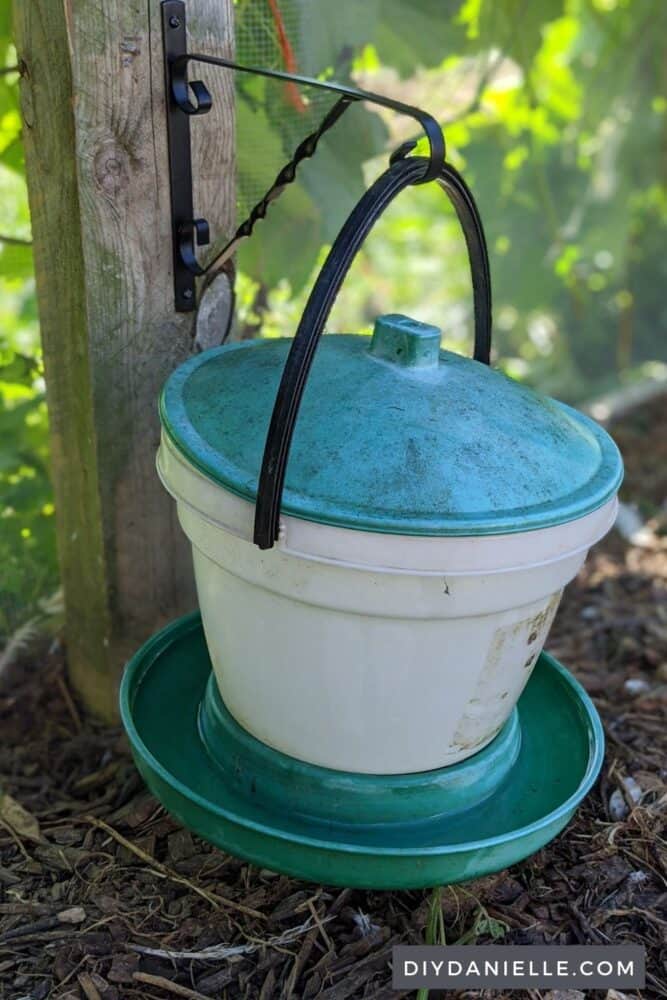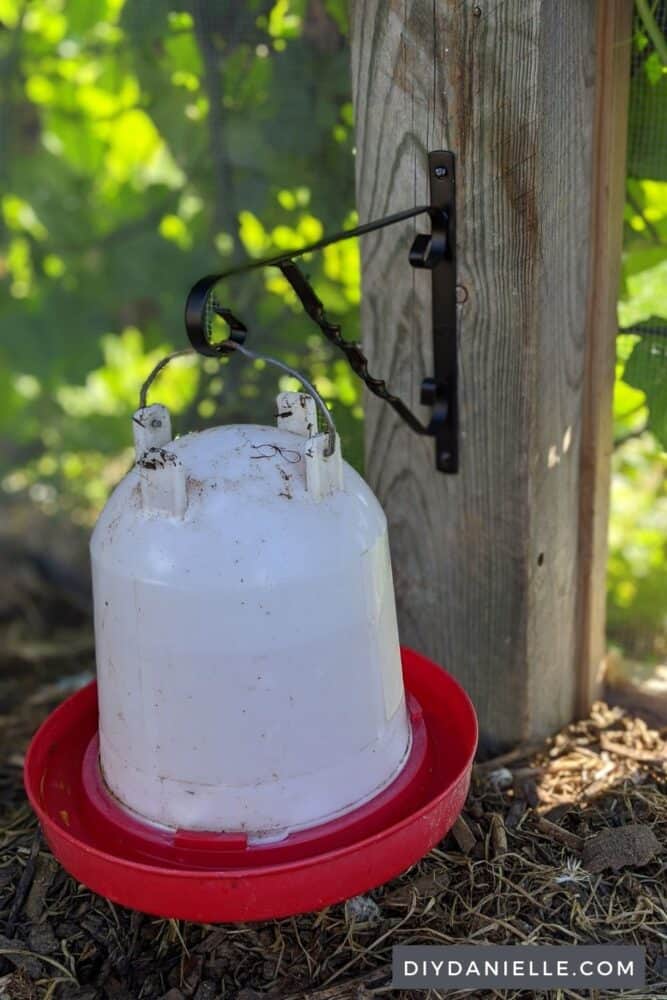 ---
Need an easy shelter and don't want to DIY? Here's what you can buy.
Omlet makes a ton of chicken shelters and runs that are movable and have lots of accessories available. You can add wheels and handles to move the run as needed which is nice. The cages look like they're well predator-proofed, and you can get an attached run up to 13′. They even sell an automatic coop door that opens and closes when the sun rises and sets. The Eglu Go is their easily movable shelter and run. They have perches to add on, swings, treat holders, and even chicken clothing. Totally worth checking out if you like to geek out over your poultry.
---
Please share and pin this post! If you make this project, share it in our Stuff Mama Makes Facebook Group. We have regular giveaways for gift cards to craft stores. You can also tag me on Instagram @doityourselfdanielle; I love seeing everything you make!