Sharing is caring!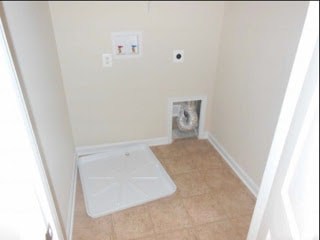 Mmmm my laundry room… I spend a lot of time in there and I want it to look gorgeous darnit! On the left is my laundry room before we moved in. Kinda sparse huh?
What you can't see is there's a realllllly high wire shelf that I can barely reach. Not super attractive and unless I have Daddy B grab stuff for me then I'm taking some chances trying to get a big glass jar of homemade laundry detergent off that shelf.
We can't do anything crazy to upgrade the laundry room yet, just because we need to save our money for some pretty big ticket items like a fence and deck. So I decided to see what kind of affordable DIY project I could do to help.
I saw the idea on Pinterest to put a small shelf above the washer and dryer, and had to do it.
Daddy B and I picked up a plain board (1″ x 12″ x ? length) from Lowes, as well as a can of paint that was on sale for $5 because someone mixed the wrong color (or something, it was in their clearance section and I wasn't picky). We also picked up 3 shelf brackets for $4 each (approximately). We used three brackets for the length of our shelf.
Step 1: We measured the width of our laundry room and got a board that was longer than that. When we got home, I started out by cutting the board to the right size. I obviously shouldn't be given any sharp objects, but I managed to get through sawing this with no major injuries.
Step 2: Paint, paint, paint.

Step 3: Hang shelf using the brackets. Daddy B did this, measuring out where he wanted the brackets to go on the wall to space them as evenly as possible. I can't tell from the Pinterest photo if these people had the same issue, but we have the water valves that were in the way of us putting the shelve brackets wherever we wanted.
Step 4: Decorate and Enjoy! It's great having my laundry detergent where I can reach it!
Ruffled Curtain
I decided that the wire shelf above wasn't attractive enough so I also decided to spruce that up a bit. I bought a length of particle board (approx $5) that fit my wire shelf. I cut it to the correct width then laid it on top of the wire shelf.
G using the fabric as a runway.
I took my fabric and laid it out to cut. I measured a smaller piece to be the length of my shelf x approx 6-8″ (sorry didn't write it down). This is the flat piece my ruffle will attach to. I hemmed the top and sides so they would be neat.
My ruffle piece was 1.5x that length. I guestimated how long to make it, although it ended up being long enough to hide the support bar (plus the seam allowance). Sewed right sides together, turned and top stitched.
Too long… boo.
Then I made the ruffle with the bigger piece… I don't have a lot of experience making ruffles so I just did the same thing I did with my ruffle butt diapers. I used this tutorial for those. Then I faced the ruffle piece with the shorter flat piece right sides together and sewed them so that the ruffle was attached to the bottom part of the flat piece.
It looked great, but the curtain was really long and blocked me from getting to my detergent easily. I decided to add tie ups to the curtain, something I've never done before.
I found this tutorial to get a basic idea how they're made. Then I decided to put the ribbons about 1/4 and 3/4 of the way along my curtain which would allow for the support bar to still be hidden. I found some matching ribbon and put a pin in the location where I wanted the ribbon (I just folded the curtain in half, then in half again to see where they'd be).
Sorry this picture was after I added the ribbon.
To add the ribbon, I seam ripped a small amount where the flat piece and ruffle
piece connected. Just enough room for the ribbon to fit through.
I added my ribbon as I wanted it to show up on the outside of the curtain. One ribbon piece sandwiched between the pieces of the curtain and the other on the back of the curtains.
Then I sewed the curtain back together where I'd seam ripped. I went back and forth
over it a few times. Repeat with the second ribbon.
I used my staple gun to attach the curtain to the particle board along the top of the
particle board so that the staples wouldn't show (unless you were super crazy tall).
Tied the curtain up all pretty.
My next post will show the final touches added to the laundry room!

Sharing is caring!