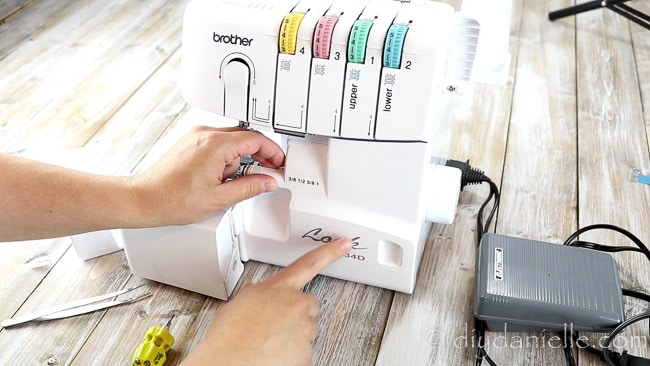 How to thread a Brother Serger. This is instructions for how to thread the Brother 1034D.
I LOVE my Brother 1034D serger so much. It works great and from what I've heard, it threads easier than other affordable sergers on the market. That doesn't mean it threads easily. It's still more work than a normal sewing machine- and I don't even like rethreading that. I tend to serge with the same color thread until I run out, but I have found a way to make this process a bit faster by adding labels.
Supplies to Thread a 1034D
Supplies listed below may include affiliate links to the products.
Labels and label maker
Brother 1034D Serger
Set of tweezers if your machine didn't come with one.
Serger Thread: 4 cones, whatever color you want to use. I prefer to keep at least 4 black and 4 white on hand at all times.
How to Thread a 1034D Serger
First, I labeled my threads in the order they need to be threaded. There are labels to follow on the inside of the case in terms of where to thread each, but not for the order. I find it helpful so I don't need to consult my manual or video every time I need to thread my machine.
Now I just go in order from 1-4 and follow the instructions on the case- very easy. You can see the video below for more information. The first video was an older video I did, but the second video shows better close up video of the process. Scroll down below if you want to just see photos of the threading process.
Make sure you have your machine unplugged while threading the serger… it'd be a sad day if you accidentally turned the machine on while threading. I use tweezers to feed my thread through too.
Threading the Upper Looper
Here's the upper looper after having been threaded. You can follow the colored line that matches the dial for the upper looper. Make sure to release the tension when pulling your thread through by pushing the 'button' at the top of the machine to the right. The photo below shows pretty good detail on the thread going through the machine… the last thing threaded is the sickle looking piece (the upper looper).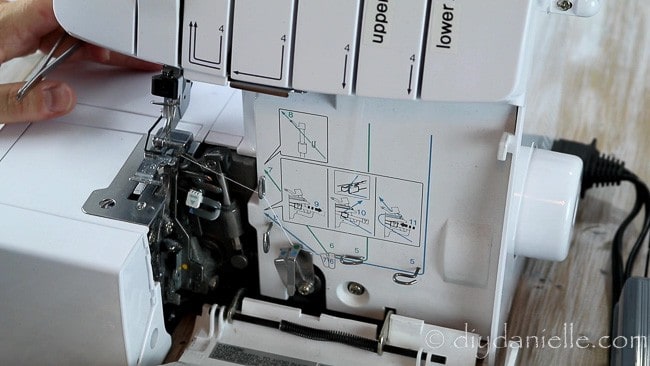 Threading the Lower Looper
The lower looper is probably the most complicated to thread. It's still fairly easy, but I did find the white tab portion hard to figure out initially.
Here's the first part… again, you're following the colored lines that match the dial. Make sure- again- to release the tension.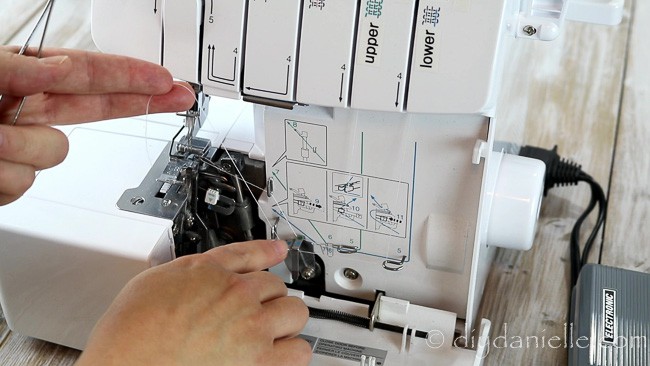 This is the hard part… you need to pull that white tab piece out to the right. Your thread slides behind it… there's not a really obvious place it goes, in my opinion… but it just snuggles behind the metal edge which sort of catches it, then you slide the tab back in.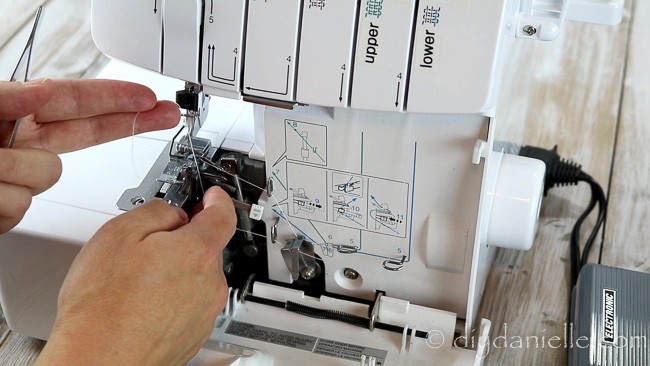 Once the thread is through that, you just need to pull it through the lower looper… it's… lower… than the upper looper. Shocker, right? There's a little hole you pull the thread through.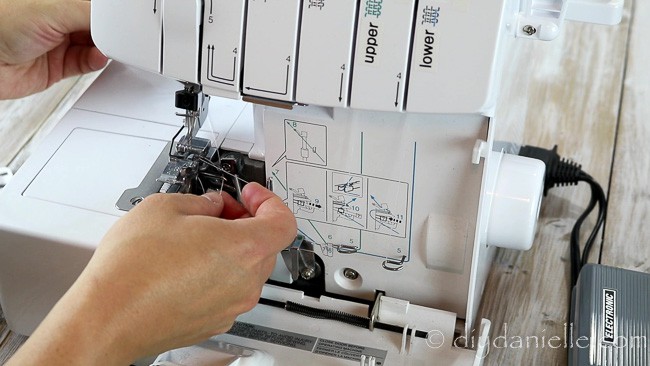 How to Thread the Serger Needles
These are threaded just as you would expect. You do #3 first- the right needle- then do the left needle.
Quick Serger Threading Tips
Here's a quick rundown on serger threading.
Don't get your fingers near the blade. Thread with the machine unplugged and use tweezers to help guide the thread through.
Make sure to thread in the correct order.
If a thread or needle breaks, you need to thread the machine over.
Make sure to use the correct needles for your machine.
Buy good quality thread for your serger. I have never had issues with the Maxilock cones.
There are tabs at the top that can be pushed to the side to release the tension. Do this when you pull thread through. Not doing this can cause issues.
Be careful not to run over needles or anything else with your blade on the serger once it's in use. I like to keep spare blades on hand. They're pretty easy to swap out.
How to Store Serger Thread
Here's how I store my serger thread. How do you store yours?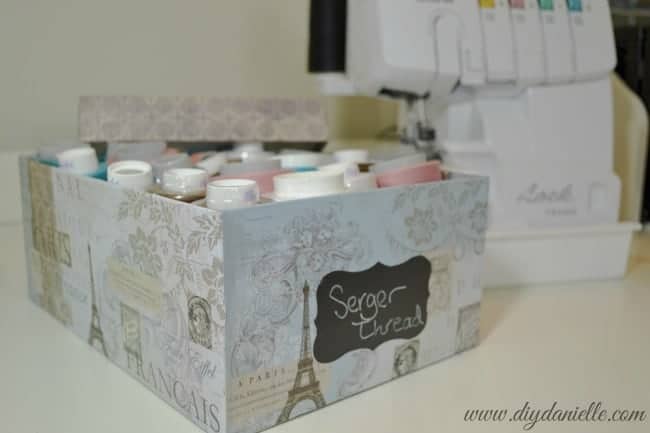 I have lots of other sewing posts if you're interested. Here are a few: Great Tools for Sewing | How to Babyproof a Sewing Room | How to Choose a Sewing Machine | How to Measure Yourself for Sewing | How to Apply Snaps
Love it? Please pin it!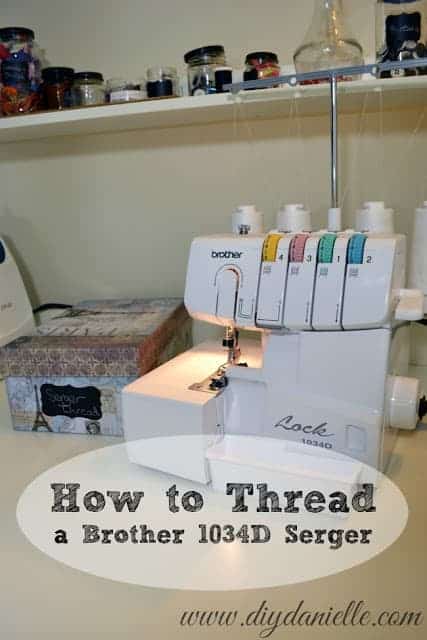 Thanks for taking the time to read this post! I really appreciate the time you've taken. Please share, like, and pin my post if you enjoyed it. Follow me on social media and subscribe to my email list to keep up to date on all of my latest projects!
How to Thread a Brother 1034D Serger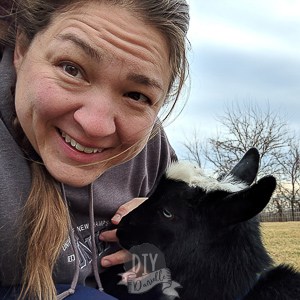 Danielle Pientka is the sewing and DIY blogger behind DIYDanielle.com. She taught herself to sew in 2011 when she wanted to make cloth diapers for her first son. She's been sewing everything from ecofriendly items to kids products to clothing since, as it has become a passion. She loves learning how to do new things and teaching others in the process. She hopes to inspire other moms to take time for themselves to find their own creative passion.
Danielle lives in Maryland with her three young sons and her husband, Brandon. In her spare time, she gardens, reads, horseback rides, and has a small homestead with goats and ducks. Visit her shop to buy patterns or her sewing eBooks. Subscribe to her newsletter to get blog updates, free patterns and other printables by clicking here.