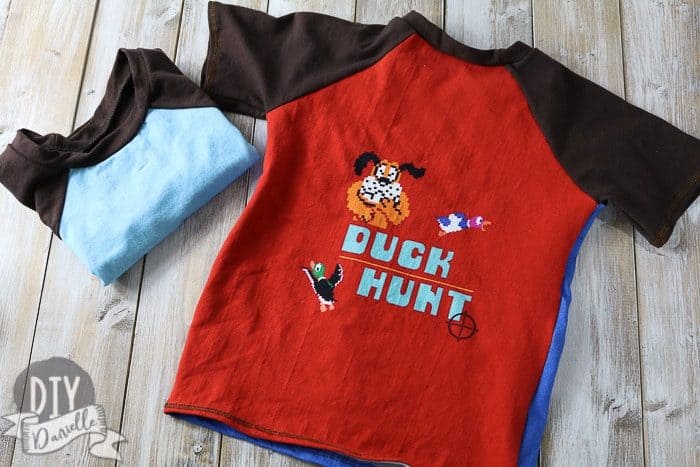 This boy's shirt pattern is raglan style with easy to sew on sleeves and a couple of nice add-on options. This is a great casual shirt for kids.
This post may contain affiliate links which may earn me commissions should you click through them and take certain actions. As an affiliate for Amazon, Cricut, xTool, Home Depot, and other sites, I earn from qualifying purchases. Please DIY carefully. View my full legal disclosures here.
Please read the whole post so you don't miss any important information!
This is going to be a quick pattern review for the Jolly Roger Raglan Shirt by Patterns for Pirates. It is an easy shirt pattern for boys or girls. I've sewn quite a few of these shirts now for my boys in several different sizes so I'm pretty comfortable sewing these up.
Unlike other t-shirts, the raglan is sewn together by sewing the sleeves to the front and back pieces first, then sewing the side seams for the back/front together. I really like this style because sometimes lining up the sleeves for a partially completed shirt is time consuming. In my opinion, this just leaves slightly less room for newbie error.
This pattern is fairly easy to sew and uses knit fabric. This boy's or girl's shirt fits sizes 3 months through size 14.
I'm still not sure how I feel about the curved hem on the boys. I feel like it might be a bit more feminine looking than I like… although I think this resembles a baseball shirt hem.
The one thing I've noticed is that the straight hem is a bit easier to sew… I find it harder to press and sew the curved hem… I find it curls on me! Probably user error… I may need to clip the fabric in the curve of the hem to prevent this? I'm not 100%.
Let me know which hem option you like best in the comments!
Easy Shirt Pattern For Boys
I've bought quite a few patterns from Patterns for Pirates, and find that their patterns are consistently high quality. Their directions are detailed and easy to follow. Their sizes are correct. Make sure you measure your child properly.
Pattern Options
Short sleeve
Long sleeve with a cuff
3/4 length sleeve
Traditional hem
Curved hem (baseball type shirt)
Banded hem
Triangle patch at neck
Elbow patches
I've never done the triangle or the elbow patches because I like to keep my projects simple as possible. My kids won't appreciate the extra embellishment so I might as well save myself some time.
As for sleeve length, I tend to opt to make short sleeve shirts as my kids (and myself) get hot easily. I let them layer clothing instead when needed. Plus short sleeves last for more of the year than long sleeves do (haha). I like to maximize how much my kids wear their mommy made clothes.
Supplies Needed
You'll need a knit fabric with good recovery for the neckband and knit fabric for the main portion of the shirt. You can use coordinating colors or all of the same color. The following are some of the fabrics I used to make the t-shirts for my sons that you see in the photos:

This Mario fabric isn't available anymore (that I can find), but here's some other Mario knits available at Joann's
Pokemon Knit, available from Joann.com: I COULD NOT love this fabric more. I was so excited to find it on sale.
All other fabrics pictured were special orders from co-ops, and many were one time offers.

I highly recommend buying some size labels for the back of the shirts or use your Cricut/Silhouette to add HTV labels (no itch!) with the size. Sometimes I struggle to tell which is the front and the back of these shirts otherwise.
I love the look when I use coordinating fabrics such as using solid color sleeves with a fancy print on the shirt. But some shirts, such as the Pokemon shirt, I used all one fabric (excluding the neckband).
Photos of T-Shirts Made with the Pattern
My sewing (and photography) has improved since my first time sewing this pattern.
I started with these simple video game shirts that used panels from a co-op order. A "panel" is a larger cut of fabric that's made for a specific type of sewing pattern such as a kids shirt in this case. Some companies sell panels for underwear or adult shirts too. This panel would have been too small for an adult shirt and possibly too large for a baby shirt.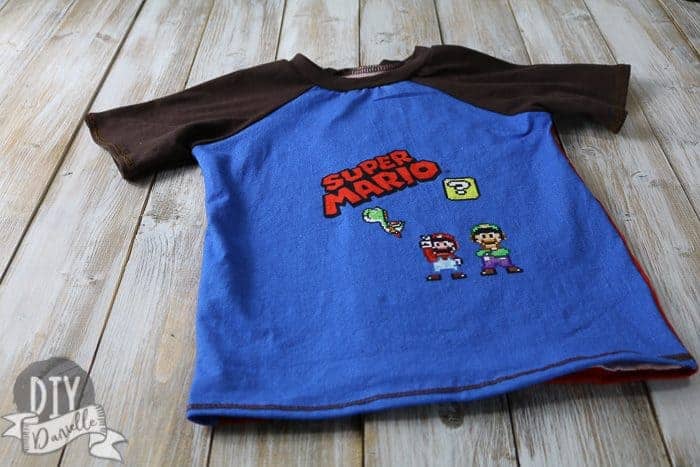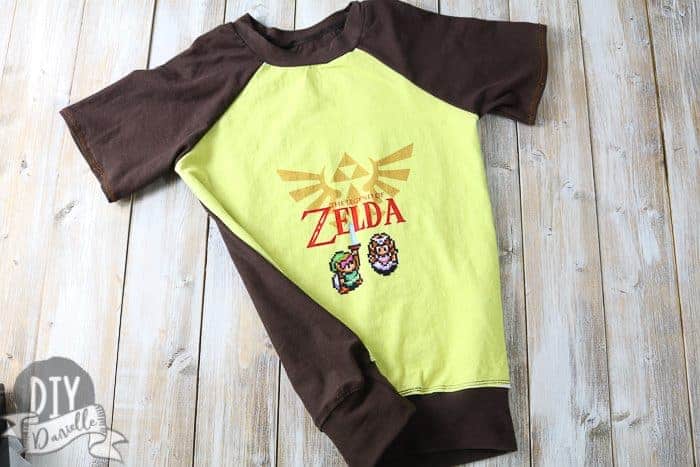 This Mario fabric was purchased at Joann's, I believe, but it's not available anymore. I used leftovers of this fabric for the three Half Pipe Shirts that I made for my boys to match. For that pattern, I added a Mario Star to the middle of my shirt with my Cricut and some heat transfer vinyl. Those are FAVORITE shirts and the kids often get compliments on them.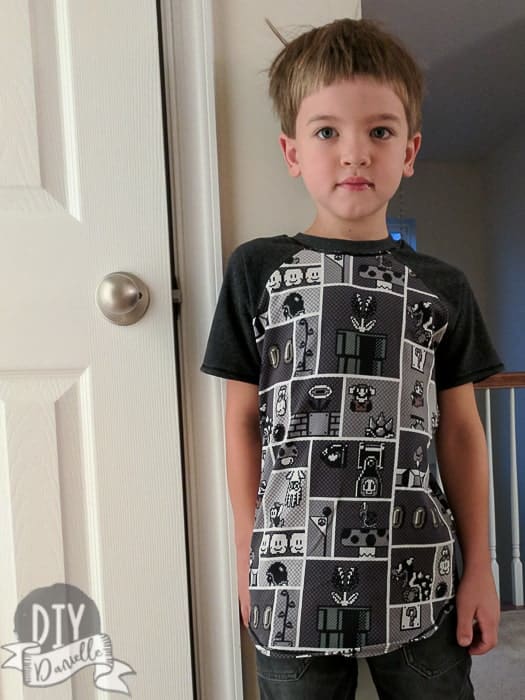 My latest shirts were these matching Pokemon shirts… even the 2 year old was excited about these…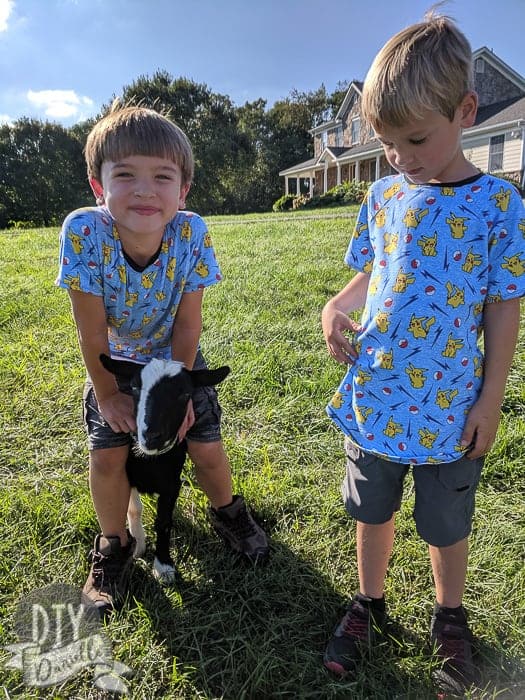 My 2 year old says PIKA PIKA when he sees Pikachu soooo he clearly needed his own Pokemon shirt. He got mad when I put it in the laundry so this makes up for the major tantrum he threw because he didn't want to wear the mommy-made Paw Patrol romper.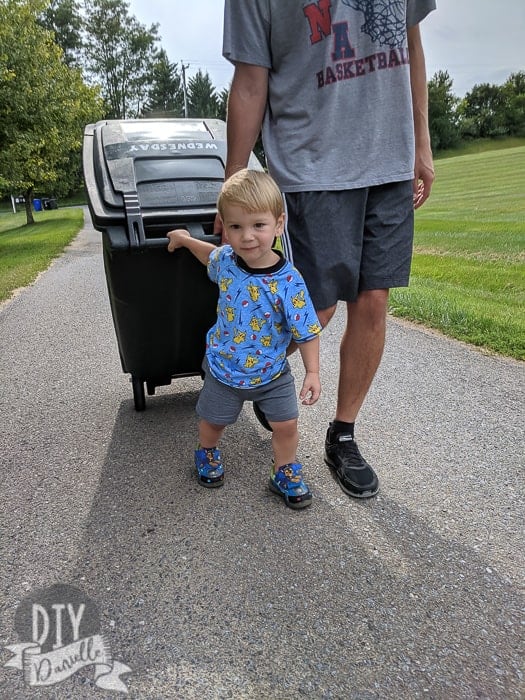 Here's the back of the shirt on my 2 year old: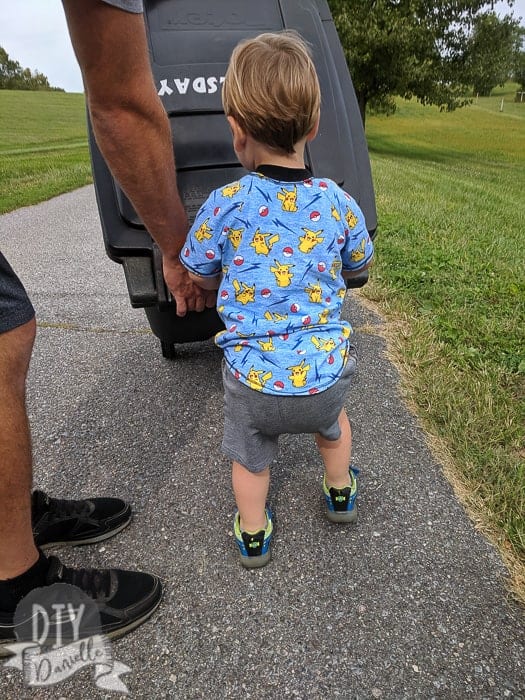 Other Sewing Patterns for Kids
Here are some other sewing patterns for kids that I've featured on my blog.
Please share and pin this post! If you make this project, share it in our Stuff Mama Makes Facebook Group. We have regular giveaways for gift cards to craft stores. You can also tag me on Instagram @doityourselfdanielle; I love seeing everything you make!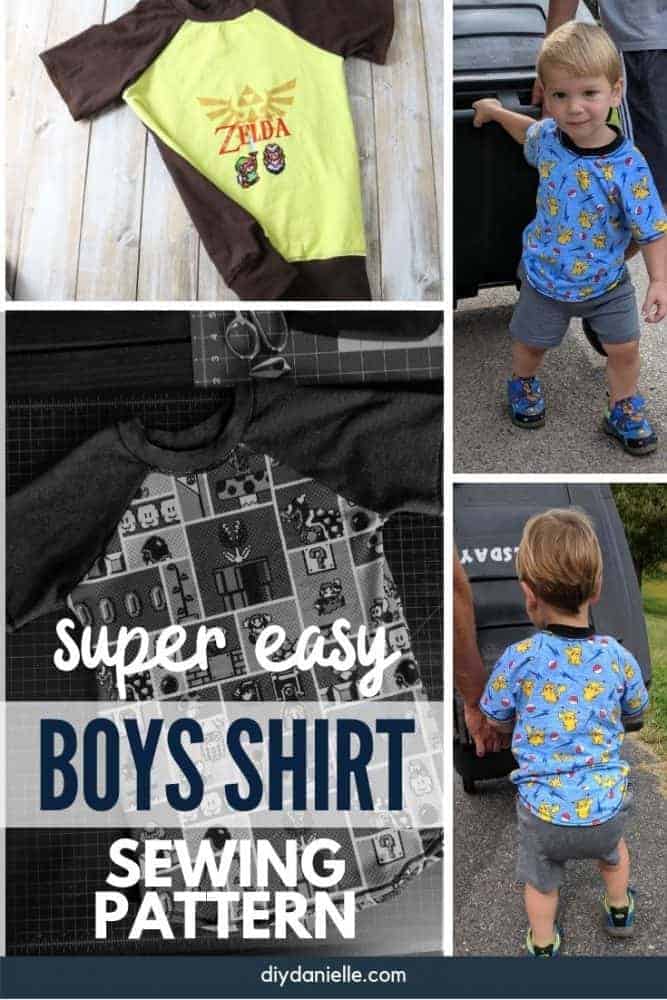 Boy Shirt Pattern