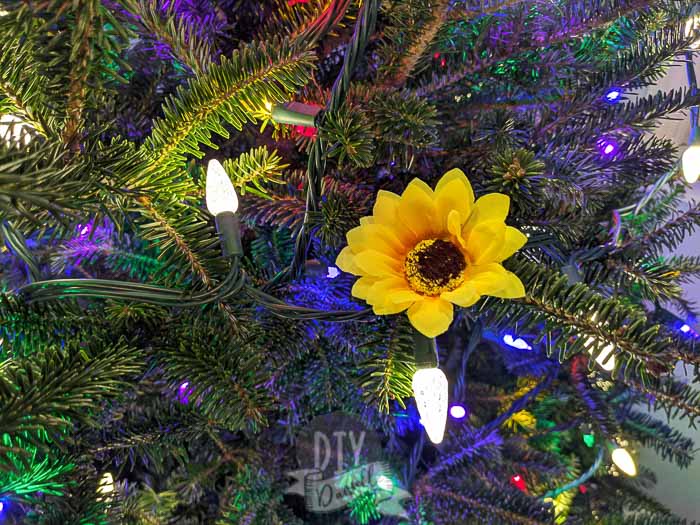 DIY Sunflower Christmas Tree: How to make sunflower Christmas tree decorations that coordinate with your tree and Christmas lights.
This post may contain affiliate links which may earn me commissions should you click through them and take certain actions. As an affiliate for Amazon, Cricut, xTool, Home Depot, and other sites, I earn from qualifying purchases. Please DIY carefully. View my full legal disclosures here.
Please read the whole post so you don't miss any important information!
I LOVE nature and gardening, and I love the idea of creating Christmas tree decorations using natural-looking decor like pine cones, sunflowers, and more.
When I saw that sunflower trees were trending on Pinterest, I KNEW I had to give it a try.
I wanted to see how all of the colors would blend together… but I also had some perfect blue burlap cut into strips that I thought would contrast well with the green of the tree and the yellow of the flowers.
Creating a Long Burlap Contrast Ribbon
I had blue burlap leftover from a few other projects so I decided to sew the short strips together into a long ribbon.
To do this, I took two pieces, sewed the short ends right sides together, then flipped to top stitch… then I kept adding pieces like that.
I wanted the thread hidden so I tried to color-match as best as possible.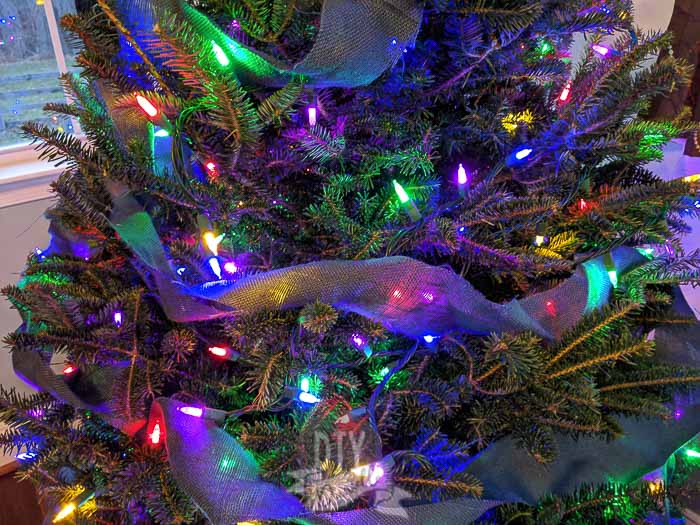 If you don't want to sew pieces together, you can buy a longer cut of the fabric (several yards), or buy a blue burlap ribbon.
Big or Small Sunflowers?
I saw a bunch of Sunflower Christmas Trees with larger sunflowers, but I thought it was a bit too much for my taste.
I wanted all of the colors to contrast prettily, not have one color take over the sunflower tree.
These are the faux sunflowers that I bought; there are 100 in the bag. They were around $8-10 or so.
This project was very affordable as a result.
Attaching the Sunflowers to the Tree
I started by adding my strips of blue burlap to the tree. I tried to fold them over in spots and twisted them here and there.
When you're limited on the amount of ribbon you have, you can just add ribbon to the front of the tree and avoid the back!
I really liked the sunflowers contrasting against the blue ribbon.
If you go this route, you can sew or use a hot glue gun to attach the sunflowers to the ribbon.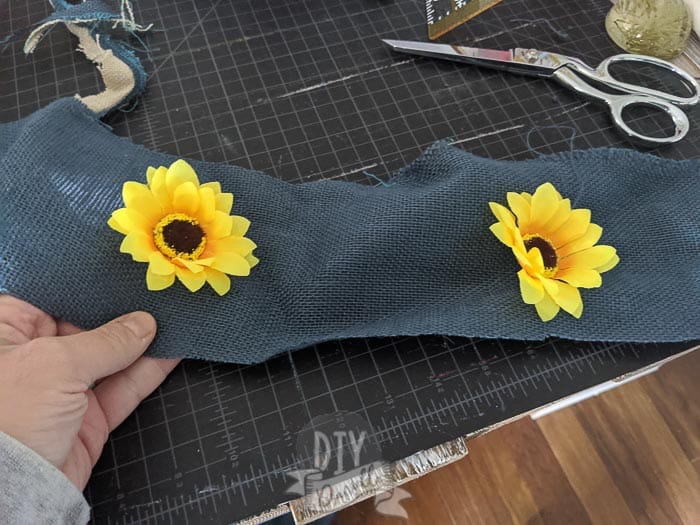 My kids helped add the flowers and really enjoyed it, but they weren't spaced perfectly… it was very… um… natural. Haha.
Alternatively, you can just thread the end of the sunflowers through the strands of light where they intertwine.
This worked surprisingly well with less effort.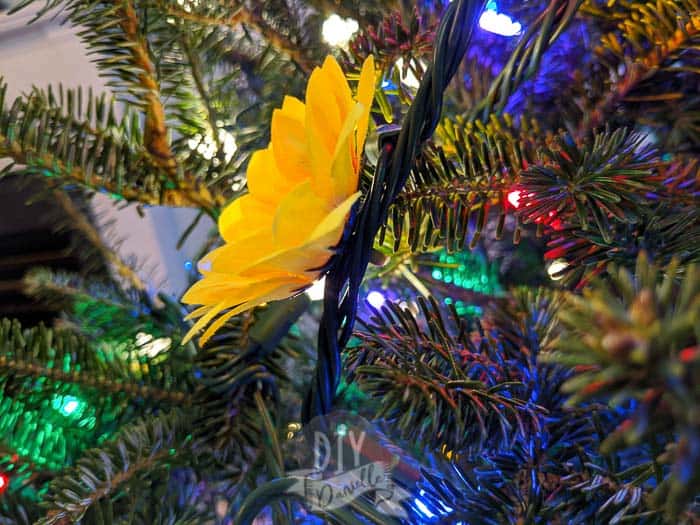 Christmas Light Colors
We have both clear lights and colored Christmas tree lights. I wanted to give you an idea of how the sunflowers contrast with each.
Here is my setup with the multiple colored lights. This is a real knock-out look if you want your tree to draw eyes: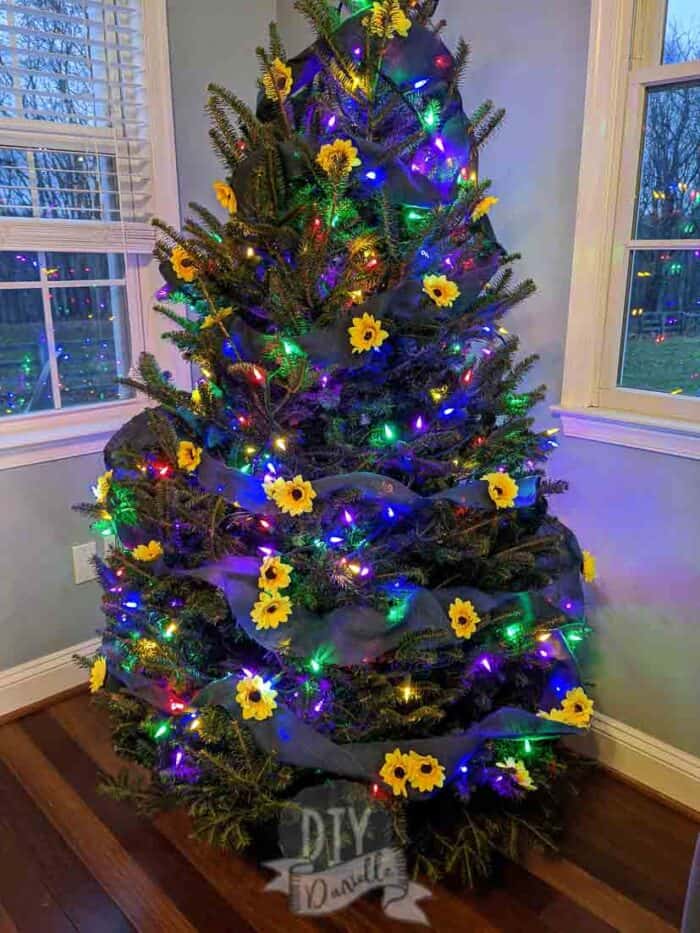 Personally, I prefer the clear/white lights with the sunflowers, burlap, and tree.
I think it looks more natural/farmhouse.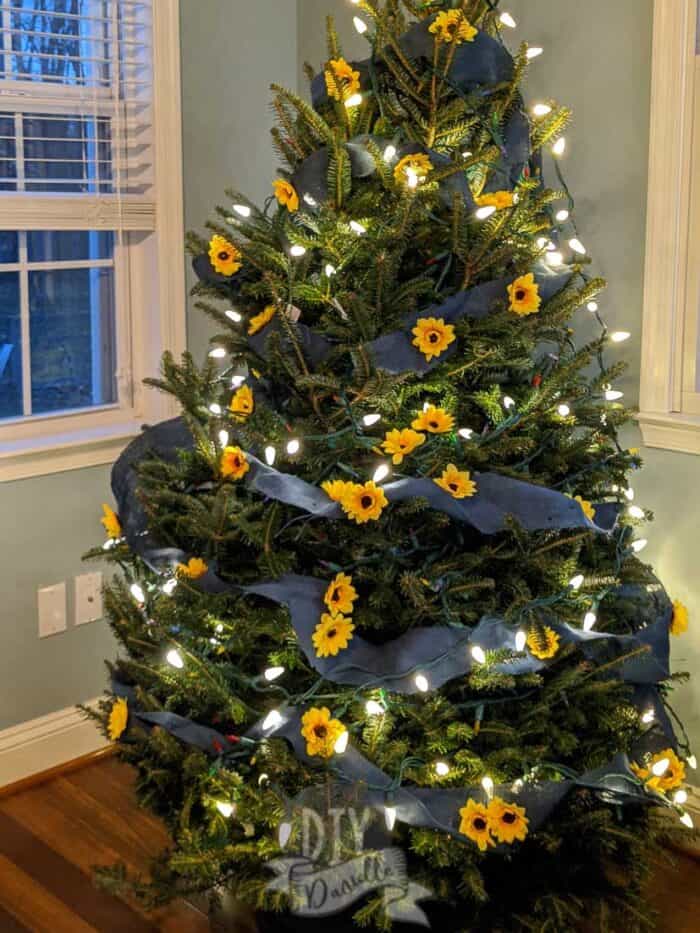 Choosing the Perfect Tree Skirt
While a traditional tree skirt would probably be fine, I think the perfect tree skirt to match with a flower Christmas tree is a coordinating burlap.
It's simple, classic, and natural.
You might also try to sew a moss-like tree skirt too. Something natural would look nice under the tree!
For a more modern look, you could go with a tree stand or collar that is trending and shown on just about all the Christmas trees you see on Pinterest now.
Learn how to make a Christmas Tree Skirt, a Wedding Memento Ornament, DIY Christmas Tree Felted Soap , or a Wood Slice & Resin Ornament.
I have a whole list of great Christmas craft ideas and Christmas Ornament Ideas too.
HOME MAINTENANCE REMINDER: Winterize your doors and windows!
Please share and pin this post! If you make this project, share it in our Stuff Mama Makes Facebook Group. We have regular giveaways for gift cards to craft stores. You can also tag me on Instagram @doityourselfdanielle; I love seeing everything you make!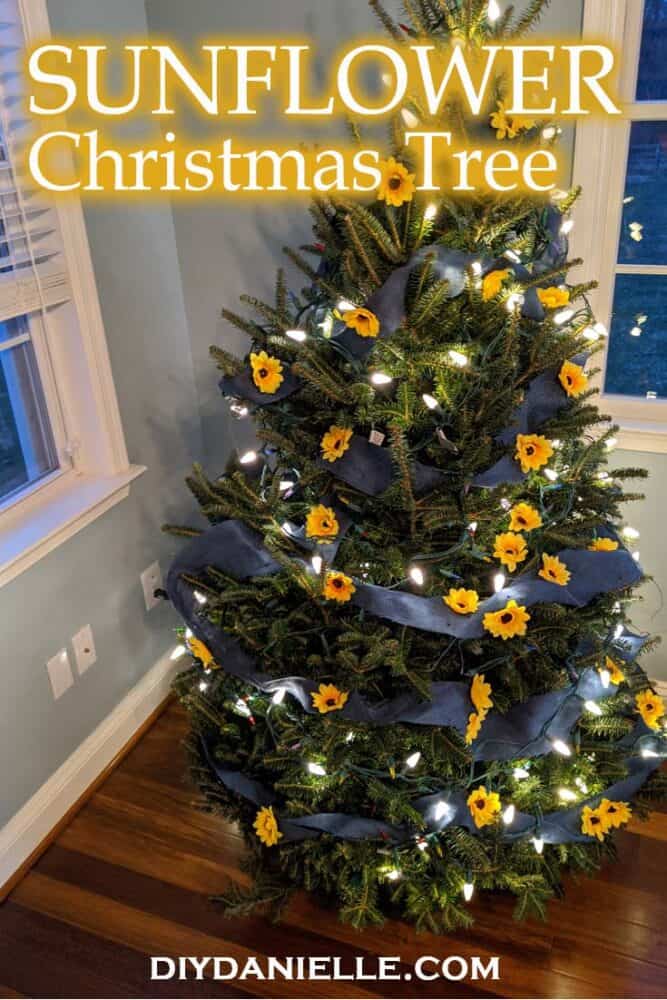 I love sunflowers and sunflower crafts. Make sure to check out my hanging sunflower balls and my sunflower wreath!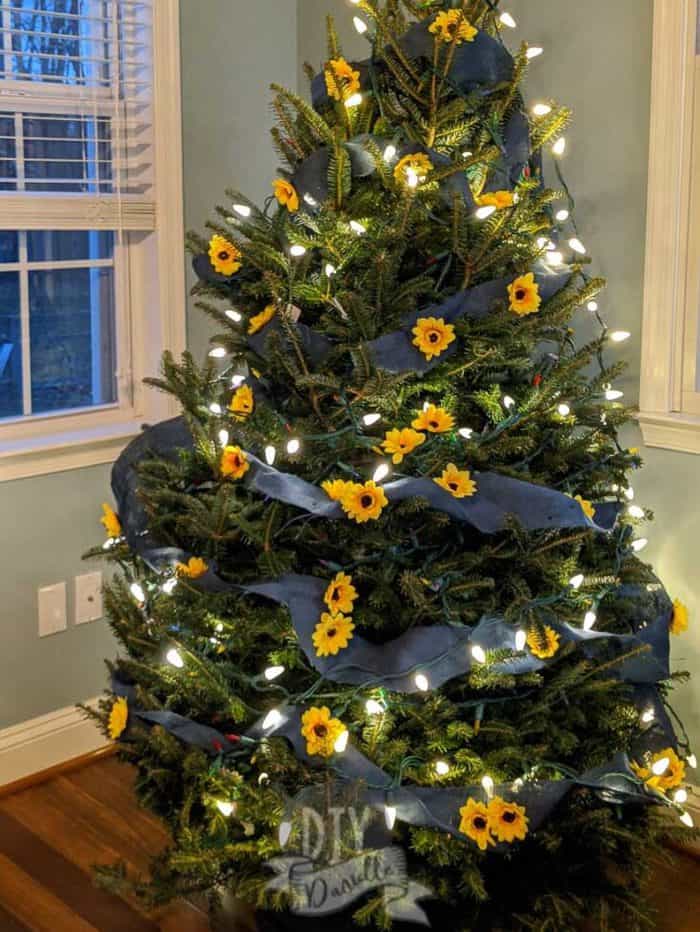 Yield:

1 Tree
How to Make a Sunflower Christmas Tree
Make sunflower Christmas tree decorations that coordinate with your tree and Christmas lights.
Tools
Sewing Machine
Hot Glue Gun
Instructions
Sew the short strips of burlap together into a long ribbon.
Flip to top stitch.
Repeat this process until you have the right size length for your tree.
Sew or use a hot glue gun to attach the sunflowers to the burlap ribbon.
You can also just thread the end of the sunflowers through the strands of lights.
Recommended Products
As an Amazon Associate and member of other affiliate programs, I earn from qualifying purchases.
Web Story: DIY Sunflower Christmas Tree