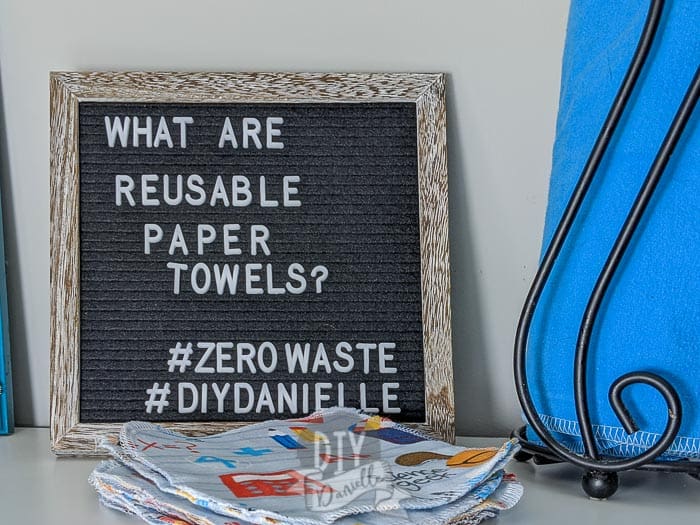 What are reusable paper towels and how do I use them? These are also called "unpaper towels" or more commonly, dish cloths.
This post may contain affiliate links which may earn me commissions should you click through them and take certain actions. As an affiliate for Amazon, Cricut, xTool, Home Depot, and other sites, I earn from qualifying purchases. Please DIY carefully. View my full legal disclosures here.
Please read the whole post so you don't miss any important information!
Running low on paper towels and not sure what to do? There are LOTS of options so don't worry! Many people use alternatives to paper towels… using a washable product that you can reuse makes more sense! It's better for the environment and it will save you money.
Personally, I sew my own unpaper towels using two layers of flannel cut about 10″ square. You can learn about how to make unpaper towels in my ebook, How to Sew Cloth Diapers and other Ecofriendly Products, or you can check out my post about DIY Reusable Paper Towels.
But you have LOTS of other options if you don't sew! No worries!
What are Reusable Paper Towels?
First, they're not paper! Paper wouldn't be able to withstand washing so these can't be made with paper. Reusable paper towels, often called unpaper towels, are what our grandparents called dish cloths. Many of you probably own dish cloths but don't use them exclusively.
How do I store Reusable Paper Towels?
Personally, I prefer to store mine unpaper towels in a drawer or in a basket. It's just easier to store them that way.
I have, in the past, added snaps or Velcro to connect them; this allowed me to roll them around the paper towel holder. This works fine, but it's extra steps when you do your laundry. I like to keep things simple!
A neat pile is pretty easy to manage.
For dirty unpaper towels, I use a wet bag like this DIY kitchen wet bag. Any bag will do though! Ideally you want to use a bag that is washable so you can throw it through the wash at the same time, ditching any germs the unpaper towels had on them.
How do I Wash Them?
They're pretty simple to wash. Generally I throw them in with my weekly load of towels. I prefer to wash them on hot to kill any bacteria.
Don't use fabric softener or a detergent with fabric softener when you wash them… these products cause the fabric to be less absorbent.
I dry on hot or line dry.
All wash/dry settings are what I use for my flannel unpaper towels though… so keep this in mind. If you upcycle something such as bed linens, they might not fare well in a hot water cycle. That's why I like to use flannel!
The one thing to remember is that washing machines can't wash solids so shake them out over the garbage can if you have Cheerios or whatnot stuck to them. Generally you will risk the risk of having to pick the item out of the washing machine if it doesn't break down and disintegrate.
Things to use if you run out of paper towels!
Lots of options here. I'm going to assume you don't have a ton of dish cloths… if you do, use those (wink)
While sewing these items is ideal to prevent them from fraying in the wash, you can cut up lots of older fabric items and use them for reusable paper towels! They'll break down over time, but they'll work for a little while!
Teeshirts
Towels (hand towels are good and you won't need to cut them)
Bed sheets, blankets
When you're trying to decide if the item will work well, put a few drops of water on the fabric. If it absorbs, it'll work great! If the water beads up and rolls off, it won't.
You can check the wash label too on the item you want to cut up/upcycle. I prefer to use items that can be washed on HOT or warm.
Whip up or cut up some smaller cloths to use as napkins while you're making these! The small cloths are perfect to wipe fingers and faces during dinner, but don't take up as much space in the wash! Larger cloths work well for cleaning up spills, washing dishes, etc.
Did you have any other questions? Leave me a comment and I'll try to get back to you ASAP! You can find a lot of information about cloth diapers, unpaper towels, and more in my book, How to Sew, Use and Clean Cloth Diapers- And other ecofriendly products!
I made this hand towel holder for my bathroom to hold hand towels for each day of the week! You could do something similar with unpaper towels.
Stick around on my blog- you'll learn how to make beeswax food wraps, DIY cloth diapers, and more!
Please share and pin this post! If you make this project, share it in our Stuff Mama Makes Facebook Group. We have regular giveaways for gift cards to craft stores. You can also tag me on Instagram @doityourselfdanielle; I love seeing everything you make!