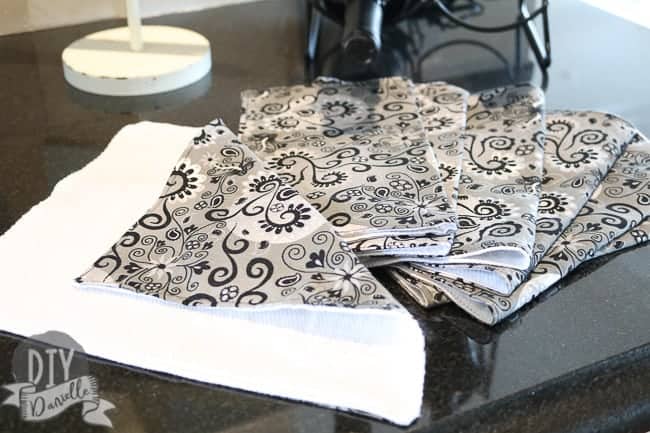 Unpaper towels are easy alternatives to paper towels and are better for the environment and better for your savings account.
In a previous blog post, I covered the wet bag and unpaper towels that I made for myself. I decided to do these a little differently.
First, I didn't use towels for one side of the unpaper towels. They're great for absorbency, but a little bulky and not particularly attractive. I wanted a fabric that would be a little thinner and fold nicely.
I also didn't add snaps or velcro … while they were great in theory (the snaps worked way better than the velcro), I use these way too fast to snap them together after every wash. SUCH a pain in the butt. No way. Folding these is the way to go.
Top benefits to unpaper towels:
Reusable and better for the environment
Saves money
Super absorbent, depending on the fabric used.
Can be made to any specification
This post contains affiliate links. If you make a purchase using these links, I may receive a commission. This does not impact the sales price of your product. Thank you. This post was originally published 12/14/2012, but was updated and republished 02/24/21.
Reusable Papertowels
What are Unpaper Towels?
Essentially… they're dishcloths.
It's just silly to call them anything else, but the term 'unpaper towel' has come about as folks try to switch back to reusable products from disposable items like paper towels. My grandma, if she was still here, would definitely roll her eyes at this term. She always used dishcloths.
There are some differences between reusable paper towels and a dishcloth. They can be made to whatever specifications that you want. Most of my dishcloths that I've purchased are one layer… some absorb a lot and others don't absorb as much. When you make (or buy) unpaper towels, you can purchase ones with the fabric that meet your household needs.
For example, we have a variety of unpaper towels. My original ones are 12×12″ squares that have flannel on top and old towels for the bottom.
They're super soakers! They're great for handing the kids for cleaning up big messes. These are pretty ugly at this point- the towel was old when I used it for the backing. But BOY do they do the trick.
I have also made some that are two-sided flannel in the same size. They still soak up well, but they look a bit nicer after all of the washing and I keep them on the counter in a napkin holder.For smaller jobs like cleaning faces or hands, I keep small 6×6 or 8×8 face wipes as well. These also fit well inside a napkin holder.
If you love reusable products, this information and MORE are available in my eBook in the store. Or keep scrolling to continue reading about unpaper towels!
Do Unpaper Towels Save Money?
You don't need to make or buy unpaper towels to save money- you just need to switch from using disposable paper towels to using some form of towel or dishcloth. It's saved us a ton of money in my opinion because these unpaper towels can be washed forever and reused. As my older ones get yucky looking, I just downgrade them to grosser jobs. Eventually, I'll toss them, but we save a lot of money because we get years of use out of each one.
If you want to calculate your savings, figure out how many rolls of paper towels you use each week. Multiply that number by 52 weeks. That's your yearly paper towel use. Then figure out how much each of those rolls costs and multiply by that.
We still buy paper towels for big messes, but instead of the typical 1.5-2 rolls of paper towels that most people use each week, we might use one roll a month.
I think we save even more money though because our kids are responsible for cleaning up their own spills and messes. If we allowed them to use paper towels, they'd likely go crazy and use too many. Instead, they can use a bunch of unpaper towels.
One thing I've noticed is that IF I keep paper towels easily accessible, people tend to grab those over the dishcloths. So if you really want to make the commitment, start out by hiding your paper towel stash and keep the unpaper towels on the counter instead. And we always go through more paper towels when we have guests.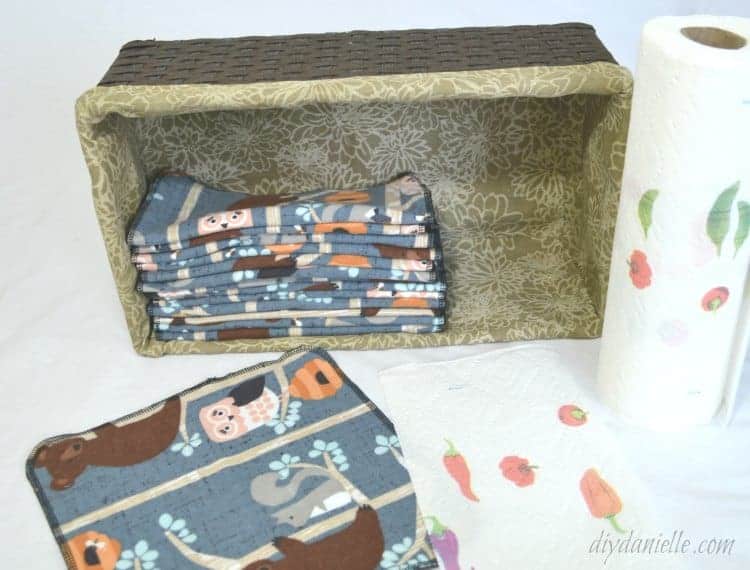 Buy Unpaper Towels on Etsy
Can't sew? Buy your unpaper towels on Etsy.
As with everything, you can always order unpaper towels on Amazon, but I love supporting local and love the quality of homemade products that you can find on Etsy.
If you want to sew your own, keep scrolling down so you can learn how to make your own. Or you can buy my book on sewing cloth diapers– it also has instructions for sewing unpaper towels, wet bags, and more.
---
How to Make Unpaper Towels
Supplies to Make Unpaper Towels
What Types of Fabric Work Best for Unpaper Towels?
When you're making these, you want to make sure that the fabric you use is absorbent. Cotton fabric is pretty, but not super absorbent. I find that it washes nicer than flannel and works well for the top. In this case, I used birdseye fabric for the absorbency, but terry/terry cloth, flannel, and many other fabrics will work as well.
If you're not sure if your fabric will work, run it under some water and see what happens. If the water beads up and runs in a river off of your fabric, it's not a good option. Some fabrics will absorb more than others and you'll be able to see that when you do your test.
Bamboo, cotton (cotton fleece, cotton french terry, cotton sherpa), hemp, and microfiber are all usually great at absorbing liquids. They absorb different amounts and at different rates, however. While some high absorbency fabrics might sound perfect, they take longer to dry too and they aren't necessary. Those fabrics are usually more expensive and used for items that need more absorbency like cloth diapers.
Always make sure to prewash your unpaper towel fabric because you don't want them to shrink after you make them.
Should I Use Snaps or Velcro for Unpaper Towels?
You CAN. Some people like to add snaps or Velcro (hook & loop is the generic name) so they can connect their unpaper towels together, then roll them up to fit on a paper towel holder. I don't like to do this. I tried it, but I found that it was extra work to hook them together and roll them up each wash.
Instead, I just place them in a pile and make my life easier. They can be stored out of sight in a drawer or I folded them to place in a napkin holder.
If you want to add snaps or hook & loop, it's very easy. Personally, I like how snaps launder better because they won't get caught on other fabric. Learn how to install snaps.
How to Sew Unpaper Towels
The unpaper towels that I made are approximately 10″x10″. The set for my dad and stepmom was a cotton fabric backed with white birdseye fabric because the cotton is leftover from the table runner I made her last year. It looks pretty awesome, but I used two layers of flannel for all the other sets because that's my preferred fabric choice for these.
For the cotton and birdseye unpaper towels, I cut 10×10″ squares for both my birdseye and cotton fabrics. I took one square of each and faced them right sides together.
I sewed around them, leaving a small area to turn right sides out. Turned. Pressed with my iron. Then I top-stitched.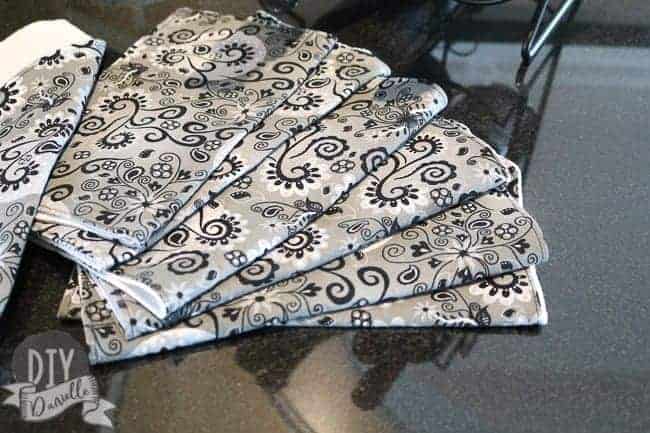 Quicker Method for Sewing Unpaper Towels
For the 2 ply flannel unpaper towels, I wanted to figure out the fastest way possible to get them done. I folded over the long cut of flannel, right sides facing, making sure it was 10″ all along the way.
Pin.
Then I cut one big long strip, ensuring there was enough for a whole set with no leftover fabric.
I sewed up the long edge, ironed it all flat, then cut the long piece into 10″ squares.
I sewed up both sides of each square, leaving a small area to turn.
Turn, iron, topstitch.
Feel free to ignore my advice and add snaps. As I said, the snaps were too annoying to me to snap everything together every time I used them, even if they do look very cool like that.
How to Store Dirty Unpaper Towels
While you could always directly relocate dirty unpaper towels to your laundry room, I find that this isn't a realistic goal for me with three kids. I'm always using them and they tend to sit in dirty piles on my counter. This isn't particularly sanitary.
Instead, I made a wet bag for my kitchen and it works perfectly. When my wet bag is full, I bring it upstairs to wash it. I have two wet bags for my kitchen that I swap out.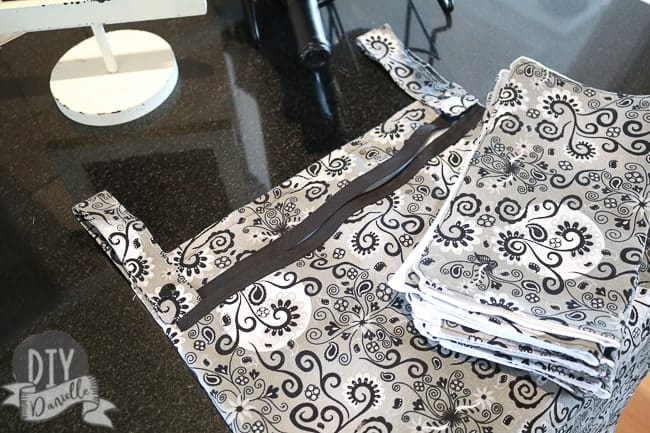 Learn how to make a wet bag for your kitchen here.
I made this hand towel holder for my bathroom to hold the smaller hand towels. I think you could do something similar for unpaper towels if you added a piece of bias tape or some type of hanger to the towels.
How to Wash Unpaper Towels
You really want to make sure your unpaper towels are washed well. If you wipe up messes from chicken, eggs, and other products that carry salmonella or other diseases, you want to make sure you're doing a good wash with great detergent.
I start my wash with a pre-rinse on cold. Once that rinse is through, I add my detergent (per instructions for your washer and detergent). I set my wash for hot, heavy-duty. Sometimes I use white vinegar in my rinse cycle as well, although I've heard mixed messages on if this is good for your washing machine.
Once the wash is through, I dry on hot heat.
Never use fabric softener in your wash as it will cause your towels to absorb less well.
If you have stains, lay your towels out in the sun for a few hours. The sun is the best at removing stains.
Please pin this!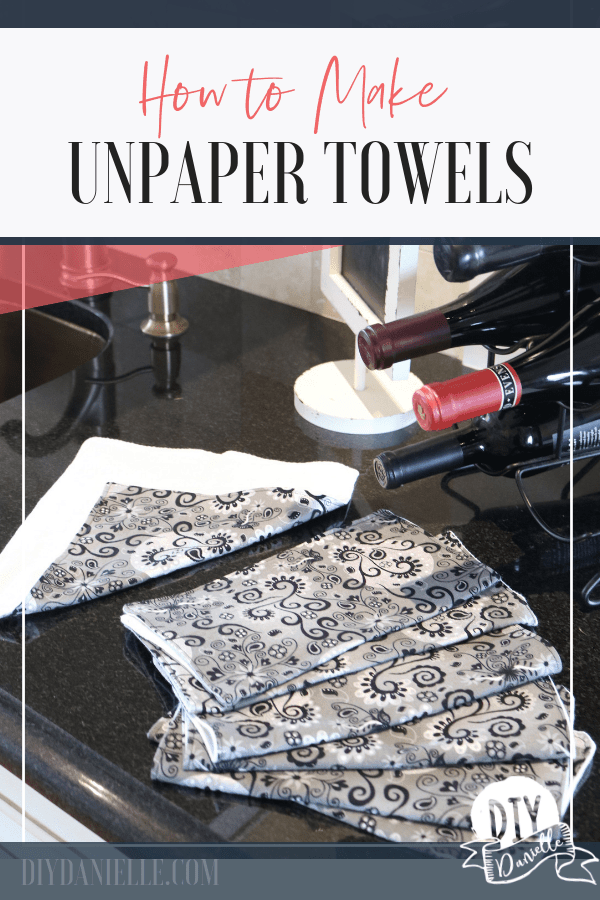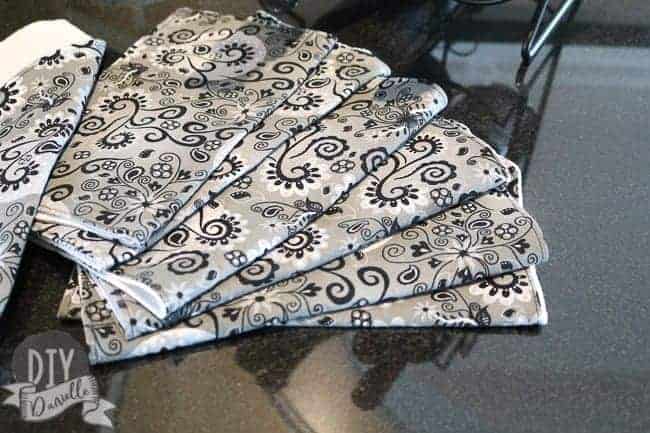 Yield:

8 Unpaper Towels
How To Make Unpaper Towels
Make your own unpaper towels that are budget-friendly and better for the environment.
Materials
White birdseye fabric
Cotton fabric
Instructions
Cut 10×10″ squares out of the fabric.
Face them right sides together.
Sew around them. Leave a small area to turn right sides out.
Press with the iron.
Top stitch.
Add snaps.
Recommended Products
As an Amazon Associate and member of other affiliate programs, I earn from qualifying purchases.
Google Web Story: DIY Unpaper Towels