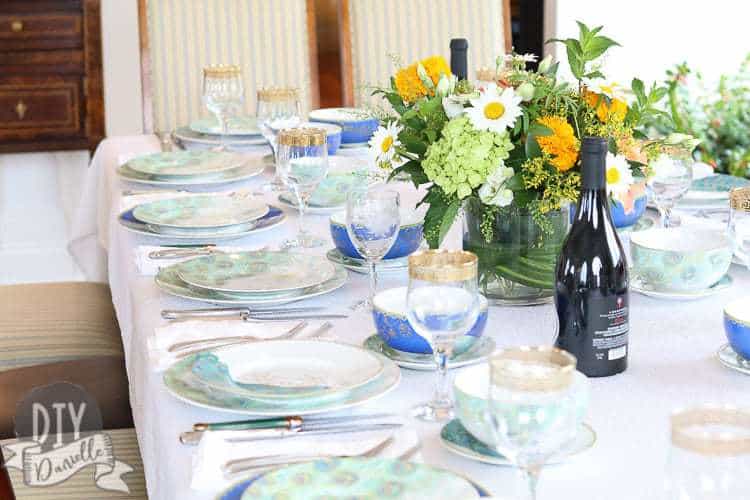 A peacock tablescape from my stepmother's big family Italian dinner. The dinnerware is the 222 Fifth Peacock Garden set. The lovely greens and blues of the dinnerware work perfectly with the white tablecloth, the green, white, and orange in the floral arrangement, and the dark wine bottles. I also love the gold embellishment along the tops of the glasses.
This post contains affiliate links. If you make a purchase using these links, I may receive a commission. This does not affect your price for the product. Thank you.
We visited New Hampshire to see my family in July and as usual, my step mother Renee made a big family dinner for everyone with amazing food and wine. It's always delicious and a lot of fun. I wanted to take a few moments to show the beautiful tablescape that she had setup for dinner. She always does such a wonderful job arranging her table, and I think these peacock dishes are just amazing.
The dinnerware is the 222 Fifth Peacock Garden 16-piece Dinnerware Set. Aren't these gorgeous?
Here's the table setup…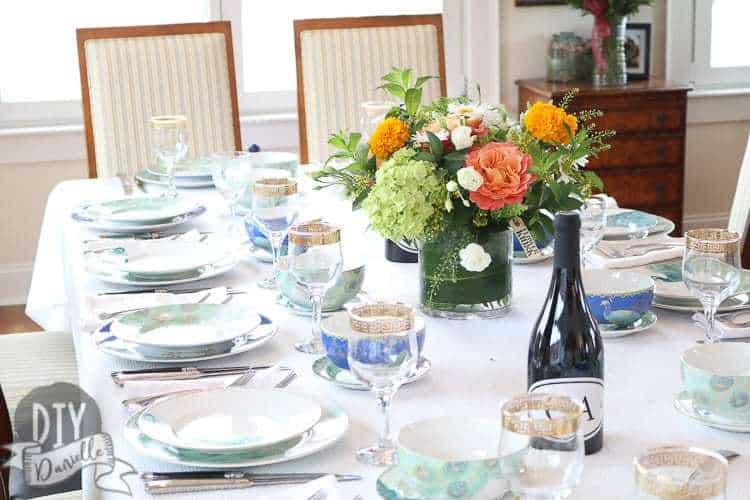 She briefly took out the model Black Hawk helicopter that she got for her birthday so the kids could 'see but not touch' it… this was a centerpiece for the kids' table that actually went away before dinner started because she thought better of it. Between my stepsister and me, there are six boys under 7 years old in the family so the helicopter wasn't safe. Isn't it gorgeous?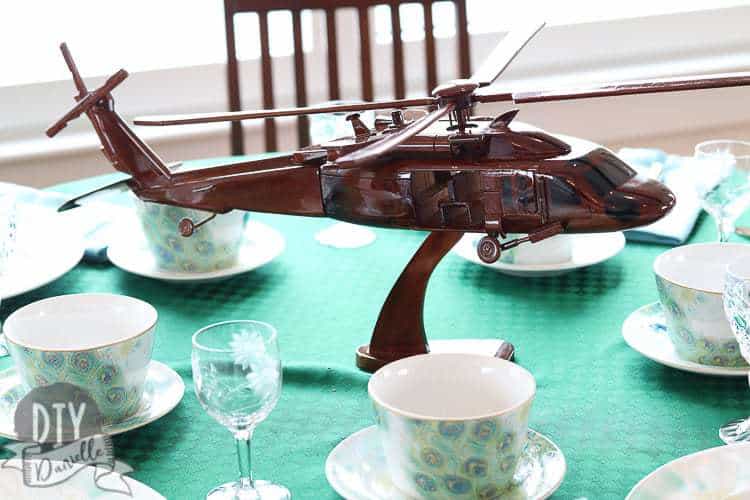 I loved these flowers. They really brightened up the table with some additional color.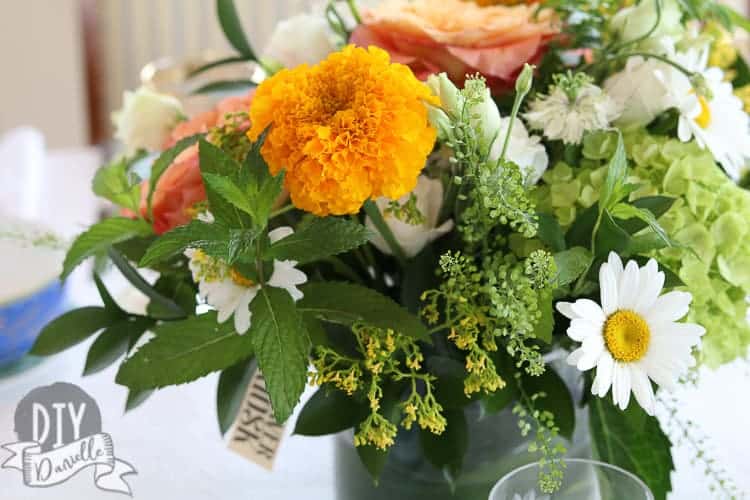 Here's some portrait shots of the table… these are the best ones to pin, if you like to store all of your ideas on Pinterest.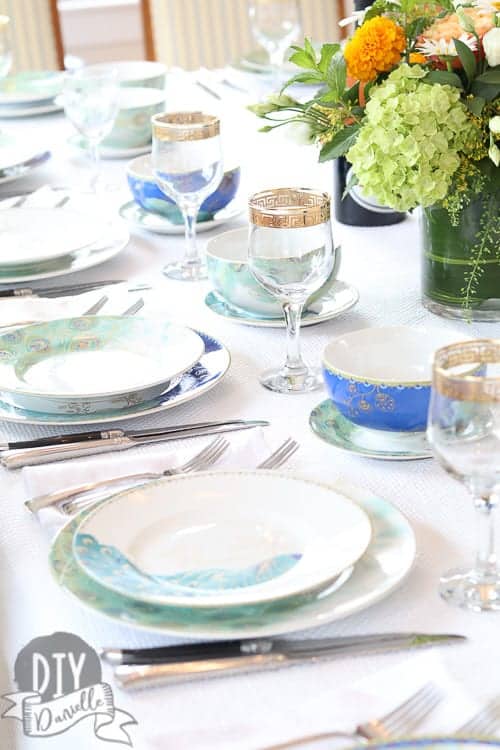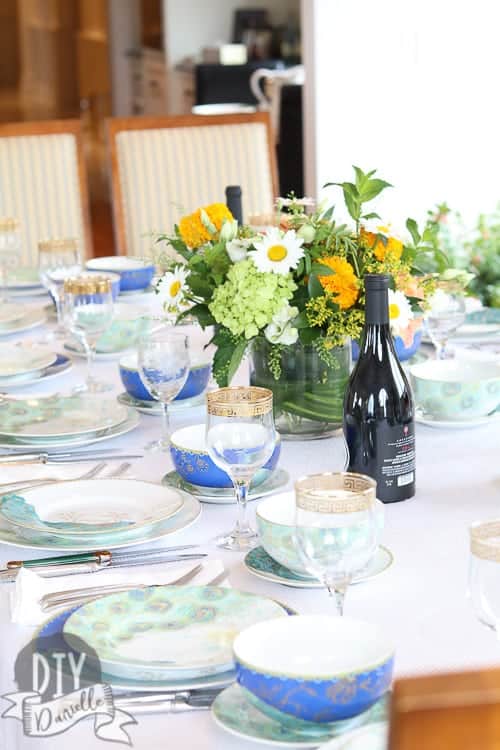 One of my favorite parts of their condo is all of the light. Thanks to the light, her indoor plants flourish and this wall planter is one of my favorite things about their home.
She recently got a lemon tree (not pictured) so I'm interested to see how it does indoors. There's certainly enough natural light. I had one, but I killed it. We've lived in our home a few years, but I only recently figured out the perfect spot for light for indoor plants. NOW they're thriving. The lemon tree is long gone though.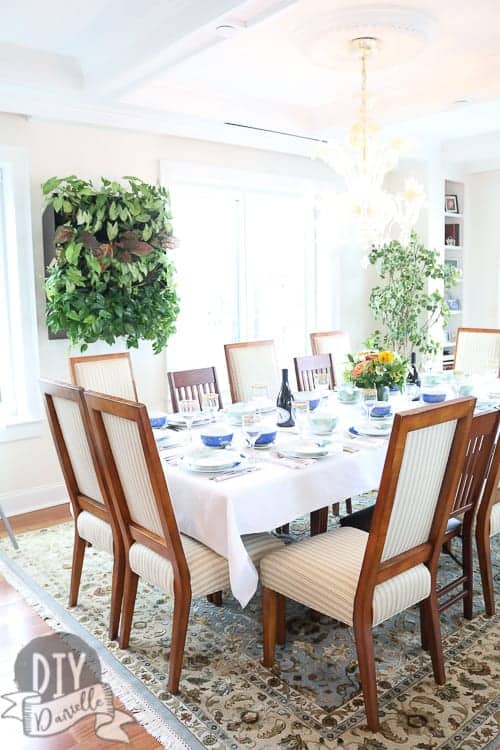 She had this beautiful living wall built custom for her home, but here's a really neat alternative on Amazon if you have a lot of light in your home. This self watering living wall planter can be used indoors or outdoors.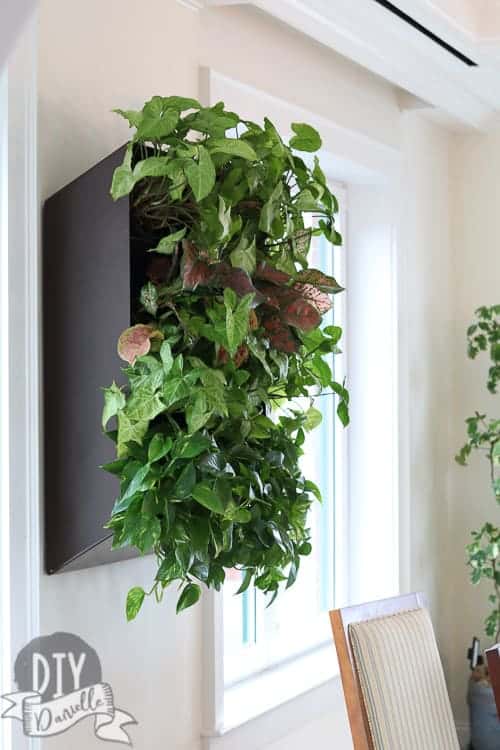 Someday maybe I'll be able to have nice dishes and tablescapes too, but in the meantime, I've been trying to decide if there's a great non breakable option for dishes that we can share with the kids, instead of having a billion IKEA plastic dishes for the kids. Three boys are HARD on dishes (and I'm not great either) so I need something DURABLE.
I've been contemplating wood, but those are hand wash only which might just break my husband. Any suggestions?
Make sure to check out more information on the Italian Family Dinner when the post goes live early next year. Are you having a big family dinner? Consider making this fun family Jenga set to play with everyone!