Description
eBook: Sewing for Your Kitchen: 14 Simple Sewing Projects for the Kitchen
This book will teach you how to make 14 simple, but useful products for your kitchen. Learn more about "Sewing for Your Kitchen: 14 Simple Sewing Projects for the Kitchen."
Excerpt from the Introduction
It could be said that the kitchen is the heart of your home. You spend time cooking in here, but it is also the central location where friends and family congregate to discuss their lives.
We make fond memories in the kitchen.
At the same time, the kitchen is not often the central focus of our sewing. We sew clothing that fills our closet, send handmade gifts to loved ones, and make beautiful blankets for bedrooms.
We forget that the kitchen is a wonderful place to add the personal touches that custom made sewing projects can bring to the room.
I'm hoping that these simple projects help spruce up your kitchen and provide practical solutions to some common problems in the room.
What You Get in "Sewing for Your Kitchen"
Detailed photo tutorials for each project. The following are the 14 projects covered in "Sewing for Your Kitchen."

Unpaper Towels and Cloth Napkins
Kitchen Wet Bag
Refrigerator Liners
Reusable Snack Bags
Toaster Cover
Pot Holder
Kitchen Apron
Bowl Covers
Casserole Dish Covers
Bread Bag
Grocery Bag Holders
Coffee Cozy
Lunch Bag
Fitted Bar Cover

Sewing patterns for projects that require them.
A supplies list for each project.
Would you rather have the book in hand instead of the electronic copy?
Buy the paperback on Amazon.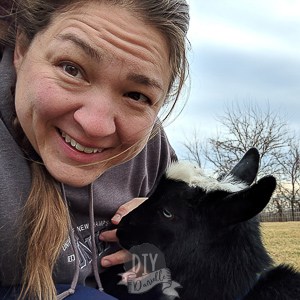 Danielle Pientka is the sewing and DIY blogger behind DIYDanielle.com. She taught herself to sew in 2011 when she wanted to make cloth diapers for her first son. She's been sewing everything from ecofriendly items to kids products to clothing since, as it has become a passion. She loves learning how to do new things and teaching others in the process. She hopes to inspire other moms to take time for themselves to find their own creative passion.
Danielle lives in Maryland with her three young sons and her husband, Brandon. In her spare time, she gardens, reads, horseback rides, and has a small homestead with goats and ducks. Visit her shop to buy patterns or her sewing eBooks. Subscribe to her newsletter to get blog updates, free patterns and other printables by clicking here.