Want to remove a garage door and close it off? Add a new entrance? Here's how we converted our garage door into a standard exterior door.
We've been converting an old shed into a she shed and office space for me. This has been quite the project, but it's been a GREAT learning experience. I stated researching what I wanted in a she shed last year. With the price of wood right now, it was not in the budget to buy a brand new shed. We have a 10×20 shed in the backyard that I decided to update and use. I've been documenting my journey and the related updates on my Shed Repairs Page. Today's project was to remove the garage door and frame out the space into a wall with a standard entry door.
I am not a builder. We are DIY'ers and we like to figure out how things work. This is NOT the correct way to do this, but it certainly worked for us. To do it correctly, you'd want to build the frame, leaving your space for a door to be installed. You'd install the frame, then install the door into the frame.
But let me explain how we did it… it's working for us.
---
This post contains affiliate links which may earn me commissions should you click through them and take certain actions. As an affiliate for Amazon, Cricut and other sites, I earn from qualifying purchases. Please DIY carefully. View my full legal disclosures here.
---
We cut some corners to make the project easier. It's pretty easy to get measurements wrong and we were working around rotten wood and poorly installed siding (no house wrap, hence the rotten wood). The garage door was initially installed correctly (and has supported the rest of the structure and roof for many years) so we knew that the area didn't truly need the support of the frame, but we opted to add that frame anyways. I'd rather over build than under build and have everything fall apart.
To begin, we removed the garage door, the siding, on either side of the garage door, and cut away rotten wood. We hadn't anticipated that the wood would be rotten so this was quite the shock; fortunately, we had plenty of osb and we were able to repair the bad areas. I recommend adding house wrap under siding, even for a shed, to prevent this type of issue in the future. Water CAN get under siding and damage the wood behind it.
Rather than build the frame, then add the door, we attached the door to the side of the garage door opening. This allowed us to build the frame around it.
Here's a video of the process. For the photos and breakdown, keep scrolling.
Because I purchased the door used, I had to install a new door knob. Learn how to change out a door knob. I made DIY acrylic keychains for my new she shed keys!
Once the frame was built, we installed OSB for the walls, then added house wrap. Finally we wrapped things up by installing siding; the previous owner left lots of scrap siding under the shed which was PERFECT for this.
Steps
We sort of hacked this, but it worked.
1
We screwed in the framed door to the left side of the entrance.
2
Added a 2×4 above the door and all the way across the open entrance.
3
Added a 2×4 to the bottom.
4
(2) vertical 2x4s… Essentially we created the frame in place.
5
Check to make sure the door will open and close properly.
6
Adding studs every 16" on center.
This is what 16" on center means.
7
Attach studs. You'll need to screw them in at an angle.
8
Cut OSB to size if needed. Attach your OSB to the studs.
9
Removing the siding pieces from the garage door install. These will need to be replaced with bigger pieces.
10
Adding the 2nd piece of OSB.
11
We Installed House Wrap.
I'm not suggesting that this is the BEST way to do this project. But I wanted to share as it's part of the steps we took to update the shed and I'm hoping it will inspire others to reuse and update older sheds rather than just junking them. DIY'ing this project meant I could AFFORD this project.
Please share and pin this post! If you make this project, share it in our Stuff Mama Makes Facebook Group in order to enter to win our monthly giveaway. You can also tag me on Instagram @doityourselfdanielle; I love seeing everything you make!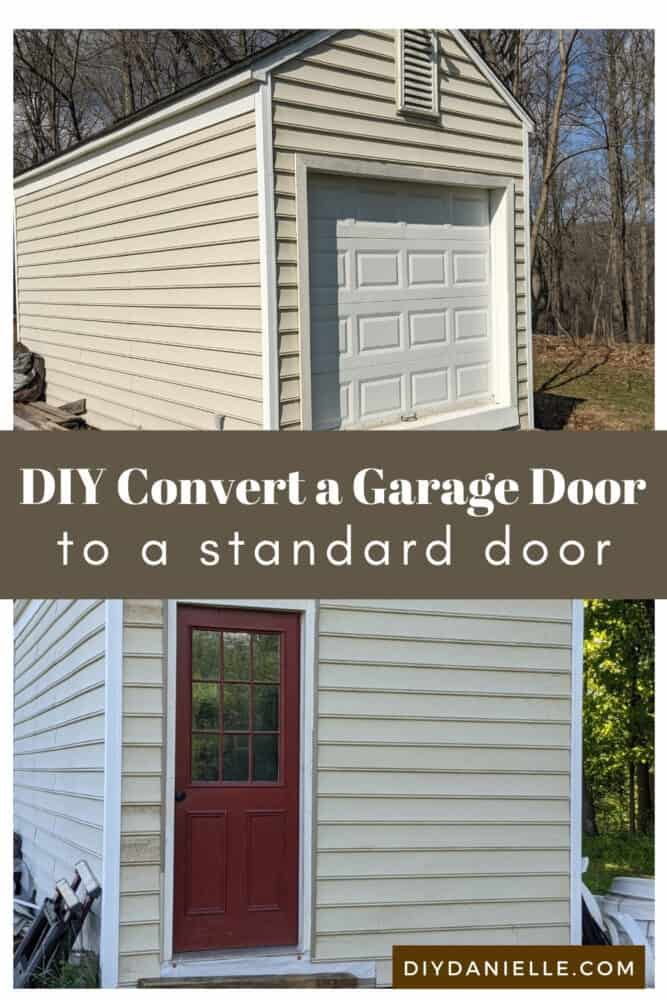 Removing a garage door and building a wall