Learn how to change a door knob. Keep unwanted "guests" out of your home, even if they have the old key. It's QUICK and EASY.
Learning how to change a door knob is a LIFE SKILL that every woman (and man) should know how to do. It's easy and a great way to stay safe. My dad taught me to change door knobs as a young teenager and I feel like I should have used this skill more. For some reason I didn't- and for the most part, I got lucky. Yeah I said it- I got LUCKY. Because there were times I DIDN'T feel safe and I SHOULD have changed my lock. There was one time, after a robbery (I wasn't home at the time, thank goodness), where the apartment manager changed the knobs out for me. Overall it's a great thing to do and knobs tend are affordable to replace.
When should you change your door knob?
If you know someone you DON'T TRUST has a key to your home.
When you have had someone break into your home.
And you should change out your locks every time you move; it's hard to know if the previous renter or owner had extra keys floating around. And you don't want their ex-boyfriend that doesn't know they moved to barge in on you.
When in doubt, change it out. It's just too easy for someone to grab a copy of your key. New knobs can cost as little as $11.
---
This post may contain affiliate links which may earn me commissions should you click through them and take certain actions. As an affiliate for Amazon, Cricut, xTool, Home Depot, and other sites, I earn from qualifying purchases. Please DIY carefully. View my full legal disclosures here.
Please read the whole post so you don't miss any important information!
---
While normally this is good to do for your personal safety, in this case I'm working on renovating a shed. I'm converting a 10×20 shed from 1993 into my she shed and office space. As I'll be storing my craft and sewing equipment in here, I definitely need a good lock on the door. I bought a used door for the shed, but don't have a key to the knob that's on there. I needed to remove the old door knob and replace it with a new one.
How to Change a Door Knob
Hopefully you already have a basic screwdriver and a new door knob. Obviously you need a keyed door knob for your entrance- something that's intended for exterior use. If you decide to shop at the store, you'll see dead bolt sets too. I'm not covering that today! Let me know if you need a tutorial on that and I'll put one up.
While I've used a power screwdriver/drill for this in the past, the angle is a bit off and you're more likely to strip your screws; "stripping" the screw means that the area you insert your screwdriver tip into ends up breaking away. If your screw strips completely, you'll need to replace the screw. It's a pain in the butt. I recommend using a handheld manual screwdriver.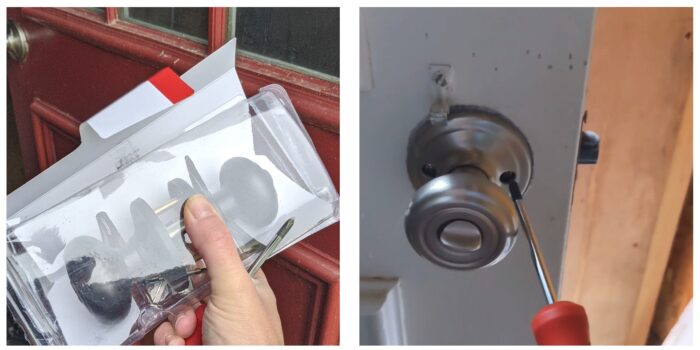 Keyed Entry Door Knob
1 Remove the old door knob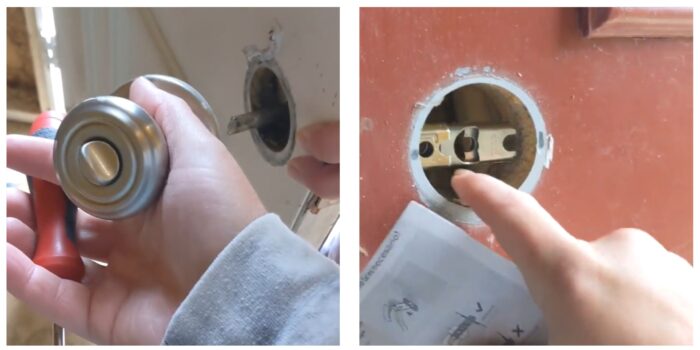 2. Pull your knob off
3. Push in your new latch. Make sure it's centered.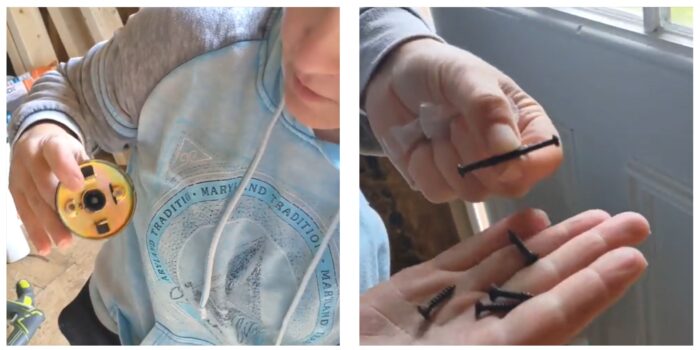 4. Place your knob.
The long screws are for the doorknob.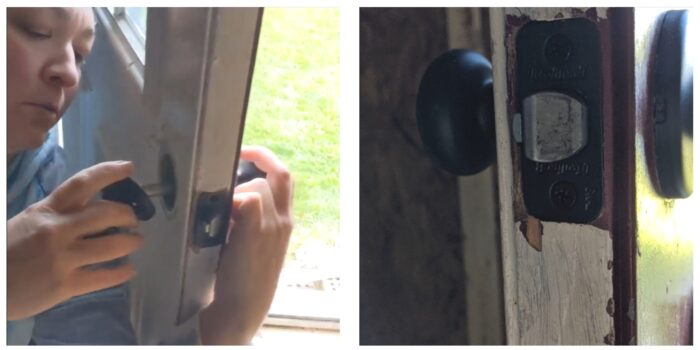 5. Screw in your doorknob.
6. Screw in your plates.
Here's a video of the process.
Check out the cute DIY acrylic key chains that I made for my she shed with my Cricut! I was able to engrave the acrylic and it came out SO cute.
Google Web Story: How to Replace an Exterior Door Knob
Please share and pin this post! If you make this project, share it in our Stuff Mama Makes Facebook Group. We have regular giveaways for gift cards to craft stores. You can also tag me on Instagram @doityourselfdanielle; I love seeing everything you make!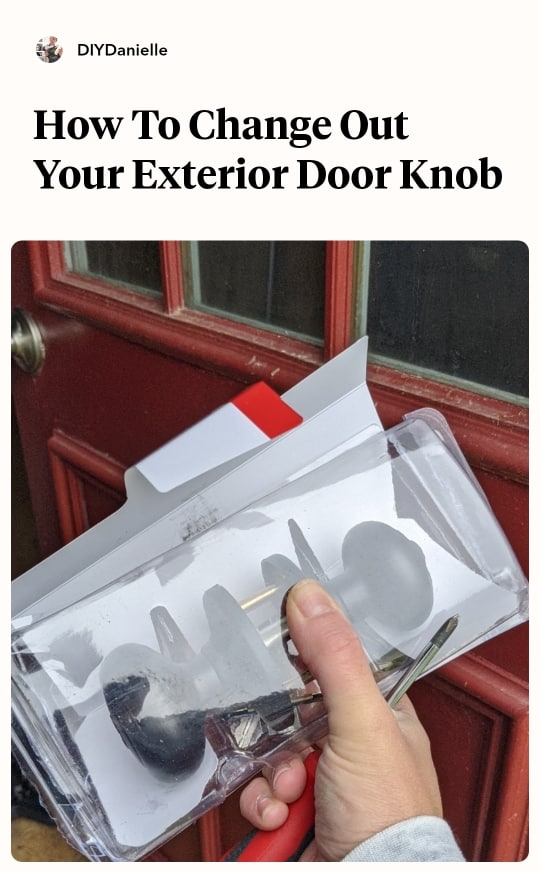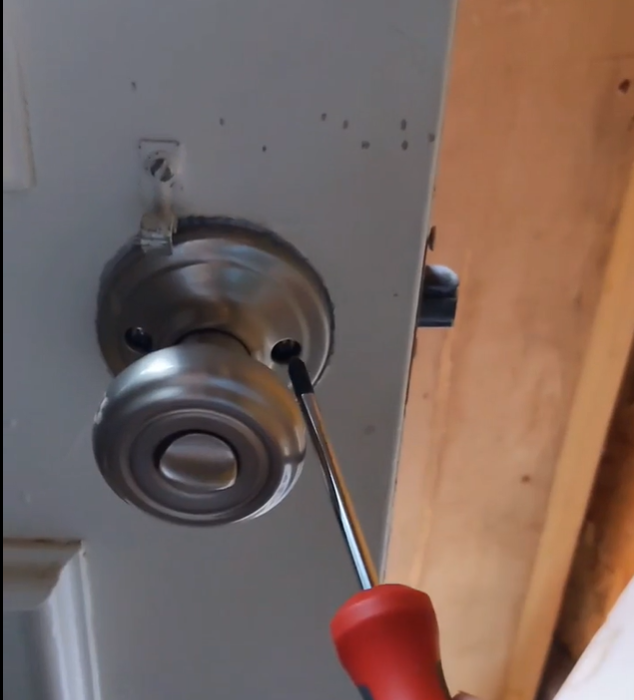 Yield:

1 Door Knob
How to Replace an Exterior Door Knob
Sharing simple tips and tricks for replacing an old door knob on an exterior door.
Instructions
Remove the old door knob.
Pull your knob off.
Push in your new latch.
Make sure it's centered.
Place your new knob in the door. The long screws are for the doorknob.
Screw in your doorknob.
Screw in your plates.
Recommended Products
As an Amazon Associate and member of other affiliate programs, I earn from qualifying purchases.