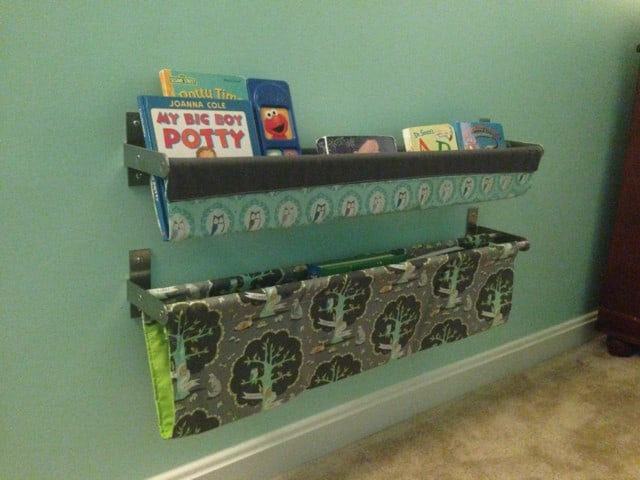 I love books and book storage. Because I never have enough room for all of the books. Ever. Kids books have been a real problem since my sons were born as I can't get enough. I want to read EVERYTHING to them, including all of the great children's books I've saved from my own childhood. Book slings are FUN to sew… and they've become a favorite project of mine.
I've got a video tutorial and a photo tutorial on how to make them on this blog. My husband and I also built some gorgeous built-in bookshelves in our entertainment center if you want something for the big kids.
But here are 18 playful ways to store children's books….
Here are five of my favorites!
1. Repurposing a Fireplace Screen: Upcycling. Repurposing. What is there not to love about reusing items you find FOR FREE? You can be "green" and also be super happy with your end product. This repurpose of an old fireplace screen was one of my favorite projects… it's just brilliant.
2. Night Light and Bookshelf Combo: Another repurpose. And it lights up! I also like that because it's a store bookshelf, she was able to easily add storage on the sides of the shelf as well.
3. Under the Stairs Book Nook: I suppose this is more a "room" than a storage idea, but what child wouldn't love such a cozy nook?
4. Bookshelf Dresser: Adding book storage to the side(s) of a dresser is smart. You're not using the space otherwise and it's not terrible involved to add. And it's super affordable!
5. Footstool Bookshelf: This wasn't originally built for children, but this just screams nursery stool to me! You could even make it a little bit shorter if needed because board books aren't very tall. Add some chalkboard paint to the top or sides for a tiny desk once the baby is older.
Update June 2015: I also created this fun Paw Patrol inspired bookshelf recently that you can check out!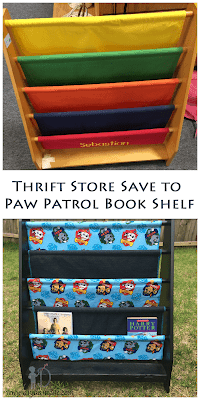 Thanks for reading!