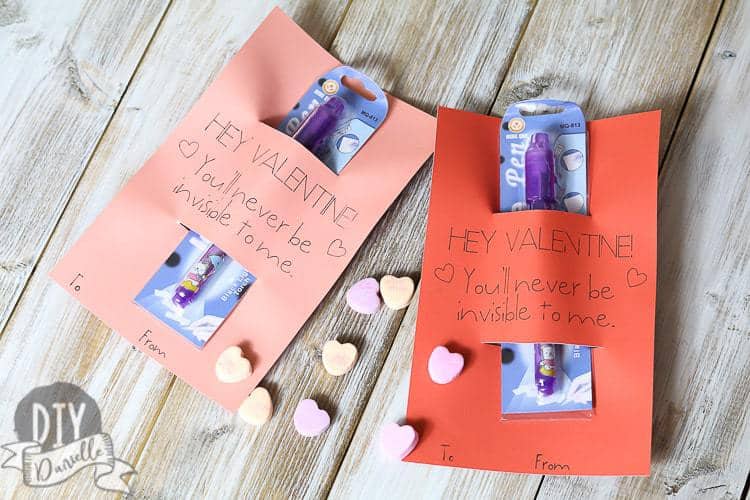 These easy Valentine cards are handmade with the Cricut. They're super simple and they come with a fun invisibility ink pen!
I am so excited because my oldest son's class is doing Valentine's Day this year! We just switched schools and I wasn't sure because our school system is sort of odd about holidays. For example, apparently some schools do Halloween and others don't. Our last school "doesn't celebrate Halloween" which was a huge disappointment as it's by far my favorite holiday.
---
This post may contain affiliate links which may earn me commissions should you click through them and take certain actions. As an affiliate for Amazon, Cricut, xTool, Home Depot, and other sites, I earn from qualifying purchases. Please DIY carefully. View my full legal disclosures here.
Please read the whole post so you don't miss any important information!
---
Either way, I wanted to come up with a fun 'gift' type Valentine card to make with my Cricut for his class. I did some browsing on Amazon and found these super fun invisibility ink pens that wouldn't break the bank and were sold in sets that are the perfect size for his class!
Santa brought my kids some similar pens for their stockings this past Christmas and they LOVED them so I figured this would be a fun toy to include with the card.
Supplies to Make Valentine Cards
Cardstock/scrapbook paper 12×12 (I bought the Martha Stewart pack of 54 that had many of the colors of the rainbow in it)
Green Mat
Standard blade
Cricut Maker and supplies
Cricut pen in the color you want (I used .4 and .8 black pens)
Handmade Valentine's Cards with Invisibility Ink Pens
I made a design already and you can use mine if you want! It makes it pretty easy- I won't get into how I made the design itself, but if you buy different pens then you may need to widen or shorter the cut marks for where they're inserted. You can also manually enter each child's name on the cards… I figured writing out each one is part of the fun for the kids though so I left it for my son.
Once you open up your design, you can click 'make it' and place your 12×12 cardstock paper on your green mat. Load it into your machine. You'll need your pens- I used .4 and .8 size (.8 is first). The heart is drawn with the .4 but I think it could work with the .8 too if you prefer. You'll also need your standard blade. Once you press go, you can pretty much leave it to do its thing.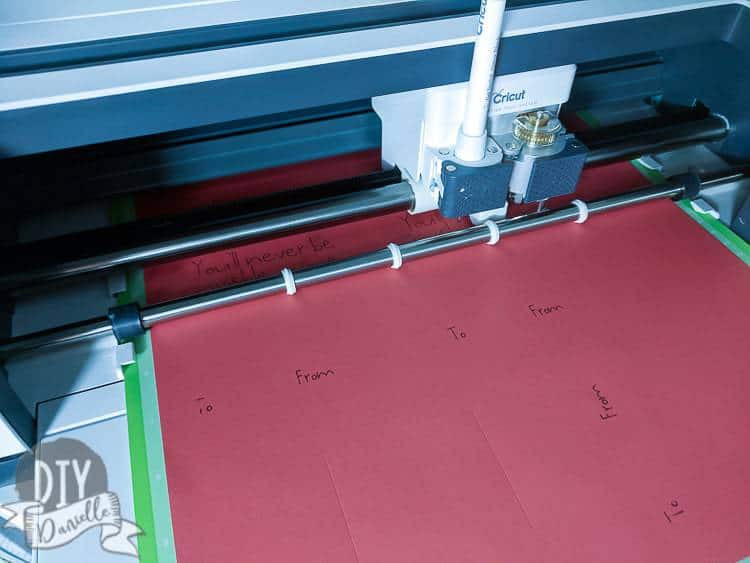 Once it's down, you can eject it from your machine and wait for the ink to dry. This is important because I messed up the first few I did, trying to remove them from the mat before they dried.
When they're dry, peel the green mat away from the paper. I hear that's the secret to perfect card stock projects.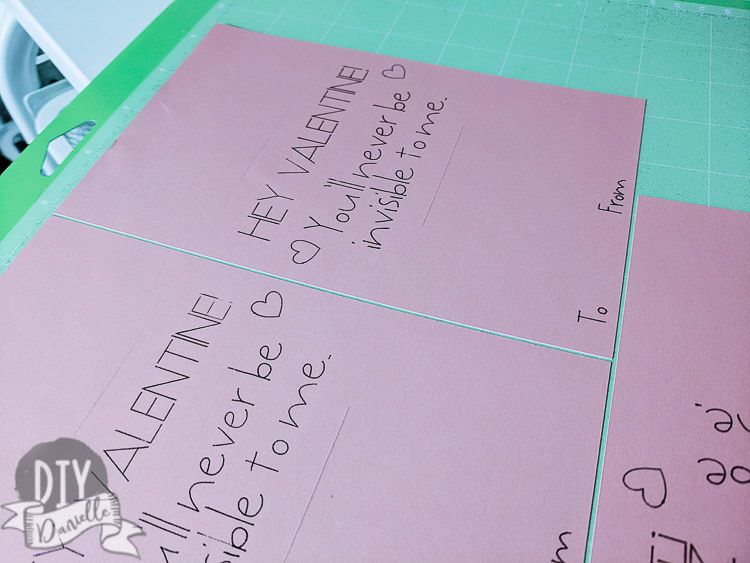 Now you can just insert your invisible ink pens into the card and you're done! Have your kiddo label the "to" and "from" sections, place in a plastic bag for him/her to take to school for Valentine's Day!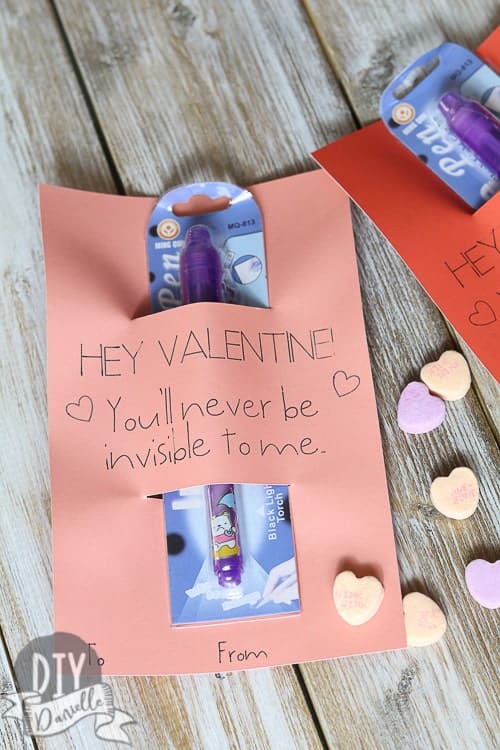 If you want to be clever, let your child write their name ("from") with invisibility ink so their friends can use the pen to figure out who sent the card.
Here's a quick video showing the machine in action…
Make sure to try cutting fabric with the new Cricut Maker. It's pretty neat and you can even make little tooth fairy pillows for your kids with it! You could also customize some candles for your children's teachers for Valentine's! Here are some other Valentine's Day Craft Ideas.
Please share and pin this post! If you make this project, share it in our Stuff Mama Makes Facebook Group. We have regular giveaways for gift cards to craft stores. You can also tag me on Instagram @doityourselfdanielle; I love seeing everything you make!