Ideas for upcycling clothing while producing the least amount of waste.
This post may contain affiliate links. Using these links helps support my blog. Thank you!
Am I alone? Does anyone else wear clothes OUT?
Holes.
Tears.
The whole deal.
A pair of pantyhose doesn't last 5 minutes on me so I don't even bother with them anymore. I don't like throwing stuff in the garbage though (landfills, eek!) so I tend to collect items. This is why it's been important for me to have a good process for getting rid of clothing that I don't need, wear, or that's worn.
Supplies
Supplies listed below may include affiliate links to the products.
Seam ripper and scissors
Some spare boxes or plastic bags
Sorting Old Clothing to Upcycle
The first thing you want to do is go through your clothing to sort it. Try things on if you haven't worn them in a while. I recommend setting up three bins.
Any items you keep (they fit and you will wear them) go back in the closet.
Bin #1 has clothing to sell.
Bin #2 has clothing to donate.
Bin #3 has clothing to upcycle.
You could skip the sell bin if you don't want the hassle. Often it's just better to donate and claim the tax deduction. I never make much trying to sell clothing, although I do sell it when we have yard sales.
I love the idea of turning the hangers in one direction and flipping them once you've worn an item so you know it's something you actually use- but I don't own enough clothes that fit for that to be relevant. And it's pretty obvious based on wear and tear which items I wear or don't.
Upcycling Clothes
If items are really worn or don't look like they'd have resale value if donated, I upcycle them. This is a great option. You can reuse the fabric or the sewing notions (zippers, buttons, etc) in many, many projects, saving yourself a lot of money in the process.
Tomorrow, I'm going to share how my moms group upcycled wedding dresses, but today I'll talk about all the other clothes.
If something is in really bad shape and it's made with a natural fiber (cotton, wool, etc), sometimes I'll cut it into strips for the compost bin. Most of the time though, I find a use for it.
One use for tshirts and cotton fabrics? Cleaning rags or rags to apply polyurethane or stain when crafting. Easy. I have a pile of these rags.
Before doing anything with clothes though, I use scissors or my seam ripper to remove notions like buttons and zippers, then I save those items in small jars for reuse later. Ideally, you want to keep these really organized. Once I remove the notions, I cut the fabric into strips or into one big cut of fabric to be used on a project. That cut of fabric can be folded and placed with all of my other fabrics.
Projects to Make with Upcycled Clothing
Here are a few projects that I've done with upcycled fabric:
I have sooooo many projects that use upcycled fabric, often for linings and absorbency on items like my DIY Nursing Pads (without a serger). I'm glad I save it… although recently I use all of my scrap clothing for braided baskets and rugs. It seems to get used faster that way and I think it's a great option when the fabric is fairly worn. If you want to add more colors, dye the fabric before braiding it.
Here's some upcycling ideas for t-shirts and other knit fabrics. You can even make UNDERWEAR with old sweaters– and there are some health reasons that wool may make good undies!
Love it? Pin it!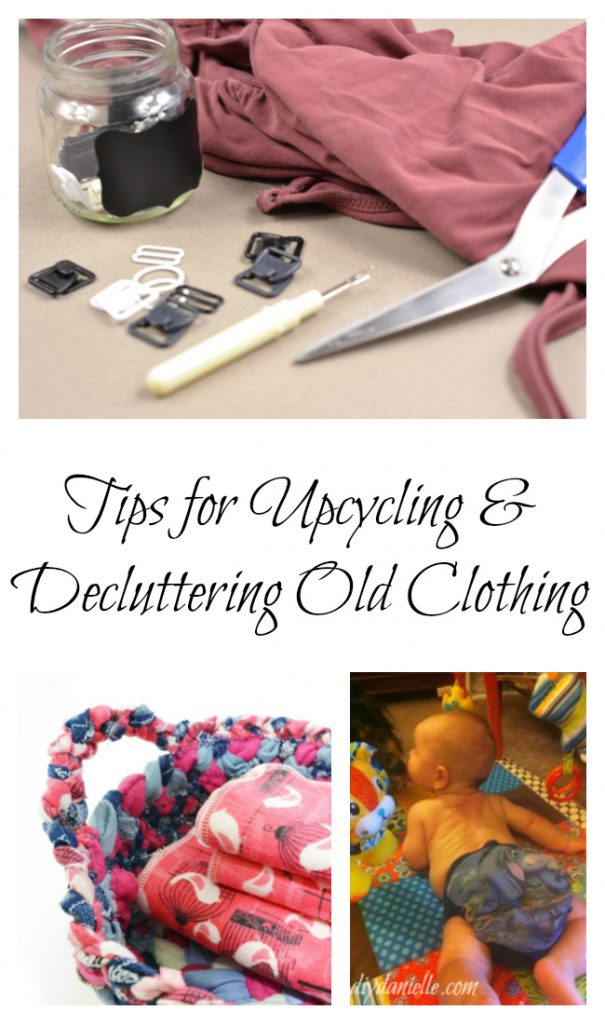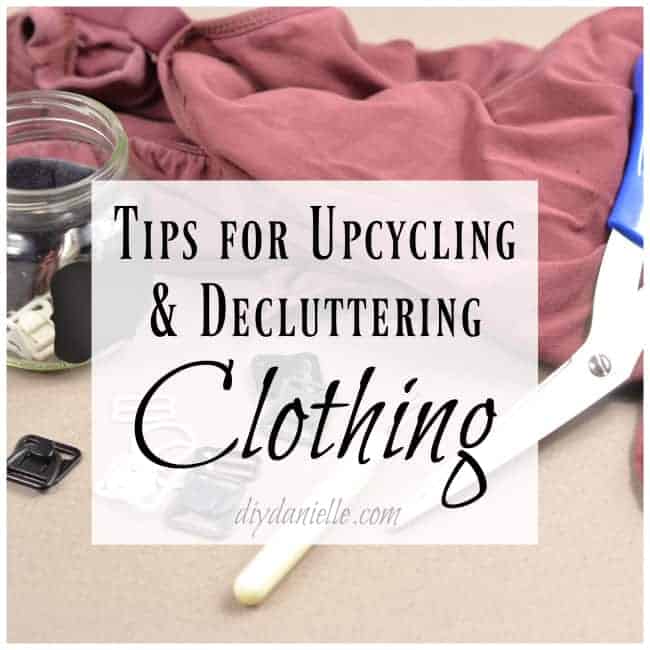 Thanks for taking the time to read this post! I really appreciate the time you've taken. Please share, like, and pin my post if you enjoyed it. Follow me on social media and subscribe to my email list to keep up to date on all of my latest projects!