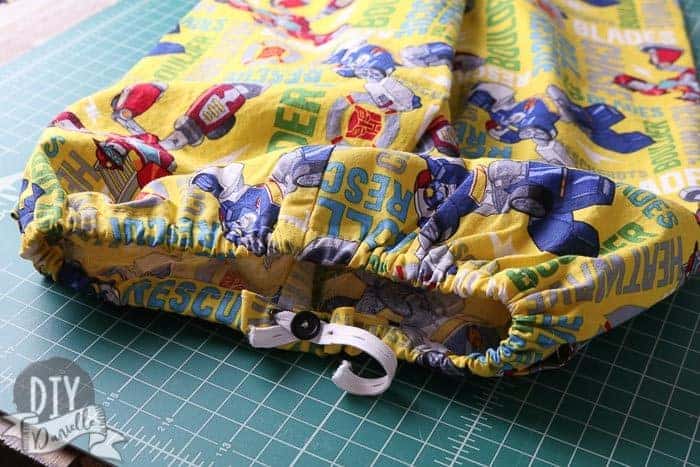 How to sew an elastic casing: a tutorial on one method to add elastic to an item or piece of clothing.
This post may contain affiliate links which may earn me commissions should you click through them and take certain actions. As an affiliate for Amazon, Cricut, xTool, Home Depot, and other sites, I earn from qualifying purchases. Please DIY carefully. View my full legal disclosures here.
Please read the whole post so you don't miss any important information!
Adding elastic to an item is pretty easy. You're probably familiar with elastic, but elastic is a thin stretchy fabric that can be sewn into items or clothing to allow for the item to be more fitted in certain areas. For example, the leg area of cloth diapers or waistbands for sweatpants that are too big.
Some people sew their elastic into the item, but you can also use a casing instead. This is my favorite method of adding elastic to cloth diapers, clothing, and more because it allows for easily replacing the elastic if it wears out. It also allows you to adjust the elastic to be smaller if needed.
Please pardon the photos and video. I originally took the photos and video for this post in December 2017! I am trying to publish stuff that's been in queue for a while since the baby was born. But you'll get to see a cute clip of Baby Tristan when he was 4 months at the end of the video!
What is an Casing?
A casing is a narrow (or not so narrow) channel that you sew in your fabric that allows you to thread elastic or drawstring through the casing in order to pull an item of clothing, a bag, etc. tight.
This makes sense when you consider the dictionary definition of a casing which is "a cover or shell that protects or encloses something."
How is a Casing Used in Sewing
When you sew those items, you make them the MAX size you want the pants/diaper to fit. Then you add a casing to each side of the legs (diapers) or to the waistband. Then you thread the elastic through and sew it in. When you sew it in, you stretch it tighter so it can stretch out to it's full length if needed…. or just stay scrunched up if not. This allows the item to fit a better variety of sizes.
Supplies
Types of Sewing Elastic
There are quite a few different types of elastic for sewing. They come in different sizes. Keep in mind when comparing prices that the quality of the elastic matters.
I don't recommend trying to be frugal about elastic because poor quality elastic will wear out quickly and/or be more difficult to work with. I always buy high quality elastic, particularly for sewing items that get a lot of wear and tear like diapers.
Non Roll Elastic: This type of elastic is supposed to not twist or roll.
Braided Elastic: This is generally a thinner elastic that has good recovery. It is supposed to have a longer lifespan than knit elastic. It narrows when stretched.
Knit Elastic: This is a softer option than braided elastic and doesn't thin when stretched.
Fold Over Elastic: This type of elastic is made so it can fold over the edge of the item you are sewing.
Waistband Elastic: This soft elastic can act in lieu of a waistband or be sewn into the waistband. I believe this may also be considered "underwear/pajama elastic" or they are similar products.
Swimwear Elastic: This light weight elastic is made to be safe with chlorine and sunscreen. Other types of elastic, if used, may wear down faster when exposed to those products.
Diaper Elastic: Diaper elastic needs to be durable and not leave red marks on baby's skin. You want to be careful to select the right elastic for diapers to avoid issues with the elastic breaking down from frequent washing and exposure to urine.
Elastic Thread: Thread that is made to stretch with the fabric. Traditional thread has no stretch and can break when used in some projects if the correct stitch is not used.
This is a pretty good guide from Joann Fabrics on different types of elastic (including some I didn't mention) and how/when to use them.
How to Sew an Elastic Casing
How you start depends entirely on what you're sewing. A diaper is slightly different as you top stitch the entire diaper, then sew an additional straight stitch along each leg and the back of the diaper where the pattern indicates. It's as wide/slightly wider than your elastic.
For pants, you start with your raw pants sewn together, without finishing the waist. These particular pants were the FREE Walk the Plank PJ Pants from Patterns for Pirates (Unisex Adult / Unisex Child). They DO NOT HAVE A SEPARATE WAISTBAND. You'd make the casing slightly differently if they did.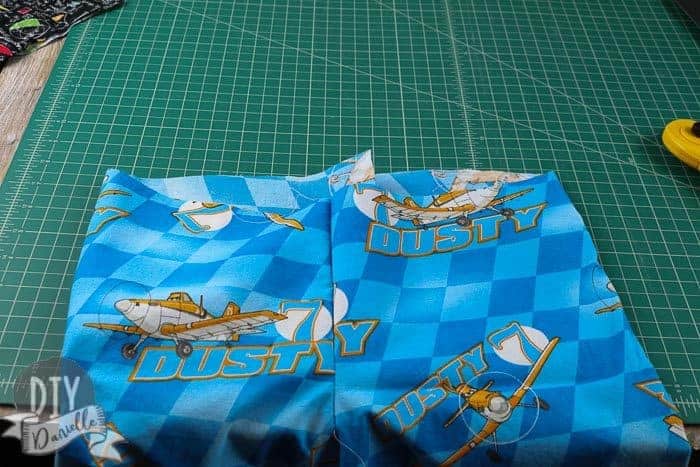 For this style of pant, you fold over the top of the pants to create your waistband. It's easier, in my opinion, than adding a separate waistband. I fold over twice so I don't have any raw edges showing. Iron/press.
You can now sew a straight stitch around the pants to close up the waist band… just leave a small 1″ or so gap. You'll want to back stitch at the beginning and end so the threads don't come undone while you're feeding your elastic through.
At this point, you want to consider the length for your elastic. You want the elastic to be slightly smaller than your child's waist when unstretched. Most patterns will give a length for the elastic for your child's waist, assuming you took accurate measurements.
A good way to make sure the elastic isn't too short is to pull it all the way stretched out and make sure it will fit around them. You REALLY don't want it stretched to full capacity for the fit, but this at least gives you an idea of how it will fit. Keep comfort in mind- you want it to be short enough to keep the pants up, but not so short that the elastic is choking your waist. When elastic is too tight, it hurts.
Now use a bodkin or a safety pin (I prefer this) and clip it to your elastic. Use the safety pin to feed the elastic through your casing via the gap you left. The safety pin or bodkin simply gives you something that's easy to feel through the casing and feed through.
When you get all the way around, you can sew the elastic ends to each other (and cut off excess elastic if you left any). You'll tuck the elastic into the casing fully, then close up your gap with a straight stitch.
The nice thing about using a casing is that you can open the gap up again if you want to replace or shorter the elastic.
In the photo below I added two eyelets/grommets (whatever they're called) to the inside of the casing. Then I used special adjustable elastic and a button. This allows me to adjust the waistband if needed. I actually don't love this elastic option except on store bought kids jeans, but I wanted to show you what it looks like.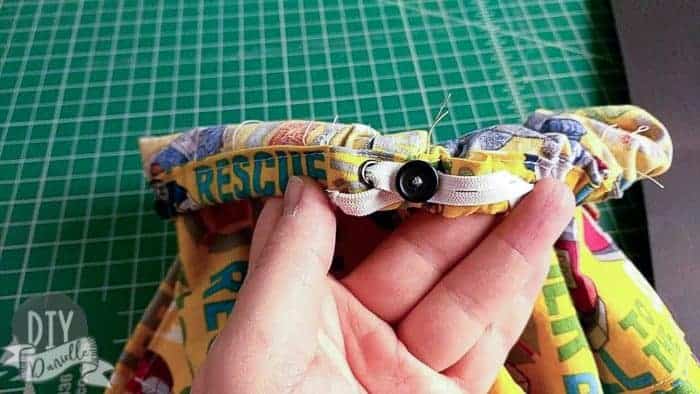 Video of sewing a casing
Great items to add a casing to: Cloth Diapers | Fabric Gift Bags | Patchwork Denim Skirt | Fitted Cover for a Kitchen Bar | Reusable Bowl Covers
Please share and pin this post! Thank you!