Favors, decorations, food, and more ideas for hosting a reptile birthday party! These are great ideas to host a great party for kids!
My son has wanted a snake birthday party two years in a row so I figured I'd share with you what I setup for these parties. We used a local company, Reptile Invasion, who is a non profit reptile rescue in Red Lion PA. They're excellent and affordable. We hosted both parties at our house. While I love to DIY items, I purchased a lot of the items, particularly for year 2.
I have gotten to the point with birthday parties where I try not to stress myself out too much. Kids do not care if you handcrafted a charcuterie board of snacks or if you picked up the tray at the grocery store.
---
This post may contain affiliate links which may earn me commissions should you click through them and take certain actions. As an affiliate for Amazon, Cricut, xTool, Home Depot, and other sites, I earn from qualifying purchases. Please DIY carefully. View my full legal disclosures here.
Please read the whole post so you don't miss any important information!
---
Reptile Party Invitations
The first year, I think I may have handmade party invitations, but this year I was in a rush. I purchased a set of snake-themed invitations online. My policy is to not work too hard making anything that will get thrown away. Invitations get thrown away after the event.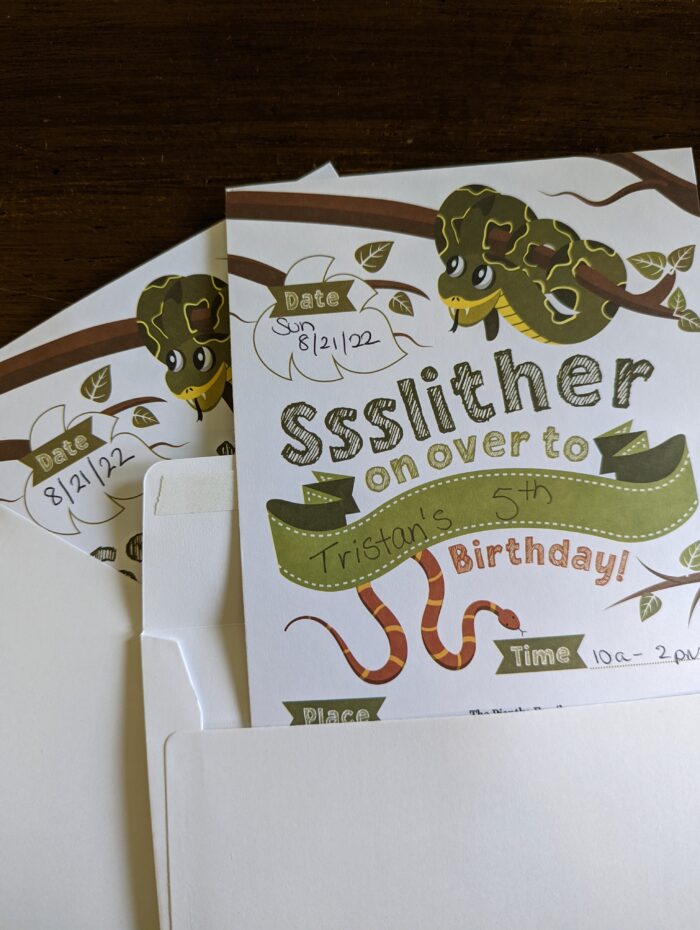 I highly recommend getting one of those address stamps and just stamping your address on each invitation. It will save you a TON of time.
Reptile Party Decorations
What I did put a little bit of effort into was decorations. I made a snake-themed birthday banner last year. It came out super cute and I was able to hang it from the tent. And I'm pretty excited that I can reuse it this year- haha.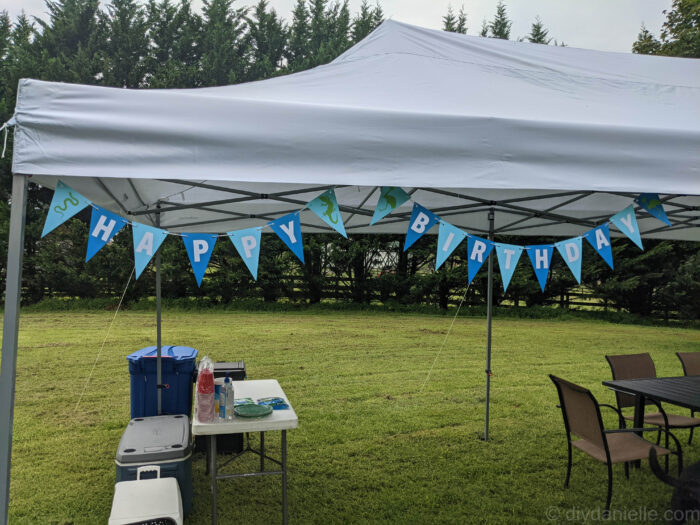 In the past, I've also made fabric banners which are cute, washable, and easy to reuse. I recommend using a cotton woven fabric though- these were made with knits so they stretched out a bit.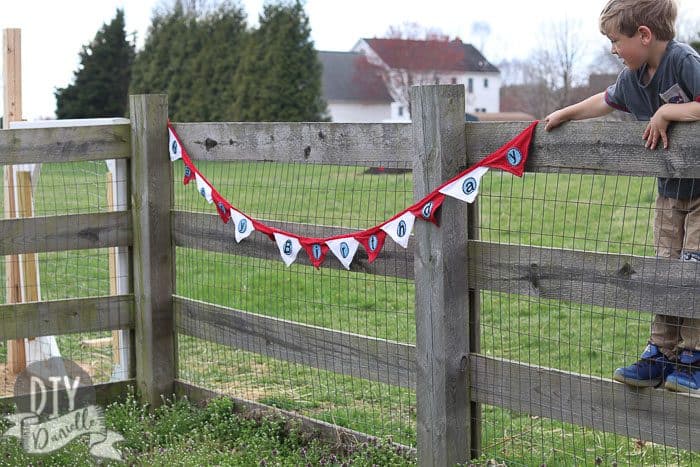 Reptile Party Favors
In the first year, I made little personalized fabric bags with candy, tiny snake toys, a fidget pop it bracelet, and a snake-themed bookmark.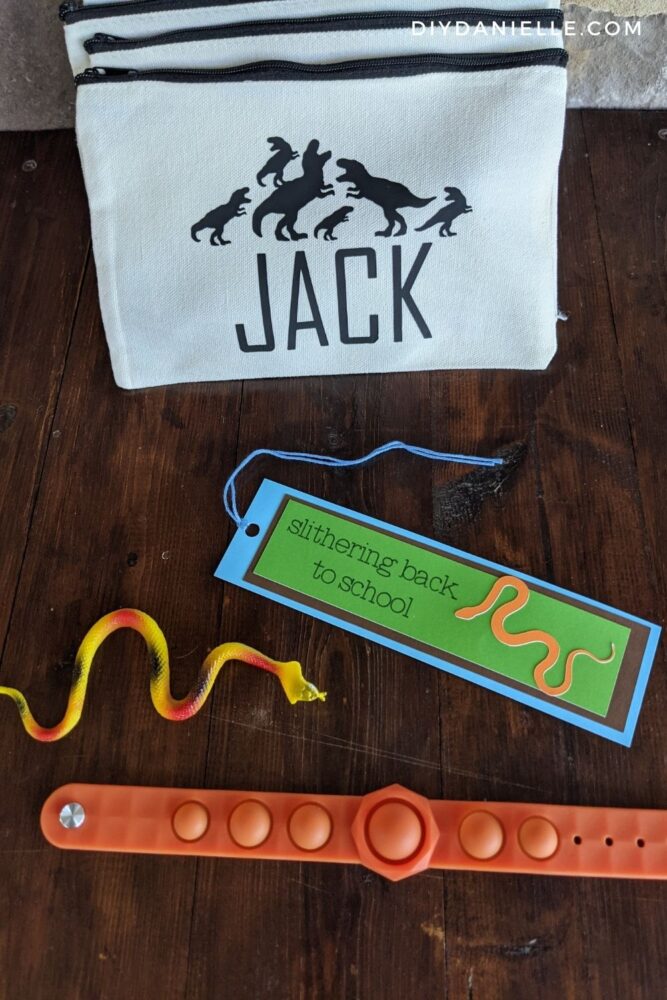 This year, I'm keeping it simple and giving everyone a snake snap bracelet. They're super cute and while they're a bit more pricey, I'd rather give one GOOD item than a few items that will get broken. These are around $2.43/each.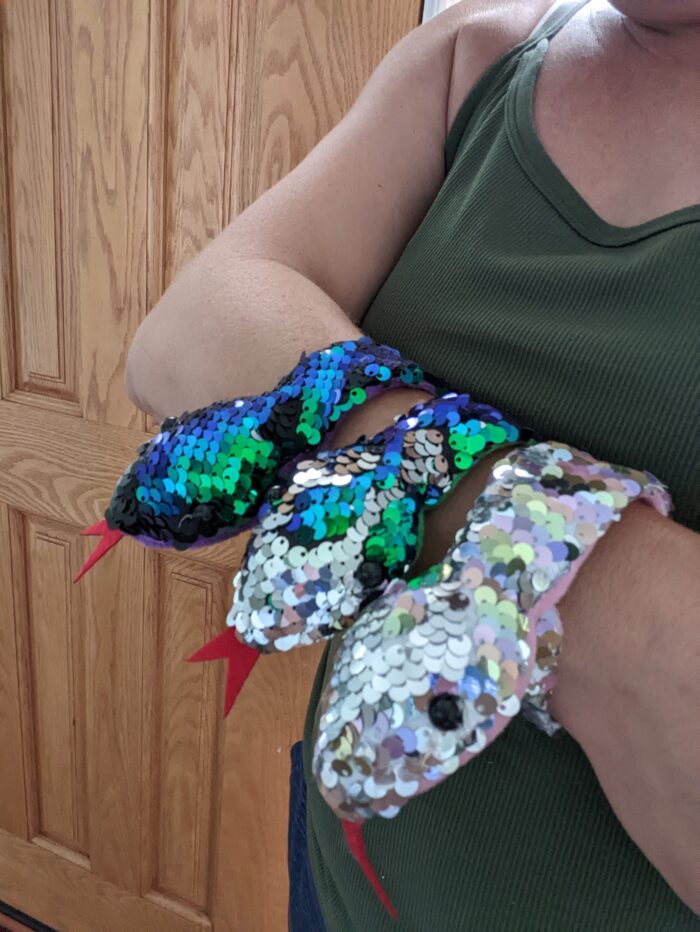 Outdoor Birthday Party Setup in 30 minutes
My kids all have birthdays in late summer or fall so we try to keep birthday parties outdoors. It's less chaotic, easier to cleanup, and I don't end up with lots of kids- or reptiles- inside my house. Honestly, the kids are worse than the reptiles. Being indoors for parties is a disaster.
During the pandemic I invested in a big party tent and it's been ABSOLUTELY worth the price. I bought the protection plan because I figured it was cheap enough to be worth it, seeing as this might break. So far, we've had no issues. I've used it SO MUCH and I love that I can put sides on if it starts to rain. The sides have clear windows too so it lets some light in if it's raining.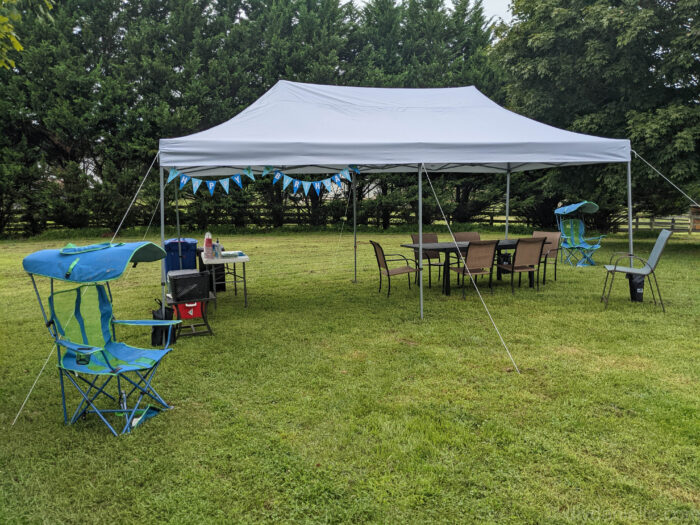 For the reptile party, I'd recommend a separate smaller tent, just in case you want a little extra room. The company backs their car up to the party and they have bins and bins of reptiles that they take out. They need a little extra space.
The tent sets up in 5-10 minutes, then I put out several long folding tables and chairs.
I roll out a cooler full of soda/juice boxes/water and ice.
We have an outdoor garbage can that gets placed in the corner, Clorox wipes, baby wipes, and hand sanitizer. I also wheeled over our recycling bin so items could be placed directly in it.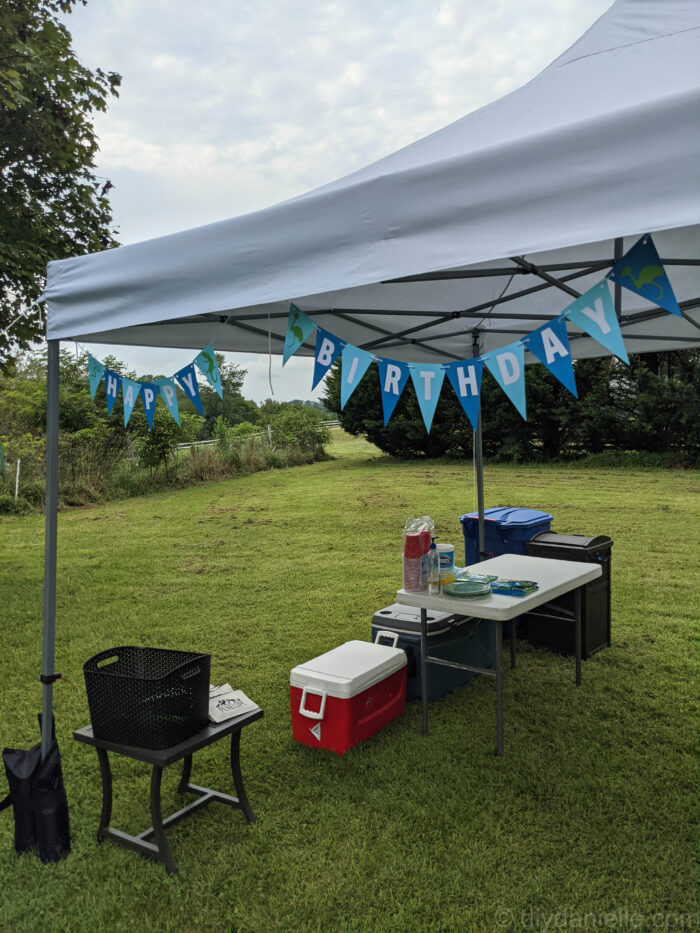 In the bottom right, I have a small table with the favors on it in a basket.
If you're dealing with hot weather, one of these misting fans on wheels is an excellent item to have on hand.
While I generally do a lot of throw away items for these events like plates, cups, etc., I'm trying to lean more towards recyclable or compostable items. I'm in the process of upgrading to a better composting system so I purchased compostable plates and cups for this year. I'm hoping to setup a compost bin this year for the party as well.
For entertainment, we have a toddler appropriate bounce house that we try to monitor carefully to avoid injuries. Now that my kids are older, I need to sell this because they are too big for it. But I LOVED it when they were small and we used it a LOT. It was also nice for birthday parties. I'd like to buy a commercial one, but I've been hesitant because storage is a hassle.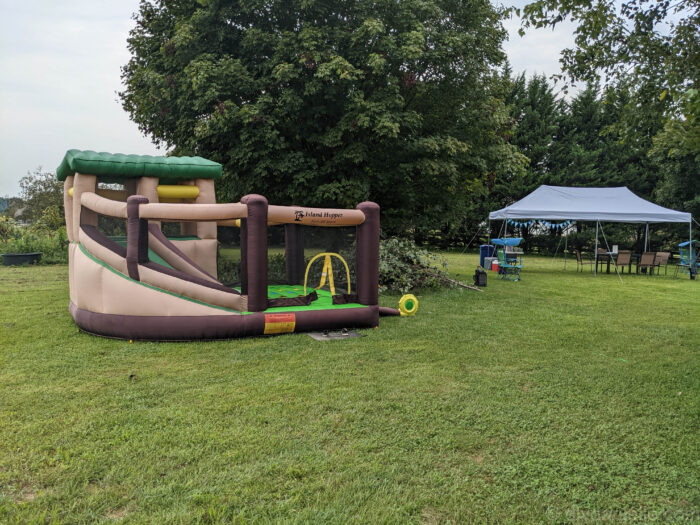 I also setup other types of entertainment, spacing everything out. Bubbles and bubble wands. A watr table. Ride on toys. Etc.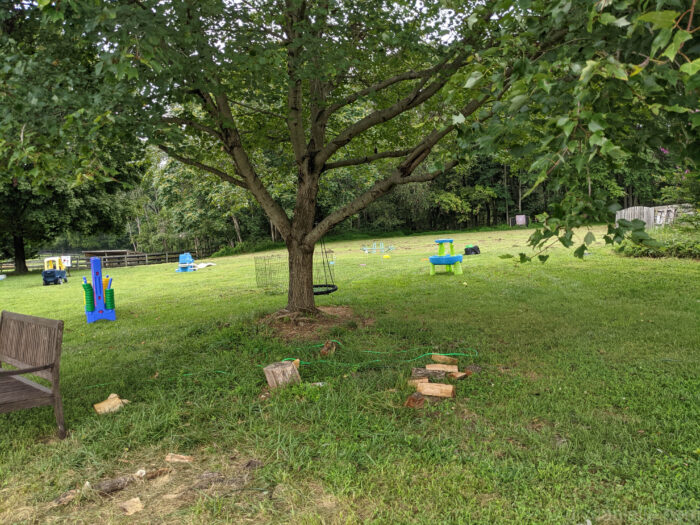 For parties with younger kids, add seating near high-risk activities so parents will be comfortable watching their kids.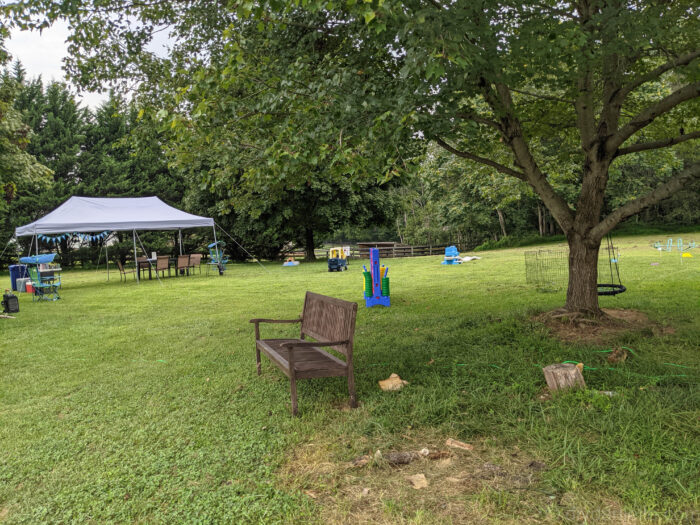 Low Effort Birthday Party Food
I love the snake design that people make with cupcakes for a "snake cake." You simply make a bunch of cupcakes and then place them on a tray in the shape of a snake. This is easy and I'll be doing that this year. I am egg-free (and love cake) so usually I make party food that I can eat too, unless my kiddo has a special request.
For low effort birthday party food, I buy the boxes of bagged chips and toss them in a bowl of some sort. We order pizza. All drinks are purchased at Costco in bulk and we buy soda, water, and juice boxes. We try to freeze ice in advance so we don't need to buy bagged ice (I hate shopping the day of the party). The drinks get tossed into a cooler with the ice and the cooler is rolled out to the party area.
Occasionally we also do beer and wine for the adults, but it depends on how well I know the adults attending.
Experience with Reptile Invasions
This post is NOT sponsored, I just like the company and they're very reasonably priced. Reptile Invasions is a non profit and they do reptile rescue in our area (Maryland/Pennsylvania). They load up the back of their vehicle with bins of reptiles and come to your home to setup for the party.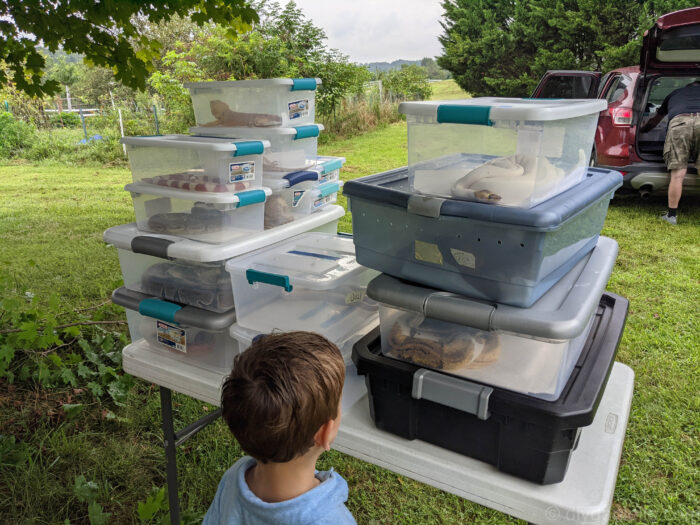 They will give a short description of each critter for the kids, then let the kids hold the reptile if they want to. Kids are NOT forced to hold anything. The birthday kid gets to hold EVERYTHING for longer than anyone else.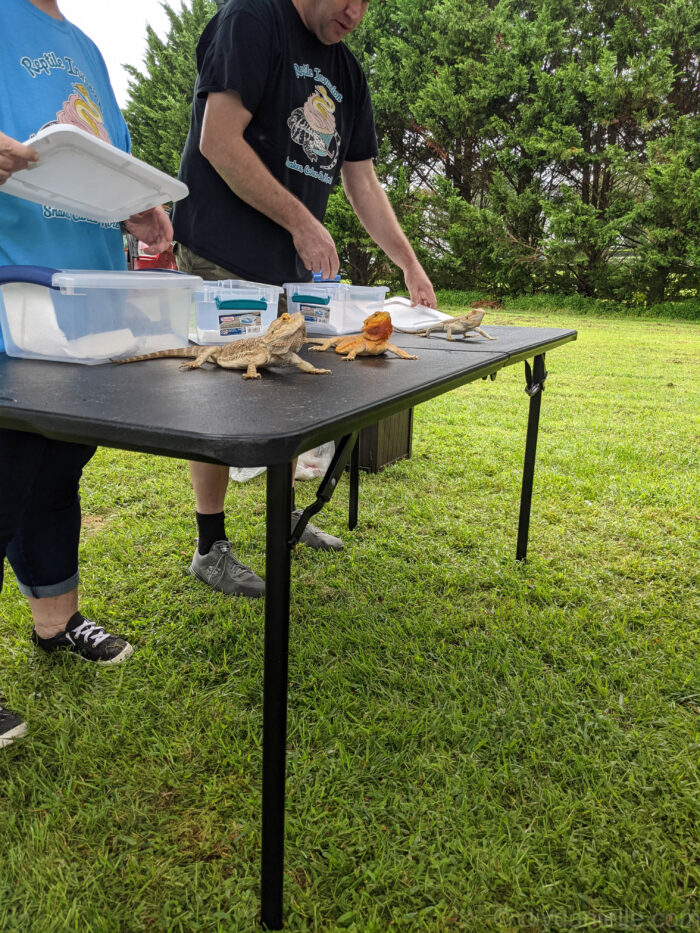 We obviously love animals, being on a farm and everything. I'm petrified of spiders, but I held the tarantula as I figured a little desensitization self therapy couldn't hurt (wink).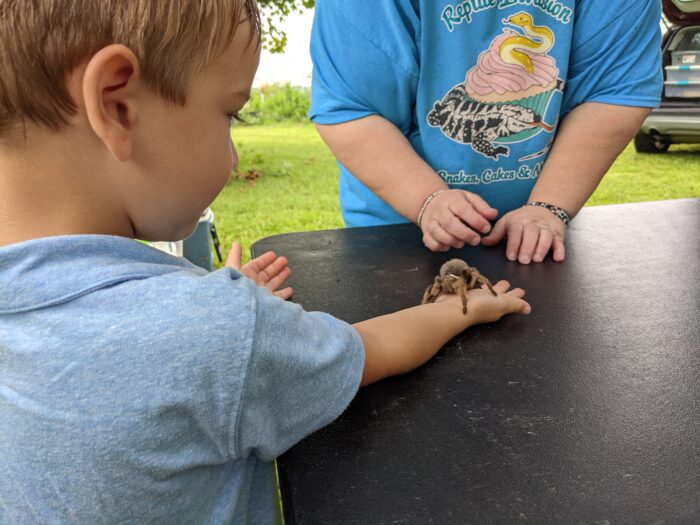 My dad saw our photos on Facebook and thought we'd actually purchased all of these animals. I don't know why he would assume that, but he's petrified of snakes and was legitimately worried. Haha. Family photo!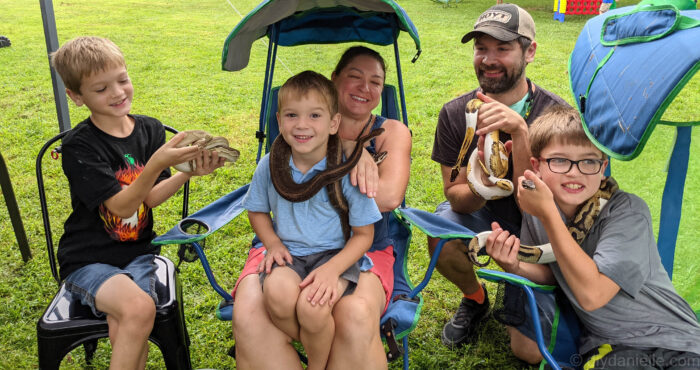 The kids LOVED the party and my son requested them again this year which is the highest of compliments- my kids remembering something means it's truly special!
Please share and pin this post! If you make this project, share it in our Stuff Mama Makes Facebook Group. We have regular giveaways for gift cards to craft stores. You can also tag me on Instagram @doityourselfdanielle; I love seeing everything you make!