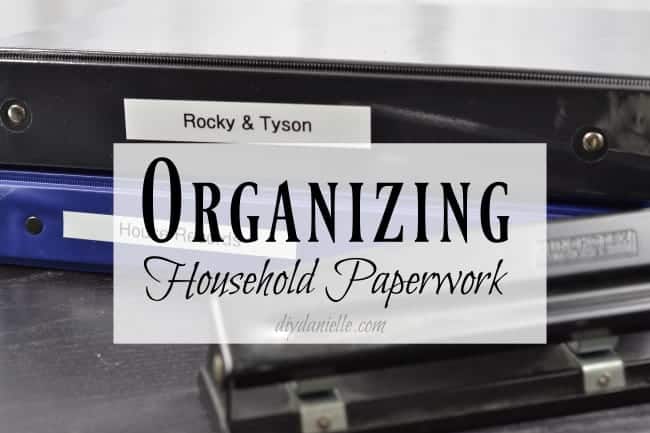 How to organize important documents at home such as medical records, veterinary records, and home renovation information.
This post may contain affiliate links which may earn me commissions should you click through them and take certain actions. As an affiliate for Amazon, Cricut, xTool, Home Depot, and other sites, I earn from qualifying purchases. Please DIY carefully. View my full legal disclosures here.
Please read the whole post so you don't miss any important information!
Organizing paperwork that comes in and out of your home is a BIG step in having a decluttered home. It's one of my greatest challenges. I've started to keep journals rather than loose paper for my blog stuff because otherwise I have sketches for projects floating around the house. And supply lists. Etc.
And ARTWORK. Children's artwork is THE WORST. Our car is filled with it… recently my 3 year old fell asleep on a ride home so I decided to let him rest while me and the 5 year old cleaned the car. So when my 5 year old ran into the house to use the bathroom, I stealthily added about a tree and a half worth of children's art to the recycling bin. With a sigh of relief that I managed to sneak it when he was out of sight, I went back to vacuuming and such. He came outside, went to throw something in the recycling bin, and exclaims "MOMMY! My BEAUTIFUL artwork!" #worstmomever
But I explained to him that we can't keep it all and that I'd selected a few pieces for him to take inside and hang up. It went over better than I would have expected. We have beautiful DIY art displays that we use to hang all of their art.
I try to put paperwork in the compost as it composts pretty quickly and it is a good way to add brown materials to our bin. Click this link if you want to see what you can and can't put in a compost bin. But I do recycle quick a bit too. We just have SO much brown materials.
But I have a lot of things I do to keep stuff under control. Here are some more tips for organizing paperwork…
Organization Supplies for Paperwork
If you prefer to make your organizer instead of buying one, I love this Ana White plan for a wood wall mounted organizer.
Tips to organize important documents at home
Make Paperwork Easy to Find and Hard to Lose
When you pick up your mail, immediately place unwanted mail in the recycling or compost. Don't let it sit on the counter.
Have a place to put outgoing mail, bills, coupons, etc. so important items don't get misplaced.
Unsubscribe to physical junk mail
I found the following sites where you can submit your preferences. I just submitted to all of them to be safe, haha.
Make sure to check your email once you submit the info. Some require email confirmation. You may need to have other adults in the household submit them too, but I'm not sure:
Go Electronic
Switch to electronic billing and statements. You really don't want or need all of the bank statements and electric bills unless you don't have access to a computer. Even then, most of these are accessible by a smart mobile device.
What to do with old paperwork?
Compost old paperwork when possible, shred it, or safely burn it. Shredded paper is useful for a variety of purposes.
Use 3-Ring Binders
Keep paperwork like medical records and home records in 3 ring binders.
I have 3-ring binders for the following:
One for each kid and myself, to hold our medical and school paperwork
One for my dog
One for the homestead to track records for the goats and ducks
One for the home. This includes all renovations that we've done and planned updates. I wrote about organizing and planning for renovations, and I also have a free home organization printable bundle that you can sign up for below.
Here's a quick photo of my binder for our home… it includes documents like our appraisal, inspection report, renovations we've done, and plans we have.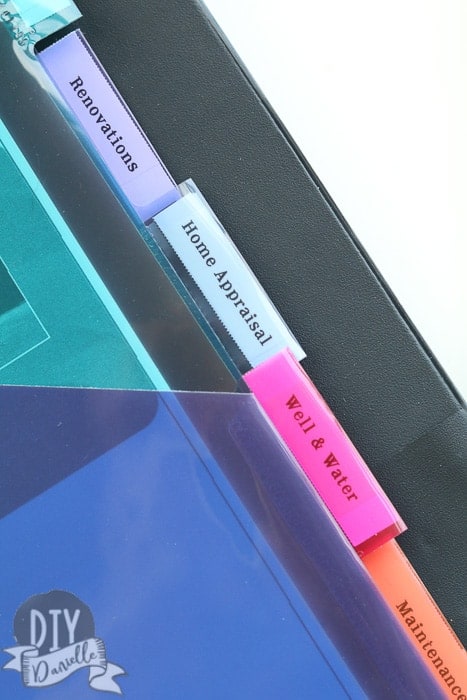 Charitable Contributions
Donate more money to fewer organizations rather than a little money to many different ones. You'll end up on fewer mailing lists.
Organizing Kid's Artwork
For children's artwork, considering keeping photos of artwork on your computer. You can make an artwork folder for each child. Take a photo or scan artwork onto the computer, then you can toss the physical item.
I try to restrict this to the best artwork because my kids are 3 and 5… sometimes "beautiful artwork" consists of a piece of printer paper that has one scribble on it. For these projects, I'll often use the paper as scrap paper if the other side is still blank. It works well.
Please share and pin this post!
Have any tips that I missed? Leave me a comment and I'll add it!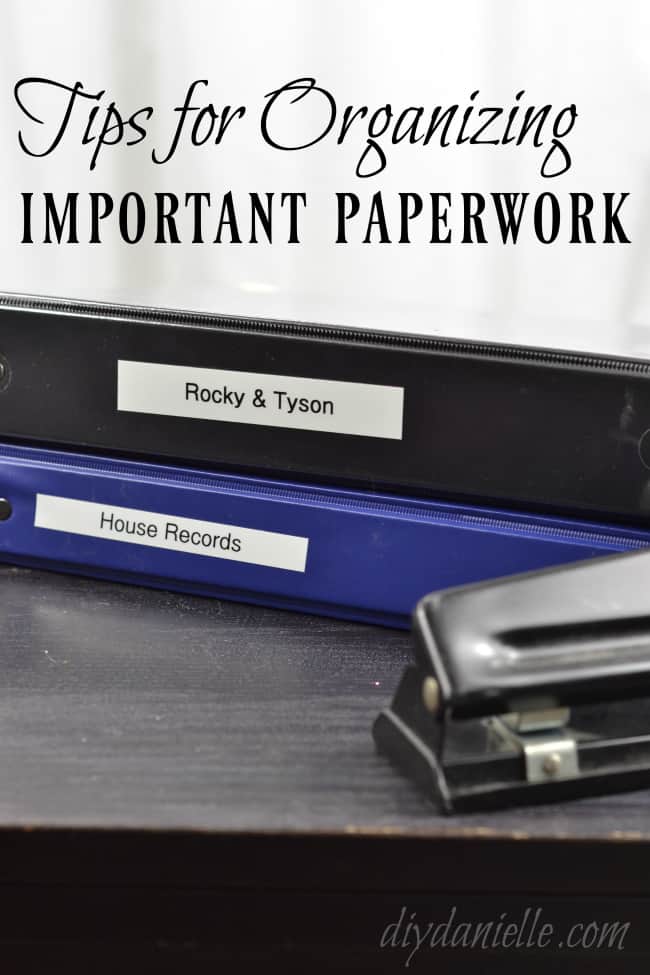 Google Web Stories: Organizing Paperwork for Your Home