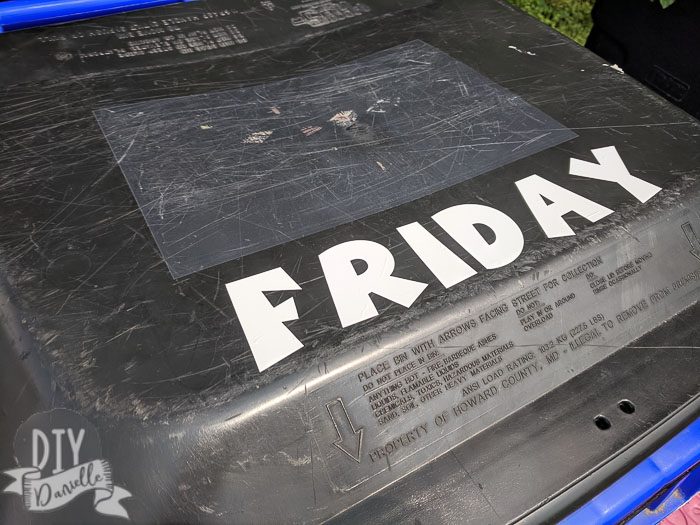 How to mark garbage cans so you can identify your cans and also as a reminder for your garbage or recycling pickup days!
This post may contain affiliate links which may earn me commissions should you click through them and take certain actions. As an affiliate for Amazon, Cricut, xTool, Home Depot, and other sites, I earn from qualifying purchases. Please DIY carefully. View my full legal disclosures here.
Please read the whole post so you don't miss any important information!
We moved in November and my husband, who has garbage duty, has been struggling to remember the garbage days. We used to have recycling on Tuesday and garbage on Thursday. Now we have garbage on Wednesday and recycling on Friday.
And while we used to look to see what others were doing, now we're down a 1/4 mile driveway so we can't just peek down to the curb.
This whole thing is really throwing him off so he asked me to make him some labels.
Now he can see them when he is coming home or leaving for work, and hopefully remember to take the cans down. It was super easy to mark them and the nice thing is that the vinyl I used is SUPER durable. It will stay on, but it's STILL removable if I really want to get it off.
I made the mistake of painting our address on our old can and whoops! Now our address has changed and there's absolutely no way of getting it off. I may add our address to these eventually, but for now our pickup date should be good enough to identify our cans!
How to Mark Garbage Cans
Supplies
Using Vinyl on Garbage Cans
Apply vinyl to a garbage can is the same as many other items that you apply vinyl to. You start with your Cricut design- in this case, I typed "Wednesday" and "Friday" in Design Space. I think I went with a width of 11.5 for each word.
Click to make it… pick outdoor vinyl. I used Oracel 751 which is supposed to be great for outdoor use. It's been working well for the kids garage and the side of the goat barn.
Once your machine does the cutting, you peel away the excess vinyl that's not part of the design.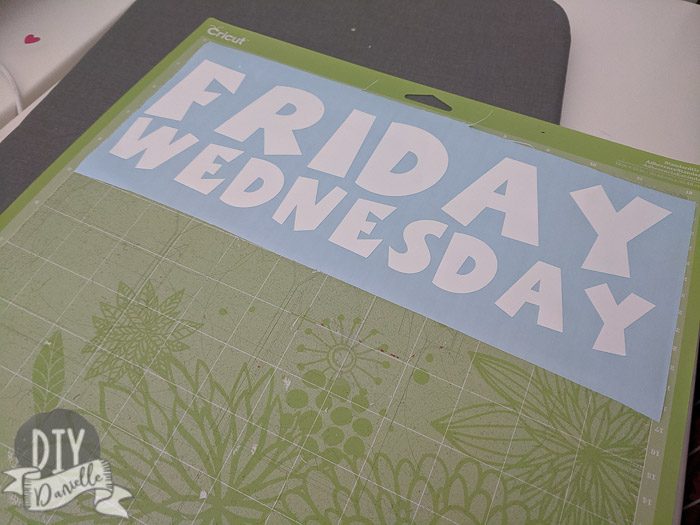 Use your transfer paper to move the design onto the garbage cans. You want a nice flat spot preferably where you'll be able to see it. It would be helpful to wipe the area clean first and make sure it's dry.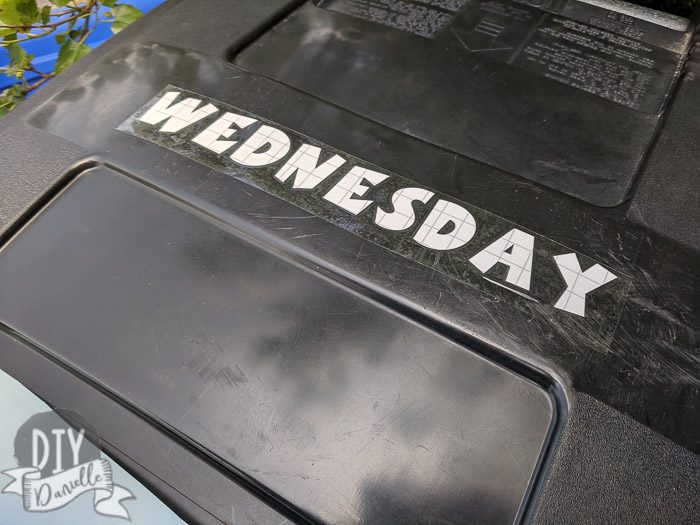 Don't forget to peel away the transfer paper. I like to reuse mine when possible so I used the same piece for both cans.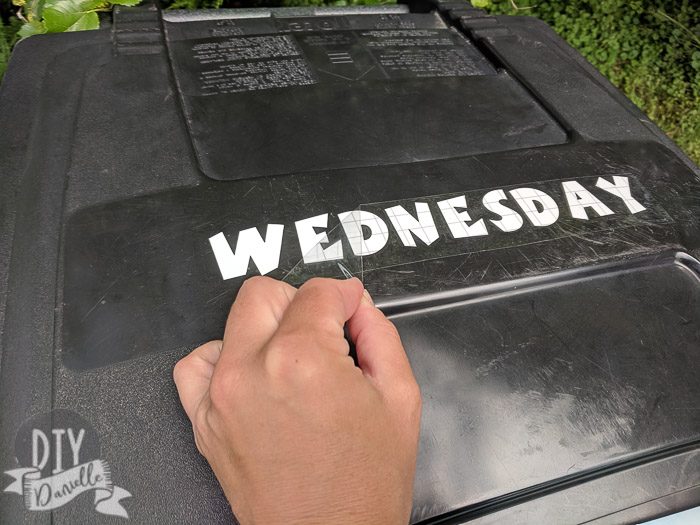 Other Options for Marking Cans
There are many other ways to mark your garbage cans. Some are more or less permanent so consider that when you decide on what to use. I choose the vinyl because I could apply heat to peel it off if necessary.
You can try:
Duct tape in a shape on the side
Tie a ribbon around the handle
Paint
Stickers
Best Outdoor Garbage Can
I'm just going to take a moment to help y'all out if you came here looking for the BEST outdoor garbage can. We struggled when we first bought a house and went cheap. WRONG.
It's good to be cheap in some instances, but garbage cans aren't one of them. A QUALITY garbage can will last you a while. It should be fairly heavy duty so it's not prone to breaking or flying away.
And it needs a good lid.
We had to replace our 'meh' garbage can after the wind took it for a twirl around the block many times. Not only did we need to fetch the garbage, but we also had to fetch alllllll of the stuff that flew away. AWFUL. You don't want your garbage out there for all the neighbors to see and it's definitely not good for the local wildlife.
Now no garbage can will withstand a tornado (I assume), but the heavier duty ones seem to have less issues than the cheaper ones. Ours still WILL blow over in heavy winds, but the cheaper one flies across the yard like a bird. LOL.
So this GREAT garbage can is a Toter garbage can… I am not 100% on the size but I believe it's the 96 gallon that you can buy on Home Depot.
Please share and pin this post!