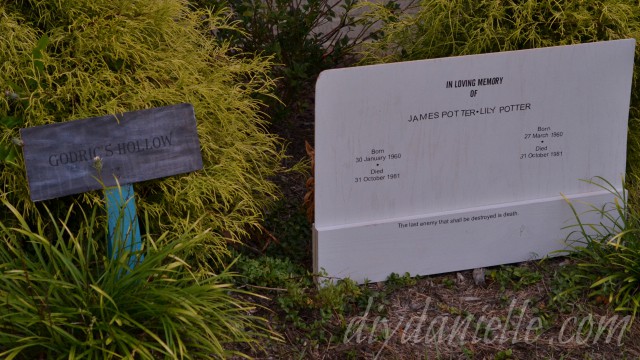 We named our first son Godric so I really got a kick out of making the sign for "Godric's Hollow."
Our Harry Potter themed Halloween porch, a final reveal.
This post may contain affiliate links. Using these links helps support my blog. Thank you!
I got it in my head that I would put together a Harry Potter themed porch for this Halloween. I don't love decorating normally, but I LOVE Harry Potter so I was MOTIVATED. This has been SUCH a fun project and involved a lot of upcycling and using items from around the house. From old school books to upcycled jars, this project was fun and thrifty.
It's not the fanciest porch you'll ever see… I have been EXHAUSTED from the September series and I didn't want to spend tons of money. But it's a fun idea for Halloween- the same fateful day that he-who-must-not-be-named killed Harry's parents.
Here are the final pictures and details of our project.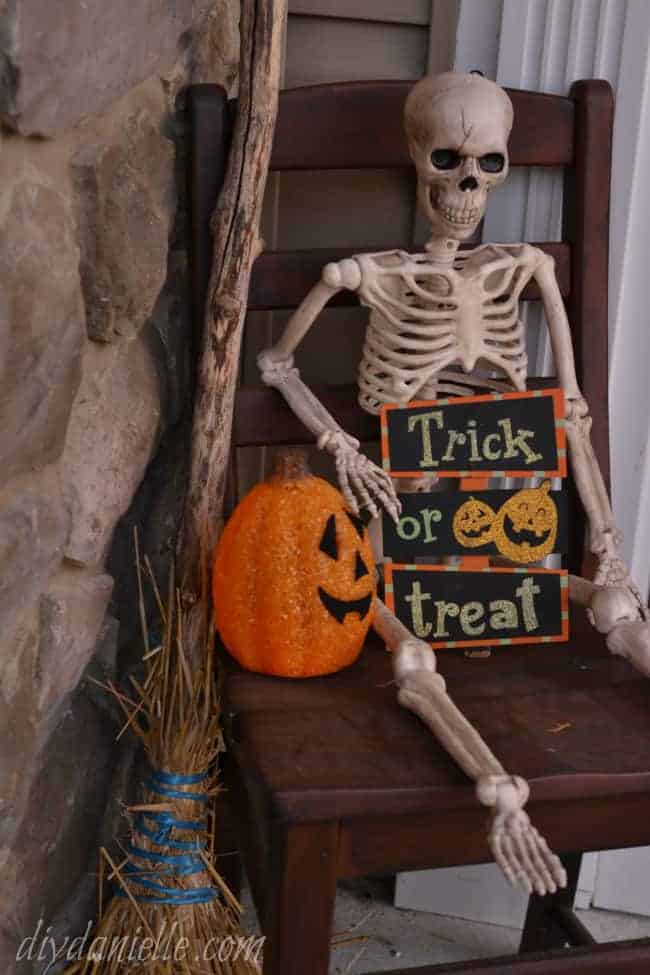 I made a quick little Nimbus 2000 (or 1.0) We also used our usual decorations.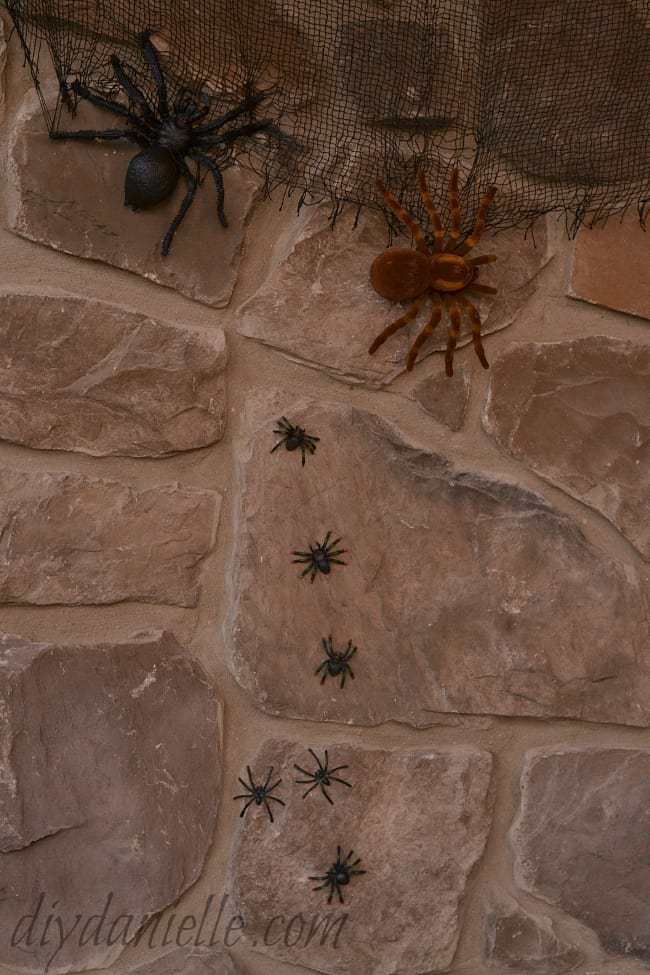 I wanted to make the Harry Potter porch spooky and nothing says spooky like Aragog and children. This was simple to make by reusing the spiders I had from our Halloween porches from past years (2015 Halloween Porch, 2014 Halloween Porch).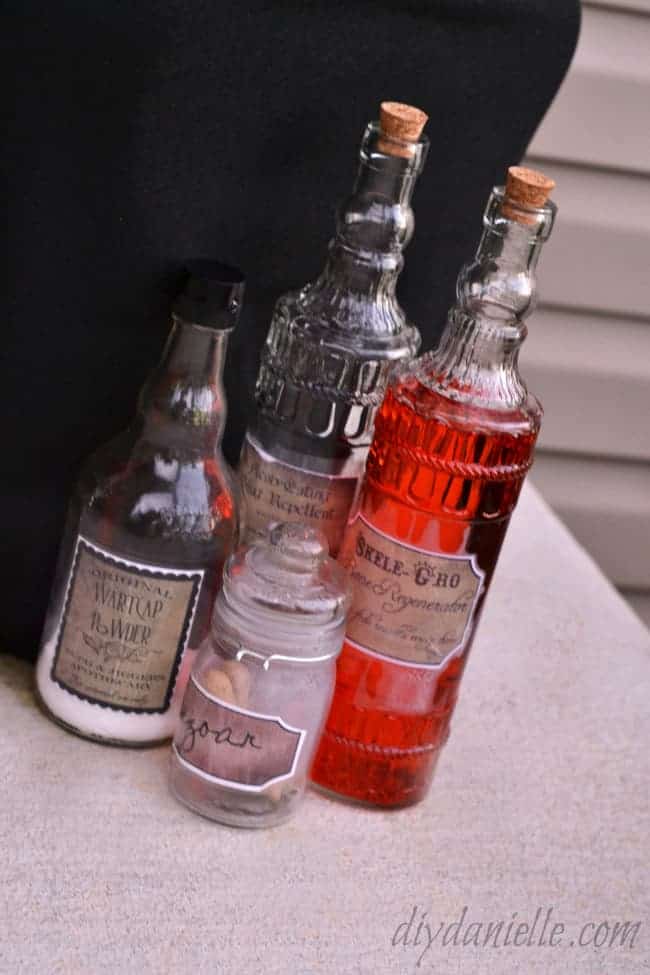 These were pretty simple to make. I used packing tape to put the labels on the bottles.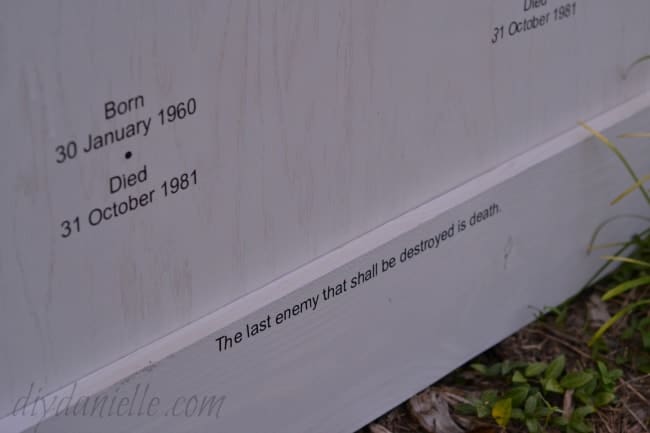 I wish I'd gotten the letter size bigger on this, but I was just grateful I finished this before Halloween. I may update this next year with bigger words. I was trying to squeeze everything onto the 12×12 Silhouette vinyl sheets.
Independent Tutorials for Each Part of the Project
DIY Nimbus 2000: I found a stick. I took some twine and straw and wrapped it around. Simple. Probably earn underachiever status of the year for it, but whatever.
Potions Bottles: I used these free Harry Potter Potions printables to make them and upcycled old bottles. Two of the fancier bottles are from the dollar store.
Love it? Pin it!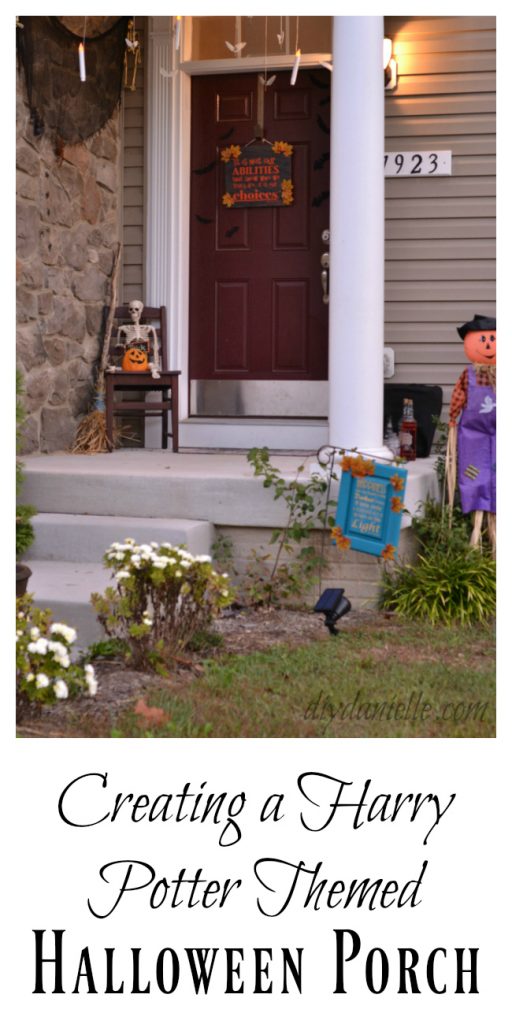 Thanks for taking the time to read this post! I really appreciate the time you've taken. Please share, like, and pin my post if you enjoyed it. Follow me on social media and subscribe to my email list to keep up to date on all of my latest projects!