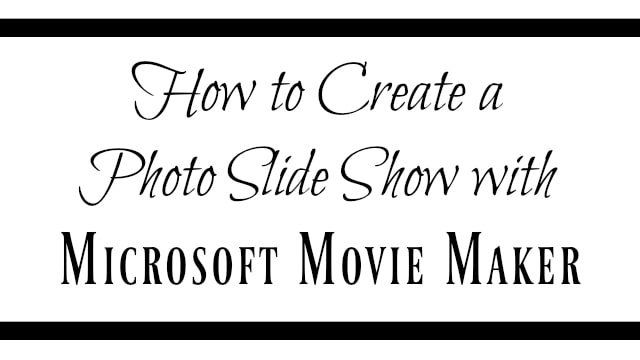 How to create a photo slideshow with Microsoft Movie Maker. Super easy.
This post may contain affiliate links. Using these links helps support my blog. Thank you!
I've been working a lot with Movie Maker, particularly where I just finished my September Grab & Go Gift Series, so I wanted to give a quick demo to show how you can use it to create a simple slideshow of photos (or video). It's really simple to use and it came free on my Windows 10 laptop so I like it.
This is going to be a pretty simple tutorial. I think if you're tech savvy then this might be too simplistic for you and you could figure it out simply by opening the program, but this post is for those who need a quick and easy run down on how to use some simple features.
This would be great for making a slide show to put on a DVD or to stream from your laptop to TV for an event (wedding, funeral, etc). Slideshows are just a fun way to keep memories stored so you can look through them quickly.
Supplies Supplies listed below may include affiliate links to the products.
Movie Maker
Photos scanned onto your computer
Video Tutorial
I put this all on video because I figured it's easier to show than explain.
Love it? Pin it!
Thanks for taking the time to read this post! I really appreciate the time you've taken. Please share, like, and pin my post if you enjoyed it. Follow me on social media and subscribe to my email list to keep up to date on all of my latest projects!