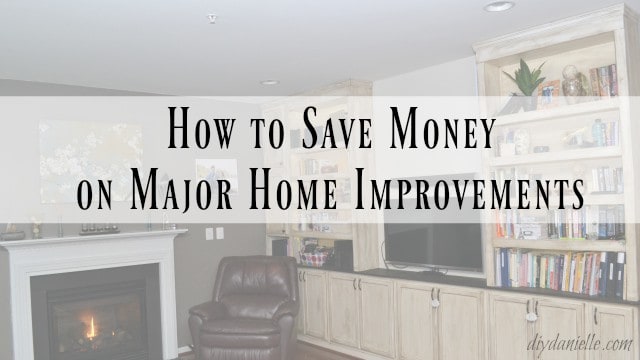 Looking to renovate your home? Add solar panels? Build a sun room? Waterproof your basement? Get these seven simple tips for saving money on major home improvements and learn about how a home equity loan may make your dreams a reality- sooner rather than later.
We have recently come to a home ownership crossroads. We purchased our home three years ago because we really loved the backyard which backs to a small forest. It offers a bit of privacy that a lot of homes in our heavily populated area don't have. A month ago, I discovered that the lot behind us is likely going to be developed.
If you don't know me well, I'm a farm girl at heart. I love my garden, my pet ducks, and spending time outdoors. So do my kids. There's something about sitting outside on my swing and watching the trees shift in the wind that is just so soothing to my soul. Needless to say, I'm feeling a bit heartbroken over the potential development.
Through the past three years, we've done some major updates to our home. We've invested in solar panels, added an absolutely stunning built-in entertainment center, added a fence, shed, and deck, built a duck house in the backyard and a small pond, and we're working on some other big projects as well (coming soon in January!).
Honestly I'm the QUEEN of large home improvement projects (I'm also the bane of my husband's existence thanks to this, but he loves me anyway). We don't have a million dollars to spend on a home so I like to take the home we can afford and put my time into it DIY'ing it with million dollar home type updates (or so I like to think).
So we're in a position now where we are evaluating if we want to move, leaving behind all the time, sweat, blood, and tears that we've invested into our home… or if we should invest more money into the home to make our yard more private. We are also considering if we could purchase a portion of the land directly behind us (because we sure as heck can't afford the whole lot, haha!).
Of course, we want our decision to be financially sound. This is where Capital One's mortgage and home equity calculators come in handy. I can calculate what the mortgage will be on a new home (or added property) and compare it to the cost of updates to make our yard more private. If we decide to do a lot of landscaping or to add a screened in deck- both pricey ventures- I can use Capital One's Home Equity Calculator to see if a home equity loan is the best option for us.
We've never taken out a home equity loan, but it's definitely something we would consider in the future (we were surprised to see how much loan we've paid off in the past few years!) and I love how Capital One makes it easy. My father-in-law is an accountant and has always said that home equity loans are a great way to pay off debt or make large purchases without getting hit with huge credit card interest rates.
7 Simple Tips for Saving Money On Major Home Improvements
Perhaps you aren't looking to evaluate your choices, however, like we are. Are you considering a major update to your home soon? Do you want to add a screened in porch? Solar panels? Basement waterproofing? A major closet redo? Do you want to set up geothermal heating and cooling for your home?
In the past few years, I've learned these seven tips to save money on these projects. Frequently the hard way.
Is this a Do-It-Yourself Project? You can save a lot of money if you do the work yourself, but you need to do it correctly. DIY disasters are expensive. Look up tutorials on how to do a project. Check out YouTube videos showing the process. Consider safety risks (I don't mess with electric usually). Check into local laws and see if you need a permit. Someday you may want to sell your house and you don't want to find out that your project is going to cost more money to fix.
Compare the Cost of DIY vs. Hiring Someone: Before you decide to DIY a project, make sure you have all of the necessary supplies. Consider the cost of buying or renting equipment into your estimate. Get free quotes from local businesses to see how your cost vs. their's compare. I recommend checking a few different contractors.


We've added to our collection of tools over the years and I can say from experience that buying or renting some tools are ABSOLUTELY worthwhile. This particular circular saw has saved us a lot of time cutting wood- we made the two shelves of our built-in entertainment center, but now that we're working on built in shelving systems for our closet, we are BLOWN AWAY by how much time we're saving. We're also getting, I believe, a higher quality project because the cuts are cleaner. Believe it or not, some of our earlier projects were cut with an old fashioned hand saw. Make sure to compare the cost for buying the equipment vs. renting it.

3. Choosing a Contractor: If you don't plan to DIY the project, you want to look into a variety of contractors. I've found that sometimes a local business is a more affordable option than big brands. We were looking into sun rooms and the big sun room companies were about $10-20,000 more than our local contractor. That said, getting a bad contractor is also expensive so make sure you get references, that they're licensed and insured, and that they're trustworthy. More than one person has been left with an unfinished project by a company that charged them, but never finished the job. Never pay in full. Most contractors will ask for a deposit, then you pay the rest when the project is finished. I recommend checking BBB reviews, Yelp reviews, and more before giving someone a deposit.Some contractors will offer a "0% interest for 6 or 12 months" deal, then slam you with high interest rates if you don't pay it off in time… the contractors who offer those deals also tend to have higher prices to begin with. If you can pay it off in that time period and the price for the project is reasonable, it's a great option. But you may want to consider a Home Equity Loan for more expensive projects that may take longer to pay off.
Couponing: This is one of those times where couponing comes in really useful. If you're using a contractor, check their website and social media sites to see if they have any coupons or specials. If you're DIY'ing a project, see if you can find a coupon for the store or products you need. Shop around. I usually compare costs. Just make sure you're comparing apples to apples and not sacrificing quality for cost. When I'm spending a lot of money ($500+) at once, I'll find a coupon code for the store- even if I have to buy the coupon code on eBay. Then I order my supplies online via ebates to get even more money back.
Seasonal Projects: If hiring a contractor, you may find that it's cheaper to get certain projects done during certain seasons. There are often sales during those seasons because contract work is slow. I usually do a quick Google search to see when the best time to buy something is. Ie. Sheds usually are cheaper in the late Fall or early Spring as they're getting rid of old stock.
Buy Used: Some things are worth buying used. For example, cabinets are cheaper used if you don't mind refinishing them. Craigslist, yard sales, and the Habitat for Humanity Restore are all great resources for finding used items. We recently found some mostly full LARGE boxes of screws and nails at a yard sale and picked them up for $0.50. If you're using fabric on any project, check out local upholsterers to see if they have remnants that they're willing to part with at a discount. Small area to carpet or tile? Check on Freecycle to see if anyone has a remnant to get rid of.
Financing a Project: Don't use a credit card for supplies or to pay for your service unless you're able to pay it off immediately. If you have the money in the bank to pay the bill, use a card with rewards and then immediately pay the card off. Otherwise you'll get slammed with high interest rates. If you know you need an update soon, but can't afford to pay cash, then consider a home equity loan. Check out Capital One's Home Equity Website to see the latest rates- there's no fees to begin the application process. You can get a customized rate offer and loan amount without it effecting your credit score.
Usually I like to save up money for a project, but there are times when a home equity loan makes perfect sense. This is particularly true for some "green" projects like solar panels or geothermal heating where you may want to take advantage of tax incentives on the project. I am, in particular, thinking of geothermal systems which have a tax incentive that's expected to end soon in the USA. The systems are expensive, but I've heard they're excellent at saving lots of money on heating and cooling your home. If you're paying a lot for heating, it would make sense to get the project done sooner so you can save the money with the tax incentive and on utility costs. And- depending on your current expenses due to the heating costs- a home equity loan to get the project done immediately would save you money.
The same could be said of basement waterproofing- it's a more expensive project to have done, but it's far less expensive than mold removal or replacing all of your things in the basement. My understanding is that basement waterproofing can cost anywhere from $750-9000, depending on how much needs to be done. But removing black mold is $20,000+. Some projects aren't good to wait on.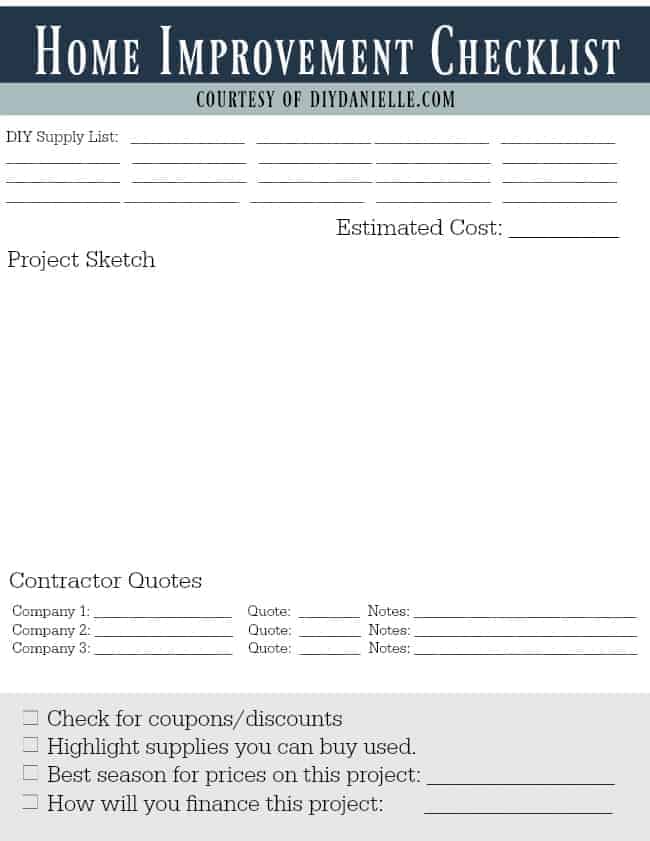 Do you have any other tips that you'd add to this list? I'd love more ideas because I'm always trying to save as much money as possible on a project.
Love it? Pin it!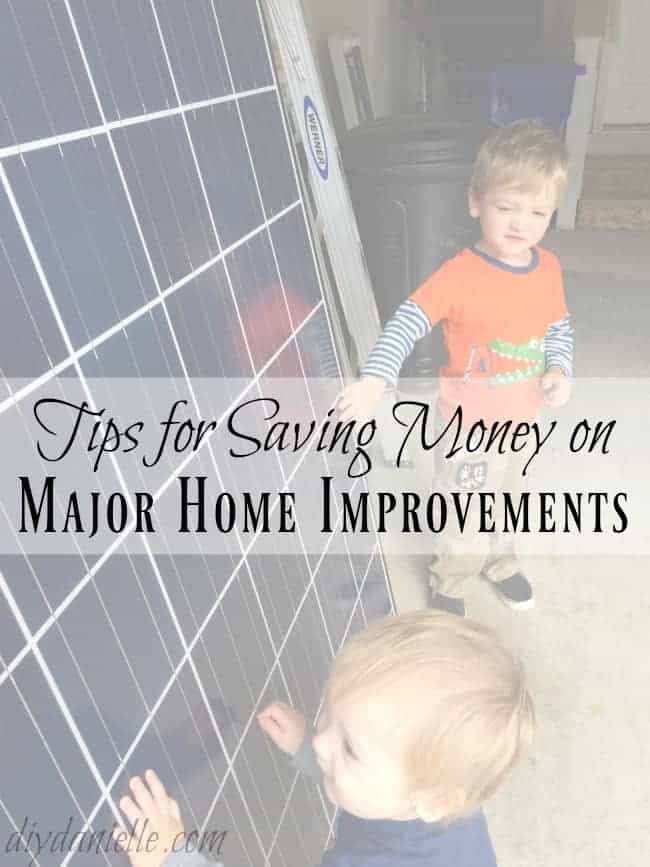 Thanks for taking the time to read this post! I really appreciate the time you've taken. Please share, like, and pin my post if you enjoyed it. Follow me on social media and subscribe to my email list to keep up to date on all of my latest projects!

I was selected for this opportunity as a member of CLEVER and the content and opinions expressed here are all my own.